Mike Sweeney and Jeff Stanton share their thoughts on a photo
Mike Sweeney and Jeff Stanton share their thoughts on a photo
Hi everyone, from the late 80s through the mid 90s I was a contributing photographer for Hi-Torque Publications (MXA and Dirt Bike magazine). The photos that you see here were never published and have been stored as 35mm slides for the last 15-20 years. A month or so ago, I finally got around to purchasing a quality scanner and the journey began, going through these images has been a revelation, as I haven't looked at any of them since I put them away and had only seen them as tiny little 35mm slides. Scanning them, then seeing the images on a computer screen has been like seeing them for the first time, they stir up lots of great memories, and bring back a great era for motocross, lots of bright color, big characters and of course, some true legends of the sport.I hope you enjoy viewing them as much as I have-Mike Sweeney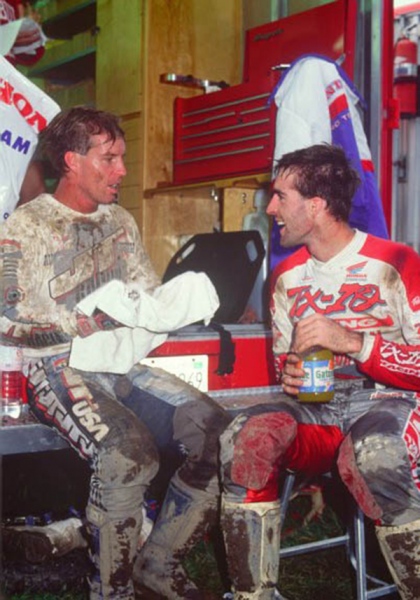 Jeff Stanton- "I got signed by Honda in 1989 and it was a mentorship with Rick Johnson really. You see that more often now with racing than you did back then. Like now with Justin (Barcia) and myself, I'm the old guy that's been there, done that but back then- it didn't really happen. I lived in Michigan and I spent all winter with Rick and he was a mentor. I learned a lot from him, from training and riding with him that whole winter. It was awesome. It's tough for a guy like him to embrace a younger kid and I see that in Villopoto and Roczen now, however that deal worked out, it was the same situation with RJ and myself back then. He was the elder statesman and was showing me the tricks of the trade you could say.
We battled when I was on a Yamaha and he was on a Honda and in the 500 nationals so we got to know each other. He probably used his influence along with Dave Arnold to get me a contract there. I guess those guys saw something in me. It was a great relationship and I'm sure as he looks back, after he got hurt, and thought it wasn't the right thing to do but it was the right thing to do, I'm sure he would say that.
I don't remember this particular race really, I remember he won at Unadilla but not much about this day. There was a little tension when he came back from his wrist injury, after all he brought me up, helped me out and now I was winning. And I'm sure he wanted to come back and show who the real boss was. And he did win a bit but unfortunately the injury really derailed his career. There's no doubt with anyone that he would have had more years and more wins if it wasn't for that. He was a great guy and guide, I'm thankful for everything he's done for me. I'm sure I would have liked to have a better relationship as the time went on but he went his way and I went mine. I went to watch him last year at RedBud race his truck and that was cool. It was awesome to see that, I appreciate what he does now.
Anytime you were on the line with him he was to be feared and I'm sure it's the same now. He's always going for the win and I'm glad he got to win the last national of his career in Unadilla later this season."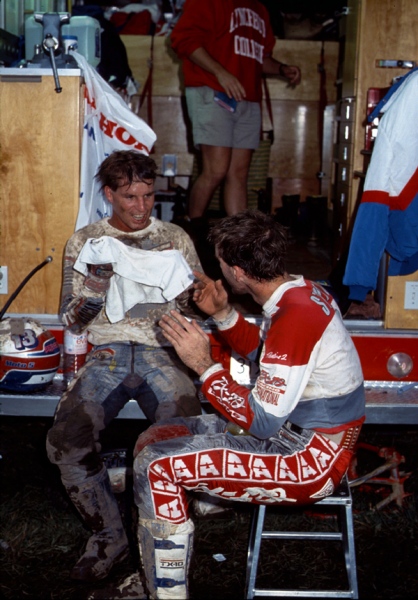 Sweeney- "When I cover a race one of my favorite things to do is capture the action off the track, especially between motos, getting a shot of a fire drill – engine change, a rider trying to get the mud out of his eyes, or a couple of guys in a post race bench session.
Of course, back in the box truck days that was a lot easier to capture as the riders literally had nowhere to hide between motos.
This week we're featuring a couple of photos of Ricky Johnson and Jeff Stanton that were taken at the fall 1990 Broome-Tioga 500cc AMA National. I was walking through box row and noticed RJ and Stanton sitting on the back bumper of RJ's Box Van, they were cleaning the mud off, smiling, laughing and shooting the shit. I stopped and popped a few shots off, thinking man, that's pretty cool, all the stuff you see printed in the magazines about them not getting along, but there they were, just a couple of guys going over what just happened.
Anyways, of all the photos I shot of that moment, the one with 6-Time holding the Gatorade (glass bottle) was my favorite. Luckily I made a copy of the original slide way back in the day, as this is digitized from that copy, the original was sent to the magazine, never published and is long gone unfortunately. The other photos where they're obviously talking about how they ganged up on Wardy was digitized from an original slide, you can see the difference in the color.
Hope you enjoy this week's look back at this classic era, big bore two strokes, open face helmets, and box trucks, those were the days!"