Our own Cory Moser shines the light on those riders that were forced to the dark
Our own Cory Moser shines the light on those riders that were forced to the dark
Just Short Vol. 3 #5
By: Moser
Photos: Thee James Lissimore
You know those situations when you are underprepared but you just have to go for it anyways? Like Chad Reed in 2013, he was coming back from injury, not quite in the shape, not up to speed and his bike testing and setup wasn't where he wanted it to be. But he still buckled his boots, threw his leg over his bike and gave it hell. Yup. That's pretty much the same situation I find myself in at this moment. I'll prepared to write this article. Granted I don't have millions of dollars on the line, my career or my physical well being hanging in the balance but short of that pretty much the same exact situation.
#574 – Brian Burns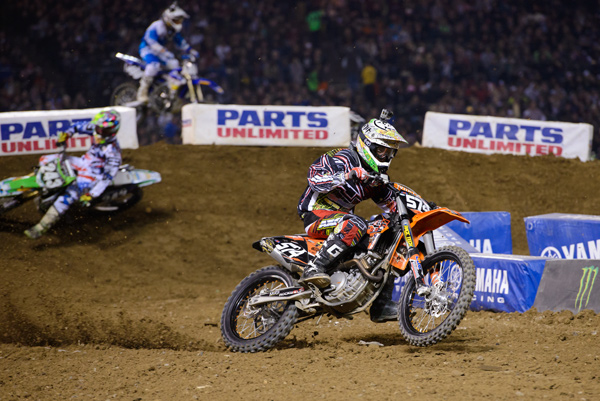 Brian Burns came so close at A3 to putting it in the main event but on the bright side, he does get this column.
I don't really know what the "rules" are on quoting people I think you have to reference where you are quoting (aka stealing) the content. Anyways thanks to @brianburns574 on Instagram you answered all my questions in a timely manner. It was almost as if you knew what I was going to ask you before the question left my lips. Thank you also for the corresponding pictures to go with your words. You were great to work with, the easiest "interview" I've had yet.
Moz- So Brian who is helping you out this year?
What has been your best finish? Have you made any main events yet this year?
Everyone knows when you talk about the difference between factory bikes and privateer bikes in SX that the major disparity is in the suspension. Who helps you dial in the shims and lube to skim those whoops and jump the triples without getting all huck a buck?
I read somewhere that all the riders are given GoPros to film the obstacles that are presented in front of them, get close up images on how best to approach them, dominate them, and stick the landing on the first attempt. Have you taken advantage of these GoPros they offer?
Nutrition and exercise has become a cornerstone of this sport so how do you fuel your body? Any hand strengthening exercises you recommend?
Getting from race to race is never easy for a privateer and the purse fund is a joke so how are you getting by week to week?
Privateers hold a special place in every hardcore moto fans heart. How have the fans been treating you?
At A3 you came up Just Short of qualifying for the main event, what happened?
Thank for your time Brian, good luck this season any closing thoughts or people you want to thank?
#415 – Nick Schmidt
There is always that one guy who eff's up a good thing. Nick Schmidt may have beautiful flowing locks coming out of the back of his helmet but he doesn't have Instagram or Twitter. Thanks a lot bro, now where am I supposed to steal, I mean "reference" my material from? Thank god for mothers. Like most mothers @misty_bee on Instagram is very proud of her son Nick Schmidt and has posted several pictures of him.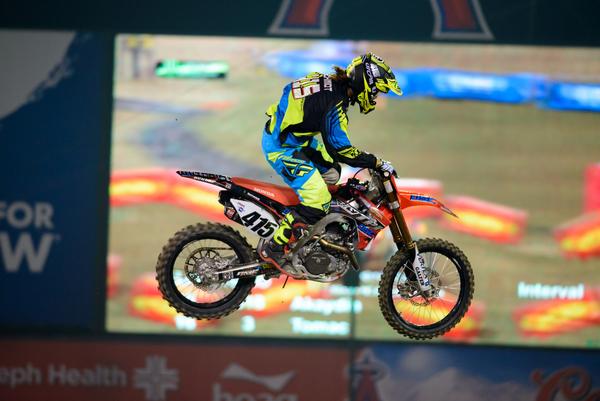 Nick Schmidt has been a big surprise this year.
Nick has been one of the surprises and standouts of the season so far. How happy is he about his season so far on a scale from low five to high five?
Nick is known as the Milestone assassin because he rides there regularly and has proven he can ride the pace of almost anyone out there. I've never been out to Milestone obviously they have a solid SX track but what else do they have to ride on?
Just the other day I could have sworn I saw Nick on my local TV station was that him?
A lot of moms have nicknames for their kids anything funny you call Nick?
I'm not sure who loves Nick's long hair more the ladies or Steve Matthes. Is Nick dating anyone?
There seems to be the beginning of a cult fan following for Nick. Maybe it's the hair, or perhaps the nickname but is he kissing babies and signing boobs at the races now?
I know Cali can have some cold snaps in the winter. How does Nick keep his hands warm when he's putting in practice laps in those frigid 60 degrees Cali winters?
Thanks for reading please send any and all comments to jasonw@racerxill.com