A classic starting line shot
A classic starting line shot
Hi everyone, from the late 80s through the mid 90s I was a contributing photographer for Hi-Torque Publications (MXA and Dirt Bike magazine). The photos that you see here were never published and have been stored as 35mm slides for the last 15-20 years. A month or so ago, I finally got around to purchasing a quality scanner and the journey began, going through these images has been a revelation, as I haven't looked at any of them since I put them away and had only seen them as tiny little 35mm slides. Scanning them, then seeing the images on a computer screen has been like seeing them for the first time, they stir up lots of great memories, and bring back a great era for motocross, lots of bright color, big characters and of course, some true legends of the sport.I hope you enjoy viewing them as much as I have-Mike Sweeney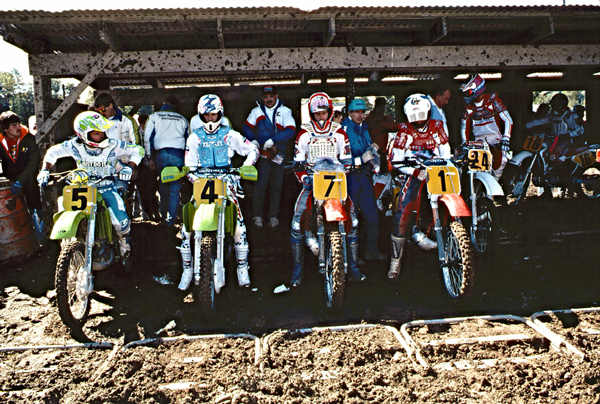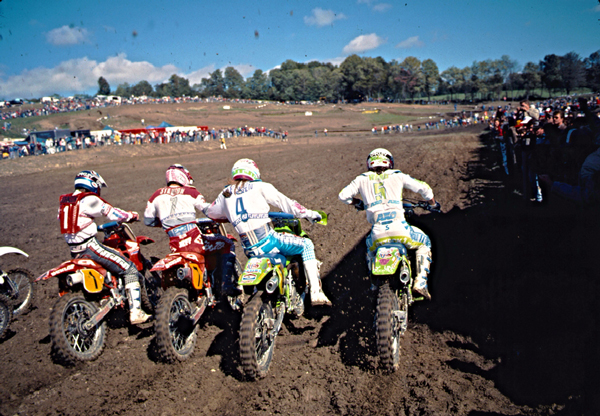 Mike Sweeney- "DV is always talking about the "deep field" in today's races, and yes, it's a pretty damn deep field, loaded with talent, but I must digress, this isn't really anything new, or unusual.
Let's take a look at a couple of starting line shots from the 1989 Broome-Tioga National in Binghamton NY. By the way, have I mentioned how awesome this track is? I would love to see it get a major race of some sort again…
As to the photo, the first, of the starting line is pretty fun to look at for a couple of reasons, first, damn that's a deep field! (and that's only part of it) and second, check out how different the 4 guys are sitting getting ready to do battle. On the left we have Wardy, looking down the line, maybe talking some smack, or just chatting up? Next to him is the Dogger looking focused and ready to kick some butt, next to him, Stanton, eyes closed and visualizing the first straight, then RJ, think he's napping, but don't let that fool you. If I had to guess, I'd say Wardy was yelling at RJ.
Also, check out Lunnis giving me the stink-eye, not sure what that's about, we also have Kalos on the #24 just arriving and the Holeshot King himself, Doug Dubach rolling up on the #16 YZ360. Another rider that was in this moto, but not pictured was JMB, he would have been on the #111.
Taking the "off the gate" pic from this angle was not my best idea, the results were cool and I'm glad I took it, but man, I got nailed in the head by a golf ball size rock off of one of their back tires, it just about knocked me out and left me with one of those weird egg bumps for a while.
Anyways, as to the race, Dogger smoked everyone in the first moto, then finished DFL (mechanical?) in moto 2, Stanton finished 3rd in moto 1 and won moto 2 for the overall, JMB rode smooth and consistent with a 2-2 for 2nd overall, RJ rounded out the box with a 4-3 for 3rd overall. Wardy wound up going 5-4 for 4th.
Sadly, this would be the last moto win of Dogger's career, a week later at Steel City he broke his femur and never returned to form.
Hope you enjoy this week's look back, thanks for checking it out!"
Matthes- "Reading through the Cycle News archives for this issue (came out on my birthday in 1989!) it seems that Dogger passed Stanton and Ward in the first moto and took off for the win like Mike said. In the second moto Lechien got into the lead early and no doubt it would've been another one of those days when Dogger was Dogger and he was unbeatable but he slowed down on lap three with a broken rear hub. JMB rode consistently to get second overall and said after the race that "I didn't try to catch Stanton, I'll leave the championship clear for him and the Americans" which is ironic because one year later JMB would be benched for not helping out his teammate late in the 125 national championships. Anyways, great photo and that's a lot of wins right there!"