Here's some post race interviews from some fast guys
Here's some post race interviews from some fast guys
Weston Peick
Another terrific race. I saw you, you had to have been about 12th or 13th at some point passing dudes. Next thing you know you're a few seconds behind Barcia and Tomac. I look away for a lap, now you're 2 seconds in front of them. What a ride!
Yeah, definitely. It was an awesome ride. We didn't have the best of luck in practice or in the heat race, or the semi…
You had to go to the LCQ!
Yeah, I had to go to the LCQ which I hate doing and riding with spodes. It was definitely a tough day altogether. But we put our heads down, the team, and we got it done. Won the LCQ. Didn't have the best gate pick for the main. I think we actually started off at like 15th in the first turn and then I just kind of started picking people off after they went down. It was an awesome race. I just started picking people off and got in my groove, finally. The track was such a mess. I saw where Barcia and Tomac were making their mistakes at and I just started capitalizing on that, just made my passes clean and went for it.
I'm going to need to check your lap times but I'd doubt if they dropped very much. You looked like you really did the same speed for 20.
Definitely. That's what we train for during the week. Consistency is what pays off at the end of the race. It's definitely a fun night.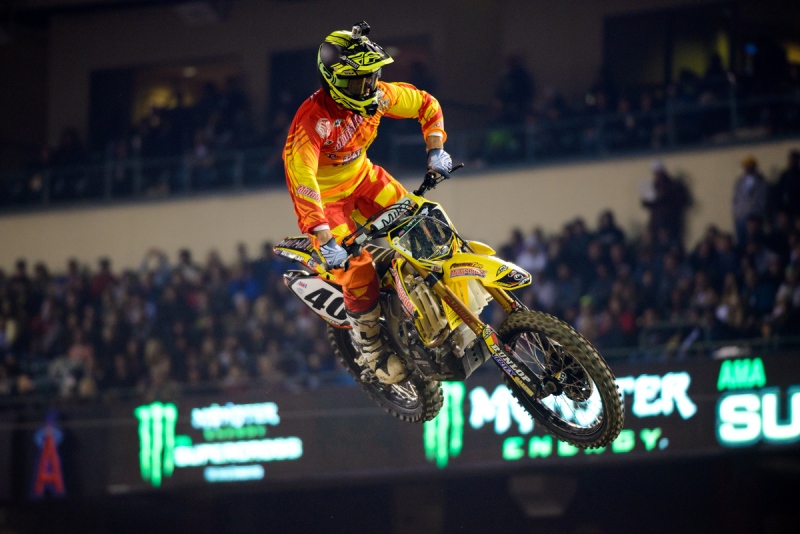 San Diego saw Weston Peick collect another impressive finish. Lissimore photo
After practice I walked around and talked some riders and some teams. No one liked the track. No one liked the terrain either. Slippery, troubles with tires… What'd you think?
I'm in the same boat, dude. The dirt was shit. It was almost like a truck yard where they lay dirt down to drive trucks over all day. It just seemed like you were riding on grease all night. We did the best that we could do and we got another 5th place.
Looks like first turn or first lap crashes in both the heat and the semi put you to the LCQ?
We've had probably four crashes today. Two subframes, two pipes, one pair of bars, three sets of grips… Other than that we just fought through it and that's what it takes.
****
Justin Hill
You have really been on a tear the last three, four weeks and it finally ended up. You took the lead tonight and won your first race, and a terrific ride. You got to be on cloud nine right now.
It's a really great feeling. Led a lot of laps, got my first win. I'm really excited about it. I came in tonight really confident. The whole week I was a little bit down on myself just because I had a bad weekend, really a lot of bad luck at A2. Just a chain of events that was bad. But we still ended up 4th that night and I still felt good about myself. My speed was there. I'm like, man, we're due for a win. We just need to get one. So I lined up tonight and wanted it. I just lined up and wanted it. Got off to an all right start, had to make a few passes and got to that lead. I was like, yes! This is familiar, I can do this, I can run this pace; let's do it.
I was talking to Mitch before the season and he's like, 'I think Hill can win a race'. Your last year's season was okay but nothing to make us think you can win a race. But after Mitch said that and some of the Kawi guys were like, hey, at the test track he's been really, really good. So really from the start this year you've been a much improved Supercross rider, right from the start.
Definitely. After last year, like you said, it was okay, but nothing to come home ranting about. I was injured coming into both seasons and it was rough on me. I didn't have enough time on the bike. We didn't have enough testing in. We had a bad setup, really. But these guys stuck behind me. I went home and just reevaluated how I wanted to do this. I reevaluated everything. I knew I wanted this, I knew I wanted it real bad. I went home and started working for it. I just really got more mentally tough this year. Last year I was, I'm pretty good, I should be able to kind of squeak in and do pretty good. But that's just a terrible way to think about it. You have to take this seriously. It was kind of a wake-up call. I needed a bad year to really propel myself to where I am now. It was a wake-up call for me because I just thought about it for a long time. I left Elsinore with not a good season. It was the last race of 2013 and I was like, man, I'm not happy with that. Let's figure this out.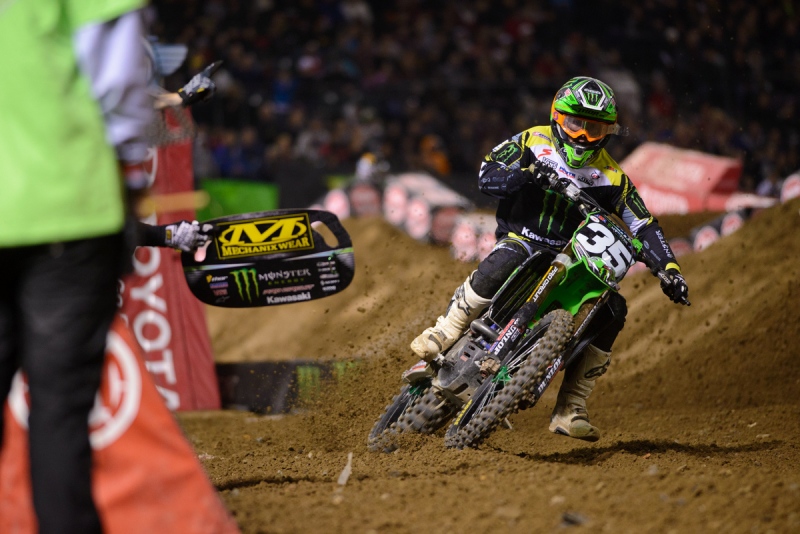 Justin Hill captured his first pro win with a great race. Lissimore photo
Last season I would talk to Mitch after the races and he was clearly frustrated with you. It's good for you to look in the mirror and be like I got a great team, I got a great bike, and I got to make it happen. You're much better this year and you talked about for all those reasons, but are you better on a hard track than East Coast stuff? Does that have anything to do with it?
Really I actually like the East Coast tracks a lot. I like the soft dirt. The East Coast gets ruts but they're good ruts, ruts you can really stick and have fun riding. I really like the East Coast. But at this point I don't care what the track's like. I'm comfortable, I'm confident, I know I'm good. I'll take what I can get me. Everybody's got to ride it. Tonight was great because the track was technical. There was a section that was really tricky after the start. It was a triple-triple and a quad, and then a dragon's back. It was just tricky stuff and the fact that I was able to nail it under the pressure… And they were some pretty tricky big whoops and that made it even sweeter for me because that made me more confident. It was really great.
Did you not see the checkers or what happened there a little bit? That sucks if you didn't because that's your moment.
Exactly, I actually didn't. When we came around I didn't see the white flag. I think they just got it out late. I didn't see the white flag. I got robbed of my whip, man! But whatever. I know I can throw whips, so whatever. There's going to be more. No big deal. But I was in the zone. I was focused. I was so concentrated on just nailing good laps one after the other, one after the other. I just got caught up in it, didn't realize it was over. Didn't realize I took it.
****
Ryan Villopoto
You put pressure on James a lot. He rode a good race. You rode a pretty good race. I thought some lappers got in the way. But you got to tip your hat I guess when a guy puts together 20 solid laps.
He rode really well. I felt like we struggled all day a little bit just with getting the bike set up to just being comfortable for me. Then we made a change after 3rd practice going into the qualifier and I seemed to like that and we stuck with that. Then in the main event I liked it. What we did was a good choice. With the start we were able to get up front there and James was just able to get around me. We were able to run a really good pace and I made a couple mistakes. Was able to close the gap a little bit but closing the gap on somebody and passing them is a total different story, especially when he was riding so well.
Again lappers, they got him but they also got you at times. Was it pretty frustrating?
Yeah, definitely lappers, they're nobody's friend. You got to make quick work of them and try not to lose too much time when you do come up on them. Other than that I thought the track was pretty good. It was slippery which made it technical on the side of you couldn't make any mistakes but the mistakes were right there, they could happen at any time.
Talking to Brian Fleck from Dunlop earlier, he mentioned it was a tricky track for tires. Not a lot of guys happy throughout the day. Maybe a little wet in the first practice then a little dry and a little weird.
San Diego's always kind of that way. It's got this weird texture to the dirt. It's a lot of little pebbles also. But at least I will say that this track was way better than the three Anaheims that we raced. The dirt was at least consistent. It was consistently slippery. And it didn't chunk away or break away into these big square-edge holes in the main line where it was actually slippery. So the track was definitely better.
I came in before the night show and asked you about that split lane. You called me an idiot. The left side is faster. Everyone was going on the left side. In the main event, you two jerkies start going on the right side. How weird was that? What happened? Why'd you do it?
The first, I think I split it. James went to the right, I went to the left and it was slower. And then we just both went to the right.
Why was it slower?
I just think because you kind of had to tip-toe through the turn at the end, the elevated turn a little bit. And then once you were able to actually go to the right side you were triple, triple, and then jump the turn there. And inside on the landing, like the hip jump there, was pretty tacky. So you were able to keep up your roll speed really well and then double the outside.
The little triple before the big triple after the double. I didn't see too many guys do it. Reed did it in the main and you started doing it in the main. Was it any quicker though?
I don't know. I felt like it was safer. It was a safer option than staying on the side of your tires so much right there before that section going to the inside. It was good and bad, and the inside was good and bad. There wasn't a line that was just really killer. I might have gained some but then lost some. It was cat and mouse right there I think.
So 2nd place, maybe not the place you wanted to get, but you extended your points lead. Chad crashed out tonight. I don't know what your gap is now but it's got to be pretty good and that makes you feel good leaving California.
It does, for sure. It's been a close race up until this point and it's going to stay that way. I'm just happy to leave California where we're sitting. Obviously we have Dallas which can be good but it can be also really slippery and kind of hard-packed. So we'll see. And then after that we kind of get to some definitely better dirt and inside the stadiums.
And when do you go back to Florida for good?
Here pretty soon.
****
James Stewart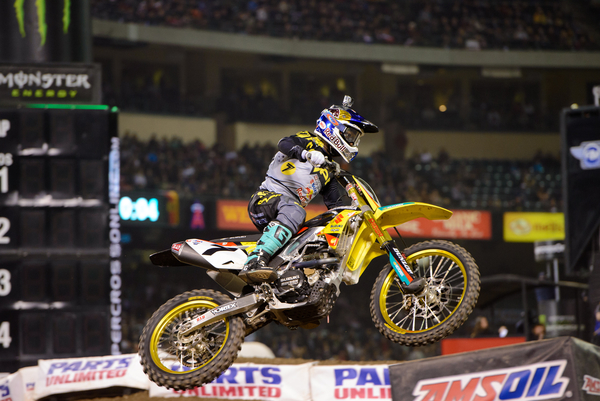 Stewart captured his first win of the season in a strong ride. Lissimore photo
Terrific race. RV was on you for 15, 16 laps, no breathing room. I didn't see you really make any mistakes though. You held it strong.
It was a couple mistakes, I think we all did. The track was slippery and only a couple of places, maybe I washed the front here and there, but overall it was good. Once we got past halfway started kind of clicking it off and kind of got a gap. Then kind of got screwed up a little bit with the lappers and stuff and then pulled away at the end again. So it was good. We made two tire changes, the front and rear, that seemed to help for me personally. It was solid.
The lappers, talk about that a little bit. It's always tough being the first guy to get by them. And they definitely didn't help you really at all.
It was tough. I understand, they're racing. I've had a couple small incidents but being the first guy makes it tough. They didn't cost me too much. I think Goerke was going inside after the finish line, I went inside also. It's just kind of hard because when they get there, the way the track was especially over by the dragon's back, it was kind of like everything funneled into one, so you just kind of got stuck in a situation to if they didn't stay where they were or they tried slowing down it kind of jacked you up. But it was all right.
You got RV early and I just done talking to him and he was like yeah, I shouldn't let that happen, because it was a hard track to pass on and I didn't know where I was going to get him back. But you made the move early and I guess that was a conscious decision, like 'hey I'm going to go right now.'
Yeah, for me obviously I wanted to lead but honestly sometimes it's easier being in 2nd where he was. I think with the race there were places you could pass at. He closed up a few times after the finish line and even in the whoops section a few times I spun. But I got in. I think as the race went on he was probably going to make a charge and honestly I just got stronger and stronger. Lap 16 I think was the quickest lap for me and we just kind of were solid and were able to pull a gap.
Like I said, I got caught up with lappers. He would close back up and we would pull away at the end. It was good. The season has been tough. There's been some good guys and fortunately for me even though I haven't won I've ridden really good and I've been pretty strong the whole race but especially at the end of the races. I just gave myself a chance and was able to do it.
We got angry Dunge and I thought about your series so far. Smooth and steady James, not a lot of balls-out stuff. Look like you're in control. Maybe the wins didn't come as much as you would have liked but here your strategy paid off tonight.
The hard part was, even at Anaheim honestly I would probably hit the deck again because it wasn't really the same as always. All races have been pretty good, besides Phoenix and Anaheim. I just didn't feel that great. I rode great at Oakland last weekend, we just messed up the motorcycle and it was bad. Even then I was still at some point there. I think it goes back to fitness and just making the right choices for the main event that makes things easier. I do feel like honestly I'm probably as a racer better now than I ever have been. Managing races and doing that and coming up through the pack. That makes it a lot easier. It makes you don't have to push it and you know you're solid. I think hopefully we just continue to build off this.
Good job tonight. You're back in this thing. Not that you were ever out, but it's nice to see a new winner. This will help give you confidence. We're heading to the East Coast which I'm sure you're looking forward.
Honestly, last year after we left San Diego, I rode pretty good at Dallas and Atlanta and stuff. This slippery stuff, I don't ride too well on it but we did what we had to do and we made things happen, so it was good.