Blogger Scog is back with his take on change
Blogger Scog is back with his take on change
The New Standard
By Isaac Scoggin
There is a new standard in racing, in the racer, and in how a race is won. It was a gradual change in most cases, but as anything you stare at long enough, it becomes easy to lose sight of gradual change or growth. The tracks have not necessarily evolved in comparison to the technology of the bikes; however, the ability of them to perfectly replicate the procedure of creating and sculpting identical obstacles repeatedly at different venues have. The way riders approach racing has reached a new standard by going so far into training that many had to discover that over-training was a real threat. Now riders try to balance gym work, road biking, mountain biking, and track time perfectly for their specific body. They are intent on exploring what foods give them max potential and which act as inhibitors to their performance. But those have been in place as key factors for some time. It is more about who can make the proper adjustments to the bike as the night goes along…this is the new standard.
Set-up, set-up, set-up is the key to victory, especially in the 450 class. Just a season ago Villopoto was able to make the difference up by just using sheer will to move to the front. This year it is about who makes the right adjustment in the pursuit of predicting the track deterioration. That is why Chad Reed and James Stewart are taking victories early. Roczen is still able to do what Villopoto used to do by pushing his bike, whether his set-up is right or not is another topic altogether. Yes, Villopoto is a much smarter racer than he has ever been. He takes it all in stride and has realized when it is not his day, and in a way he has changed his own personal standard for winning. He takes his losses as they come and gives all he has to a certain point before he concedes the win. Roczen will soon learn what must be done to maintain a spot atop the podium, but for now he will have to rely on individual talent and drive. He has everything in place personally; he only lacks time and experience on the big bike.
James Stewart is smarter than he has ever been. He is patient, he is intense, he is receptive to what the track is throwing at him, and he is every bit as explosive as he used to be. It is more a matter of when he wants to unleash his beast mode on the competition. Because he knows full well he cannot take many more big hits like he does when something goes wrong while pushing so hard. The last several years he has been jumping from bike to bike and team to team without time to settle in and put in the work needed to know what it will do in each situation. Stewart didn't lack speed or talent on any bike ever, but what he lacked was set-up and the ability to predict what would work as the night wore on.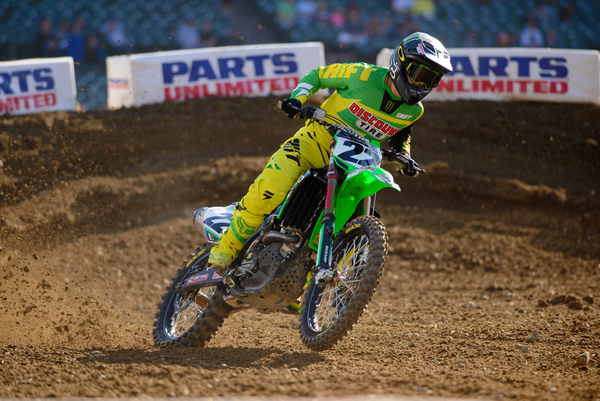 Chad Reed is very good at adjustments and change. Lissimore photo
In this department Chad was great. He went from bike to bike searching for a certain feeling of comfort and familiarity. Let's face it; Chad has spent most of his career trying hard to find speed through comfort on the motorcycle. He has used his prime racing against freaks of nature in both talent and will power in Stewart and Carmichael. So with this in mind, it is easy to see how he became so good at setting up for the main event, and he was often at his strongest late in the race. He was just too far behind to capitalize sometimes with the likes of those two. Now he is actually ahead of the curve in this area, and the sport has come to him in this sense. It is too bad that he took that hit last weekend as he was going to be tough down the line for the championship. Let's not forget that east races tend to be easier to adjust too as the night goes on, because traction going away is usually not an issue. This is why Villopoto will be hard to beat out east. He may not be the best at adjustments on the bike, but with himself he has proven to be the best at adjustments.
As the 250 riders progress through the season they too are undertaking the task of trying to either predict the track conditions or simply run their normal settings. This may end up playing a factor in the championship, as it is whittled down to two riders at this point. In my opinion, that is why the 250 class title is so nerve wracking. Even if a rider begins to run away with it sooner or later he will make a big mistake. Often times it is a mental mistake, but most often it is caused by pushing hard while not adjusting the bike properly to meet track conditions. Sure they race when the track is much more fresh. It has fewer ruts, the whoops are cupped out less, the track is less slick, and less rough. No matter what, the track changes mightily from lap one to lap fifteen.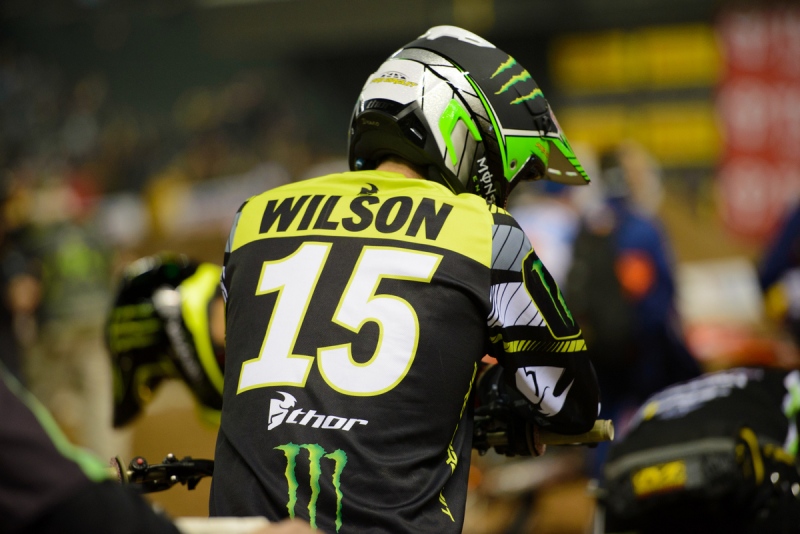 2014 has been another supercross disapointment for Dean Wilson and his fans. Lissimore photo
I believe this is the reason Wilson has been unable to produce the way he should. It does mainly seem like silly mistakes involving tuff blocks and a lack of focus. It seems simple; whenever someone is very talented and does not live up to their potential it must be a lack of focus. They spend all day every day, dreaming and training for a win: how can they possibly lack focus? It is more about them overcoming themselves. They have this huge amount of talent that has always allowed them to do whatever they needed to win, but at the highest level they cannot rely on that anymore. They have to work on feeling the bike and how it reacts in different situations and conditions. They know how to react body positioning-wise, but they have to make the bike a perfectly tuned extension of their body to be the best in today's racing world. Wilson may very well be the most talented and best rider in the class when all bikes are equal. When the track deteriorates and lines are blown out he may be the best at handling that too, but if his bike isn't set up perfectly for him he won't win.
The new standard of today is many aspects rolled into one. As in anything involved in evolution, once it begins to grow it brings with it complications that make winning harder and harder. Mental adversity used to be about riders telling themselves that they can win after going through the LCQ, but now it is about making the right choices from tires to suspension settings before the main event. It has become a chess match on comfort rather than a game of talent trumps all. Stewart should be struggling by those standards, but he has matured and experienced years of getting beat because of this very reason. Growth is a part of anything, and with it always comes complexities. The first to figure them out doesn't always win, but they have the best shot.