Enticknap's tale of woe from Dallas supercross week
Enticknap's tale of woe from Dallas supercross week
By Adam Enticknap
Photos by James Lissimore
Being a privateer on the road is not easy to say the least. One of my favorite things to say is "do the best you can with what you got" because most of the time it's not very much. But with some enthusiasm and initiative you can damm near make anything happen. The road is tough but it's sick at the same time. On one hand it's hard to be consistent on your training and riding everyday. On the other hand we find new tracks and you meet some really fantastic people on the way!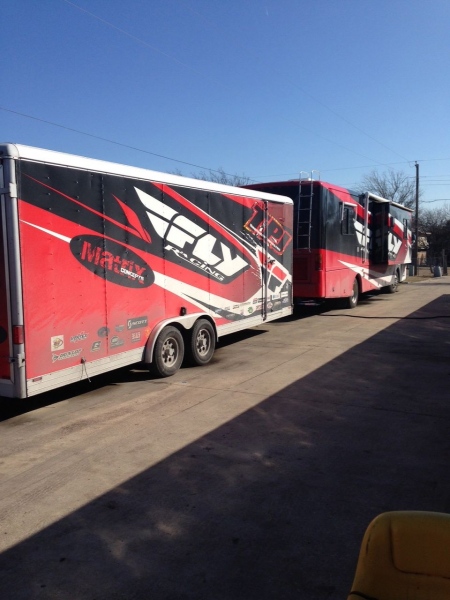 The Fly Racing Privateer Journey rig that Enticknap rides around in. Enticknap photo
ROAD TRIP STARTS NOW SON! We headed out of San Diego Sunday around 12pm and had about a 26-hour drive ahead of us. Sunday was a pretty boring ass day, all you really do on the motor home is watch a shit ton of miles go by. One of the things about the motor home is that it cost around $400 to fill it up, and it has a bathroom in it so you just go and go and go for miles on end! The only real thing that you can do in the motor home is sit ups, push ups, navigate, play mad skills, listen to music, sleep, and/or drive. Sunday was uneventful; we drove all day long and made it to Albuquerque, NM.
Now on Monday- SHIT GOT REAL, real quick! So were driving along all day and its starting to get colder and colder, but I wasn't really thinking too much of it. So now we're only a couple hours from where we are staying and it's around 11 at night so it was getting late and now the temperature was really starting to drop. We made a pit stop to get gas and when we got back on hwy 380 that takes us all the way, there was a van straight ahead and a truck to our left. We go down a slight down hill and out of straight nowhere the van ahead of us slams on his breaks and goes into an all out spin! Thank god Ted Parks knew how to drive black ice. He kept the wheel nice and straight, the gas on a little bit and we slid right out of it! That was some scary stuff! I shit you not we slid a solid 150ft with a van spinning ahead of us and a truck to our left pitched completely sideways! On a good note we parked it for the night and made it home safe the next morning!
The 722 on track walk sporting some new duds.
Tuesday- I ripped my practice bike motor out with the blown transmission and dropped it off with Marty Painter at MOTO MODS. After I came back, Ted and I unloaded the trailer, while Kevin started washing the rig because the thing was straight covered in dirt and salt.
Wednesday- I rode the race bike a little bit at Teddy Parks house, he's got a sick track. I got a bummer call that the practice bike motor was going to be $905.00 to fix. I knew it was coming but it always sucks to see the money actually coming out of your bank account, and that was with no labor charges! Thank god for people that try to help where they can.
Thursday– I got a good day of training and riding in, got the bikes all washed up, oil change, air filter, and the basic race prep on the bike. Ted and I loaded up and we took off to the races at the Cowboy Stadium in Arlington!
Friday– We parked around 10:30am and rounded up all the riders and mechanics to help with set up. It was crazy windy at the stadium Friday so we had to put each canopy up one by one and shotgun pin them down so they wouldn't blow away. It took a little longer than normal, but it wasn't a problem for the Fly Racing Privateer Journey A-Team! Did sound testing, got some tires checked over the bike and was good to go!
Saturday– I don't know what it was but man did I feel like it was my weekend. First free practice went great. Then timed practice came up and I got in two laps of the first timed practice and clipped a tuff block with my brake lever which threw me into an endo smashing my front wheel practically in half. Second timed practice went much better, put in clean solid laps and finished up qualifying 22nd overall, which was my best all season. Made it down to the first heat race got an inside gate which was a first for me and I was so stoked. Came out of the gate around 8th place and in the second corner (Kyle) Chisholm crossed over the track and I nailed his rear wheel in the air, which made me slap the ground extremely hard. And I didn't get up for a couple laps, I was so bummed. I got a 7th or 8th in the semi and got a shit start in the LCQ ending up 8th . I left Dallas SX with a bitter taste in my mouth and my body aching from head to toe!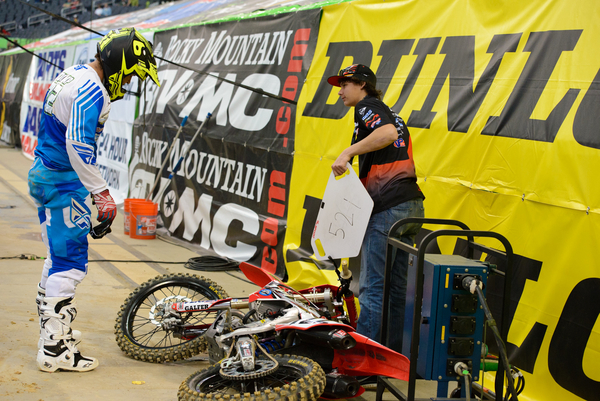 Enticknap surveys the damage from his Dallas SX get-off.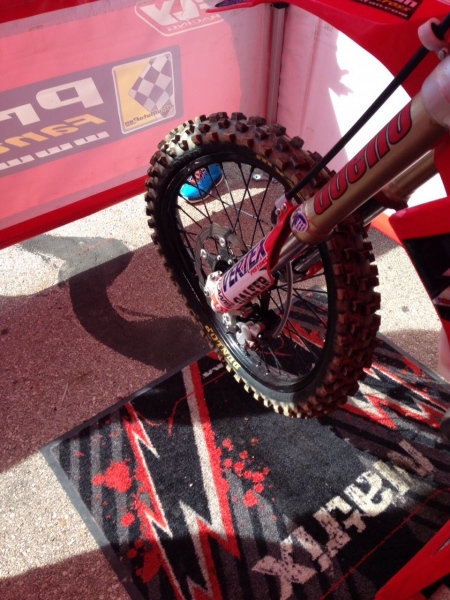 The 722's front wheel after the crash.
Supercross is so awesome sometimes and it can also be so painful as well. This week I am going to try and heal up as quick as possible and ride my butt off. I am coming to Atlanta supercross with a vengeance. I know I belong in the main event, I know I have the speed, and I am going to turn the clock to 7:22 all day in Atlanta!
7-deuce-deuce out son! Look for the 722 in the main event next week!!!!!