Forty men enter the night show.
Forty men enter the night show.
Photos: Thee James Lissimore
Forty men enter the night show. Twenty two men make the main event and are showered in money and fans. This is about the men who got so close to qualifying they could smell that main event champagne but were left with the after taste of defeat.
Here are some things I "observated" while watching the LCQ.
Cade Clauson crashed and gave away the final transfer spot, oops.
Ivan Tedesco almost died in that back tire / swingarm. At the very least he should have lost a limb or a finger, crazy.
The Chiz and Enticknap battle for the last transfer spot was highly entertaining. Chiz executed a perfect block pass pushing Enticknap off the track. Watching Enticknap jump back on the track in front of Chiz was understandable who wouldn't be pissed in the heat of the moment. What I did find surprising was that MC who was guest announcing insisted that Enticknap did nothing wrong and should get the last transfer position. MC wouldn't drop it even after the replay show that Chiz had the position before Enticknap was pushed off the track. It was odd for sure, apparently just because you have seven SX championships doesn't mean you understand the basics of passing for the last transfer spot.
#386 – Aaron Gulley
Aaron has a twin brother named Adam. Did you know Adam got 11th in the LCQ? Aaron and Adam don't have any social media. This presents a problem for a guy like me that "borrows" content from said social media outlets. To all you aspiring riders that may end up in Just Short one day, to promote yourself, your sponsors and provide context to "journalist" like me get a twitter and instagram account.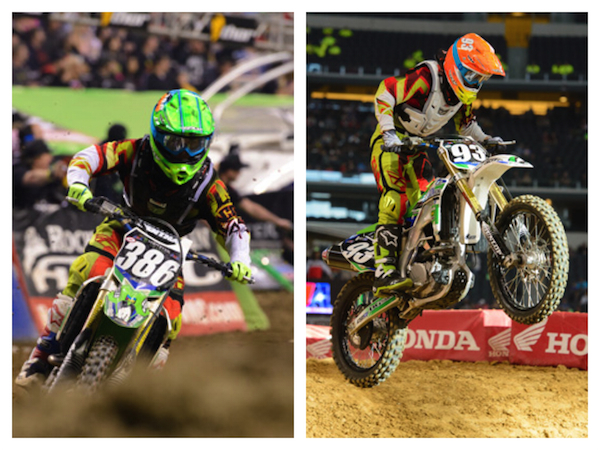 Clearly Aaron is all about racing. He has no time for this social media hullabaloo.
The resemblance between Aaron and Adam is uncanny I can't tell any difference between them.
Lucky for me I have the gear rep to the stars phone number Fly Racings Max.
#722 – Adam Enticknap
The 7 deuce deuce got a lot of TV time this week, and they say there is no such thing as bad exposure. I'm sure if you're reading this you are already who the 7 deuce deuce is, and he's definitely entertaining.
Thanks for reading please send any and all comments to jasonw@racerxill.com