Round two of the GP's and things are heating up
Round two of the GP's and things are heating up
GP of Thailand: Cairoli and Herlings turn up the heat.
Article: Jonathan McCready
Picture: KTM Images/Ray Archer
Normal service was resumed in the Thailand heat as both world champions went 1-1 and re -asserted their dominance on the field. But the races weren't without drama on what was a superb track.
Unfortunately the biggest drama was Tommy Searle breaking his wrist after a monster crash on the CLS Kawasaki. Initially it seemed odd to see Searle down and not moving on the track like that, he isn't a crasher and usually rides within his limits and rarely gets injured.
It seemed Searle had made an unlikely but costly mistake, but after the race Searle tweeted that the crash was in fact, not his fault.
The team had been struggling with the local fuel they received all weekend and unfortunately for Searle, the bike cut out on one of the biggest jumps on the track and left him with a concussion and a broken wrist, ruling him out of the title hunt and the next few races. It is a bitter blow for Searle and the team who had worked so hard all winter.
But alarmingly Searle wasn't the only one to struggle with this issue. Arnaud Tonus' second race stall on lap one was not in fact a stall but the bike cutting out like it did with Searle. Luckily for Tonus is happened on a slow turn but it still ruined his race and cost him a lot of points in the championship. Dylan Ferrandis also suffered issues. But it wasn't limited to the CLS Kawasaki team.
The factory MXGP teams suffered as well. Qatar GP winner Gautier Paulin dropped from fourth to ninth on the last lap in race two, losing valuable points to title rival Cairoli in the process when his bike started misfiring.
Paulin said: "I like this track, and I like the hot weather, but today I'm frustrated as we had troubles with the fuel that the organizers provided to the teams, and that was dangerous. On the last lap of the second race I was unable to jump, and I think that the bike wouldn't have done one more lap. I lost four positions and five points because of something which the team couldn't control."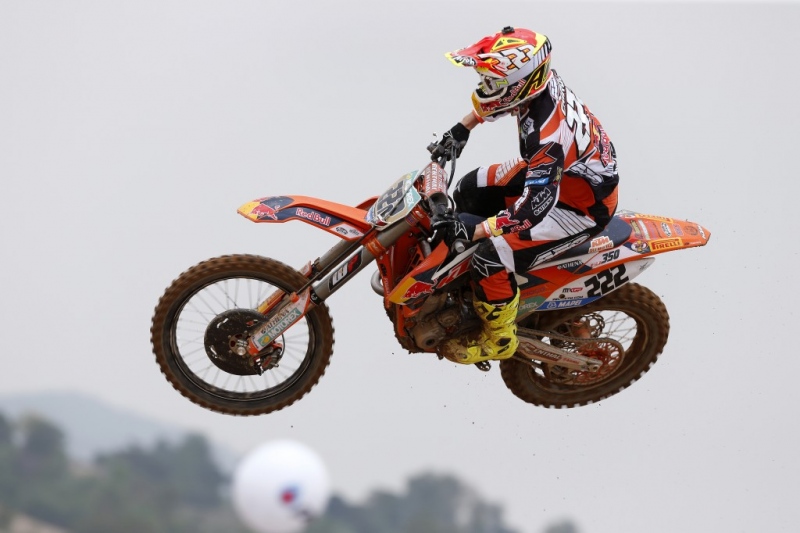 There were some challenges but in the end, AC222 won round two of the GP's.
Clement Desalle was left furious after the second moto when he encountered similar issues after leading for 25 minutes, claiming he was 'risking my life out there.' It meant Cairoli won unchallenged and a frustrated Desalle lost more points to the defending champion. Kevin Strijbos dropped from fifth to fourteenth after the same problems. Not good.
David Philippaerts pulled out of both races for the same reason and quite frankly the top contenders lost a lot of points in the championship. Frossard, Goncalves, Styke, Petrov, Seewer also had problems. Tommy Searle lost his championship chances all together and none of this is good for Youthstream.
They need their top riders fit and healthy and they need the championship to be close, when bad fuel is costing the championship contenders points and injury riders it isn't good for anyone.
Youthstream have done a great job taking the sport to new places like Thailand and the track was brilliant and clearly enjoyable to ride going by the riders' comments. While this isn't directly their fault it is hurting their series. More care needs to taken when sourcing fuel because having injured riders and riders losing points outside their control just shouldn't happen.
Youthstream may need to take a more active role in making sure the fuel is safe when arranging the fly away GPs or have a contingency plan in place. Make no mistake, Youthstream will not be happy with what happened this weekend.
The sport is dangerous enough without riders being afraid their bike will cut out on a big jump. Unfortunately for Searle it is too late now and if Desalle or Paulin lose the title by a few points they will point the finger at this race.
But back to the racing.
In some ways it was a strange race to judge between riders struggling in the heat and the fuel issues, some results were not quite what they were expected to be.
In MX2 though, Jeffrey Herlings was back exactly where he and everyone else expected him to be – at the front and pulling away.
Herlings ran away with race one but in race two we finally got to see a showdown with Max Anstie. The Bike It/ Cosworth Yamaha rider took the holeshot with Herlings quickly into third. Anstie held the lead for twenty minutes but eventually the pressure of Herlings proved too much. Anstie did all he could including brake checking the Dutchman but he was forced to settle for second after Herlings just had too much pace at the end of the race.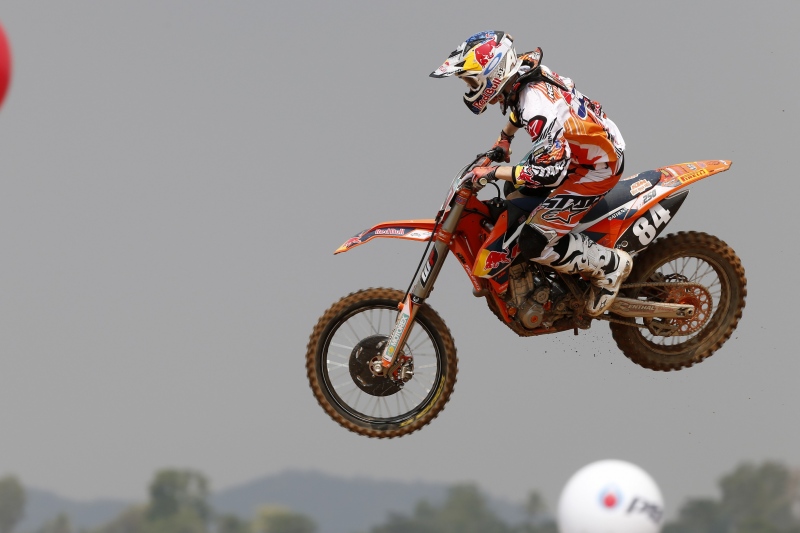 Herlings captured yet another MX2 but it wasn't easy.
But Anstie still got on the podium with third overall and lifted the team's spirits after the disappointment of last weekend. Anstie also warned that the 2014 bike he will use from now on is even faster than the 2013, which is still regarded as the fastest bike in the class this season!
Herlings admitted after that the level of MX2 is higher this year and that he just wants to have fun and win as many races as he can. It seems Herlings has realised that he might just not be as dominant this season and won't be winning races by 30 seconds every weekend.
Glenn Coldenhoff is riding fantastic this year and was second overall despite the heat to prove it. I wasn't sure if he would be able to improve on last season after signing with Suzuki but he has stepped it up again and Suzuki have obviously worked hard on the bike as well. Coldenhoff looks so comfortable on the Suzuki and you get the feeling he feels he can put the bike anywhere he wants.
Arnaud Tonus put in an impressive late race charge to third in the first moto but the fuel issue cost him what could have been a podium in race two. Tonus still came from outside the top 20 to finish ninth in another good ride. When Tonus gets a holeshot, Herlings could have his work cut out if he doesn't get away near the front.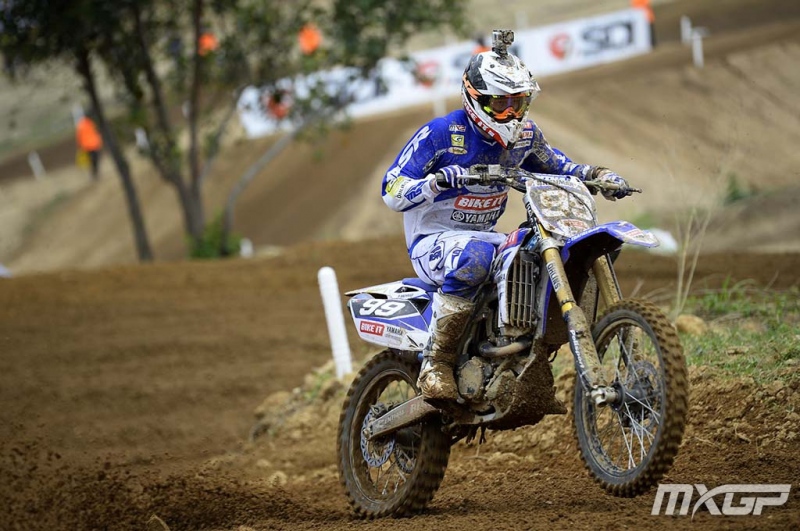 Max Anstie is much improved this year on the Dixon Yamaha team.
The French riders are going to be there all year. Both Dylan Ferrandis and Romain Febvre were strong in Thailand. Ferrandis had fuel problems but was fast once more and Febvre had a fantastic second moto to climb to third place. The factory support and an extra years experience has made all the difference for these two guys.
Right now Jordi Tixier is the third best French rider and again he has struggled somewhat in the first two rounds. Tixier though came through that issue last year and went on to be the second fastest rider in the class. But can he do the same in 2014 with the competition all improving?
Thomas Covington didn't have the day he expected in Thailand, or that his coach Johnny O'Mara wanted but 11th overall is still pretty good in tough field. Covington mentioned that he wanted to be top five from now on but discovered that if you don't get the start it is very hard to come through a pack of riders that are all going the same speed you are. O'Mara's prediction of Covington running with Herlings may have been a bit too much too soon however.
Covington though is gaining valuable experience and learning the ups and downs of GP racing and just how diverse the tracks are and the versatility you need to have – as well as the importance of a good start!
Mel Pocock recovered from his illness in Qatar to score 12th overall which is pretty impressive in the heat. Pocock is still adjusting to the KTM and when the series returns to Europe expect him to be going for top ten.
In MXGP Cairoli took a double win and, in part due to the fuel issues, took a 16 point lead in the championship! Cairoli is still the guy to beat but the other riders need to start beating him soon or the points lead will be huge within a couple more rounds.
Gautier Paulin was satisfied with fourth place in the first moto, but with Cairoli winning, being happy with fourth isn't gong to win you a world title. Paulin has the stuff to do it but he still isn't just quite as consistent as Cairoli who is rarely outside the top three. Paulin is rarely outside the top five, and that is impressive. But Cairoli has set the bar so high that being in the top five every week still won't win you a world title – that's how good Cairoli is.
Paulin is now third in the championship 17 points behind Cairoli having had the red plate going into Thailand. That is a big points swing in one week again in part down to the fuel issue. Paulin will be desperate to rebound in Brazil.
Max Nagl is now second in points. Nagl had two bad starts but, although mostly invisible, rode really well to come through the pack and ended up fourth overall. Max has proven he can come through the field and win from the front now, it seems the German has all the tools in place to challenge for the title if he gets his starts sorted. HRC Honda have to be pleased so far, even Bobreyshev, who is still struggling with his ankle, is still getting some decent results. When the big Russian is fit, watch out!
Clement Desalle did all he could in race two leading for most of the race but the fuel issue made him powerless to stop Cairoli coming past and left Desalle in a rage when he came off the track. Desalle showed he can go with Cairoli though and hopefully he will take confidence from that going into Brazil.
Jeremy Van Horebeek rode really well for third overall. Van Horebeek stayed with Cairoli and Desalle for a long time in race two and he Belgian has to start believing that he can win races after that performance. Yamaha have to be complemented on a shrewd signing for 2014. Van Horebeek is flying and looks really at home on the new Yamaha.
Shaun Simpson – oh what could have been! Simpson took a startling holeshot in race one and was happily battling in the top five until he got taken out by Paulin. He would still finish seventh but injured his wrist in the crash. A mid-pack start and struggling with pain in his wrist meant Simpson was 11th in race two but it was still some decent points and top ten overall. Shaun can take a lot of confidence from his speed at the first two GPs even if the results don't entirely reflect just how well he is riding.
Todd Waters had his best performance of the season with sixth in race two. Admittedly he was helped by the fuel issues and the injuries but still, Waters is steady and ready to take advantage of others misfortune. Waters still doesn't have the raw pace of the top ten when everyone is there with no problems, but he is getting experience and not making mistakes which will only help his education and speed in GP racing.
Rui Goncalves deserves a mention. He had a poor opening round in Qatar but was a lot more on the pace this week. Fuel issues in the last couple of laps prevented him getting sixth off Waters but Rui is beginning to get back to the speed we know he is capable of. By the time the series hits Europe Goncalves might just be top ten speed even without the injuries and fuel issues that helped in Thailand.
Finally a quick shout out to Davide Guarneri. In both Qatar and Thailand the Italian has shown really good speed on the TM and once again was top ten. TM seem to have made the bike better this year and Guarneri is riding it really well.
Hopefully the fuel issues won't be a problem when the series heads to Brazil in couple of weeks and all the riders can get back to going as fast as they can and getting results that reflect their speed instead of losing places due to a misfiring machine.
But can anyone beat Cairoli and Herlings?
MXGP Overall top ten: 1. Antonio Cairoli (ITA, KTM), 50 points; 2. Clement Desalle (BEL, SUZ), 44 p.; 3. Jeremy Van Horebeek (BEL, YAM), 40 p.; 4. Maximilian Nagl (GER, HON), 33 p.; 5. Gautier Paulin (FRA, KAW), 30 p.; 6. Evgeny Bobryshev (RUS, HON), 26 p.; 7. Todd Waters (AUS, HUS), 26 p.; 8. Davide Guarneri (ITA, TM), 26 p.; 9. Shaun Simpson (GBR, KTM), 24 p.; 10. Xavier Boog (FRA, HON), 23 p.
MXGP World Championship Classification Top Ten: 1. Antonio Cairoli (ITA, KTM), 92 points; 2. Maximilian Nagl (GER, HON), 76 p.; 3. Gautier Paulin (FRA, KAW), 75 p.; 4. Jeremy Van Horebeek (BEL, YAM), 72 p.; 5. Clement Desalle (BEL, SUZ), 71 p.; 6. Evgeny Bobryshev (RUS, HON), 51 p.; 7. Kevin Strijbos (BEL, SUZ), 50 p.; 8. Steven Frossard (FRA, KAW), 49 p.; 9. Todd Waters (AUS, HUS), 43 p.; 10. Joel Roelants (BEL, HON), 38 p.
MX2 Overall top ten: 1. Jeffrey Herlings (NED, KTM), 50 points; 2. Glenn Coldenhoff (NED, SUZ), 40 p.; 3. Max Anstie (GBR, YAM), 37 p.; 4. Dylan Ferrandis (FRA, KAW), 34 p.; 5. Romain Febvre (FRA, HUS), 32 p.; 6. Arnaud Tonus (SUI, KAW), 32 p.; 7. Jordi Tixier (FRA, KTM), 31 p.; 8. Alessandro Lupino (ITA, KAW), 27 p.; 9. Aleksandr Tonkov (RUS, HUS), 27 p.; 10. Jose Butron (ESP, KTM), 19 p.
MX2 World Championship Classification Top Ten: 1. Jeffrey Herlings (NED, KTM), 97 points; 2. Dylan Ferrandis (FRA, KAW), 74 p.; 3. Glenn Coldenhoff (NED, SUZ), 69 p.; 4. Romain Febvre (FRA, HUS), 66 p.; 5. Arnaud Tonus (SUI, KAW), 65 p.; 6. Jordi Tixier (FRA, KTM), 59 p.; 7. Aleksandr Tonkov (RUS, HUS), 58 p.; 8. Jose Butron (ESP, KTM), 50 p.; 9. Alessandro Lupino (ITA, KAW), 42 p.; 10. Max Anstie (GBR, YAM), 41 p.