Thomas touches on Trey Canard's return to racing
Thomas touches on Trey Canard's return to racing
Hammerhead Designs was launched with the intent to provide new and better parts and innovative accessories for motocross bikes. One of our goals has been to design entirely new and unique products with improved ergonomics and the shift lever was the first part that we felt could be dramatically improved by providing a feature that would allow for the shifter to be repositioned to perfectly suit the riders size, shape, and preference.
Photos by James Lissimore
Trey Canard is coming back in the next couple of weeks and as my job entails growing the Fly brand and ultimately selling products, it will be great to have him out there. He has been injured since December when a whoop section mishap left him with a broken wrist. Early reports had him coming back sooner but ultimately no one knows how quickly the body will heal each particular injury. He had been looking really good at the European swing of supercrosses, battling hard with teammate Justin Barcia. For a rider who has been repeatedly dealt more than his share of injuries, it was tough to swallow missing the start of another season. Finally, he is ramping up to come back to the final few supercrosses and get back in the mix.
There are a few issues with coming back from an injury, especially mid-season. First, he hasn't been able to not only ride for several months but he hasn't been able to use that wrist productively either. Muscle atrophy is no fun and takes a while to get back to normal let alone supercross strong. Also, he will be walking into an ambush as all of the riders are on form by now and he is getting his feet wet. Lastly, I doubt he will be entirely 100% prepared for 20 laps at full bore as that takes months and months of preparation. That means the end of the main events will be a struggle and frustrating if he has to back off the pace. It's no easy task in front of Trey but the important fact is that it will become easier with each passing week of racing. Getting back into the fray is the key, the rest will eventually sort itself out.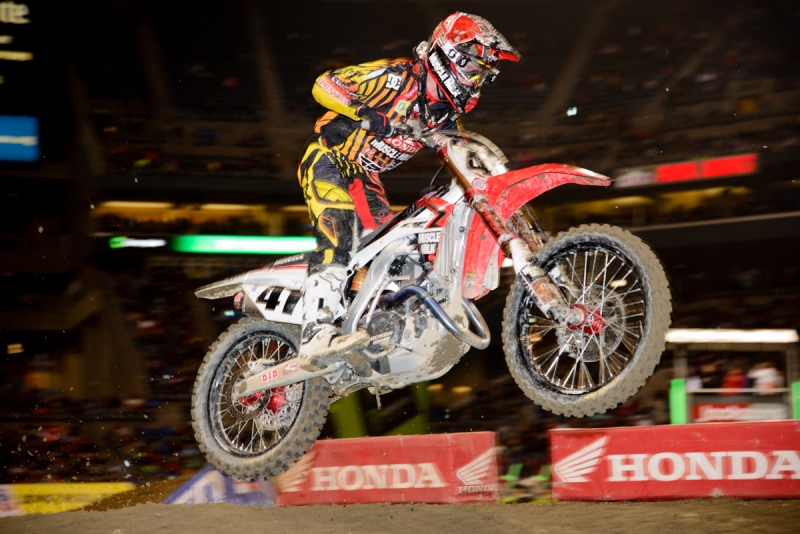 It's not going to be easy to jump back into supercross but we've seen Canard have the speed before.
Most riders would be stressing about another topic: signing their contract for 2015 and beyond. For Trey, I don't think he has too much to worry about and I fully expect to see Honda retain him for the next couple of years. Trey has what factory teams want. He has the talent to win races, he has won titles in the past and his image is impeccably clean. If he could stay healthy, he would be the ideal pick for any team. I can't stress enough how much of a comfort it is to not have that contract pressure forcing someone back to racing. Coming back too soon is always a bad idea and regardless of the reason or necessitation, it seldom works out for anyone. I am sure he has had lengthy discussions with Honda about coming back when the time is right and not rushing it to help his negotiating leverage. I really feel that it is in the best interest for everyone to make objective decisions instead of rushing anyone back to action. I think they have done this so far.. Kudos to them.
Knowing Trey and how he has responded to previous injuries, I think he will come out swinging. When he showed up at Millville in 2011 for his first race of the season, he promptly went out and set the pole in qualifying. Then, last year, after a horrific back injury suffered at Los Angeles in 2012, he came out and nearly won the opener in Anaheim. It's almost routine for him at this point. Miss some time, wait for people to count you out, come out and shut everyone up. As a big fan of Trey, I love his ability to do that. It's not easy to come in and wow people. I usually had people saying "wow, you suck" to me more than the responses Trey gets. I envy his fearlessness in that regard. So, as he prepares to make yet another comeback, I hope he comes out and shocks us again. If he does, how can we even be surprised? That's just who Trey is. When life tries to knock him down, he may go to his corner for a bit to see his cut man but when he comes out for the final bell, my money is on the 41.