He made the main. That is all
He made the main. That is all
Photos by James Lissimore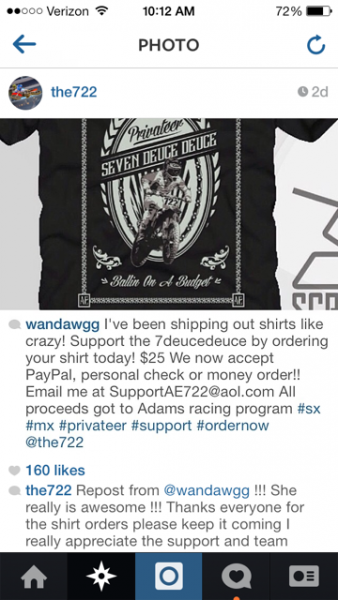 Want to support the 722? Look above for t-shirt ordering info.
Can I get a HELL YEAH!!! Finally the next step starting to come together! After weeks and weeks at it, I finally succeeded! Yes, it was Toronto, Canada. Yes, there were some riders out and it was easier, but racing in the main event and getting that experience is the next step for the 7deucedeuce! It definitely wasn't one of the easiest weekends of my life, but if you know the 7deucedeuce I always keep my head up with a positive attitude!
Race Day: Woke up around 9:00 rolled out of the bed in the motor home, and had my race day breakfast. Looked over the bike, took her through tech inspection and somehow I got in the "A" practice! Start off the day pretty pumped with a breakfast that was so on point and THEN I got "A" practice??? WHHHAAATTTT?? That's the way to start the day. We did the track walk, came back and I got dressed in my lucky red and orange Fly gear. I just knew today was going to be the shit son! The first free practice went well, I got the track dialed very quickly and was stoked. The next practice, which is the first qualifying, came up and it went pretty good too until the last lap. I went to throw down a BAD ASS heater and BAM- I clipped a hay bail and wrapped my brake lever back around my foot peg!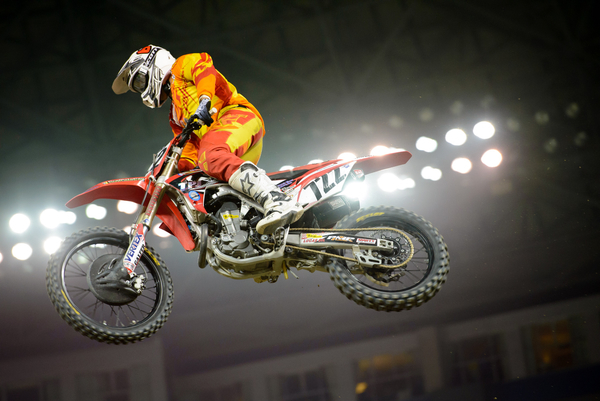 Adam had a great night in Canada as he made his third career main event in the 450SX class.
I looked down and was like DDDAAAAAAAAAAAAAMMMMMMMM! Hahah the shit was in reverse. I cruised up to the pit and asked team GEICO Honda if they had an extra and they fully hooked me up! That was SO SICK, I was freaking stoked! Lined up for last practice and put in some good times, got solid laps in and felt ready for the race. I ended up with a 17th overall going into the night program, I was really happy with that considering it's a personal best!
After practice I noticed my fork leg bolt was missing due to the fact my whole fork guard was hanging off. You couldn't really miss it the thing was all bonered out to the side looking straight gooner! I checked it out and it seems my fork guard bolt had gotten stripped out. That wasn't good at all because it was the side with the hole shot device! Thank god for fellow privateers! John Meynet had a time-sert the size I needed, and we fixed her right up! We got done doing that and noticed that I had a rear broken spoke, SICK (not)!!!! One missing spoke isn't a big deal but the nipple that was still there was. I was worried if the nipple of the spoke were to back out and get inside the rim, well you can guarantee a flat tire.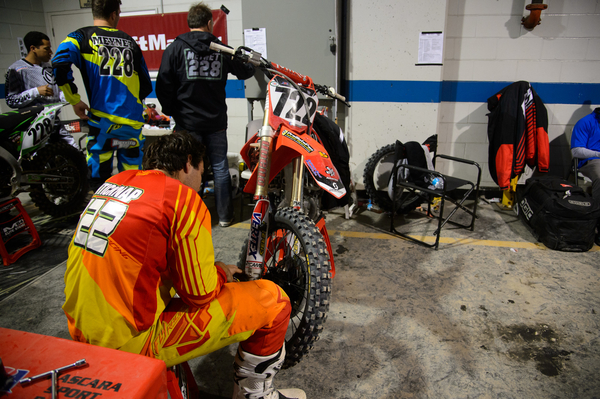 The privateer works on his steed in between practices.
Night program is here and I was more ready and fired up then ever! I had the best gate pick I've ever had and was feeling confident in my abilities on the Toronto track! Gate dropped and I came out of the hole good- probably was in about 9th or 10th coming into the first corner when I realized my holeshot device wouldn't release! I was so pissed I knew I needed a good heat race to get a good gate pick in the semi! Luckily, I pulled in the pit and my mechanic helped me get it fixed and got back on the track for a few laps but I still got last due to being a lap down! I was not super happy about that.
For the semi race, I had the LAST gate pick. I was just looking at this gate wondering how am I going to pull this shit off when I just said to myself "You know what time it is! 7 DEUCE DEUCE time B***H". Yeah! (spoken like a true gangster hahahaha), I ripped that start like a boss. When I was out front I was actually pretty calm but my downfall was that rhythm section after the finish. No matter how hard I tried I just could not get it down! I ended up getting passed and finishing up in 6th place! That was one spot out of making the main in case ya didn't know.
For the LCQ, I got first gate pick! That was pretty amazing actually having the gate of my choice hahaha it doesn't happen much! Well what had happened before is that I went to the rig to get gas and when I came back down to line up- my mechanic was nowhere to be found hahah! So now I am on the line and I need to pack my gate so I yell over to Toolie, the AMA guy, and say " Yo Toolie can you hold my bike real quick?"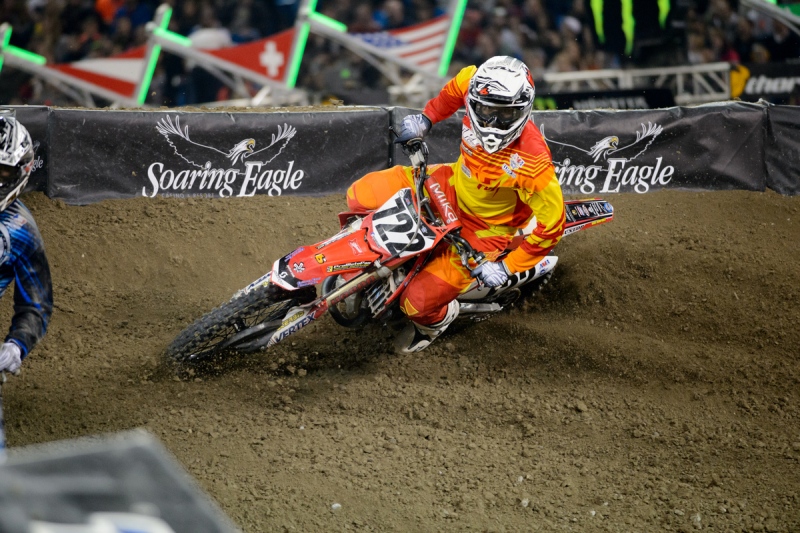 People are starting to jump on the #722 bandwagon.
So I am packing my gate, get done and grab my bike roll it in the spot. I realize now I need my holeshot device set, so I look over and holler at Preston Mulls mechanic and say "Yo homey ,can you set my holeshot device?" hahah !!! I ripped another good start did't do anything crazy and put my bike in the main event with the 3rd in the LCQ. SO PUMPED!!!
The main event was sick, just lining up again was an absolutely amazing feeling!
It didn't go as well as I wanted it to but it is what it is and you build on what you have for a base! I love what I do like I say every week and it's just another step in the direction of success! Thank you to all my readers and if you see me at the track please YELL OUT LOUD 7DEUCEDEUCE!!!!!!!!!!!!!!!!!!!!!!!!!!!!!!!!!! Peace out!