Mr. Scoggins lays down some thoughts from the crazy Toronto race.
Mr. Scoggins lays down some thoughts from the crazy Toronto race.
Photos By: James Lissimore
Many races have promised to change the face of the championship, many have shown glimpses of brilliant racing, but none have come through with a dynamic storyline across both classes, until Toronto. Sure, Anaheim 1 had Kenny Roczen, Anaheim 2 had Chad Reed, Indy had Dungey, and Daytona had Ryan Villopoto's return to dominance, but the real twister was set to hit Toronto straight on. It came in the form of sickness and injuries for the two Championship leading, Kawasaki toting riders with everything on the line. One's illness could be pushed aside but the other's injury was just too severe. One left with his points lead in tact, while the other left trailing. It was a night for two riders to forget and a ton of fans to remember.
Of course, on this night a boy had to become a man with the cameras and lights pointed directly on him. Adam Cianciarulo has been smart all season. He has been the victor multiple times because of a race strategy far beyond his years of actual race experience. He has proven time and again that he belongs in the same sentence as "hype", "future", and many other accolades thrown his way. On this particular night he made a huge mistake that is could have happened to anyone. He must have been in a lot of pain but he made it into the main event and then pulled another great start. He had a few laps where it looked like maybe he could pull it off, but the body cannot be tethered together by heart alone. When he had it popped back in and promptly mounted his kawi again…you just knew, wherever you were, whatever you had previous thought, he had just shown you something more. Something that proves even when accusations of being given everything float around, jealous whispers pierce everything positive, and even when expectations are monumental, an unrelenting desire to win trumps all.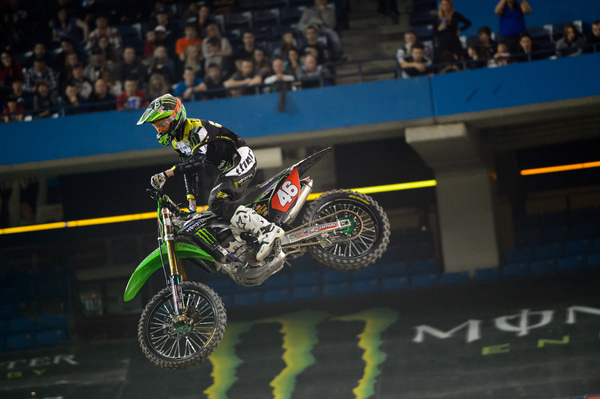 AC's dream season was dropped on it's head in Toronto.
It was literally that time of the season when Ryan Villopoto received a firm gut check. Crazy enough it was in the form of an unknown sickness that went undiagnosed. Ryan has been known to put in solid rides even when problems present themselves and this weekend proved to be no different. With no practice on a tricky track he managed to salvage a very strong 6th place. With that finish he did not lose much in the way of championship points at all. I am sure his pain was terrible and more than that, I imagine by the end of the main he did not have a lot of energy left. But, he pulled a good start and maintained a solid pace in order to make sure he gave little ground to Dungey and Stewart. At this point in the season we just hope for great races with a dynamic cast of 450 veterans and rookies alike. Ryan seems poised to push through every obstacle in his path. His team must be very thankful that for all the drama produced by the TV crew, none of it spilled over into the actual race for RV.
The tornado did indeed twist some things up in the 250 class. You could point to Bogle's win and say you saw it coming, but it has been a hard road for him. You could point to Davalos finishing second and say that was not a twist as he has finished on the podium numerous times thus far this season. You could point to the third place rider and say you…no you can't. Matt Lemoine has been struggling since he first turned professional with injuries or not being able to find a ride. In what has to be one of the biggest surprises of the series out east, he picked up a podium finish to give him some more bargaining power entering negotiations. True enough he may have just thrown his name in the hat for a few calls, but he must back this one race up with a few more solid top 5s to solidify himself a place at the table. It was great to watch a rider who has pushed through a lot in a relatively short period of time to keep fighting for that particular dream. Many riders have had better shots and failed or even walked away, but Lemoine keeps fighting. In Toronto he rode the wild winds of retribution to the race of his life. Enjoy the moment, and hope the wind rises once again Lemoine.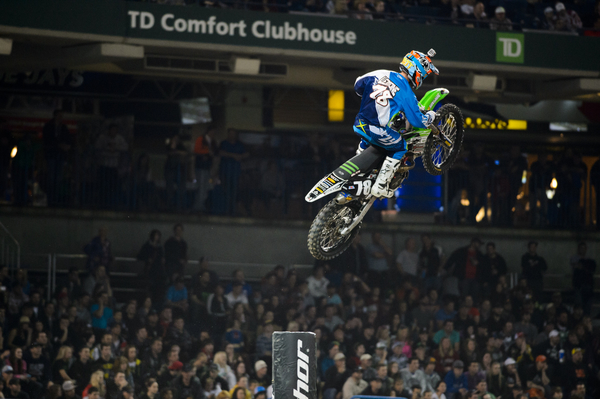 Lemoine's podium was the feel good story of the night.
The tides were meant to be turned in the 450 class as well; however, James Stewart would not let that happen. Crazy things could have happened with Dungey and his aggressive level could have sky rocketed to early season limits, but it would not. Barcia could have used less push and more riding of his own race…and that is exactly what he did. In a season of regret, missteps, mistakes, and a severe lack of starts, Justin finally put it together. He did not grab the holeshot and he did not push his way to the front. Instead, he rode a solid, smart race to outlast Dungey, surpass Roczen, and generally handle everyone not named James Stewart. Barcia could have won had he pushed the limit but the season has been grueling on him, and to take second had to feel really close to a win. It is hard to believe the difference a season can make and for Barcia that signifies a bad thing. Maybe the twister has him back on track to contend for wins weekly? Maybe all he needed was a solid race where he was close to finding that edge all the top riders find, but only after tasting the lead for a few laps? The only thing for sure is that the end of SX may get a real kick if Barcia finds his groove.
Hindsight makes all 20/20, but it does so by fading the real raw emotion connected to each individual moment we experience. Every race has had its ups and downs; it's own storylines that were compelling. Toronto was set to be a regular race on the schedule before events were set into motion by unforeseen or expected circumstances; circumstances that were and were not able to be overcome by the men holding the red plates entering the evening. Few can deny the opportunities gained and lost at this event, which make it dramatic in it's own right. This season has been full of race winners and a slow loss of championship contenders, but Toronto provided that shot of emotion we needed. It gave us the idea back that being predictable is not a constant part of SX. And Adam reminded us that behind every veteran, rookie, or any stage in between rider, lies a desire to obtain a feeling…a feeling worth fighting for even when your body does not want to. He reminded us that sometimes a finish, no matter where it is, is bigger than the race itself.