Paul Buckley shot it. Davey Coombs talks about this amazing race
Paul Buckley shot it. Davey Coombs talks about this amazing race
I started shooting Motocross Photos in 1975 basically just because I liked to but then when I started showing some of the guys I knew who raced they would tell me, hey you should sell those, when I asked them "who would buy these?" they said we would we'll buy them all. Those guys were true to their word and they bought every photo I took of them and that was the start of Buckley Photos. Since then I've shot a ton of local races around here in New England, I'd say 99.9% of the novices that have ever raced in New England have a Buckley photo of themselves hanging in their garage.
I also shot a ton of nationals and supercrosses X Games Gravity games road races GNCC's a little bit everything over the years traveling around the country shooting for almost every motorcycle magazine in the world I guess as well as shooting for almost every motocross clothing and accessory company in America. Want to order a classic print or something else? Go to buckleyphotos.com and we'll hook you up. Thanks for reading- Paul Buckley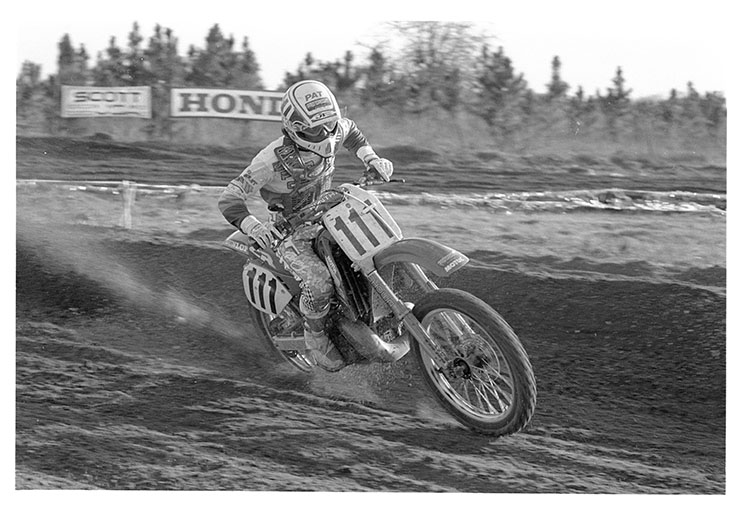 Pitting out of a van, wearing "Starbuster" on the back of his pants, the 1988 125 World Champion shocked the world by winning the opening AMA national of the year and Paul Buckley and Davey Coombs were there for it.
Davey Coombs: "Looking back, the '89 Gatorback National was a remarkable race—historic even. It was like we watched the eighties come to an end right before our eyes. Between then-king Ricky Johnson snapping his wrist in his practice collision with Danny Storbeck and snapped his wrist, then teenagers Damon Bradshaw, Larry Ward, Mike LaRocco and Mike Kiedrowski going 1-2-3-4 in the first moto, and of course Jean-Michel Bayle running away with that first moto, it all added up to the end of an era, or a decade even, 1980s American motocross. Just like that, the era of RJ, Wardy, Lechien, O'Mara, Glover (and before them Bailey, Barnett and Hannah) gave way to this new spearhead: Bayle, Stanton, Bradshaw, Kiedrowski, LaRocco…
Bayle was a project that Roger DeCoster and Mitch Payton were championing. He was the 125cc World Champ, but he had his sights set firmly on the U.S. That didn't go over so well back home, and many took him to task. One journalist who had his back was the late Pat Boulland, then the dean of French motocross journalism. He supported JMB even when Bayle adorned his Cadre Rouge Honda with U.S. flags or talked about emigrating, and Jean-Michel paid him back in a very cunning way: He wore a sticker with "PAT" in bold letters on the front of his helmet in plain sight, which meant every action photo of him would show that nod to another journalist! He also wore "Star-Buster" on the back of his JT Racing pants, telegraphing his intention to take over the world.
But not everyone bought into it, and DeCoster looked slightly foolish as Bayle crashed his way around his first few SX races while U.S. stars like Johnson, the up-and-coming Stanton and Guy Cooper led the way. So when it all came right for Roger at Gainesville with JMB going 1-3, he truly felt vindicated. It was the first time since 1979 that a European had won an AMA race—the last winner was Belgium's Andre Malherbe at the '79 Trans-USA race at Mid-Ohio.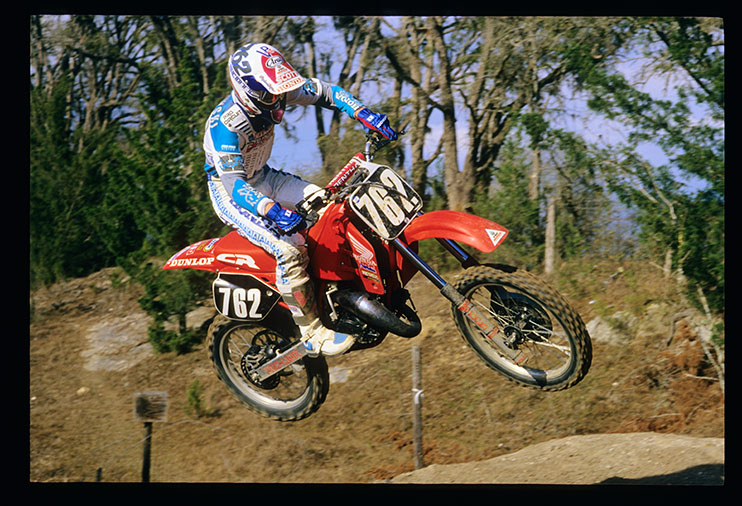 The three-digit numbered Mike Kiedrowski surprised everyone by winning the first national of the year.
On a personal note, I was near the announcer's tower when they went to give out the first-place trophy. The announcer, who had been calling JMB "Gene-Michael Bailey from Paris, France" all day long, actually handed the winner's trophy to Jeff Stanton, who went 2-2, instead of JMB, who went 1-3, thinking of moto scores and the tiebreaker being best-finish-in-second-moto, when Stanton actually only had 44 points to JMB's 45. So when he announced Stanton as winner, DeCoster came running up from the pits waving his arms and shouting that they had it wrong!
Roger was also a big part of the youth movement that Honda and Dave Arnold had pulled together in the 125 class, so to see Kiedrowski come out of seemingly nowhere to win was a very big deal to him. Everyone was watching the rookie Bradshaw, who won the first moto with ease, but then Damon fumbled three times in the second race and threw away the overall. Kiedrowski won the second moto and the overall, and there probably wasn't very many people there that could say his name correctly either!
At the time Kiedrowski's #762 was the highest-numbered winner in AMA Motocross history; later that summer his Honda Support teammate Larry Ward would better than by winning Southwick while wearing #971 (a record that still stands). They beat reigning champ George Holland and veterans like Cooper and Erik Kehoe.
Bayle actually pitted out of an Astrovan that Mitch Payton had loaned him. Coincidentally, there was another rider there with his own little van: Honda privateer Donny Schmit, who's path was about to cross with JMB's, because at the end of 1989, after clinching the 250cc World Championship, Bayle would come to America to begin his conquest in earnest while Schmit would go the other way across the Atlantic, landing a 125cc GP ride with Bieffe Suzuki and soon to become a two-time FIM World Champion.
RJ would win more races, but he was never the same. Wardy was getting older, Lechien and O'Mara were nearing their respective ends, even Mark Barnett was there in an ill-fated comeback of sorts—he would finish 13th on the day. And lost in it all was Danny Storbeck, the accidental trigger for this, who ran 6-4 for a solid fifth overall. He now runs a trucking company in San Antonio.
Did I mention that making this an even stranger race was the fact that Gatorback ran backwards from its normal direction, going clockwise as compared to the regular way? It was all pretty wild!"