Le Cobra offers up his thoughts on Hangtown
Le Cobra offers up his thoughts on Hangtown
Q- Basically the same results as Glen Helen save for the KTM guys swapping spots. And the top two in both classes are clearly faster- this is making us experts look pretty dumb but what do you think about it?
David Vuiilemin: It's been the RV-RD show for a while in that class for a while. It's not something new. I knew Roczen was going to be a bigger threat in MX than SX. We talked about it in the PulpMX show before Vegas where we had a packed house with Cianciarulo, the Albertsons, Ping and Kevin Barnett. You thought I was crazy to think Roczen was going to beat Dungey. They are close but Ken's won 2 motos out of 4 already. MX is Ken's specialty. He rides 450s since he was 13-14 years old. The guy is a phenomenon. Add a better training program, a healthier lifestyle than 2013 and you get a winning machine. Am I surprised they went 1-2. Not at all, I picked KR and RD to go 1-2 at the first 2 races in my fantasy league!
I think Dungey could do a little better but nothing about his training. The guy works hard. I think he can change his bike setup to help him being faster on the track. Ken's bike, even if it's the same brand with the same parts, looks better out there. In my opinion, Ryan's bars and/or bar mounts are too high which brings his elbows and center of gravity too high. He looks way too uncomfortable in too many turns. It looks like he sits low and his hands look too high to corner properly. At that level, every details count. I might be wrong but that's what I see from my couch.
Pourcel has his first podium here in a long time in his second race back. And he was fastest in practice again with really only doing four fast laps in the two practices. Why do you think he does this and is it wise?
Obviously his approach in time practices works since he's two for two for pole positions. On paper, after 18 months without racing, a 5th and a 3rd overall is pretty good. I thought he was going to get 5th in moto 2 in Hangtown as Bogle and Hill were catching him but they both crashed when they got close to him. His speed isn't the problem. He's got it for a lap. But there is no way he can ride at that speed for 5 laps and finish the 30 minute moto. He's pacing himself from the start to finish. He knows (I think and hope he knows) if he starts the first few laps a second faster than anyone else, he will be struggling to see the checkered flag. You can see his lap times, after 4-5 laps they start dropping pretty drastically compare to Martin. CP started in Martin's wheel in moto 2 and finished 27 seconds behind at the end of the race. That's a 1.6 sec average slower but he was 1.6 second faster than Martin in practice. If you compare their best lap times in practice and their fastest laps in moto 2, Pourcel was 1.6 faster in practice and 0.7 second slower in moto 2. That's a 2.4 seconds swing. It's a lot.
Why? Just because what I told you in the in the beginning of the paragraph. I believe CP is the best rider in the 250 class but he needs to train like an athlete and burn tanks of gas during the week which we all know he doesn't. A 10 year pro veteran as great and amazing of a rider as Pourcel shouldn't get beat by two sophomores like Martin and Webb even as good as they're riding this season. It's why I'm tough on him. I wish I was as good and as talented as him, I would have had a couple major titles by now…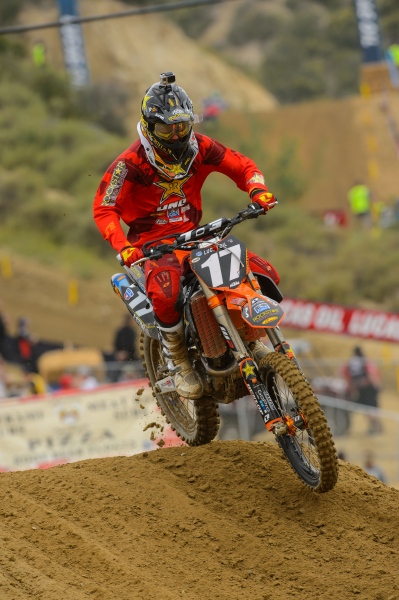 Vuillemin thinks Anderson will win a national this year. Cudby Photo
Jason Anderson, winning a national this year or not?
He has the potential, the speed and I do think he will do it. He's still making some mistakes that makes him lose some time. His crash in moto 1 was pretty stupid when he decided to go from the outside of the split lane to the inside at the last second. He will need to avoid those bad decisions and start getting in front of the pack early in the race. His starts haven't been that great. I think with more MX riding and better starts he could be a spoiler halfway into the series to battle for a win. The kid has heart and speed, he just has to put everything together and take it moto by moto.
The Hangtown track, what did you think about it as a racer and what do you think about it now?
I actually won my second ever National in Hangtown in 2000 with a 2-2 score. The track came a long way since then. It used to be like the South of France, hard packed and dusty. They've done a great job with this track over the years even if I liked it as crappy as it was when I first rode it. It was more interesting than Glen Helen in my opinion with more line choices even if it's a tighter track. The split lane a few turns after the start was pretty cool and worked.
What are Roczen and Dungey doing out there better than the other guys? Canard started right with them in the first moto and they just dropped him.
I think Canard needs some more riding time and will be in the mix soon. He's a great MX rider but was off the bike for a while after his injury in SX. He missed 12 SX this season. By doing the last 5 races in Supercross, I think it hurt his preparation for the MX season. He had to get ready and test for SX to be competitive, which he was, and at the same time, test in MX and train for the MX season. There's only so much you can do his that short of a time frame. He's maybe fresher than the other guys but only raced 7 races this season and 2 different styles of riding, SX and MX. If he had not raced the last 5 SX and focus on MX, he would have been even better in MX. His second moto in Hangtown was inspiring. He fought all the way to the finish to try to get Stewart in the last lap and making some good passes along the way. He was unlucky in GH when James hit him in the sand section and both crashed. He's the 3rd guy right now for sure and can build up from here. Like Dungey, he's dedicated and working hard. I have no doubt he'll be closer to the KTM boys as the season progresses.