One of the owners of GEICO Honda talks shop
One of the owners of GEICO Honda talks shop
Photos by James Lissimore
Let's talk a little about your GEICO Honda team. First of all, 2014 was a very successful season. Bogle won a title, Tomac won races. How was the year for you?
Overall it was a great year. Obviously Justin achieved what most thought wouldn't be possible, with what happened at the practice track in December. I actually happened to be there that day and witnessed it. It was every bit as bad as what everyone saw Zach Bell do at the beginning of his Supercross career in Dallas. I thought he was done for the year. I was at first just hoping he was going to be able to physically recover from it. But for him to come back and do what he did on the east coast, that's a credit to his hard work. We're quite proud about that. Eli had a good rookie year, ups and downs obviously. Finished out the year strong by getting himself comfortable on the motorcycle. When Eli's comfortable, all sorts of great things can happen.
Your other guys battled injuries so it was up and down with them…
Zach Osborne was actually bit twice. It was unfortunate; he was really ready to go for the outdoors and just got caught up in the first turn at Glen Helen. Wrong place at the wrong time, but that's what happens in our sport. From the beginning of the year, Zach Bell was telling everybody he wanted to finish the full season, he hadn't done that yet. In fact, even at the end of the year he had a bit of an injury to ride through. I don't think we saw the speed out of him like we've seen in the past, but his goal was to keep it on two wheels and prove that he could finish out a series. Matt Bisceglia's sophomore year had its moments, flashes of speed. I think right now he's still adjusting to the pace and hopefully next year we start to see a little more out of Matt.
And maybe a little less of him in the LCQ's in Supercross every week.
Yeah, he shined very brightly in the LCQ's. Not where you want to be illuminating, but that's where he shined.
Your son-in-law, Christian Craig, you brought him out of retirement and he rode 4 races for you on the 450. It was a success. He actually did pretty well. Did he surprise you?
I wouldn't say he surprised me because he had been doing quite a bit of riding locally with some fast guys. We all know Christian's speed. We knew that if he was comfortable that he would do really well. The plan was to ride 4 races this summer regardless of whether it was in our truck or not. Because of some of the injuries we had going on we were able to accommodate him in the truck and make the program a lot easier than doing it out of the back of a pickup. He wanted to race the bike that he was riding and was comfortable on. As everyone has talked about, it was a very stock motorcycle initially. But It didn't take long at Red Bud to find out that it was pretty deep and he was underpowered so we got him some more power and we got him a little more trick stuff every week that went on. He did really well. I'm very proud of him and happy for him, but I don't think it's going to be the beginning of his return. He's pretty content. Right now he is thinking about riding one or two next year.
So this isn't the start of anything, but he was pretty good. A pretty talented kid. You could see that out there.
Oh yeah. He's got tons of talent. He put in the effort, worked really hard. He didn't want to go out there, make it to the 15 minute mark and not be able to finish out the races. He put in the preparation and the hard work and it showed.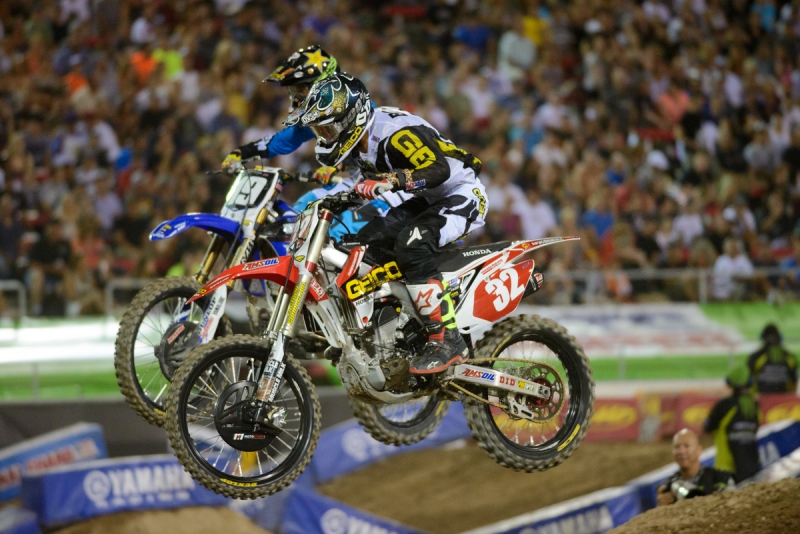 Justin Bogle captured an unlikely 250SX title this year for the GEICO Honda guys.
What's the silly season like for you? Obviously you've got Mike LaRocco and Ziggy (owner Rick Zielfelder) and everybody else, but as a team owner how much involved do you get in this kind of stuff?
All of us owners and LaRocco, we're constantly communicating about that. We get inquiries from riders, all of us do individually. There are guys who have connections to Mike, Ziggy , Mike Grondahl (other team owner) or myself. So whoever gets the contact, we bring that to the group. As of right now we have our 4 250 riders. We have Justin Bogle coming back obviously and Matt Bisceglia. And then we've got the two rookies coming up, Jordan Smith and RJ Hampshire. And we may add a fifth rider. We're not sure yet. Obviously Supercross is important to be well-represented and the injury bug can take a rider quickly. So we're on the fence whether we're going to add a fifth rider or not.
A few years ago you guys really put an emphasis on an amateur program and It's been no secret that since you've really committed to that you guys are just producing these great riders year after year. I take it looking back that was a very good decision to put some funds that.
It's been really good for us. It starts with Ziggy and his presence in the amateur world. Obviously, Factory Connection is deeply rooted in amateur racing and he's at all the big amateur races and those relationships were there. So it was just a matter of deciding to make another layer of investment. It's certainly paid off. It's something that we're proud of. Obviously, it's not a big program. We get a lot of questions about whether it's going to be expanded but at this point we're going to keep it the size that it is and just keep doing what we're doing. There are now a lot of pro teams that very competitive amateur level. For a few years there we were, I wouldn't say alone, but we certainly had the upper hand. Right now it's much more competitive.
I do worry a little bit about it as far as committing to these guys earlier and earlier. So now do you start going when they're 10 and 11 and locking them up? It's one of those things. It's a difficult thing to figure out, right?
For sure. There's people with varying opinions on that. We've taken guys that are B class coming out of B, going to A, so the kids usually that we're talking to are 15 or 16 years old. We certainly don't have the reach like some of the other amateur programs have like Team Green and KTM. I can understand where it's somewhat controversial. But from our standpoint we feel that we can identify those kids that are on the right track to make it professionally. Our hope is that we can just facilitate that path, make it a little easier for them, take away some of the transition issues that come up, and ultimately just be a win-win for both them and the team.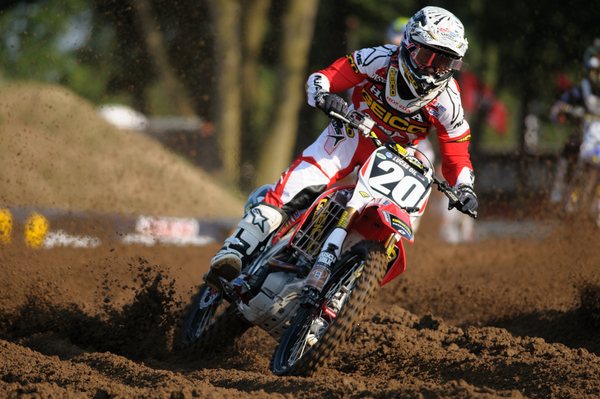 Even though he's moved on now, Justin Barcia was a part of the Factory Connection Honda team for a long time.
It must be really rewarding for you as an owner to take these guys like Canard, Barcia and bring them on, see them succeed and then watch them go on to 450 success?
Absolutely it is. These families have invested so much in their programs and are hoping to see that investment pay off. And to have a role in that, however small, is very rewarding. They also come with friends and extended relationships with people who in a lot of big ways have supported that kid getting to where he's at. So when it succeeds it's really cool. There's a whole host of people who legitimately have a piece of that. Definitely one of the best parts of being involved with the race team.
Even a guy like Barcia. He's moving on to another team, but someone like Barcia you'll be able to talk to him for a long time. You're a big part of getting them to where they are, even if they're long gone on.
Absolutely. All these relationships are deep. You can't do what we do at the amateur level and bring them through our 250 program without creating a deep bond with these families. And you want to see them succeed. We bring through so many kids that we can't ultimately accommodate them all on our 450 program, so some of them have to move on, and it's hard. No matter how clear that is from the very beginning, it's still hard to see them move on. But they're all extended family. When we see Trey win, or see Justin win, it'll always be our extended family.
If that's the most rewarding thing, what can be frustrating? What's a more frustrating aspect of being a team owner, in the 250 class being one of the top teams?
It's the business side of it. At the end of the day, it's still a business and tough decisions have to be made. Especially decisions that run head-on into a strong personal relationship like the one our whole team has with Wil Hahn. Our team adores Wil and it would have been great to keep Wil in our organization. But the reality of it is it's a business and we had limited resources and we were unable to keep him.
A few years back, in my mind, you guys did a little of a controversial move. You let team manager JC Waterhouse near the end of the year. You brought in Mike LaRocco who obviously goes way back with Ziggy and rode for him, but the Rock wouldn't be an ideal team manager from the outside looking in. Can you talk about that decision a little bit?
Mike has been really good for our program. I think a lot of people don't know Mike because Mike doesn't allow them to get to know him. That's just who he is. But for those who do know him, he's an extremely smart guy. He is very grounded which is probably easy for people to understand. But there's a softer side of him and a more personal side of him once you get to know him. The staff adore him and he is always going to place the rider first. Mike is not going to put his interests above the rider or the staff. He's just a solid human being. In the end, he's smart, he's a solid human being, and he knows the business. He doesn't want to grab the interviews and talk to the press as much as we'd like him to, but when he does speak it's usually pretty good content. I'm guessing whenever you've gotten something out of him you've always appreciated it. I would guess every second that you got out of it was a good soundbite.
It was. You talk to him and he's way funnier than you would ever think. He's very dry but he's funny.
Great sense of humor.
I guess too he's a big part of actually riding the bikes and working out some of the testing bugs, which is pretty cool.
He does. He's been very involved in getting the bike into a basic area, narrowing the setup down and then obviously letting the riders go from there. Although, I think the triples are scaring him more and more each year, but he still gets it done. Honestly, that gets him big Kudos with the riders. He gains a lot of respect when they see Mike throw a leg over their 250 and do most of the obstacles with it.
When did you come on board with Ziggy?
I came on board officially about 2001. Mike Grondahl joined as a third owner a couple of years ago.
Has this been more than you ever thought it would be? More work than you thought it would be, less work? What's been the experience in 13 years of being a co-owner of the team and winning all these races and everything else? What did you come into it thinking and what do you get out of it?
It's been both far more work than I ever anticipated and it's also been far more rewarding. The work that goes into running the business of a race team is enormous. Those who have done it or are trying to do it can fully understand. Fortunately for me, I have a couple of other partners in Ziggy and Mike Grondahl to help share the workload. We've also been very fortunate to have a few key sponsor relationships that have been the backbone of our team. Honda, GEICO and AMSOIL being at the top of that list. The deeper that those relationships are and the longer they are, the easier they are to manage.
At times it's overwhelming, but at the end of the day it's in our DNA. And when you have some success doing it, there's a pretty good adrenaline rush. And when it fails, and there are plenty of those moments when everything goes wrong, it can be miserable. We're going to have the years where the ball bounces our way and those when it doesn't.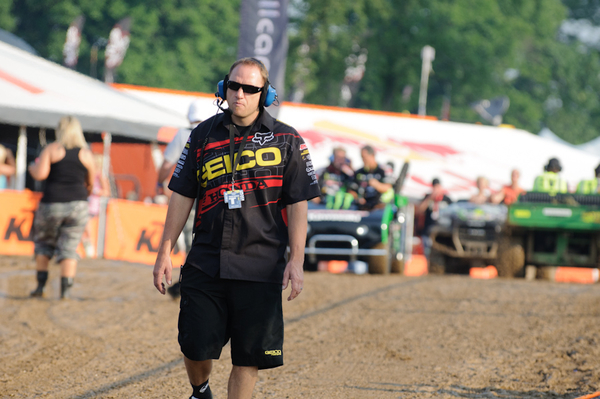 Hiring former rider Mike Larocco as manager has worked out well for the Jeff & the GEICO guys.
You know what's funny, it's a super competitive deal and obviously you guys all want to win, but I was talking to Mitch Payton and he said he was talking to you about you guys weren't having the greatest Supercross season – this was before Bogle came on- and you guys were almost commiserating about the lack of success you were having. So although it's competitive, there is a relationship there still.
We've had a really good relationship. There are a lot of great people in this sport. I joke about this with my wife, but I have so many people in this industry that I feel a sense of closeness with because of this DNA that we all have, this motorcycle bug. The relationships we all have with this industry are unique. The race team is supposed to be a hobby as I have other business interests. But I don't have these kinds of relationships in my other industries like I do here. So I can talk to Mitch or I can talk to anybody else, any other competitor. I do think that there's a very solid level of appreciation and respect for each other that exists in our sport.
I've written this and talked about it and maybe you don't agree but it's good to see Bobby Regan and Yamaha win again. It's good to see Troy Lee going to KTM and becoming their team. That's a good thing for our sport.
Of course it is. It wasn't that long ago we were trying to achieve results. They're raising the bar. Nobody wants to see one rider or one team win constantly. By Star doing what they're doing and TLD doing what they're doing and Rockstar, all of them, it's really good for the 250 class. I think the racing will be better than ever. The better the racing is the more everything works better for everyone, the more sponsors are happy, the more sponsors come, and the longer they stay. That's all good for all of us.
And GEICO it's been a long relationship. Are they happy with everything that's going on? Do you anticipate them continuing on in the sport? It's been good for us as a sport to have them on board.
They're great. They came to the sport without an enthusiast from within the company that brought them here. They came here because this demographic and this sport made sense for them. They came to the sport for the right reasons. I couldn't possibly say enough great things about them and who they are. We're now in the process of extending our deal and hope that 20 years from now we're still GEICO Honda.
Do we still have a disagreement on 250 Supercross points counting? You're in favor of it. I think it's the worst rule ever. We're going to have to debate this one day.
Yes, we are still in disagreement.