I asked you guys to weigh in on the USA MXDN losing streak, here are a few of the responses
I asked you guys to weigh in on the USA MXDN losing streak, here are a few of the responses
In my Observations column from the MXDN I laid out a few reasons on why I think the USA's stranglehold on this event has been toppled. Then I asked you guys to write in and give me your thoughts on why the USA seems to be more and more just plain out-rode at this event. And Jason Weigandt wanted to weigh in as well so here are the best letters and our responses.
Hi Steve,
Never miss your show. I went to JT's gig in 2013, got to meet you at the BTO camp, and had a chance to talk moto with you for quite a while; that was awesome! You nailed it with the riders we sent! I told a lot of people before the race that sending Jeremy Martin was not the best choice—nothing against him (he is a badass for sure), just the lack of experience never being overseas.
Because Ryan Villopoto couldn't make it, my picks would have been Ryan Dungey, James Stewart or Trey Canard, and Eli Tomac. Tomac would have hopped on a 250F in a heartbeat. If you look at lap times in the 2013 Lucas Oil Pro Motocross Championship, Tomac was sometimes faster or on the same second with the 450 dudes at almost every national.
JS7 is probably the most talented rider on the planet to ever throw a leg over a motocross bike and one of the best sand riders in the U.S. Roger DeCoster needs to let go of any issues he has with Stewart.
Why do we keep sending our 250 National Champ over there (except ET3 in 2013; he was just flying)? It just does not work. You nailed it when you said we did not send our best riders. I know for sure if we had sent the above, we would have kicked some ass. STAMP IT!
JP33B
Weege: I see your point in general, I'm a big fan of just taking the three fastest dudes. I don't want this to be an anti-Jeremy Martin thing, both Steve and I have said it applies to all the recent 250F riders like Blake Baggett, Trey Canard or Jake Weimer, as well. They didn't kill it when they went. You're just asking a lot from such inexperienced riders. Plus, the small-bore class is more important than ever now that it's scored equally to the big bikes. In the 125 days, you only had to beat fellow 125 pilots to score points. Now, every experienced guy on a 450 that beats you counts, too. By that standard, the 250 class is most important one of all—yet we send rookies.
Stewart would not have been eligible to race the MXoN this year as his provisional suspension from the FIM prevents it. In general, though, putting a fast 450 guy on a 250 has potential.
Matthes: As I've been saying, send the three fastest guys period. I disagree with my friend JT in that I do think the top 450 riders would agree to ride the 250F. The other countries are doing it and it's working for them. We just seem to send the 250MX champ and don't think anything about it. Ask Mickey Dymond or George Holland, sometimes winning the 250MX title isn't enough. If Langston was American would have have been the choice in '03 because he won the title or would you have sent James Stewart who won every race he showed up for but not the title?
Hi Steve
I'm a big fan of this race. I've been to two—Australia and England—and now I'm planning to go to France. I have been following the U.S. nationals for the last two years on TV and went to RedBud this year. I am a former racer with state titles.
Here are my observations:
1.The speed gap has closed right up between Europeans and USA.
2. USA public is stuck in a time warp still disrespecting the Euro riders.
Examples: blaming losses on bad luck, bad tracks, bad food, etc. The last three years Team USA was beaten fair and square. You acknowledge that, but most American bloggers don't.
3. USA tracks are too smooth.
It's motocross for Christ's sake! That's why they have suspension. You cannot ever say the track is too rough. I feel the USA riders are losing the art of bike setup for rough tracks.
4. You need riders that can pass.
Dungey is fast but a liability with a bad start. Tomac is the ideal 'Nations rider. For USA, first is all that counts, so when things are not going well you have to go balls-out. Tomac's last ride was a thing of beauty.
5. Smaller nations may have to revert to putting 450 riders on 250, but the USA? That would be getting desperate. The 250 ride should be a reward for a good year's work. Jeremy Martin rode well considering injury. Having said that, Stewart on a 250F could be amazing to watch.
6. This race is about managing "bad luck," whether that is gate pick or rider down. It requires a team with no prima donnas, and it also requires riders that can switch from safe to balls-out with the flash of a pit board. I was surprised to read that all riders for Team USA don't pit together. How the hell do you get team sprit with that?
7. Lastly, I can't wait to see the RV adventure in Europe next year. Big respect to him, win or lose!
All the best
Kev
Weege: I definitely agree on the first two points. The evolution of supercross skills, aggression and equipment in the 1980s seemed to give US riders a big edge at one point, but those days are over. The gap between all Nations is closer than ever.
However, I just don't agree on the smooth track thing. If you walk a National track like RedBud when the day is over, it seems hard to imagine anyone would say it's too smooth. I've also never heard a rider say, post race in the U.S., "The track was too rough." I'm not sure where this "too smooth" thing came from, and this is another argument for another day, but leaving a track without any grooming at all sounds really cool but doesn't always work so well. A few nips and tucks to make sure there are different lines for passing in every turn is better, in my opinion. There's also the safety factor of fixing a few parts that get dangerous. I do not think the National tracks here are smooth. Hell no.
We've heard quite a bit about how riding styles and the resultant bike setup is different in the U.S. and Europe (with much of that influenced by supercross) and that influences the development of lines and all of that. The tracks are just different–but then that might be construed as an excuse. Bottom line is Team USA hasn't gotten it done.
Matthes: The only points I agree with you on are 1, 5 and 7.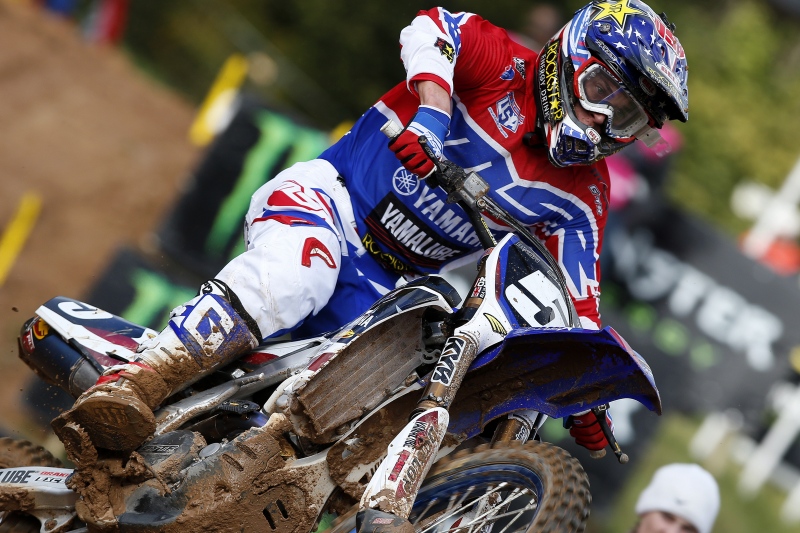 Jeremy Martin did all he could do but with a broken foot, Team USA was in a big hole with the MX2 position. Ray Archer photo
Hi Steve,
My name is Felipe and I write you from Germany (sorry for my English).
I personally think that one of the reasons why USA did not win the last three years was because of poor (or not right) preparation before the event. Maybe they had done similar preparation before and won many times, but starting at Lommel in 2012 they knew was going to be crazy sandy, especially since DeCoster is Belgian and had probably ridden Lommel or similar tracks many times.
I have the luck of knowing Roger. I was Mika's tennis coach (Roger's son) for about a year until end of 2008, and I was actually living with them. I think he is an awesome person, and I learned a lot from him. But going back to my point: why, after being done with the nationals for almost a month, did they show up in Europe three or four days before the event? Of course jet lag will be a big factor, and bike setup, weather change, food, and being on a plane for so long would have such a large effect on the body.
They went to Grevenbroich, and that is not even close to what Lommel is. Justin Barcia, Blake Baggett, and Dungey had probably never ridden on a track like Lommel. I think It would have helped to show up ten days before, get a few days rest, and find a track with similar conditions, which there are a few of in Belgium.
Last year in Germany, they arrived again on Wednesday. I watched them practice on Thursday, and when Dungey was stuck in Amsterdam for I don't know how many hours, DeCoster was really nervous. He arrived late Thursday night and rode for twenty minutes or so the next day in less than perfect shape to ride, and Saturday he had to race qualifying. With all that and the hype surrounding Team USA and the hectic schedule, it is no wonder why Ryan Dungey did not do well. If you are going to invest so much on sending a team, bikes, etc. to the MXoN over in Europe, you can not come four days before the event and then think it will all go as planned, especially since delayed flights are common.
Once again the Americans faced conditions in Latvia uncommon to them, and like you said, it was Martin's first time out of USA. They showed up on Thursday to the practice track, jet-lagged and may not have been ready for testing (Dungey, like you know, did not even ride).
Showing up with a new front end, more practice could have helped Tomac (especially since he put in such an impressive performance in Race 3. Considering he was comfortable with his setup at the end of nationals, why did he show up with a totally different front end at this race?
Sorry for writing so much. I just think a few more days of preparation in Europe would have helped the whole team—at least for sure body wise—and would have made the trip less hectic. At the level these athletes are at, the difference of being a bit sharper on the bike can make is huge. I think is just too much in four days for this guys to deal with.
I agree with your comment to send the best three riders. Marcus Schiffer was also scheduled to ride a 250 until he got hurt.
Man, I wish you all the best and keep up the good work. Always remember there are many fans also listening to your show in Europe!
Felipe
Weege: Team USA did go over earlier than usual for the Lommel race, but clearly it wasn't early enough. More time and finding a track that's more similar would have helped, but it still would have been hard to match the European riders who ride at that track weekly. What this really highlights is the schedule: I doubt the three American riders really want to spend two weeks testing in Europe on the back end of their 29-race season. Heck, they probably don't even want to ride much during the five week break between the final National and the MXoN. For as long as the two series calendars differ so greatly, it's going to be hard to make this work, which kinda' sucks.
Matthes: Some good points but I'm with Weege, there's no way you're going to get the USA riders and teams to spend more time (and more money) by heading to Europe earlier than what they do already. I know that I got there a day early and I never felt right all weekend long. It takes a little while before your body is adjusted to the time difference. There's no way the USA guys were ever 100% BUT having said that it never stopped them before from winning over and over and over in the past.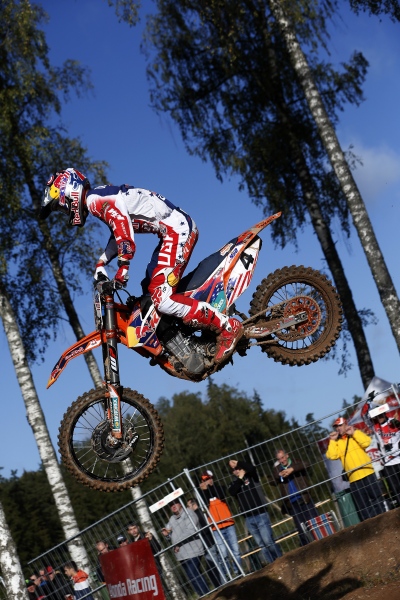 Ryan Dungey had a great first moto and a so-so second moto after a fall. Ray Archer photo
Hi Steve
Nice work in your latest "Observations" article. I agree with your views on using the fastest rider regardless of current class.
Regarding the random gate picks for qualifiers, this has always been the case, but the qualification race largely sorts that out. Yes, it's one good gate pick and one not-so-good gate pick, but again, that's always been the case, and it gives everyone the same chance. It's also one of the intriguing tactical aspects of the race. When I raced the event in 1985, there were twenty teams and sixty riders on the gate, so even the U.S. pole-sitting team had gate picks of 1, 22 and 43 or something (I think). That's the MXdN!
A team as strong as the U.S. should surely be capable—regardless of balloted pick—of coming through to a decent enough qualifying position. They did, and earned eighth in qualifying, so it's not like they were last. As you said, Dungey took the inside gate in Race 3 and it didn't do him any good. That's racing.
It's also important to keep in mind is that while some of these factors may have some merit the same factors have always applied and were never raised in the years of U.S. domination!
And about your comment saying that Team USA was never going to win at Lommel…they did in 1981!
I think that the Americans' own expectations are so high these days that maybe it's working against them. They certainly don't seem to ride to their potential, as you hinted when pointing out Tomac's inability to deal with Noren (and Martin had his hands full with Harri Kullas in the MX2 qualifier). I think the pressure they put on themselves, and the pressure from the public and media, is making them choke, for want of a better word. Jeff Emig said on the TV coverage that there is immense pressure, not so much to excel, but to not screw up. I thought that was an astute observation.
Good work though, Steve. Enjoyed it.
Regards
Rob Andrews
Weege: And I'm still perplexed with how the Yanks won at Lommel in 1981. They didn't win motos, they were just consistent. Maybe that was the biggest difference?
I think all Steve is saying is if you're going to build a starting gate designed to be unfair, don't do a random draw for Saturday gate picks. And if you are going to do a random draw, don't make the gate so unfair. Back in the day, I don't think the starting gates were designed to so incredibly favor the inside gate.
I know pressure and expectations are huge on Team USA, but, there was tremendous pressure during the 13-year win streak, too. Pressure will always be there, and in some ways things are better. I think a lot of European fans now love to see the Americans in person once a year, so there are some positive vibes following them around. I'm not sure it was like that in the 1980s. It was simply good versus evil.
To me, the biggest difference is that American riders got a huge headstart in the evolution of riding and bike setup 30-some years ago, and now the European riders have caught up. It's very close, speedwise, across the board, so it's going to be much harder for Team USA to win this race again.
Matthes: Thanks Rob and in the gate pick selection I was more referring to other countries coming all that way and in my opinion, getting effed right out of the gate. You're absolutely right, Team USA can't complain about the 8th pick on the gate. That wasn't the reason they lost. And I have no idea HOW USA won in '81 at Lommel, as I said last year I have more respect for the '81 team than ever before. I think you're onto something with the pressure they put on themselves and Roger DeCoster seems to think the same thing as well.