Paul Buckley went to the '88 USGP at Unadilla and captured this icon of mx
Paul Buckley went to the '88 USGP at Unadilla and captured this icon of mx
I started shooting Motocross Photos in 1975 basically just because I liked to but then when I started showing some of the guys I knew who raced they would tell me, hey you should sell those, when I asked them "who would buy these?" they said we would we'll buy them all. Those guys were true to their word and they bought every photo I took of them and that was the start of Buckley Photos. Since then I've shot a ton of local races around here in New England, I'd say 99.9% of the novices that have ever raced in New England have a Buckley photo of themselves hanging in their garage.
I also shot a ton of nationals and supercrosses X Games Gravity games road races GNCC's a little bit everything over the years traveling around the country shooting for almost every motorcycle magazine in the world I guess as well as shooting for almost every motocross clothing and accessory company in America. Want to order a classic print or something else? Go to buckleyphotos.com and we'll hook you up. Thanks for reading- Paul Buckley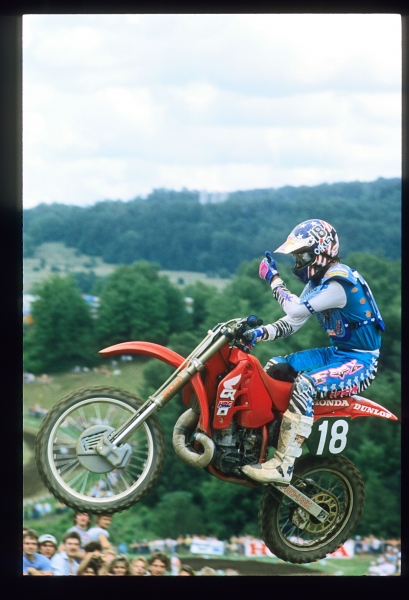 Life was good for RJ in '88. Paul Buckley photo
Matthes: Blaze, the RJ photo is from the 1988 250 USGP where Johnson destroyed the world going 1-1 with big leads in both motos. He was at the peak of his powers and the very best rider in the world at this point. As usual with these USGP's it was Americans 1-2-3 with Bob Hannah going 2-2 and Micky Dymond 3-3.
Reading the Cycle News story from the race Hannah said that he actually won the race because Johnson "wasn't human". Not shocking is Hannah coming from the back in both motos to finish second and Dymond fading in both motos. In fact The Mick told CN that had the motos been "half the length" he would've done a lot better. Well Mick, that could sum up a lot of your races for Yamaha back then. To be fair though, the 500 nationals were going on at this point and Dymond hadn't been racing because of Yamaha not riding them this year.
Rodney Smith and Ricky Ryan were the two Americans doing the 250 GP's and Smith scored no points in either moto which is surprising. Not surprising was Ryan getting great starts in both motos- man that guy could start!
Blaze, there's something else in this photo that stands out for you though right?
Blazier: Heck yeah, now we're talkin! The Bad Boy, Too Hip, RJ, the coolest cat in all of motocross, at the absolute zenith of his dominance. This shot is so epic for several reasons. For starters, I had never seen it before and for me that is saying something. I have scoured the motocross universe for shots of my all time favorite rider and it is rare for me to come across one I have not seen. It is even more remarkable because it is from such a high profile race and shot by such a famous photographer.
As for the photograph its self, it is unique for being one of the very few shots of Johnson in the iconic Fox Racing Zebra print gear. Most people think of Bradshaw in relation to this colorway, but it was actually Ricky Johnson who took the leap of faith with Pete Fox and agreed to be the Guinea pig for this bold design choice. There are a million ways this could have gone wrong, as pink and baby blue tiger stripes are usually more associated with cross-dressing eighties hair-metal bands than world class athletes, but somehow RJ and Fox pulled it off.
To my knowledge, Rick only raced in this gear once in the US, here at Unadilla, and once then again at Bercy (he did race once in the red colorway zebra print in Japan as well), before making the jump to JT Racing for 1989 in a dispute with Honda over their desire to have the whole team in the terrible in-house TX-10 brand (ugh). For that reason alone, it is cool, when you add in the Bad Boy on that blood red CR, it is off the charts badass. It really is too bad that eight months later the party was over.