One great photographer + one talented dude
One great photographer + one talented dude
I started shooting Motocross Photos in 1975 basically just because I liked to but then when I started showing some of the guys I knew who raced they would tell me, hey you should sell those, when I asked them "who would buy these?" they said we would we'll buy them all. Those guys were true to their word and they bought every photo I took of them and that was the start of Buckley Photos. Since then I've shot a ton of local races around here in New England, I'd say 99.9% of the novices that have ever raced in New England have a Buckley photo of themselves hanging in their garage.
I also shot a ton of nationals and supercrosses X Games Gravity games road races GNCC's a little bit everything over the years traveling around the country shooting for almost every motorcycle magazine in the world I guess as well as shooting for almost every motocross clothing and accessory company in America. Want to order a classic print or something else? Go to buckleyphotos.com and we'll hook you up. Thanks for reading- Paul Buckley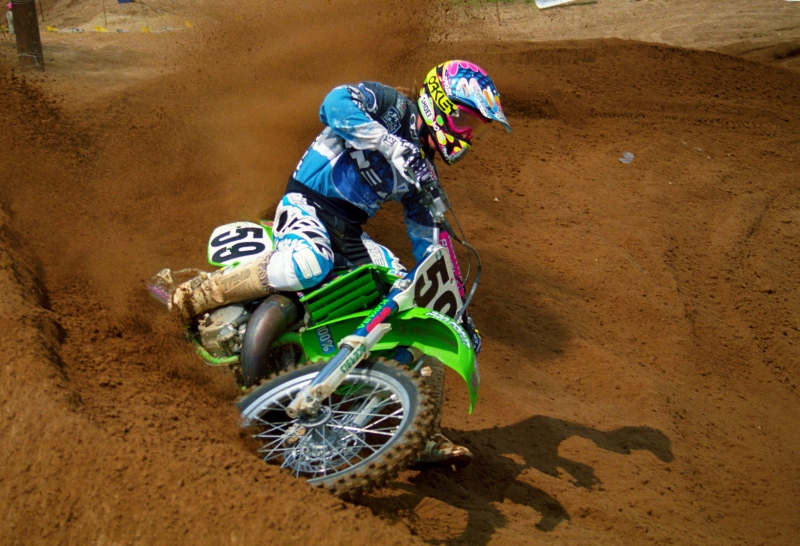 Craig had a good day back when this photo was taken. Buckley photo
Blazier: In motocross, you know you have arrived when you have a track obstacle named after you. LaRocco's leap, Bradshaw Boulevard, Screw U (that had to be named after the ever effusive Bob Hannah right?) and maybe the most iconic of them all, The Buckley Berm. How badass do you have to be to not even ride and get an obstacle named after you at one of America's most historic tracks? Pretty badass, I say.
It really was a sad day for American Motocross when MX-338 shut its doors in 2013. Southwick is important to AMA Motocross for many reasons, not the least of which being the amazing shots this track produces (at least somebody kept a jar of the sacred soil for posterity). Something about the rich color of the soil, the bar-dragging nature of sand and the epic roost it produces seems to combine to produce the perfect composition for amazing motocross pictures.
Over the years no one has captured more of these iconic Southwick moments than Paul Buckley. Paul has shot all the sport's greats: Bob Hannah, David Bailey, Ricky Johnson, Jeff Ward, Damon Bradshaw and yes, even Mike Craig in America's sandbox. In this shot from 1992, we have the aforementioned Michael Ray Craig carving a sweet arc on his KX250, wearing some of the fugliest O'Neal gear ever produced. I mean, seriously, what was up with this stuff? When you combined the whacky diamond plate pattern on the butt with the weird wrap-around logo, you had a recipe for Blaze's bottom ten list. The crackle print, turtleneck sweater that doubled as an MX jersey also did this ensemble no favors. At least the Troy Lee Designs helmet is pretty cool. OK, enough about fashion.
In 1992, Mike was a second tier Kawasaki support guy, just outside of the Factory gravy train. He had shown a lot of promise in the 125 class on Factory supported Yamaha's and Kawasaki's (winning the Anaheim season opener in 1990), but not made much of a dent in the 250 class. While Craig's incredible natural talent was easy to spot, his nineties era extracurricular exploits were just as front-and-center. The Stingray was a man who enjoyed a good time and some of the stories tied to his career are enough to make Mick Jagger blush. I can only imagine the conversations that went on between a hard-ass Bob Hannah (Yamaha Team Consultant) and a wild-and-crazy Mike Craig in 1994. It's probably a good thing Yamaha moved into the semi so some of the collateral damage could be contained. I mean, after all, who else can say they lost their Factory ride from tripping on a boot? Mike Craig can, that's who.
To be fair, Craig was certainly not the only guy terrorizing pit tootsies and getting his party on in the early nineties. With the arrival of Emig and McGrath, the era of Havasu lake parties would be in full swing until Carmichael spoiled things in 2001. Mike was an amazing rider and is one of the very few men on the face of this earth that can say he won an AMA 250 Supercross. No mean feat, and certainly a tribute to his talent on a motorcycle.
What about you, Matthes? What does this pic of the Stingray say to you?
Matthes: There are so many stories, lies, myths about Mike Craig in the industry it's like he's Bigfoot or something. Some of them have to be true and I'm sure some of them aren't but either way there's no doubt that it seems that Mike Craig was
A- Very, very talented and
B- Very very into not working that hard
This particular year (1992) he was killing it as a Kawasaki support guy and it led to him getting a factory Yamaha ride in 1994. He was very good the previous two years and I'm sure Yamaha just thought he would do better with more support and less worries. Instead it seemed like Mike took that as a cue that he had made it and seemed to lose some of that fire he had the previous two years.
He got fired halfway through supercross and that started a vagabond existence for Craig although he had a few good rides here and there for Honda of Troy. As his mechanic Dean Baker chronicled in our podcast a few weeks ago, working for Mike Craig was a roller coaster of emotions.
Back to this great Buckley photo and Mike had a pretty good day according to the Cycle News archives. He went 5-7 for 6th overall and was second behind Damon Bradshaw in the first moto for half of the moto before dropping back to fifth. In the second moto he started second behind (who else?) Doug Dubach and faded to seventh. If Mike Craig had worked hard at being a professional motocrosser like, say, a Mike Keidrowski, who knows how good he could have been? Many, many riders that lined up against him have told me just how talented this guy was.
I have to disagree with Blazier on this gear, while it's not awesome and amazing I did like it and wanted to get a set back in the day. As a matter of fact I was offered a bit of an O'Neal support package by the Canadian distributor this year but turned it down because the Fox distributor came through with a decent deal. Nothing free though…our "deals" were like 50% off retail or something like that. Anyways, I thought this O'Neal stuff was unique for the time and I didn't mind it. So suck it Blaze.