An iconic rider and track shot by Paul Buckley
An iconic rider and track shot by Paul Buckley
I started shooting Motocross Photos in 1975 basically just because I liked to but then when I started showing some of the guys I knew who raced they would tell me, hey you should sell those, when I asked them "who would buy these?" they said we would we'll buy them all. Those guys were true to their word and they bought every photo I took of them and that was the start of Buckley Photos. Since then I've shot a ton of local races around here in New England, I'd say 99.9% of the novices that have ever raced in New England have a Buckley photo of themselves hanging in their garage.
I also shot a ton of nationals and supercrosses X Games Gravity games road races GNCC's a little bit everything over the years traveling around the country shooting for almost every motorcycle magazine in the world I guess as well as shooting for almost every motocross clothing and accessory company in America. Want to order a classic print or something else? Go to buckleyphotos.com and we'll hook you up. Thanks for reading- Paul Buckley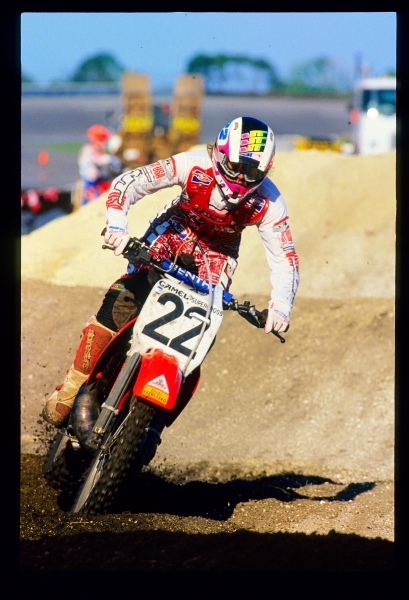 One of the great bench racing questions was what would JMB had done if he hadn't missed a couple of races in the '90 SX series?
Blazier- Ah, old school Daytona, when men were men and whoops were made of telephone poles. In the old days, nothing on the circuit was quite like Daytona. For starters, it was held in the light (and heat) of the day, with lap times often double that of a traditional Supercross race. The field was also 50% bigger, with 30 riders on the gate instead of the normal 20. In many ways, pre-2005 Daytona was actually closer to an Outdoor National with big (poorly designed) jumps than a traditional cookie-cutter Supercross. When you added in the tricky combination different soil types and the screwball track designs of one Gary Bailey, you had a venue that separated the men from the boys.
In this sweet Buckley shot from 1990, we have ever enigmatic Frenchman Jean-Michel Bayle piloting his Factory Honda to second behind Jeff Stanton in the 250 main. This was Bayle's first full-time season in the US and if not for missing two rounds early in the series, he probably would have been the champ as a rookie. JMB missed Houston and San Diego with an injury, and then came roaring back to card five wins (tying Damon Bradshaw for the most victories) in the series. In the end, he missed the title by a mere seven points to Jeff Stanton in one of my all-time favorite Supercross seasons.
I mean, how could you not love the 1990 season? It brought with it a HUGE influx of rookie talent and some of the sweetest mullets ever to grace a motocross track. Damon Bradshaw, Chicken, Larry Ward, JMB, Mike LaRocco and Mike Kiedrowski all made the jump to the 250's in 1990. Then you had the drama of a returning-from-injury Ricky Johnson, and the question of whether or not the 1989 champ Jeff Stanton was for real. Even today, the 1990 season stands as one of the most exciting in the sport's history. Five different winners, countless lead swaps and some of the best bar banging in the sport history, 1990 had it all. When you look up the definition of #DeepField in the dictionary my friends, you will see a picture of 1990.
What about you Weege? What does this shot of the stylish Frenchman say to you?
Weege- Absolutely, 1990 is my favorite year of supercross ever. Other years might have had more diverse winners (there were years in the 1980s were not a single guy won as many as two-straight races) and 2005 had the most hype for round one. But 1990 had the total package. Old guys, new guys, this weirdo foreign guy, ridiculous block passing and rough racing, trash talk, and a nail-biting points chase. If I had one season to show someone "Oh yeah, this is what supercross is all about" I'd pick this one. Just type 1990 Atlanta Supercross into YouTube and you'll see the kind of parity we can only dream of most years. That race was the best one, but almost every main in 1990 was a keeper.
Let's dive deeper into this photo. This is just before JMB became the real JMB. At this point, in Daytona, he was a threat, and maybe personal bias prevented people from taking him as seriously as they should have. A few weeks later, he'd finally break through and start winning races and then it was undeniable: a Frenchman was the best rider in the United States.
That was a tough sell, though. Fans and riders didn't like it. Also, I never considered Bayle stylish. You old-schoolers get all pumped for JT gear but I didn't think JMB's kit ever looked good, his riding style, while innovative, didn't look awesome, and of course you had a chorus of people saying he was a nasty French guy. Turns out he was actually pretty cool but he was just too far ahead of his time. Every year at the New Jersey SX, some Jersey Shore guy would yell, "Hey, Michele is a girl's name!"
By the way, JMB and Bradshaw had the most wins and Chicken led the points most of the year. I don't want anyone thinking Stanton lucked into this title, though. With three rounds to go Bayle had caught Stanton in points. Stanton had played the consistency card all year. Down to the nitty gritty, six-time manned up and won two races in a row straight up to ice the title. It was clutch. Stanton is a bad ass. About 20 years later we'd realize Bayle was, too.