From red to orange in 2015
From red to orange in 2015
Red Bull KTM/TLD team manager Tyler Keefe is one of the younger managers in the pits. Now into his fifth year as the head man for the Troy Lee Designs team, Keefe's the lead figure in a massive change that saw the team switch from Honda to factory KTM support in 2015. A lot more support means some more pressure for Tyler and his riders and one look at how serious the KTM factory effort is means wins are expected. I called up Tyler to get some info on his teams riders and the transition and some other stuff.
We're not that far away from Anaheim 1. You have Shane McElrath, Jessy Nelson, and Darryn Durham. Before we talk about the bike switch and how things are going let's cover each guy first and talk a little bit about what's going on. First up is Durham. We all like Durham. He's got a lot of skills. How's he been looking?
He's healthy right now and he looks really good. The biggest thing for me is you hear about Durham and he likes to have fun on a dirt bike but it's also a job, so you've got to find that balance with him. I think that's my biggest concern right now, is just making sure we have the balance good. If he's having fun and he's getting the work in to please the team, then I think we're in a good position. But we can't make it too strict on him because he's one of those guys that he has to have fun. I'm still learning exactly how he ticks but hopefully we can figure it out and have him be successful.
How's he been looking at the test track? How's he riding?
He looks really good. Super comfortable on the bike and on the new 2015 factory edition bike. He got on that thing right away and gelled with it. So that was a relief. I expect him to prove some people wrong at Anaheim.
I don't know how well you knew him before you signed him but you want to talk about a guy that every time I interview him, good or bad result or whatever, I see him talking to fans, I've seen him signing stuff. He's got a smile on his face, he's got an upbeat attitude with the media. I'm a fan of the guy, just his attitude. He's just a really good guy who seems to appreciate that he's getting paid to race a dirt bike. Do you see that?
I didn't really know him but I agree with you. Every time I have him come in he's always respectful and super appreciative and never takes anything for granted. So far it's been good. Really just kind of letting him do his program a little bit more so than maybe the years past and hopefully it benefits him.
Next up, McElrath. What are you looking for for him this year? Some solid rides last year.
I think top fives and podiums with him. He's got the speed. He's not one of those guys that you look at at the test track and go, holy cow, that guy's flying, but you put a clock on him and he's fast. If he can get good starts and he's in shape… He takes it really serious. Good starts, he'll be up front for sure. I think a lot of people don't know him from his background; he wasn't a top amateur kid but he's a pleasure to work with and he's another kid that's just super, super appreciative. I think hopefully this year people realize who he is.
You watch him and you watch Durham and it couldn't probably be any more different. They could be close in lap times but Durham's a little flashy and he scrubs and he looks good on a bike. To me McElrath is just built solidly, he doesn't move around a lot on the bike. He doesn't particularly look really stylish but he's just a really good rider. Do you agree with that?
For sure. His technique is awesome. His corners are phenomenal. He keeps really, really good momentum, and it doesn't matter if the whoops are brand new or at the end of the main event. His speed is always going to be the same. I'm super happy with him right now. He's riding really, really well.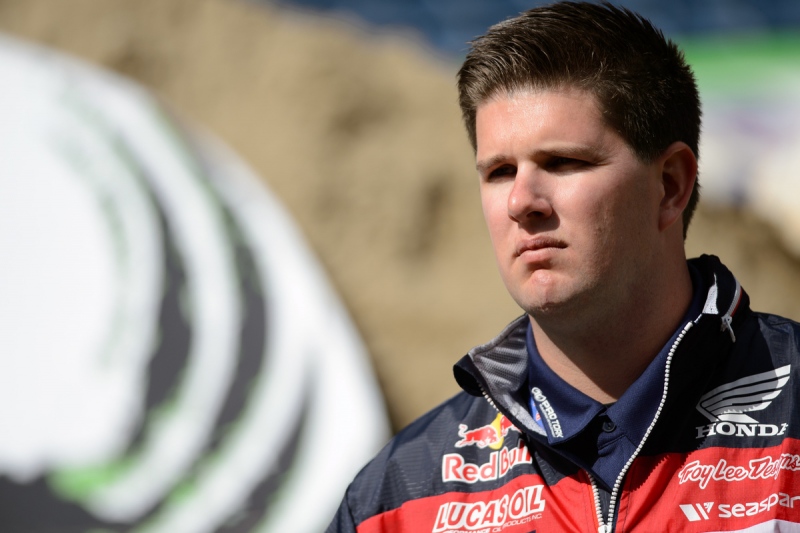 Tyler Keefe was very busy this off-season in making the switch from Honda to KTM. Lissimore photo
Nelson is a guy that we've talked a little bit about on the Pulp Show and stuff. He could definitely win races this year and there's an outside shot of a title. How's he looking?
I totally agree with you on all that. If the next two and a half weeks go well I wouldn't be surprised if he goes out there and is winning the first round or definitely on the podium. You can't win a championship at the first round but you can definitely lose it. We've just got to keep that in our head. He's had a really, really good off-season. That's been awesome for him. I don't think he's ever really had a good off-season. Hopefully everything stays planned and the next two weeks go well for him.
Do you think the light came on a little brighter when he was down in Florida with Roczen, AC and those guys and he kind of saw what they did and this is the program they run? Did you see a little change in him?
100%. Jessy's a kid who can put 8 hours on a bike in one day and maybe do 20 laps but he'll ride and just ride the track backwards, do whatever he wants to do. Going down to Florida he had a great opportunity to go down there and I think he learned a lot. The kid's work ethic has just taken off. Now he enjoys training and he sees the light at the end of the tunnel. With him, he's 100% doing his job. I have no complaints and very happy with him as well.
How are the new KTMs? How's that going? Obviously a lot of work for you guys…
It's awesome. We've switched shops, switched manufacturers, had some guys go to different teams and we had to hire some guys, and some guys stayed. Definitely a big change this year, but all the crew guys are gelling really well and enjoying the new bikes, so that's good. I'm stoked with the change. It's been really good. KTM's been awesome to work with. Looking forward to the future.
How did the switch happen? Take me through the timeline of Hondas to KTMs. When did KTM first approach you or Troy or whoever? When was the deal done and why did you decide to do it?
I spoke to Jon-Erik Burleson at KTM, I think, two years ago briefly. I don't think either party was in a position and Honda wanted to re-up on a two-year deal. We had no complaints with Honda. In April 2014 I went down and had another meeting with the race team guys and Jon-Erik and Roger (DeCoster) and Ian (Harrison). Right away they presented me with something that was really good. And obviously we have a relationship with Red Bull, so that kind of helped the tide.
I had a couple meetings with them and then I went and spoke with Troy. Honestly his thing that I think he loved the most was the electric start. They have electric start, they have electric start is what he kept saying! The Indy car guys don't have electric start. That was his big thing. We just kind of kept talking and negotiating and it just got to a point where it was too good of an offer to really pass up. It didn't have anything to do with money or anything, it was just the opportunity, the progression with KTM and the mindset KTM had was similar to what TLD had as a brand. That just kind of led it to where we are right now.
You say it has nothing to do with money but at the same time I'm sure Troy's costs on this team have gone down with this deal. Nothing against Honda, but you were just never going to get the support that GEICO did.
Yeah, but at the same time Honda were great to work with and they wanted us to stay. We had both the programs on the table and we had to go with what was right for Troy Lee Designs as a company. I think that's where KTM is off-road and motocross racing and a very edgy brand. That's what TLD is. We're mountain bikes, we're motocross, we're off-road. Looking at the longterm plan I think our brands moulded well together.
So Troy was kind of that hands-off a little bit? He wasn't at the original meeting? Obviously you were filling him in along the way, but this thing really is kind of your program a little bit?
I kept going and having meetings and working out the details that I felt we needed and what Troy wanted. Then I'd go back and relay the information to Troy, we'd talk about it. Then kind of go back to KTM. Like I said, it got to the point where we had both programs on the table and it was just what do we, as a group, feel that is the right move, and that's where we decided to go with KTM.
It's no joke KTM is really coming on in racing. We all see that, from the BTO guys to the Rockstar guys who are now Husky to the factory team. They're super aggressive. That's got to feel like you're with somebody who wants to win races. There's not going to be a lot of politics involved; they seem like they just want to win races.
Correct. And they want to help us to achieve our goals. One big team is better than a few teams on their own. Working with the KTM guys, it's helped our program and we'll see how it plays out in the future.
For yourself, do you feel a little more pressure? Before you were like, we're the good guys, we're having a good time and we're trying to win, whatever we do is great, but now a little more. How does it feel for you?
I think a lot of people say I'm always a little too serious. But you're going racing, you're spending this much money no matter what, if you're buying bikes, if you're giving bikes, no matter what you want to win. I think it's just more of making sure that everything looks appropriate, we are within the KTM guidelines and the orange and all that, maybe a little more pressure on that side. And the results, I think if we do our job and the bike's capable of it and we have the good riders… There's pressure but no matter what team you're on you're going to have pressure.
McElrath and Nelson from what I understand were under contract still, but how much does KTM have to do with hiring the guys like Durham?
Obviously they have their strong Orange Brigade amateur program. That's definitely what we want to start incorporating into our program. Then it's just kind of a group, we all talk about who's available, pros/cons and all that. They're helping for sure.
I guess Troy's probably pretty excited because he's got a new look of a bike to design.
You have no idea. New colors, new edges…stuff that I can't tell a difference. That's what Troy specializes on is the look of the team and that's what he really focuses on. They did a great job at that. They were really happy. We went over to Austria, went over to the guy who helps design with KTM. We talked to him about KTM and the reasons behind the plastic design and stuff like that. It just inspired Troy and our other designers. I think this year everything from the bike to the trailer to the awning to our clothing, everything matches really, really well this year. That side we got covered.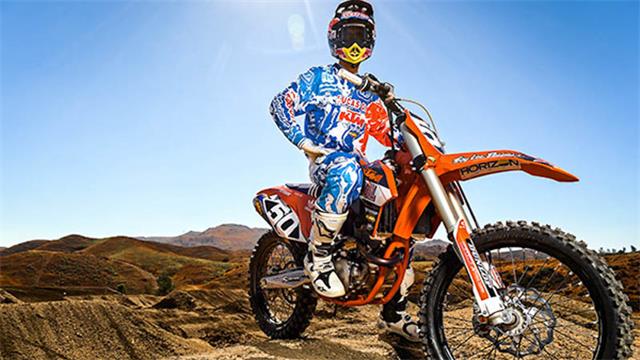 Jessy Nelson should be a contender for wins and podiums in 2015.
What's been the biggest thing the guys have told you about the bikes compared to Hondas?
I think there's pros and cons on both sides but the power on the KTM was awesome. I think they were a little nervous, to be honest with you, right off the bat, but instantly when they got on the 2015 bike they were stoked. Then when we finally got the factory edition bike out they hopped on those and right away there were just little things. The turning was a little bit better. We came from a great bike and they're even more happy with this bike, so no complaints on my end.
This is your 5th year managing. What's been the biggest thing you've learned? When you started you were a pretty experienced guy, just off a pro racing career. What's been the biggest thing you've learned yourself?
I think the biggest thing is when everything's going good, it's awesome, but when one thing goes wrong or two things, you're held accountable for it and you have to have reasoning behind it. Why is the rider getting tired? Why is this happening, why is that happening? And getting everyone to work together so that we know everything's handled. Having the riders in shape, having the bikes good, making sure we've had enough testing, and just arranging all that, like lately right now with the weather.
You think everything is good but something will always pop up that you weren't expecting. Just being able to kind of keep a cool head and fixing the problem because that's your job. You have to be there to fix the problem and make sure everybody has what they need.
And you've got to deal with 10 or however many different personalities.
And sponsors… Just making sure our design stuff gets done in time and gets approved and the mechanics have what they want, the riders are happy. I have three teammates riding on the same track together and keep everyone happy and working together. Just keeping everybody working together as a team.