The beginning of the show known as Monster Energy Supercross has been put into motion by the initial 2015 drop of the gate.
The beginning of the show known as Monster Energy Supercross has been put into motion by the initial 2015 drop of the gate.
Photos By: James Lissimore
Many questions were asked leading to the race but at nights end it appears most will remain unanswered, for now at least. Much like the Monster Energy Cup, Anaheim 1 provides us with many storylines that contain a level of excitement almost assuredly never reached again all season. The inconvenient truth of it all however, is that the big A1 race is almost always a stand-alone race in nearly every way. The riders use it as a nerve-shaking-out-race, the questions asked are not truthfully expected to be answered, and everyone, including the winners, often brushes the overall results of the evening aside. Nevertheless, what happens at A1 does have implications for how the series can shake out.
One key element that is effected greatly by the first round is confidence. No matter what a rider says or how they try to deflect the implications of a bad night it still weighs on them mentally. The winner says it is a long season and the first race cannot win the Championship but it can lose it. A true cliché, sure, still the winner takes with him a knowledge that he is in the drivers seat for the next 16 rounds and that his bike, team, and overall set up are good to go. The expectations of 21 other riders were squashed with the first main event checkered flag of the season. They can say they only wanted to be strong or they only wanted to make it through, but a true contender (which we assume to be many this year) is looking to make a statement. Expectations were great for many going into A1 and now motivation and aggravation are great as well.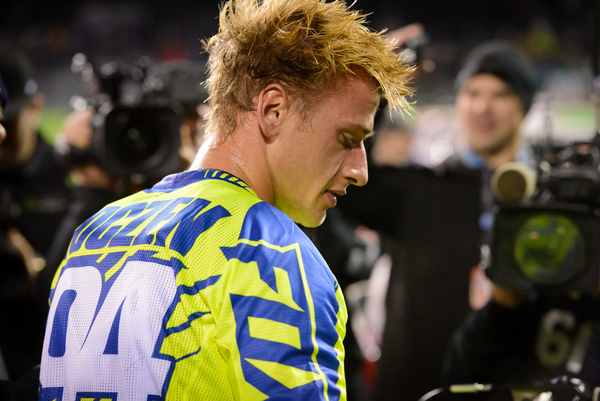 Roczen left A1 as the alpha-male.
In a way it is true that what happens at Anaheim stays at Anaheim. Eli Tomac and Davi Millsaps are not going to repeat their A1 performances anytime soon. They had problems associated heavily with the first round of the season: nerve issues for Eli and bike set up issues possibly for Millsaps. The same can be said for the 250 West series as well with Webb and Stewart; who both suffered from rash decisions made by themselves or those racing around them. These issues seem to work themselves out as the season wears on and riders find some familiarity with the system, bikes, and their place in line to the checkers. It is funny how the beginning of the season is always a lot of pushing by riders searching for where they belong, as if a game of musical chairs is happening and the positions are given opening and no previous years results apply.
Coincidently, no one believes the win by Roczen was a fluke, nor the win by Nelson. Many of the riders came in with a level head and with everything in line to compete at their highest level, and round two will further prove their positions. Can Short and Alessi show that A1 was not a fluke? Could they really have been ready and on their game better than say Chad Reed? I think deep down we all doubt that, but if results don't lie then everyone with bad races need to be written off as of now. Not many really can believe that Chad is a 10th place rider one year removed from beating Villopoto a couple of times. Did you already forget? It was no fluke for our winners but I also believe neither will have such an easy win if Tomac and Canard, or if Webb and Stewart find themselves in better positions after lap one. Decisions are made in haste when the crown is left vacant as it is in both classes. Riders come in prepared and riders come in with a little too much adrenaline at times. And sometimes shit just happens.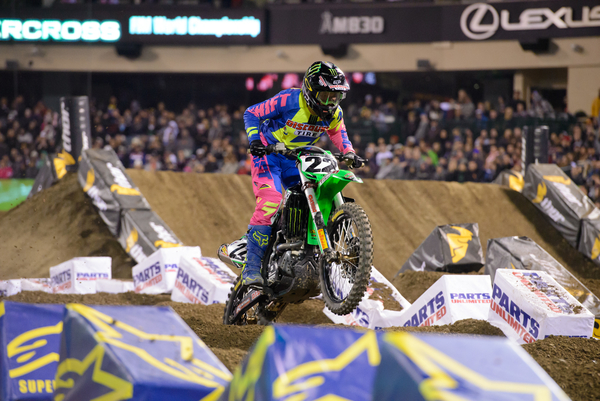 Speedy Reedy is expected to have a vastly better Phoenix.
A1 is seen as the gateway to the series but in reality it is somewhere in between a pre-Championship round, and the decider of how the season will play out. It is safe to say it is the most polarizing round of the year in terms of what is taken away upon leaving the stadium. Questions ran wild leading into the first gate drop of 2015 and really only a few were answered; like A1 is where weird stuff happens, and that we cannot place much stock in the overall finishes of the night. The track was easy for all. Left no room for passing unless aggression was to be used. Whoever could control their nerves enough to grab the start was sure to find a solid result come nights end. Many questions yet remain. Will the season continue on this trend? Will 2015 be the most stacked field to never have exciting racing? Can we all forget the excitement proceeding A1 and embrace the sureness of continued boredom that ensued during it? Truth is us fans are as bad as the riders come A1. We act as if anything can happen and all will be revealed and our dreams of a wonderful season rest on this single beginning round. Reality is much different. A1 is just a point in which the excitement is to grow from, not climax. With that being said we hope it will grow immensely as it was a disappointment through and through. From now on we should embrace that what happens at A1 doesn't always stay there, it doesn't always leave either. What happens at A1…should always be expected, because we shouldn't expect anything.