The Byrner is sort of hoping to get to race again
The Byrner is sort of hoping to get to race again
Hammerhead Designs was launched with the intent to provide new and better parts and innovative accessories for motocross bikes. One of our goals has been to design entirely new and unique products with improved ergonomics and the shift lever was the first part that we felt could be dramatically improved by providing a feature that would allow for the shifter to be repositioned to perfectly suit the riders size, shape, and preference.
JT: Byrner, you aren't racing so far this year but you are at the races. Can you talk to us about your new deal with TwoTwo Motorsports and what that entails?
Michael Byrne: Chad and I talked on the off-season and he wanted me to come and help the team and to work for the team and just have someone to train with and really keep him motivated and help push him. That's pretty much what I signed up for, to help him, keep him going, help with testing with the bike. If one of those guys end up going out then I'd fill in, but that's obviously just if need be. Hopefully the guys stay healthy and they have a good season.
JT: Basically on race day now what are your duties compared to during the week?
MB: Race day stuff, it's obviously watch the practice and have another rider's eye, someone who understands what those guys are going through on the track and help them improve, whether it be lines or seeing something out there that someone else is doing and breaking down the lap times and looking at all the segment times. Trying to keep the guys in a good frame of mind too, and not get frustrated and stuff like that. The race day stuff, it's really just little things that can make a big difference sometimes. Just try to help the guys in any way I can.
JT: Have you thought about racing much? Unfortunately in this sport people get hurt. Just looking at the numbers it would almost be a guarantee that you're going to have to fill in at some point this season. That sucks to say because you don't want to see people get hurt, but at the same if you're being realistic it's like, at some point I'm going to have to fill in here just from the way it's gone in years past. Have you thought much about that?
MB: I haven't really thought much about if I'm going to have to race, but with all the pre-season training and stuff, I've done everything that Chad's done and done it with him. Every time he rides, I ride. I haven't really put much thought into if I'm going to have to, but if I do I'm definitely ready to. I think for him and any team to have somebody who knows the bike and is comfortable instead of having to try and shop for someone to fill in, it probably just makes more sense. The team is more comfortable with that also.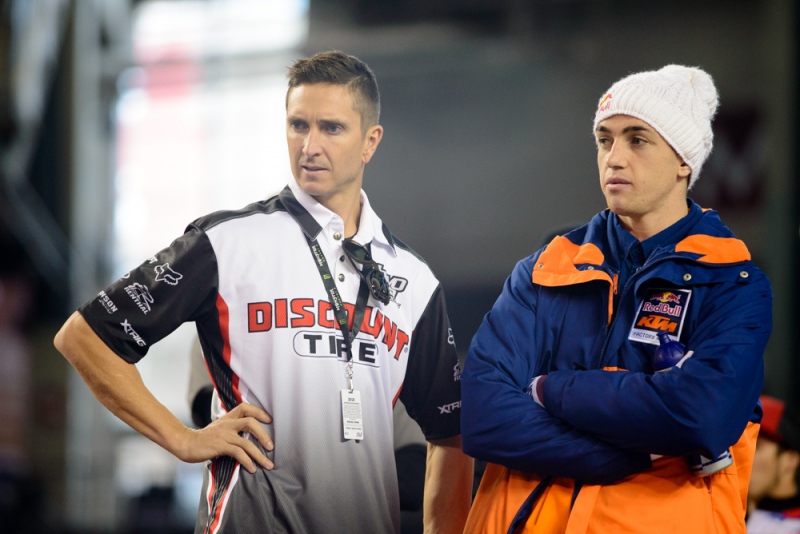 MIchael Byrne surveys the track with Dean Wilson. LIssimore photo
JT: We're sitting here right before Phoenix. Going into Anaheim I was pretty high on Chad just because I had worked out with you guys a few times and watched him ride. I felt that he was ahead of where he was in 2014 and we all saw how ready he was for that. There's been a lot of people that are taking shots at him after Anaheim was rough and he had issues and whatever, but can you talk a little bit how preparation went? How you feel going into Phoenix about his situation and how he'll rebound this weekend?
MB: I think like anything they always make assumptions from the outside. We had a few issues last week, stuff that was out of Chad's control. I think we had a really good week this week, just had a solid week again. Last week wasn't a good indication of how ready he is and how good he's riding. I think if we have a problem-free weekend, and hopefully we'll have many of them to come, but I think he'll be better this week for sure.
JT: Obviously we were teammates for a couple years and then we worked together last year on BTO KTM team. A big part of that for you last year was helping Andrew Short with his race day stuff, similar to what you're doing with Chad now. What do you feel like are differences in how Andrew and Chad approach races? In your working with both of them what have you seen differently as far as the knowledge they accept differently and how they work differently with you?
MB: Really on the race day stuff both Andrew and Chad, obviously they're seasoned guys so they're really good at taking information that they see or that you point out and actually putting it into use. Last year we had a lot of success with Andrew at a lot of races where we just broke it down a little bit more simple and didn't overthink things. I think realistically they're both really similar as in how they put it to use on the track. Obviously Andrew's really quiet; Chad has a bit more spunk to him. Other than that they're both really good at putting stuff into use.
JT: Last year you helped Alessi and I think we all saw the benefits of that. I personally watched you help Andrew last year. So long-term, are you thinking about continuing to do this? Do you enjoy doing this? I think you have a knack for it as far as being able to break down how to go fast and helping people that already are very fast.
MB: I really do enjoy it. Obviously my racing career's coming to an end. It felt really great to be able to work with somebody and then them go out there and improve and then them see the benefit to it. That's really rewarding. I guess you'd call it being a coach. To see them get pumped up and see them happy that they progressed. If you can't race then having someone else win is probably the next best thing to me, as rewarding as actually getting out there. I really enjoy it. I love doing what I'm doing right now, so hopefully I can keep doing it in the future.