Here are some key interviews from key people at Anaheim
Here are some key interviews from key people at Anaheim
Photo by Ray Archer
Kenny Roczen
They're never easy but this was good for you. You got up front early and kind of looked like you rode your own race. It was a little bit like A1 where Dungey was catching you but you probably weren't worried
Yeah, he was riding great. I feel like we were pushing the whole time. We were riding a good pace. But I do feel like, because the track was just slippery and kind of weird, I was just making sure that I'm not losing the front end. I think I could have put on another level, but what for? You've got to ride smart and he rode a great race. We get good starts when we need to and make it happen in the beginning, get up front, and that's exactly what we did. So it was all about smart racing. My bike feels honestly unbelievable. Super happy with how the team and I have made it, with all our testing and stuff. It's just working great right now.
What do you like about it better than your KTM? Obviously your KTM worked great; you won a lot of races. What really do you like about the RMZ?
It's just that thing has so nice a turn and it doesn't have too much power. It's just a perfect bike for me. I rode it for a long time and it's so much fun, just in the turns. I always like to lean into it, get low and stuff. I finally have that feeling back and just have so much fun out there. I think that's what it's all about and that's what makes me go good.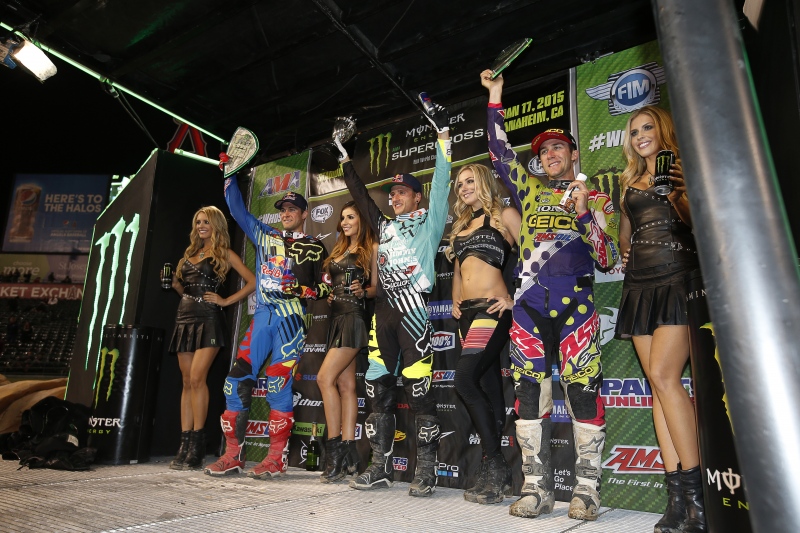 "It's just that thing has so nice a turn and it doesn't have too much power. It's just a perfect bike for me. I rode it for a long time and it's so much fun, just in the turns. I always like to lean into it, get low and stuff."
Does it matter to you if you have the top qualifying time?
I don't care at all. Especially on this track, when I saw the track this morning I'm like, geez, everything looks super peaky. I didn't even feel that great in the practices but as soon as the racing starts everything will be a little bit more mellow. I'm a better racer anyway so I never worry about lap times. I'm happy when I'm up there somewhere.
What were they doing with that split lane? What was going on? No one took that lane.
They just need to make it to where they're similar fast. The inside was just so shitty. Nobody took it. They just need to make it maybe a little bit smarter. But it was good. It was a technical track and a long lap time so they did a good job.
Over-under bridge good?
Yeah, I like that stuff, especially coming out of that bridge with the triple was pretty sick. The dirt just got super rocky and hard and slippery. It was crazy.
***
Cooper Webb
That's a race, man. You got your first one last week and I think you were 14th. You've got to be super pumped. Even if you got 2nd, that would have been great. To do that on the last lap you've got to be stoked.
Yeah, I'm pumped. To come from way back like you said at first I was just hoping to try to get on the podium. Just put on a fight for 15 laps and just put my head down. I knew Jessy (Nelson) was out front and Bowers was 2nd. Those are the guys that are in the points battle so I knew this was the night to make it happen and was able to do it. Jessy went down and I just put my head down. Came into that last lap, knew I had to get it done. Pretty sweet.
Bowers was kind of effed though because he's got to go out to triple, which you knew. That was kind of your spot. He was a little screwed and you were like, I'm just going to jab it in there. Were you planning that the whole time?
Yeah, I planned that on the last lap. I knew he was going to be fast through those whoops.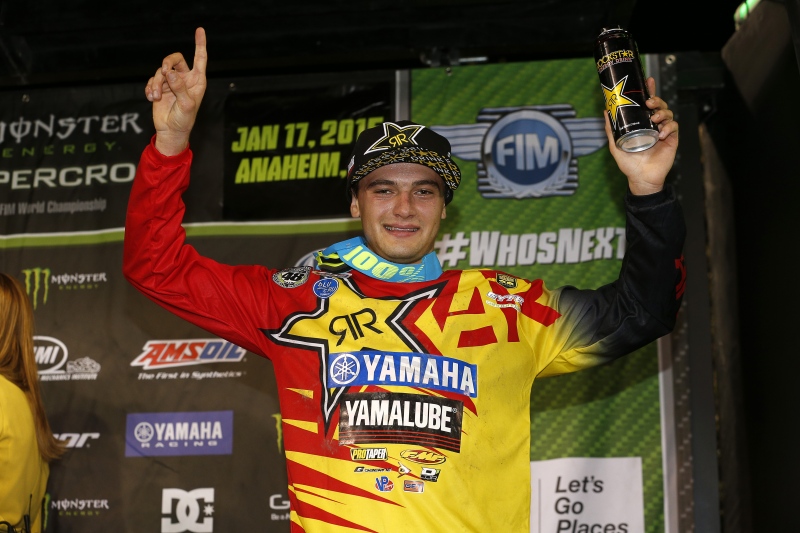 Webb won his second race of the season in a thrilling manner.
You actually were pretty good through those!
That's the fastest I went through them all night. And I knew if he went outside I could slam him and if he went inside he wasn't going to be able to make the triple. It was like a chess match I guess you could say.
Any words by him after the race?
Just good job. We're cool. I actually don't think I made contact at all. Obviously I ran it in, but we're cool. We were longtime buddies and actually train together with Swanepoel. Like he said, he would have done the same thing. It's cool to be able to race somebody like that.
The only negative to your night is your two starts, heat and main, not good. What was going on?
Heat wasn't bad. I got 2nd in the heat. I think I've had problems wheelie-ing and I spun tonight. Just figuring it out. Try not to put too much pressure on it.
You got to be stoked though, two wins in a row, your first two. That kind of win just boosts your confidence up I imagine. You're feeling like, hey, why not three in a row, right?
Yeah, exactly. Like you said, to come from way back and do it is pretty bad ass.
***
Mitch Payton
Aldredge looked good until he crashed and Bowers looked fantastic also. Webb rode a great race. You've just got to tip your hat to him I guess.
I thought honestly Bowers rode a good race. I don't blame that on Webb. I think we got caught. I think it was the last lap with a half a lap to go and I think he had to do what he did. I don't blame him for that. I think Tyler would have done the same thing to him. I don't blame him for that. I think it was our fault for getting caught. We weren't riding the lap times and he was coming and we got caught.
Yeah Bowers rode good, Webb rode great.
I think Bowers rode really good. I don't know if he thought he was riding that good or thought he had a cushion and he got into a groove but he didn't break out of the groove to pick it back up and get away.
Aldredge?
Way better. Good start, ran up front and was in 2nd for a minute. It was good to see him be able to do everything, get everything done. I think just the intensity of being up there. I think that was a shock for him. Then when he would get passed there was a line behind him that just kept coming. I think they just kept coming on him and he started clipping stuff and making some mistakes. I think maybe he held his breath the first five laps or whatever and I think his heart rate was spiked. I think he was tired. I think he started making mistakes and dropped the front end. He's okay, but better weekend for him.
I love to get your take on all things Supercross. Tonight we saw Canard and Reed come together then Chad obviously not happy gave Canard a little bit of a tap, Canard goes flying off the track. Black flag comes out for Chad. What do you make of that whole thing?
I watched the main event 450 and a couple laps before that Trey made a really good pass by going all the way around the top of it and railing it and then jumped to the inside. That was what made the guy back off and do that. I don't know who it was, but he went around the top and made that pass. Then he was setting that up to do that to Chad. Chad kind of took him to the top. He didn't hit him but he took him to the top and he choked up a little bit. Then at the last second, obviously he didn't hit him, and then Canard decided, I'm just going to do the same thing. And I think it was too late to do that and he just went for it. And then Chad still had the lead when he turned in. I think Canard just thought it was going to work. You're talking about four or five bike-lengths between that. As he turned in there was Canard and they hit and they both fell down. That one there was…
It was kind of a racing incident. It sucks for Chad.
Racing incident. There was a lot of dumb stuff going on on the track. It was probably not worth Trey doing that at that point to pull that off, but he thought he was going to do it so he did it. I don't have a problem with that. Then they both got up and they went down the next straightaway. I didn't realize this until somebody told me that, but Chad went in and just checked him up and said "what are you doing?" Then he didn't have one hand on his handlebars and I think he went off the track and hit a tuff block. I think FIM shouldn't have black flagged him because that disqualified him from the race.
I think that what they should have done was let the race finish and reevaluate everything when it was done, maybe speak to both of them, ask them what they both thought. Maybe Trey would have said, man, I think that was a bad move. Or maybe he'd say, I thought I had it. But just let them deal with it. You disqualified a guy and then he loses a bunch of points and in the series I think that's a big deal. I think you ought to let him finish it up and then talk to him after the race.
We don't see a lot of black flags for a lot of stuff that maybe should be. And all of a sudden now a precedent is set, sort of.
I don't think that was worth it because if you look at the race in whole tonight there was a lot of things that would be just as bad as that where you should have said, we'll black flag that guy, and that guy, and that guy. And there would have been five guys black flagged if you really were to watch the whole race in whole. But instead I think Chad got that one and I don't think that was fair. I think they should have left it alone and dealt with it after the race.
***
Chad Reed
Let's talk about the main thing, coming together with Trey. Understandably you weren't too pumped and showed him what was up when he got up a little bit, and then black flag. Thoughts on all that?
The first incident I didn't see or feel that one coming. Trey just jumped right on the back of me, so that was kind of crazy. I got up and obviously just kind of threw him a little elbow like what the fuck? But other than that I didn't really think too much more of it. Then I got right back around to the finish line and they were showing a black flag with a cross on it. I just thought it was a black flag, I didn't even know. So I was kind of confused and like, is that for me? I rode another lap, seen it again, rode another lap and then the whole time I was like, really, this is happening right now? I didn't even really know what to do. I was like, can I just ride it out and deal with it after or do I just stop? I ended up just stopping and Gallagher didn't even come over to me so I couldn't even…
Didn't really have an idea of what happened?
Obviously I knew that I ran into Trey but for me I didn't think it was that big a deal. Sure, I threw him a little love tap but no worse than what he just did for me.
No worse than what we've seen over the years a bunch of times from different dudes and the black flag doesn't come out. I like Trey, but the black flag was weird.
Yeah, the black flag's weird. That's really the biggest question. Yeah, I don't think that Trey's incident was that awesome and I also agree that I shouldn't have retaliated and did that but we both did it. But to get black flagged right away within a half lap… The replay, I watched it on TV and you do the math of from the first incident to when they actually did a replay of the second incident, the time lapse doesn't add up. So he didn't even see a replay; he claims he did. Kind of bullshit to be honest. I don't believe that a black flag was appropriate. A slap on the wrist or a fine or whatever after the race, that's one thing. I'm no angel and not claiming to be. Like I said, I totally retaliated and shouldn't have but I don't think that it was appropriate for a black flag.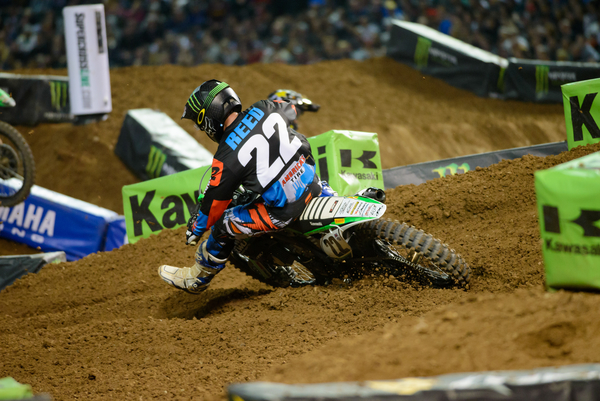 Reed got the black flag at A2 for his move on Canard. Lissimore photo
And your meetings with Kevin from the AMA or John from FIM, what did they tell you why they did that? What were they saying?
I don't understand their side 100%. Obviously I'm always going to want everything to fall my way naturally, but for me I'm confused by it a little bit, to be honest. He says we didn't want a brawl on the track, we didn't want a throw down. And it's like, really? Are Trey Canard and I going to go and throw punches? Even to the point where he made a comment that it was a "heated conversation" after the race. And it really wasn't. It was Trey come up to me and asked me what was I thinking, which then triggered me asking him what was he thinking. Then I was just confused by the whole thing because I'm like, wow, you jumped on me. How can you ask me what I was thinking? So I was kind of confused by that. Then his comment was, you're the biggest whiner in the sport and then rode off. So left me confused by that comment. But anyway, like I said, I think at the end of the day Trey and I are big boys. We weren't about to throw down and throw punches. If we are I think we should go out and maybe get off the premises and throw some punches but I don't think that that's Trey's style nor mine.
You've lost points, you've lost money, you've lost sponsorship…
It's a big call. In the big scheme of things I went 10-10, I was in top 5, battling for a top 5 tonight. It's a long, long championship. At no point was I out of this thing. Sure, in the short-term it looks like I'm not there and not getting the results but I feel like we're a few little things out of it and we should be right back in to being a podium guy again. So for them to just throw something so gnarly out there like that, and pretty much take me out of the title chase, it's a big call. That's why I think at the end of the day motos at the level that we are, all the race teams from the privateers up to the factory teams, they've come so far and they're so good and so much effort and money and budget goes into these things. If you watch Formula 1 on TV, it's the first thing they do is there's an incident and it comes across the bottom of the screen and the stewards are going to discuss it after the race and make their decision after the race.
It's not one guy in 30 seconds making a decision.
Exactly. That's really my biggest thing. I'm not sitting here and saying that I was right in my decision making as well, but I think a black flag was pretty steep. Like you said, they've set a precedence and we'll see. Are they going to start black flagging people?
I thought it was really, really harsh to do that. You deserve a fine, a talking to, double secret probation, but not a black flag in my eyes.
I agree with that. A good slap on the hand. If you want to fine me, fine me. Take my massive pay that I got tonight away from me or something like that. It's bizarre.
I didn't talk to Trey. I went over there but he was gone, but Weigandt did, and one of the things he said was you went outside the lap before, so he was anticipating you doing that again. That's why he jumped to the inside. I haven't seen the video. But thoughts on that?
From a professional point of view and a rider's point of view, you don't just go off of what I did the lap before. Blocking your line, protecting your line, obviously that was one position that you were very vulnerable on the inside. Kenny passed Davi right there. I think Dungey might have passed me right there. It's a passing spot.
Trey got Barcia there with that kind of move.
Exactly, so from a rider's point of view it's just not for us to go around. It's not my first go-around. Jumped to the inside, stopped him being able to do it. You don't just commit and assume that I'm going to take the outside line. It's just crazy to me. For me, that's why Trey Canard will never be a Supercross champion. He just makes dumbass choices like that. One hell of a talented dude but I just question whether he'll have all the pieces of the puzzle.