Steve Lamson and Tony Blazier talk about 1993
Steve Lamson and Tony Blazier talk about 1993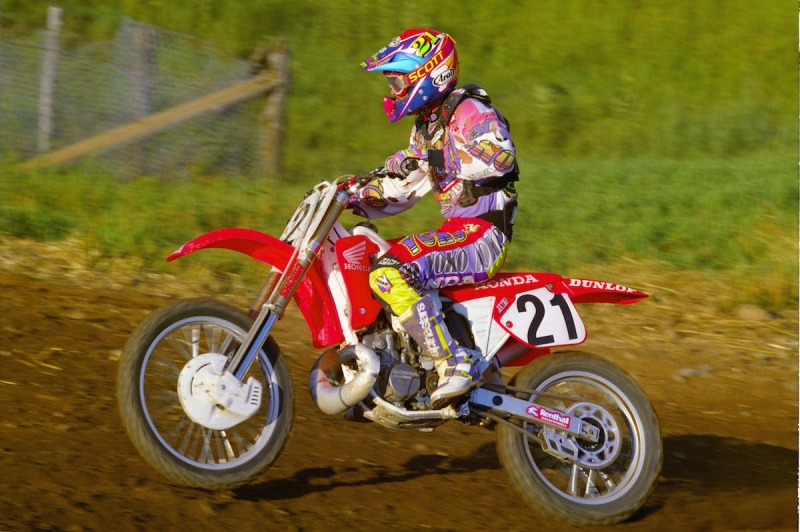 People think of Lamson as a 125 guy but he first made a name for himself in the 500 class.
Blazier- For this installment of MX Captured I thought we would take a look back at a sweet shot of Steve Lamson from the 1993 250 Outdoor season. This particular Buckley pic is of from the Unadilla National in July of 1993 and it must be from practice, because the track turned into dust bowl during the motos. This pic is an interesting one to me for several reasons. First of which is Lammy's gear, which is the ever wacky Yoko brand. This Finnish gear was always a bit out there in the looks department and the 1993 line was no exception (although to be fair, this particular colorway is actually not too bad). I actually felt bad for Lamson in 1993, saddled with this offbeat stuff. The rest of Team Honda was looking bitchin in Fox, AXO and Sinisalo gear, and then you had Lammy in the Yoko…sigh. I hope they paid him well at least.
At the time, this had to be a major coup for Yoko, who was not exactly setting the word on fire in America. Team Honda was the highest profile team in the sport and having one of the Red Riders in their wackadoo fashions had to be good for sales to any Euro loving motocross enthusiasts still in the audience. As a side note, did you know Yoko is still actually making gear today? Yeah, me neither.
Another thing that made 1993 cool was the fact that Lamson rode the 250/500 class instead of his accustomed tiddler. Lammy was moving to Honda from an injury riddled stay on the Factory Suzuki team (many people forget he actually rode for them in '92) and with Doug Henry already on the 125, they stuck Lamson on the big bikes. While he was certainly not as successful on the 250 as he would be in the following four years on the 125, he was no push over. In the 250's, Steve raced his Factory Honda to third behind the two Mikes, Kiedrowski and LaRocco. In the 500's, the acknowledged 125 specialist would card a fourth overall behind LaRocco, Kiedrowski and his Honda teammate, Jeff Stanton. These would prove to be the best big bike finishes of his illustrious career.
In 1994, Steve would get bumped down to the 125 class and nearly win the 125 title, before ripping off back-to-back 125 championships in 1995 and 1996. During this period, Lamson was undoubtedly one the fastest 125 riders in the world and I think it is unfortunate that those accomplishments gets a bit overshadowed by the dominance of a certain #4 and #259 that came after him. In a sport that values the "what have you done for me lately" mentality so strongly, low key guys like Lamson get lost in the shuffle. I'm glad Steve is still in the sport today, but I'm willing to bet 90% of the kids he works with don't realize what a bad dude old Lammy was on a motorcycle.
Steve Lamson- "This is '93 and the big 500. I did like it racing these thing but this bike-It was a handful. Jeff Stanton was on the team riding the 500 and myself, with LaRocco and Kiedrowski on Kawis. I think those guys had us on power in terms of a curve. Our bike, that thing was like a freaking light switch. I could holeshot and probably lead for 15-20 minutes and then I'd be done, hanging onto that beast.
I wore Yoko for two years, it was a NorCal deal. I did that for two years, '93-'94. Good money for back then. I probably finished 4th almost every moto. I got my butt kicked by the other three guys, Kawi guys and Stanton.
The bike was good but it just took a lot of energy to ride it. Chassis, we had to do, you know how you do race change with your clamps? We had that thing at like three-quarters of a degree in, so it would turn and you could actually ride it. But then it probably didn't help on the fast stuff."