The top three in 450's and Osborne speak
The top three in 450's and Osborne speak
Photos by James Lissimore
Eli Tomac
I was waiting for the double-triple and then the outside triple-triple on Seely on the last lap. You switched it up though. I noticed you were making some time up there previously, were you thinking about that?
If I could go back now I wish I would have made a pass on Roczen two to go or three to go. I didn't. I got really close once before the second set of whoops. I even tapped his swing arm, but he just held it on. I tried to run it in there but I'm not just going to smash him while he's going into the whoops.
You could have dirtied him if you wanted to.
I could have dirtied him. But then going to the last lap pass there just slingshotted him from that triple, so it was good.
The move of that double-triple and then the triple-triple, it maybe took you about 8 or 9 laps to get going on that but it was working good.
It was good. Maybe I had to warm up a little bit during the 20 or the guys were just fresh and I was able to go hard for the whole 20, but I think it was a little bit of both.
In practice, you, Reed, I think that's about it going across those tables that run parallel to the start. What'd you think? You were fastest in that segment.
I was fastest there. It was just technical. That was a big leap. I think we both thought there's no way you're going to be able to do it for 20 laps. I barely made it anyway. You could have smashed yourself. Honestly I thought in the second practice they rounded off the lip to go over it, so I was like, it's not worth the energy.
Overall you said you were not pumped because you got 3rd and you probably had the speed to win tonight but one of those things?
Yeah, it was. I'm going to say it, but hey, I didn't get the start. But I got it in the heat race. Honestly in the main I was like snoozing. I got smoked on my reaction time. I don't know what to say.
Was it because it was elevated or anything to do with that? What'd you think of that?
I thought it was fun. There wasn't anything sketchy about it. No one was really crashing or anything, so it was kind of cool.
Some guys were trying 3rd off of there.
I know our guys did, my other two teammates did in the heat race. I did 2nd gear and I was fine.
I thought the track was good tonight and it showed guys like you, Chad, even Ryan, technical-wise it kind of made the better riders shine a little bit. I liked it. What'd you think?
Absolutely. This is like our first real feeling tough and technical track this year so it was good.
***
Trey Canard
Stupid sand pit. I felt like you were maintaining, everything was going good and then you fell in that stupid sand.
I felt decent. I didn't feel especially great all day but on days like this you just try to make the most of it. Got a little bit of a rhythm about halfway and kind of got a little bit of urgency to get around Cole because Dungey was kind of pulling out. Maybe rode a little too aggressive and just went a little too wide into the sand trying to square it up and just washed the front. I kind of buried the clutch lever so I had to dig that out. I never really got going after that.
Once you get up, I thought the pace with you five guys, you pulled away from everybody else. It was pretty high. There wasn't much you were going to do once you got up there – everyone was on it.
I was really trying, because you're always fired up, you want to try to get back at least to a podium spot. I put in a good charge and Tomac kind of gapped me. Those guys just kind of kept the pace and I kind of never really found my rhythm. I kind of coasted it in.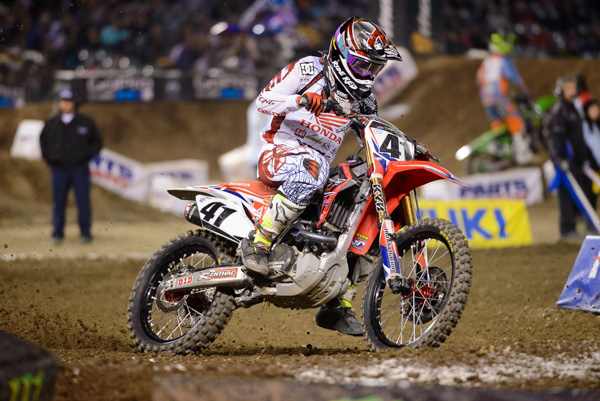 Canard was in position for a podium until he fell in the sand.
Track tonight- elevated start and some tricky tabletop sections that Tomac and a couple guys were doing. What'd you think?
I thought it was good. It was good to see that the track was a little bit slower. But it was tough. It was technical. I was scary walking it on track walk. It gets your heart racing a little bit.
On another note, your teammate, the 14, career-best 2nd place. You've got to be pumped with that. You were hauling behind him. You want to beat him of course but you are a team at the end of the day.
I'm so happy for these guys, from Dan to everyone at management, to Cole himself. It's just a really cool time to be on this team. I'm really happy to be here.
You ride a little different when it's Cole, your teammate there?
We got together last weekend. I didn't really want to do that.
Last weekend was kind of an accident.
It was an accident but I didn't want to force the issue. I felt had I been able to get up on his rear a little bit tighter I could have made the move, but "shoulda, coulda, woulda." Glad that I came out with a 5th. Ready for next weekend.
****
Zach Osborne
First of all, how pissed are you that another GNCC racer beat you?
Pretty pissed. No, he rode good.
He was on you, hounding you the whole race.
He was. It's tough. Right now I've really ridden less than an hour since A1. I'm training by butt off but at the same time nothing compares to time on the bike. It's a tough situation. I only have so many laps to use during the week. My thumb is healing now, showing signs of healing. Hopefully it'll continue to progress and I can get back on the box where I belong. But to salvage the way I have and to be 3rd in the points, only 6 out of 2nd, after I walked out of the medic unit at A1 I would have said, maybe not. I don't think that's realistic. We've all been fighting. My starts are good and they're putting me in a good position to do well. Last weekend at Oakland I struggled a little bit with my starts but right now it's on point.
When I went back to the gate the second time they were telling me, you got a second chance; you've got to do it this time. Even though I don't feel like I've got a second chance; I never really got a first chance, because the freaking thing didn't move. But I knew I had to make it happen and I did and got off to a good start. It's just hard to have that in couple of laps when you're not doing those kind of laps during the week.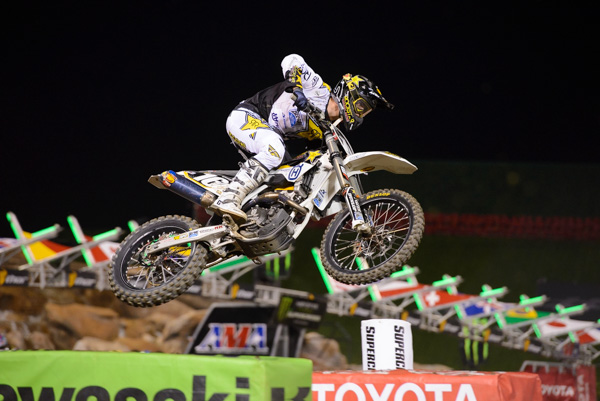 Osborne was the cause of the re-start when his gate didn't fall at all.
The gate thing, it happened right away. I saw it. It didn't drop for you. It took five laps before they red it. Were you thinking, they're not going to do anything?
Yeah, I came to the finish line on the first lap. I'm like, for sure, we're going to get there and it's going to be red flagged, something happened. And then it didn't and I'm like, okay, next lap, just keep going, don't freak out. And then two laps later I'm like, okay, they're not going to do anything. This is ridiculous. Pick up the pieces and try to go as far as you can. Finally they did. I don't know why it took that long, but I have to thank Bobby for going to bat for me on it and freaking out. It didn't even move. And then it took so long I started to question, did I hit the gate? I know I didn't hit the gate, but did I hit the gate? Why are they not doing something right now? I was wigging out in more ways than one.
And you said you've only got so many laps in your thumb, so why not do five more? Why not make it a 20 lapper right?
I was thinking that on the line. I'm like, great, I got another chance now but do I have 20 laps now? It's not that I'm not in shape it's just a tough situation to not ride during the week and continue. I have 15 good ones but those 5 maybe kind of bit me in the butt.
What happened in the heat race?
I don't know if I hit Biscuit or what but I lost the front in the third turn and went down.
***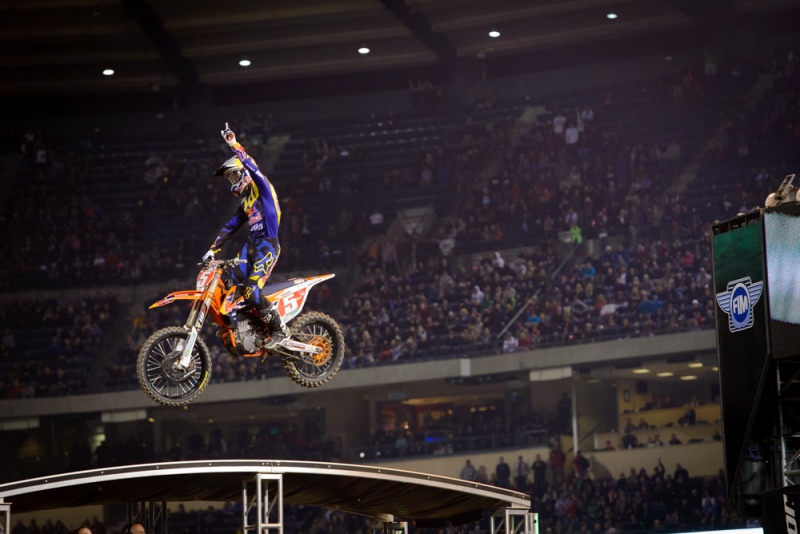 Dungey captured his first main event win of the year in a great ride.
Ryan Dungey
I felt like this race could have went until 1:00 in the morning and you wouldn't have made a mistake. Seriously it was a precision ride.
Honestly everything felt good. I was hitting my marks well. I did mess up that rhythm lane before the finish line two times, so that was a couple. It was a three-three. I was going outside and I ended up going double-double-double, so that really cost me a couple times. Overall everything felt good. Starts were really good, positioning was there. Just able to ride my own lines out front.
A big key tonight getting the start and you got it.
I think we've learned within the last few races the guy who kind of gets out front and who's going to be contending for the win and gets away, that's the ticket. It was good. We had good practices today with both fastest qualifying times and then a good heat race win. And then was just able to kind of carry it through the day. It doesn't always happen like that but when it does you got to be happy.
Did it piss you off a little bit, "hey, he's got the points lead but he doesn't have a win." I heard the announcers reference that a couple times tonight. Does that get to you a little bit?
Honestly it kind of does. I'm well aware, holding the red plate with no win. I feel that, but I couldn't worry about that. I needed to apply myself and get that win. And I'm glad it worked out. It could have took a while longer but it's good to kind of get the monkey off the back.
I haven't talked to you about the new bike. Shorty loves it, Brayton loves it. Carlos said you got to add weight to it. How good is it?
It is, it's a solid bike. With the past three years we've been able to get a lot of good feedback from all the riders in the US, everybody in Europe, the test riders and everything. They really did themselves on this KTM. It's lightweight like you said, but not only that, just the handling from the chassis to the engine to the suspension, the whole package, they improved it and on another level. And that light weight is just to top it off. It's a fun bike to ride. I truly look forward to going riding every day just to ride that bike.
You know how I know you like it? I asked Carlos, you're a big tester, I know you're a big changing of the bikes. Carlos is like, it's not too bad on the new bike. You're staying pretty good.
Obviously coming into the season, racing is like the test. So we did test a couple weeks after Phoenix and before A2, but that was it.
Which for you is good.
Yes. So I'm like, everything's good, ride it and work on what I need to work on. It's nice to just shut the mind off and just ride as hard as I can. The bike's there.
Super cliche question but how's Aldon? How's that working out? Obviously pretty good.
Yeah, I've always wanted to work with Aldon. He's a great guy. When that opportunity came about I'm glad everything lined up right and I hopped on it. I wasn't going to pass that up again. I made the mistake years ago of letting that one fly with Ryan taking him, and life goes on. When that worked out it was able to happen. I really feel like we work good together. He's a solid guy. He helps my program out, not just physically but mentally, just living a balanced life. He's a good guy to have on your side and to be around. He's just uplifting and the positive.
Keep calm and carry on, right?
Exactly. That sums it up.