"A racer is only as good as his last race."
"A racer is only as good as his last race."
Photos By: James Lissimore
We have heard it from the riders themselves a million times, and usually in reference to the outlook they must deal with from the media and fans. We all know they are much different from weekend to weekend depending on circumstances in health, fatigue, exercise, comfort on the bike, etc. I am as guilty as anyone of pegging them in a hole before the season is done, because it is so easy to get caught up in the intensity of one great night of racing and believe the trend will continue for that particular rider. That is what makes the sport so great though, as one weekend a guy can dominate and the next that same rider can get a 4th. The riders do need to shoulder some of the blame for this cliché because they are the ones whom bring it to our attention over and over again. It is easy enough to understand that it is tough to live under the scrutiny of the public eye, but they race with strategy and we spectate with emotion, so what do they expect? The media gets paid to not only cover the races, but also to built storylines that will capture the fans attention. The first races of the season have spread a perfect picture on the canvas that is the 2015 season, and we can see first-hand how a racer is often fighting with himself to better than or as good as his last race.
For instance Ryan Dungey. He has continually bettered himself from race to race building in a perfect trajectory toward the pinnacle of the podium. At the beginning of the year he was the same guy that we always see…"Dunge is Dunge, and he does what he does", floated around the media as if that is the only way to describe the likeable Minnesotan. He was old hat, and only being as good as his last race was not an insult, but more like a backhanded compliment. Every race he began to build and slowly so did the hype. It was only after he was the fastest in qualifying that we got a glimpse of something truly different from past years. Dungey is many great things on a motorcycle but the fastest in SX has not been one of them for many years. That is not a knock on his way of racing or his overall racing skill set. It is more or less the facts of his career. Essentially, he was not just as good as his last race, he was as good as his trending career, and you cannot fault the media or the fans for falling into a routine with evidence as blatant as this. After all, history is fated to repeat itself, or so we are told. Maybe this year will be an exception.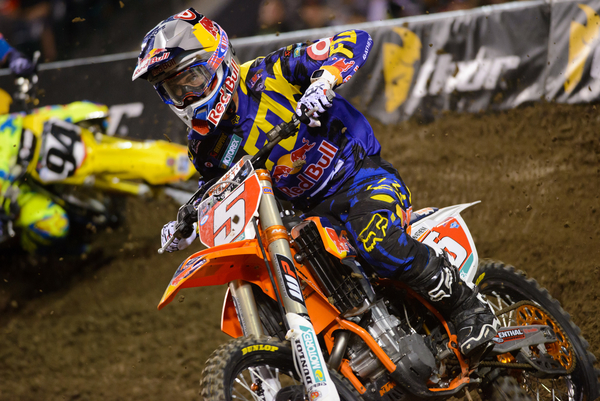 Dungey, like many great athletes, is great at compartmentalizing in his head.
In similar fashion we often forget or forgo the past of a rider simply because of a display of brilliance. Ken Roczen has won a 250 west title and few can argue that he was the best or close to it throughout that campaign. However, given another round or two it was looking as though he would possibly lose it to the hard charging Eli Tomac. Now we have two long series he contested last year and the full outdoors on the 250 schedule that seemed to show a repeat fault of his to lose intensity and mental focus down the stretch. This is all perception from a trending fall in results as the seasons wore on and this year started as many of his title runs have, with a win. He is aggressive early and looked to have a handle on the field early on. The rumors started floating around that he was going to be gone soon as the other guys were making mistakes and not getting the starts. It was even said that he would be so unlikely to make a big mistake that the championship was funneling down quickly, and many even thought he was nearly a full lock for it. I know, after three races out of 17, but emotion and passion were trumping the all might facts of his past. Guess what? He made that big mistake and just like that his edge is gone. Only time will tell if the Kenny of now is a fixed version of last year or if he will remain a contender but not a finisher.
No one will argue the separate but great skills these two riders possess. We really cannot say if Dungey will remain atop his game or make an uncharacteristic mistake and through away points as Roczen did. Everyone says, "no…the Dunge doesn't do that", but he had a clutch lever cause him to pull out of a race last year, a chain derailment to result in the same in 2011, and a broken collarbone in 2012, plus some early season bad starts in 2013 that resulted in poor result…like his 8th at Phoenix that year. The point is that the past does repeat itself for nearly everyone. The rider that is really able to adapt and learn from it has the best odds of pulling this championship off. If the riders would stop pointing to their last race as an indication of where they are at on the bike setup or in their race craft (let's face it their riding is awesome all week, they are pros after all), and start looking towards the next race as Reed and Canard did after A2, then the old cliché could finally be put to rest. Then we can raise a new cliché from the ashes and continue to use our emotions to guide us from race to race. I am thinking, "You are only as good as your next race". When controversy pushes the riders hard and they have no solution but to look forward and forget the past, then and only then can they truly escape it.