Some key players talk about their night in Dallas
Some key players talk about their night in Dallas
Photos by James Lissimore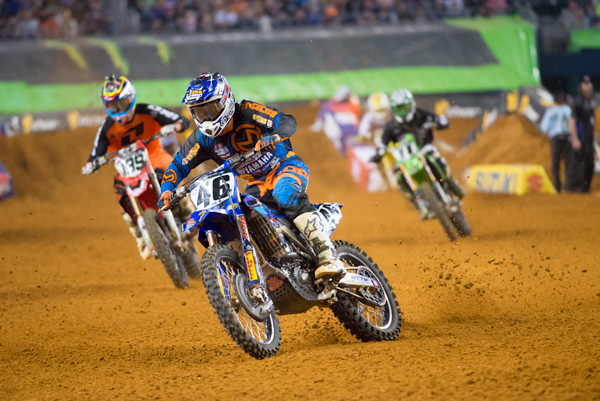 Filthy Phil had a nice Dallas SX and has got his starts back.
Phil Nicoletti
First of all you let me down in a few ways. I thought you had it out of the heat again, couldn't happen. The main event I thought you were looking good for a 10th, held 10th forever, then some mistakes at the end. All jokes aside, still a solid night.
Yeah, I was gutted with the heat race. Weimer came in before the finish, pulled the trigger, almost got me. I stuck in it and then just brain dead and I did the same move again next lap. He stuck it that time. I was just like, dang it. It was actually good they had a restart. It's not good they had a restart, it's never good for that. Anderson had cleaned me out pretty good.
I heard you two got into it.
I kind of blanked out for a little while. I might have said some things that I shouldn't have said, but it is what it is, it's racing. We're okay, I just got heated for a second.
He took your front wheel out which sucks. But I doubt he meant it- I don't know. I do understand you being heated.
I just went down too easy so I had to make up for it in another way. I let loose on the start line. Even Carlos, Dungey's mechanic, was just like, come on, and I almost snapped on him too. But it was okay. I calmed down and ripped another good start for the heat. Thought I had it. Like I said, Weimer pulled the trigger twice, same corner because I'm dumb. It is what it is. Semi was okay, I got 3rd. Main event, had 10th locked down and gosh, I don't know. I cracked with four laps to go. Seely pulled the trigger, Reedy pulled the trigger, and Hill.
Hill got you too? I didn't see that.
Yeah, I ended up 13th. I was gutted.
I wanted to talk about this clutch lever situation. This is the magic? You've changed clutch levers.
It was just something that we went through last year. The feel was really good, that's why we always had… It makes a big difference. When you're trying to control 65 horsepower, whatever it is, and the dirt's super tacky, the disengagement and engagement point's too stiff it's hard to control it. Last year we had some different levers and it was smoother and I could feel the bike better. We didn't have that earlier but now we finally got that back and the sensation's there. It's all about the sensation.
It's just a clutch lever.
As a factory mechanic that you were, you should know that it makes a difference. It's not like I'm telling you we changed our whole setup during the week and the setting was so much better. Just changed the lever and it made a big difference. It actually worked out okay.
Track tonight, what'd you think?
I liked it. A little one-lined.
Hard to pass, unless you were Weimer.
Yeah, unless you were Weimer or Anderson.
Or Hill or Reed.
It just sounds bad when you put it like that.
I'm kidding. I thought it was a good ride.
For the way the practice goes, if I can just pull my head out of my ass I'd be okay. It's depressing during the daytime around here. At nighttime things get a little livened up a bit, but it was okay.
***
RJ Hampshire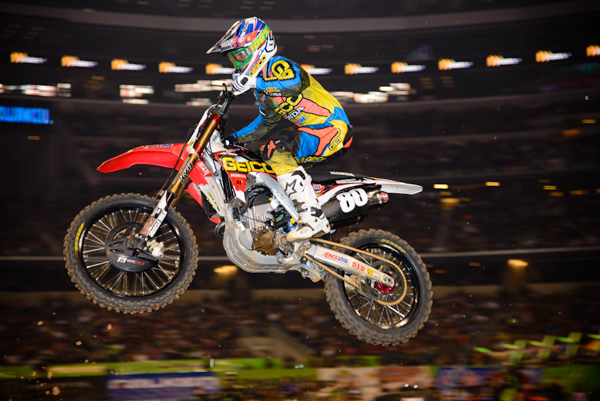 Hampshire made his SX debut in Dallas and despite a crash, held his own.
Your rookie Supercross debut. Looking pretty good. You got to take it after you had a hard get-off in practice. At the end of the night, I guess you'll take this. I know you got 7th, so you'll take it, right?
Yeah for sure, how the day started. Actually I felt good in the first timed practice, decent. And then second one just went for a heater and hit my head pretty good. It was actually a bad get-off. The Asterisk crew told me I wasn't even going to be able to ride. So we went back to there and they worked on me a little bit. Took my concussion test and passed it at like a 93. So they let me ride. I knew it was going to be tough. My hand's a little beat up and my side, but we toughed through it. Had some good group of guys back here working on me. Red Dog brought me through the night. So it was pretty solid.
The main event, rookie nerves, it finally gets going, now there's a restart with a staggered start. You're like, what?
Yeah I was pretty bummed actually. I was just worried about putting my laps down; I didn't care what place I was in. I was in so much pain. I was just trying to hit my points. Then I think we were on lap 8 I seen the red flag. Then they said restart. I was like, what is that? I thought we were halfway through. Staggered start kind of messed me up a little bit because I had a pretty good gap back to Friese and them.
More time to sit there and get your pain set in, right?
The pain was already trying to go away and then after that it was almost back to me. We fought through it. I'm not bummed. Usually I wouldn't be too happy with a 7th. I know I could do a lot better. I knew tonight I wasn't healthy and I knew I could have been, not going to put in a position but I definitely felt like I had the speed. Just get healthy this week and come back for Atlanta.
****
Chad Reed
After your heat race the streak was broken last week again. Now the second week in a row you got to ride these stupid semis. And then you battle with Nick Schmidt. I don't know if that says something about Nick, you, or the track, but something.
The track wasn't that amazing but you've got to give some credit to Nick, he rode well. And then obviously, I don't want to take myself down, do what Cole did. The track was tough tonight.
It got slick, huh?
Yeah. Looking from the outside in I think it actually appeared to look good traction, good ruts, but it really wasn't. There wasn't a lot of traction there. So really just Cole's probably the best example I can give you. The track was slick and if you kind of throw it up the inside, you don't want to jeopardize trying to make a pass for when I'm already in there. Just trying to set him up basically and trying to make the pass clean.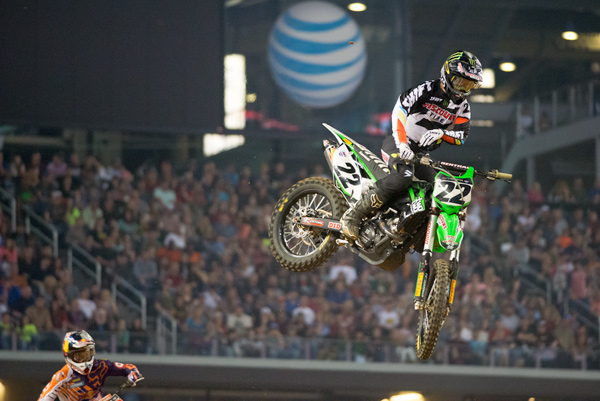 Reed didn't have a great Dallas after contact with Tomac left him on the ground.
DV was ranting on Twitter about air pressure again when Cole went down.
Too much air pressure?
Too low, everyone's losing it. You guys are idiots.
I need a pop-up on my thing so I could see DV. I need to turn my notification on just for DV.
He was taking screen shots of Cole practicing and looking at his wheels were flat and saying, look, that's why he lost his front end.
He's got too much time. He needs a job.
Earlier in the main you came together with Tomac. This is sort of a two-week thing now. I don't think it was dirty, but he could have pulled down earlier and it looked like a little bit of payback or something, I don't know. Did you talk to him? What'd you think?
No, I didn't talk to him. I disagree with you in the fact that it wasn't dirty. Watch it on TV, I think you might have a different opinion about it. But it is what it is. He made the pass, I ended up on the ground and it seems like this might be an ongoing thing. What do you say? I don't feel that I left the door open. He just kind of blasted me in there. He wasn't making the turn any other way other than hitting me. He knew what he was doing. Full credit to him. But a lot of races to go. For somebody that wants to win a championship this year he's a hell of a lot closer than I am. He's picking fights with the wrong dude.
And once you get up it's over, right? Kind of do what you can, fight through the pack. You got Phil at the end there.
I was outside the top 10, I think I was 11th. I did what I could. Actually I felt like I wasn't riding terrible. I felt like I was coming back through the pack. There's some talented kids out there so it wasn't easy.
Josh Grant's best ride of the season by far coming off what was his best ride last week. You got to be a little bit happy for your teammate.
I'm stoked for him. For whatever reason it's been a tough season for both of us. It's just been weird. To be truthful with you I felt like I came into the season one of my best prepared ever and things are just not going right, not going to plan at all. And same with Josh. He's just had kind of rough weekends. So to see him in 8th and in the top 10 I think that's where he belongs. It was a shame I was outside the top 10 but we'll keep fighting. He's coming home to Florida with us this week and I think he's going to spend a month out there. We'll try to not ruin each other during the week like we did in San Diego. I'm a total dick of a team owner. He mustn't hate me too much.
***
Ryan Dungey
Second win of the year and again like the other Anaheim one, great job. Masterful. I don't know if you made a mistake. Got the holeshot and that's what you wanted.
Yeah, definitely that holeshot tonight was key, obviously with those first two turns, a lot of carnage happening. So getting to the first turn made things a lot easier. I was able to get out front, race the track and focus on myself. I seen I started opening up a little bit of a gap which is always great for the rider who's being up front. I saw Ken moved into 2nd there and I was able to kind of keep slowly opening that gap more. By a little bit over halfway had a good, comfortable lead which I tried to maintain. Then from there ran it in for the win.
He looked like a couple laps he gained a couple tenths on you. I don't even know if you noticed it or if you picked it up or anything.
I did notice it a little bit. That first few laps the lines were still kind of developing in a few corners. Ken's a good rider. He's going to be there. So it's important for me not to make mistakes and able to just ride my laps clean. There's a lot of riders going to be there, so for me to be solid and just ride my laps and focus on myself, that's important. Sometimes you get caught up behind you which makes you go backwards.
You're the last guy I talked to tonight and almost everybody talked about how hard it was to pass out there. Obviously you got the holeshot but you were still dealing with lappers, so how was that?
Lappers were much better tonight than they were in San Diego. I know the passing is probably tough for a lot of guys but in the heat race I was able to make a good couple passes. And on a track like this that isn't so good for passing it was good to know that before the restart you can make something happen. But there was a lot more traction in the heat too than the main. I think as the main came on it got drier and slicker, which everybody funnels into the one line. It's hard to get out of the main groove.
You've raced Dallas forever. Nice to have some new dirt. Although at the end, like you said, it ended up being a little bit like the old Dallas but maybe not as bad.
No, for sure hands down this dirt was way better. There were parts of the track that were still tacky after the main event as we were walking it. The part that got a little bit slippery which wasn't bad for hard-pack, it was just the main line.
You're not down with the Diesel nickname? I heard it from two people.
I don't know. It is what it is. I'm not against it. Honestly, whatever. I just do my thing. I think a lot of riders and even with Roger, "The Man," I don't think they come up with them by themselves. It is what it is.
I saw some people with Dungey Diesel shirts though. I don't know if you saw them.
I didn't see that.
There's shirts already so it looks like you're stuck with it.