Here we go, some more fun, fun times!
Here we go, some more fun, fun times!
I guess we'll do this again. After the successful #project90 rebuild we, I guess meaning I, didn't think we'd be back at this so soon but then fate intervened. Fate in the way of a guy named Oliver. Ollie's a Pulpmx listener, I've met him a few times, had some beers with him and he's solid. Well, other than the fact he lives in Alaska and that's sort of weird.
Oliver had a 1988 Yamaha YZ250 that he graciously offered to donate to me if I wanted to pay for shipping down here in Vegas. It was a pretty nice deal considering that before I bought #project90, I was indeed looking for an '88 YZ250 (along with '88 CR 250) as I've always thought the bike was pretty sweet. Modeled after the works YZM 500 that Yamaha bust out on everyone, it had a massive radiator shroud on one side and was a radical departure for Yamaha after years of, well, not much going on. If Oliver had offered me an '87 YZ250, I would've said no thanks. But an '88? I'm in baby!
So we'll get started again on this project and it's going to take me some time what with my real job going to the races and stuff but I've started tearing it down now. The idea is to get it back to looking brand new and race ready. To that end, the folks at Babbitt's have agan agreed to help me with OEM parts at a good price and I've already started accumulating some stuff from various sponsors. So here we go, # 1 in a series of, well, I don't really know. Enjoy!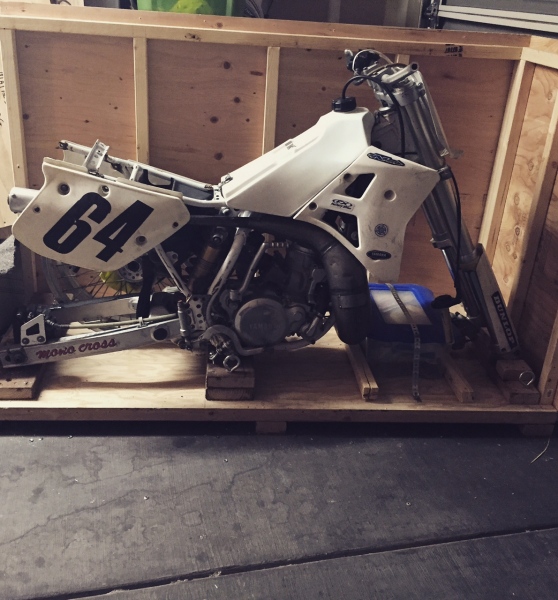 Here's how Ollie sent me the bike, it had been sitting in his garage for a long time stripped down and he had to put it somewhat together to ship to me. By the way, Oliver's crate building skills are elite. I'd like to think he'd be a gold medal winner if the Olympics ever started a crate building contest.
The bike's an '88 but it's got 1989 YZ250 upside-down forks (along with 1990 shrouds) on it that don't really fit because of different clamp and frame measurements but whomever put these forks on (not Oliver) made a space to make them work. Why would someone do this? I have no idea. That's part of the deal with these bikes I guess. So my first decision was whether to make these forks work or go back to the stock look of an '88. This decison was huge and haunted me for a while.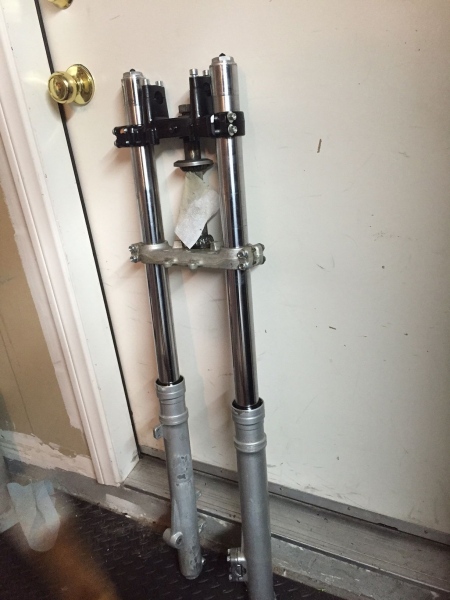 Yeah! The decison was made to pick up a set of forks and clamps off an '88 on eBay and we'll go with the stock look. Of course Race Tech will service both forks and shock for me to get them back to new.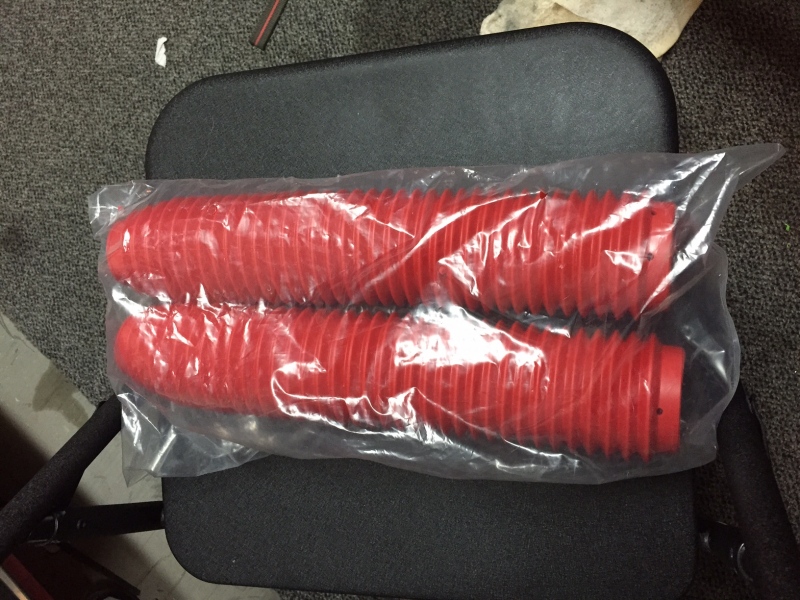 So we needed fork boots right? Stock ones are not for sale anymore so it was once eBay coming through for me.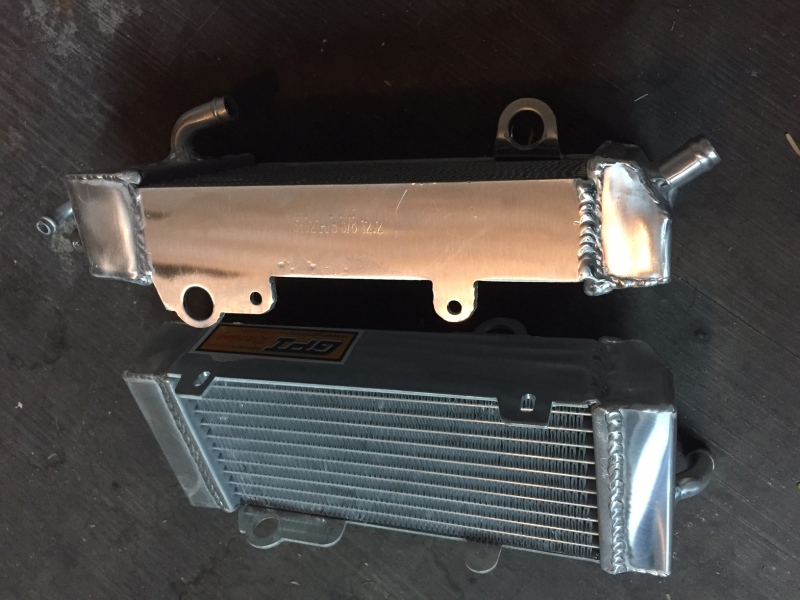 The radiators are pretty smashed up on the bike and new ones are a little pricy. I used these Chinese knock-offs on Project 90 and wasn't totally stoked on them but they look kind of cool and fit ok. And oh yeah, they're cheap! Like $85 for the pair. Yes, I'm serious.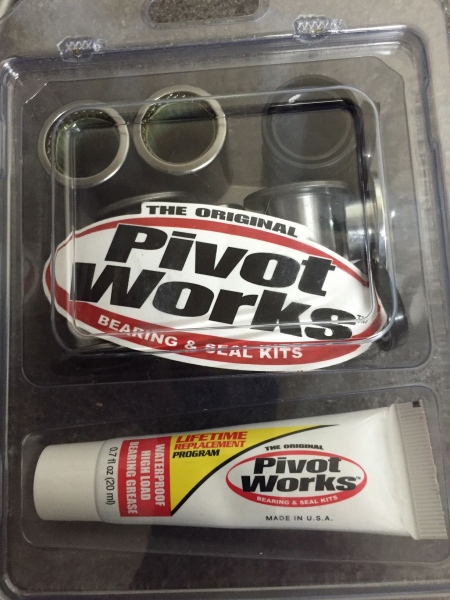 Gotta go through the linkage and rebuild it with new bearings and seals. So of course there's only one place to go for that and it's Pivot Works. I bought all the Pivot Works stuff I needed for Project 90 through BTOSports.com but now I have gotten to know the guys down there and they hooked it up.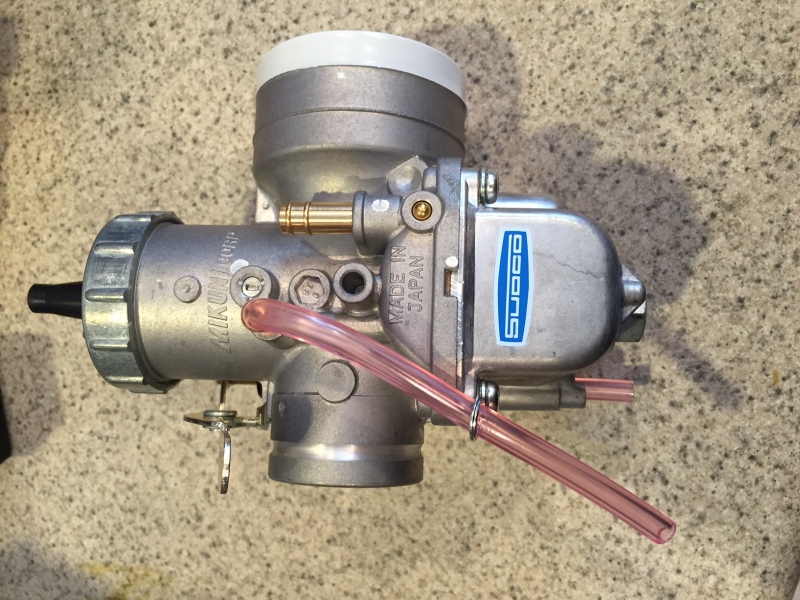 The guys at Sudco helped with the last project so it was cool to see them step up again for me. I could've put a more modern PWK carb on the bike but decided to stick with stock and replace the Mikuni round-slide with the same model. And it weighs about the same as a small basset hound.
Stay tuned for more updates in the coming weeks…