Can Nagl continue his form? Will Cairoli show his true speed and can RV come back with a bang and get the win he wants?
Can Nagl continue his form? Will Cairoli show his true speed and can RV come back with a bang and get the win he wants?
Article: Jonathan McCready
Pic: KTM Images/YS
Max Nagl does the double with the whole world watching, AC and RV don't make the podium while Herlings wins both races in MX2 with only two weeks on the bike and Julien Lieber takes second overall!
It was a pretty unexpected start to the year but let's start with the biggest surprise, Ryan Villopoto.
The alarm bells were already ringing in free practice when he only came 11th, and then only improved the 7th in the timed session. But the weekend never got any better after an 8th in the qualifying race. a 9th in race one and an 8th in race two.
His 9th in race one was good after he had to restart his bike on the line when the gate dropped and came together with Butron at the beginning of the race. But in race two he got away with the top guys in 7th, all the main title contenders where in his sights and he couldn't stay with them, eventually succumbing to MX2 graduate Romain Febvre who made his GP debut on the 450 Yamaha.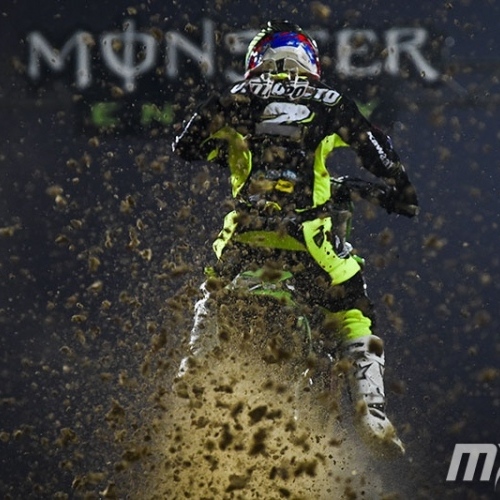 Villopoto didn't have the start to the season that he wanted.
The Kawi Europe Manager, Steve Guttridge mentioned that RV was surprised at the speed of the GP riders after practice. That is something you regularly hear from US based riders riding the GPs but it was surprising to hear RV say it only two practice sessions in. The depth of speed in the class was clearly a shock to him.Villopoto definitely struggled with the track all weekend, which surprised everyone as the man-made, flood-lit circuit was tipped to be one of the circuits he would dominate on. But surprisingly it went the other way and RV's aggressive style went at odds with the tricky nature of the circuit.
So was it set-up, the track or did the pace of the GP boys really catch him off guard? Maybe it was a mixture all of the above but it didn't go well and no-one expected RV to go 9-8 at his first GP.
Whatever the reason, RV needs to get the ball rolling soon, because the aura he had coming into the season is gone. The GP riders no longer will be going,"WOW, It's Ryan Villopoto" now they will see him as just another competitor.
But the positive for Villopoto is that he didn't get injured and he did a good salvage job and is still only 13 points behind Cairoli in the championship.
After his GP baptism of fire Villopoto said: "I haven't raced since May last year, and it wasn't a good day but we scored points and that's definitively something we have to work on. I never had a schedule like that one for a long time, but I've got to get used to that and all the rest, including how the gate drops, how they do everything. "
Barring injury it can't get any worse for RV and he should be back with a bang this weekend in Thailand. There is nothing more dangerous than an angry Villopoto who wants to set the record straight. I won't be surprised if he goes 1-1! It is a new track for everyone too and it will be hot, and after living in Florida, RV will be loving the extra heat and it could give him an advantage.
You have to think AC will be a bit frustrated that he couldn't take more advantage of Villopoto's poor start but AC did his usual no risk style for the first GP for fourth overall. He is where he wants to be and will be there for the long haul. Cairoli is only getting warmed up and said before the race he isn't on top form yet.
What a ride by Max Nagl! A dominating double victory after two blistering starts give the German and Husky the perfect day and maximum exposure. Nagl himself hadn't been on the bike for two weeks after breaking a rib but you wouldn't have known it after his blistering performance.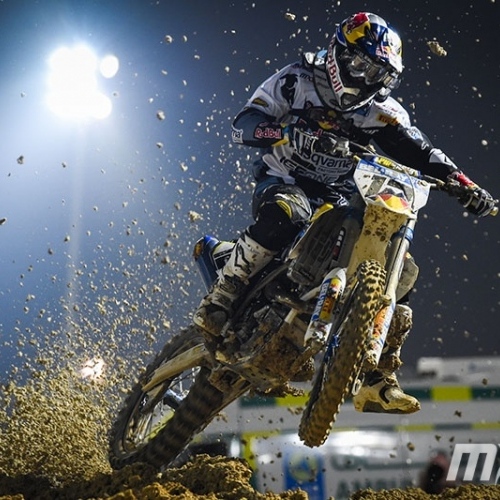 Nagl dominated by going 1-1 in the first GP of 2015.
Both Clement Desalle and Gautier Paulin were happy with their rides. On the podium at the start of the season is the perfect scenario for both men. Paulin said he didn't take any risks on the tricky track while Desalle is looking the best he has in a while at the start of the season. There will be more to come from both men too.Nagl has the talent to challenge for the title, only his injury record and mental toughness has been in question. Nagl admitted the hype of the RV / AC battle took the pressure off him going into the season and if he stays fit and has the self-belief, Nagl will be there all year. This wasn't a fluke and he loves the power of the Husky.
Jeremy Van Horebeek had a similar weekend to RV without the stall and crash in race one. JVH said he didn't feel comfortable on the track or with his setting but was pleased to salvage a fifth overall. He wants to show his real speed in Thailand.
Unfortunately a lot of the MXGP ended up riding injured throughout the weekend. Tommy Searle was quick on the Saturday until he wrecked a thumb during the qualifying race. He was in so much pain in race two he had to pull out.
Kevin Strijbos complained of a sore wrist all weekend but still took sixth overall while his teammate Glenn Coldenhoff rode with two broken toes.
Bobreyshev had a big crash in warm up and raced slightly second hand but still tied RV on points for 8th overall. MXGP debutant Christophe Charlier hurt his ankle badly, Alex Lupino, another mXGP rookie, got injured in the off-season and was way off the pace while Steven Frossard complained of arm pump in race one then slammed his nuts so hard on the tank in race two and had to pull out!
The general consensus among everyone except the podium trio was that they will be faster from here on out!
Jeffrey Herlings was genuinely not expecting to win the MX2 GP in Qatar, but somehow he managed it! With only two weeks on the bike Herlings was still able to put some blistering times down in the timed qualifying but the races were expected to show his lack of race fitness.
And they did, especially in race one when Ferrandis got by for the lead and Lieber was pressuring the Dutchman for second. But Ferrandis got nervous and Herlings pounced to take the win and his confidence soared.
In race two he passed Ferrandis straight away, but the Frenchman was sitting on Herlings' rear wheel until he high-sided in a rut. That let Herlings off the hook as Julien Leiber was content to settle for second and his first ever GP podium.
Herlings was smooth, he wasn't pushing too hard, and maybe this broken femur was a blessing in disguise. Herlings seemed to be riding smarter, he wasn't wide open all the time and picked when and where to up the pace – he barely made a mistake in either race on what was a very tricky circuit.
But was that just because he had a lack of bike time or will he be able to hold himself back from going at 110% every lap when he is race fit? Time will tell, but I believe Herlings seems to be seeing the bigger picture now.
Dylan Ferrandis got up from his crash to still take third overall but the guys who should have beaten him, couldn't take advantage and Herlings already leads the championship. His tears of joy at the end of the second race underlined just how hard it had been for the Dutch speedster recovering from a broken femur and that he genuinely didn't expect to win in Qatar.
World Champ Jordi Tixier usually rides badly in Qatar but this time he rode well – and still didn't get the results. Bad starts and crash hindered a fast Tixier from getting on the podium and, like RV, he will be pretty angry and keen to turn things around in Thailand.
Tim Gajser was fourth overall after not sleeping for three days on his travel to Qatar! He only got to the circuit at 12pm on the Saturday and all that reflected in his speed that day. After a 14 hour sleep on Saturday night, Gajser looked back on form on Sunday after going quickest in warm-up. But a bad start in race one and a big crash in race two prevented the HRC Honda man from a podium. But Gajser did well to still manage fourth overall.
Julien Lieber rode fantastic for second overall, the Belgian was smooth and looked impeccable on the Standing Construct factory Yamaha. Lieber isn't used to running at the front but he is getting experience quickly and just needs a bit more self-belief to go for the win when it presents itself.
Alex Tonkov and Pauls Jonass showed some good speed. Tonkov had the fastest lap of the race in race one while Jonass led both motos to show his potential on the KTM. When both find the consistency to race a two motos at their optimum speed, they will be in the hunt for podiums this year.
Valentin Gulliod had an ok start to the season, but Lieber showed the Yamaha's potential and with Guillod's talent he will expect to be at the sharp end more often than not.
Thomas Covington almost beat Herlings to win the qualifying race but bad starts and crashes meant he didn't get close to the front of the pack in either moto on Sunday, but he was riding well and salvaged a tenth over. But can Covington carry his Qatar speed to the other rounds this year?
Now the first round on a quirky track is over the riders will be a licking their wounds and hoping to show their true form in Thailand.
The first round ended up bringing more questions than answers to the table and that makes this weekend's race in Thailand even more exciting than the opener! Can Nagl continue his form? Will Cairoli show his true speed and can RV come back with a bang and get the win he wants?! It's only a few days until we find out!
MXGP Overall: 1. Maximilian Nagl (GER, HUS), 50 points; 2. Clement Desalle (BEL, SUZ), 44 p.; 3. Gautier Paulin (FRA, HON), 38 p.; 4. Antonio Cairoli (ITA, KTM), 38 p.; 5. Jeremy Van Horebeek (BEL, YAM), 32 p.; 6. Romain Febvre (FRA, YAM), 29 p.; 7. Ryan Villopoto (USA, KAW), 25 p.; 8. Evgeny Bobryshev (RUS, HON), 25 p.; 9. Kevin Strijbos (BEL, SUZ), 24 p.; 10. Shaun Simpson (GBR, KTM), 21 p.
MX2 Overall: 1. Jeffrey Herlings (NED, KTM), 50 points; 2. Julien Lieber (BEL, YAM), 42 p.; 3. Dylan Ferrandis (FRA, KAW), 38 p.; 4. Tim Gajser (SLO, HON), 32 p.; 5. Aleksandr Tonkov (RUS, HUS), 31 p.; 6. Pauls Jonass (LAT, KTM), 30 p.; 7. Jeremy Seewer (SUI, SUZ), 29 p.; 8. Valentin Guillod (SUI, YAM), 28 p.; 9. Jordi Tixier (FRA, KAW), 27 p.; 10. Thomas Covington (USA, KAW), 21 p.