I attempted to follow Matthes around the pits in Indy and came up just short.
I attempted to follow Matthes around the pits in Indy and came up just short.
Photos: Simon Cudby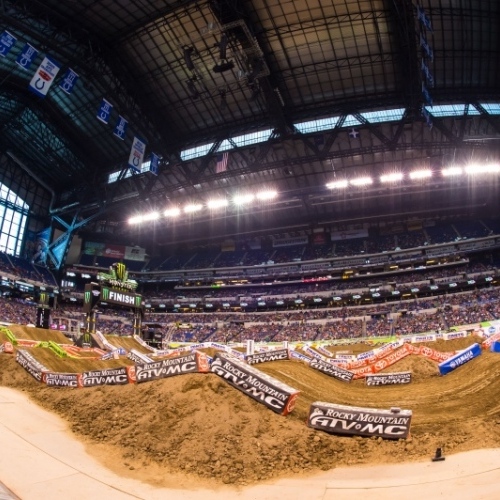 Lucas Oil Stadium tends to have a technical layout.
I was really pumped up to go to Indianapolis this year because of the fact that I would be a member of the media for the first time, at a supercross that is. I have covered many a race in the outdoors, as well as the amateur ranks, but never a big ol' stadium. I also was set to meet my new boss for the first time in person. That's right, although Matthes and I have been at several races together in the past we have never actually met one another. He showed me around and I soaked everything in and observed. Although he doesn't mention me in his Observations, I was in fact there, and I have to include him. He makes things happen for me, bro!I suppose I will start this column out by saying that I only get to go to one supercross race every year. As a full-time college student, an internship, working full-time, and a family at home, I have a lot on my plate. This doesn't leave much time to travel around and follow the sport I love as much as I used to. That said, it was finally my weekend to go and I was ridiculously excited.
Let's start how Matthes usually kicks this off, with the track. I thought it was a very challenging track, very technical, and also rutted. I talked with a few of the riders and they mentioned that staying up was going to be the hardest part of the night. A lot of guys had some gnarly get-offs in practice. Jimmy Albertson injured his shoulder and had to sit out the night show and probably more. I also went over to Ben Lamay's van behind the MotoConcepts rig and he said he crashed as well and that consistent laps were going to be key.
The second rhythm section after the start was very tricky all day. It had many options. Trey Canard was the first guy to triple into it in practice and everyone else followed suit. Although it did create a lot of good racing, as you could go either inside or outside. The inside move created a double, triple, quad option that also worked a few times throughout the night.
I did a story about Kyle Chisholm last month and I had to follow him around at Indy a bit as well. If you really want to know the inside scoop you get it from listening in on some conversations before joining in. Matthes and Chisholm apparently just discovered Clif Bars (yes just one F, take note). I guess it's just something us Midwesterners are born eating. That was the hot gossip in the Team Chiz camp. I found it strange that the day I met Chiz face-to-face and shook his hand (throttle hand by the way) that he would go out and have the best finish of his season. I texted him about how ironic this was and he agreed that I needed to go to more races. He's getting closer to the top ten, where he said he wanted to be close to the end of the series.
You know how Matthes has Ferry, Weigandt has Brayton, and Moser has Short? Well, it seems these days that every media guy needs a rider like that. No, it doesn't show bias because we report everything that we need to. But, hey how about it Chiz? You just let me know and I will text you again in five minutes.
Other than being creepy Troy, a Matthes tuned nickname, I tried to find some other guys in the pits. We hit up Nick Wey's camp and I met his mother. She allowed me to go in and become a member of team 2-7. It was here that Matthes took over Nick's autograph line and they both signed autographs for a long time. At this point Matthes instructed me to stay put and that Wey was going to babysit me while he was going to go to the Kawasaki truck. Well, ten minutes quickly turned into a half hour and I assumed I was forgotten. With my belly empty, and no coffee or Clif Bars in sight, I returned to the stadium. Matthes thinks I ditched out on him, but I didn't. Sorry boss! Inside I met up with my family and my dad (the original Big Rick) pointed out that Kyle Cunningham had a hot line through the whoops and that he would be fast in the night show. Cunningham proved that Big Rick really knows what he is talking about as he went onto finish fifth in the main.

Cunningham had a season high finish at Indy.
Did I mention that my wife Sarah was there with me? No? We went down to the pits after watching more practice. Well, thankfully she was also very observable. She pointed out that not only is Ryan Dungey the guy with a million-point lead in the standings, but that he is also highly skilled as a ninja. He did some sort of maneuver running from the KTM pits to his RV and split us like we were the Clippers defense against Steph Curry. The wife and I were holding hands and continued to as he literally jumped over us. Really gnarly guy right there.
I tried to find Justin Starling and Dustin Pipes, but every time I went to find them they weren't around. I have known Pipes from the 2010 Oak Hill amateur national where he showed me how to survive. I tend to come by and show him I am still alive at every event I go to now. I am a very good luck charm because Pipes made his first main event in Indy. He's put in the work and hasn't given up on his dreams. Respect.
Other than that it was nice to be outside in the Indy pits and have it feel like it was in California. It wasn't cold for the first time in at least five years and Matthes' shorts didn't look out of place. It was a nice day for a supercross party. It was cool to be able to get a behind the scenes look at the sport. I normally witness it from behind a computer or TV screen. I want to give a big thanks to everyone who allowed me to be there and it was nice chatting with everyone.
Thanks for reading my thoughts! If you have any questions, or want to chat about the race, Clif Bars, or Kyle Chisholm email me at Troy@pulpmx.com.