When do the nationals start again?
When do the nationals start again?
Photos: James Lissimore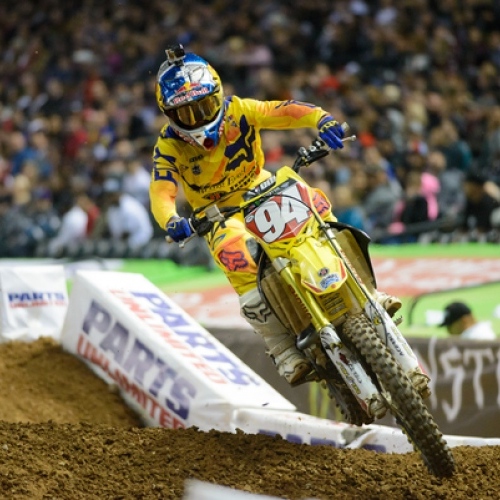 Roczen will be back in Houston.
Bendgen: The Red Bull KTM duo of Ryan Dungey and Marvin Musquin have taken over the Monster Energy Supercross season since the East Region swing began. Now Dungey has a million point lead, while Musquin has 13 over Bogle, meanwhile the West Coast series is being dominated by Star Racing Yamaha's Cooper Webb. With only five rounds remaining what is there to look forward to? Should we continue to be excited over the same guys dominating every week? Or should we countdown the days until the Lucas Oil Pro Motocross Championship? What is left to be excited about in this final month of racing?
Matthes: Troy, I just don't know. There's no doubt the air has been taken out of the 2015 Monster Energy Supercross Series, an FIM World Championship, with the Terminator-like moves of Ryan Dungey. Trey Canard, Eli Tomac, Kenny Roczen- they've made mistakes over and over and basically given Dungey this title. Calm down all you people out there talking about how that's disrespectful to Ryan…he's a terrific rider, one of the all-time best and making the least mistakes is a sign that he's a BETTER rider but with just twelve rounds down, there's no way he should have an over three race points lead that he does now. He's not THAT great!
The other guys have handed this title over to Dungey but at lest we have the wild and crazy 250SX classes…oh wait, no we don't. Cooper Webb's killing it and with just two races left on the east coast, does anyone think Musquin won't be able to cruise and take this title home? Exactly.
What to look forward to? Well, maybe I'm not the one to talk because I missed last weekend's race and also THIS weekend's as well. I've just gone full 'No Mas' here when it comes to this SX season.
At Houston, after the week break, we'll have Roczen back and Justin Barcia as well so that should be interesting. And the Weston Peick story is interesting to me because I can't believe he's this good.
But I'm not going to lie, it's tough man.
Bendgen: Wow, Matthes you've been at every supercross since 1996 and you are taking a three week break? This just proves that there is nothing left to be excited about…
I am obviously kidding. Although the race for the win (except for Detroit) hasn't been really that exciting, it still is fun to watch. Hey, we have all made it through the McGrath, Carmichael, and Villopoto eras, so this isn't so bad.
We have seen in recent weeks the emergence of many riders putting in the best results of either their career or season. Guys like Jace Owen (more on him next week), Colt Nichols, Jordon Smith, RJ Hampshire, Justin Starling are just a few riders who have stepped up late in this season. It will be interesting to see if this trend can continue in the final East Region rounds. It will also be interesting to see who put in the homework during the break on the west. Will anyone stop the Cooper Webb train? He doesn't have to win anymore races to win the title, but he is going to try and continue his dominance.
The same can be said for the 450 class. Can Eli put together a win streak in the final handful of races to get himself in a good place before the outdoors start? Dungey is in the same boat as Webb and he doesn't have to win. Does this mean we will see another guy step up and get a main event win?
What are the odds on Blake Baggett, Cole Seely, or Jason Anderson getting a win in the final rounds?
I'll fit two more questions in here and I will shut up. Do the die-hard fans really care about a rider putting in his best finish of the year even if it's outside the top ten? Or am I the only weirdo that gets excited for that?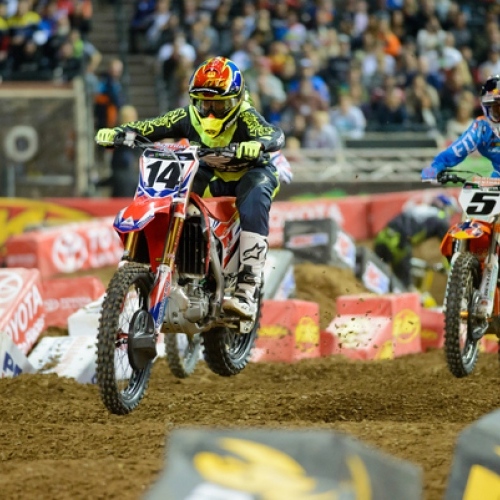 Can Seely grab his first main event win before the season ends?
Matthes: I think we're the only types of weirdos who could get excited for a break-out ride from someone who gets into 7th or whatever. The "typical" fan doesn't care all that much and besides, you kind of have to be at the race to see someone break through like that because generally speaking they don't show those types of things on TV.
I'd LOVE to be able to talk about someone like Cole Seely or Weston Peick (I can't believe I even typed that but it's true) win a race but those are long odds. Dungey and Tomac have been part of a "super four" all year long for a reason. Kenny Roczen coming back at Houston? That's interesting to watch and he'll be in the mix for wins…unless he jacks his ankle up again.
I didn't go to Detroit and I'm not going to St Louis either and being 100% truthful, I'm not that upset about it. There's just nothing much to get that excited about right now and that's not bad to say, it happens from year to year. 2015 just happens to be one of them. Roczen and Barcia coming back for Houston should get me back into it but right now, not getting on an airplane is ok with me.
When do the nationals start again?
Bendgen: No, trust me I feel your pain, but hang in there we only have a handful of rounds left. The Lucas Oil Pro Motocross Championship starts on May 16. You may want to mark your calender for that, just in case you have to be there or something. The return of Barcia and Roczen may be enough excitement to hold everyone off until then. However, we better see the real Ken and Justin show up. Let's put these injuries aside and just go for it with a few rounds to go. That would be really exciting. Hey, maybe Reed can get another win before this thing is over.
We have to hope that the races aren't dominated by the same team every weekend. If this continues to happen it's going to be hard to find things to write about. However, if the races are like they were in Detroit, then bring on the rest of the series!