Don't have time to listen? Read up on St. Louis straight from the guys who raced.
Don't have time to listen? Read up on St. Louis straight from the guys who raced.
Interviews: Kris Keefer
Photos: Simon Cudby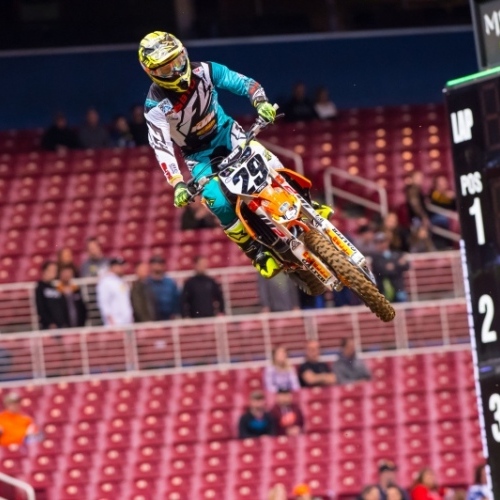 Short took a digger in St. Louis and is just sore heading into the break.
Andrew Short
Thank God Andrew Short's here to talk to me. You had a good night tonight despite the crash I think, and you're walking out of here. Give us some insight on your night.
All day was pretty good for me. I kind of gelled with the track. I had great starts obviously in the heat. I pulled the holeshot and was able to get my second heat race win of the year, which was really good for me and the team. I had a good feeling going into the main and got another holeshot, which was great. I think that's number five officially for the year. After that it's kind of a blur. I had a big get-off. Initially I kind of thought something happened to the bike but now getting back here to the pits everything kind of checked out and they say it's okay, which is good news. I don't know what happened, honestly. Iam a little sore obviously and especially now that the adrenaline's going away it hurts more. But I have a lot to be thankful for. I felt like I rode good today. I felt really motivated. At the same time, I am ready for break. Hang out with the kids and some outdoor testing. Looking forward to what lies in the future with that as well.
All year you've been riding to me, better than you ever have been. Do you think that's some of the bike or is it you getting more dialed or is a combination of both?
For sure the bike definitely helps me. It's more my style. I feel like my previous years with Honda I always really gelled with the bike and it handled really well. The KTM, sometimes I didn't have that feeling but this new bike, it's the best bike I've ever ridden in terms of comfort and power and all those things. That's a really good feeling. I think that's been the biggest contributing factor for me riding well this year. Honestly this is my worst result I've had I think in my career on paper, but at the same time with the people I'm riding with, my results have been really good. It's just been really up and down and the starts have been a lot of fun to pull the holeshot like that. It kind of has everyone head-scratching which is cool, but at the same time I'd like to finish 20 laps strong. I've had a few 5th places here and there but I'd like to try to get a little bit better than that and finish the season strong.
I noticed that today, I was watching your practice and I thought you would have been around 5th, that's what I was looking at. I came back and saw you were 10th and I was talking to SAGEY and saying he's riding really good, but like you said, on paper it just doesn't show it but you are riding really well.
I think a lot of it too is the bike, that's the biggest comfort thing. With the air suspension and working with those guys from Europe, I feel like that's also another contributing factor with the comfort. Now I just need to get results. It seems like the last few weeks have been pretty rocky, but at least I know I can go to bed and know that I did everything I could and I tried my best and didn't leave anything on the table.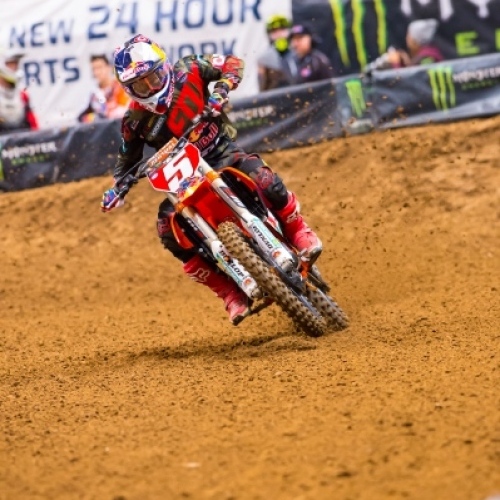 The guy on fire.
Ryan Dungey
On top of the world right now. How are you feeling and how was the night?
Tonight here in St. Louis was good. We started off practice, made a couple changes, some good, some not so good. I was able to find a good direction and by the last practice was able to put down some good laps and felt comfortable. We got the fastest qualifying time, which that's ideal going into the night show. In the heat race I got a good start and the win. We had the fastest heat going into the main event so we got the first gate pick, which was awesome as well. I knew the start was going to be key in the main event. I was really hoping to nail it and execute it right and we were able to. I got in the lead right away and I really tried to focus on my opening laps, kind of getting away. About halfway I was able to open up a good little decent gap, and from there just tried to maintain that all the way to the end and come away with the win.
Did you happen to see Shorty out of your peripheral doing a big fatty endo?
I didn't. I left him a lot of room and I really don't know what happened. I haven't seen it. I knew he would probably triple up into the inside like we all did, so I left him enough room but then he was too far behind my peripheral vision to see it. So I saw his bike and everything. I hope he's okay.
Finally the track. Kind of fast, not much of whoops tonight, tacky dirt. Did you like it?
I did. It was kind of basic. We were all doing the same rhythm lane which when it's like that it's hard to make passes. I knew starts were going to be key tonight. But also lap times were real close, too. Everybody's running that same kind of ideal time, so not making any mistakes is more important than ever. The lap times were kind of shorter. I thought they did an amazing job. The whoops weren't much and it's hard to build whoops with this soft of dirt, but the traction was going all night. It got rutted, but it didn't get too terribly rutted because the dirt dried out decently. Good traction, good fluff, was able to really push the tires. It was fast and it had a good flow.
Looking forward to summertime coming up?
I am. We're getting ready for outdoors a little bit. Kind of get our feet wet with that. But I'm looking forward to the remaining rounds as well.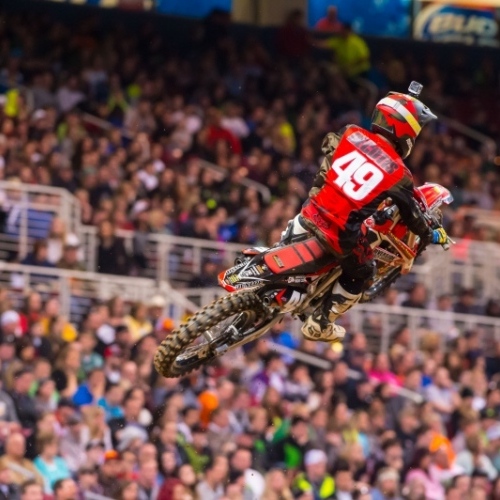 Decotis wants more in the results category.
Jimmy Decotis
Tell me about your night.
Tonight was okay. It's starting to get to the point where a sixth is almost a little bad for me, and that's how it should be. But all day in practice I was 4, 5, 6 in all the practices. Third in the heat where I've been and it's kind of just been where I'm at. I've got a little bit to work on and I don't think a lot of it's on the track. I think a lot of my struggles have been off of the track, and kind of cleaning up my pit area, as well as cleaning up my life a little bit and being a little bit more organized. That'll translate to the racing. Tonight was good I guess but it wasn't great, and it wasn't bad.
Watching you in practice you're always jumping out first wanting to get out there and get some clean laps in. Maybe not on paper it doesn't look so good, but your riding from up above looks really good.
That's what I've been told this year. I think the biggest thing with me this year is that I'm not scared of the guys. I'm not scared of Marvin, I'm not scared of Bogle. I'll move them out of the way if I think I'm riding better than them. I'll do what I've got to do. I'm also smart and I know where I'm at in times and where I'm at realistically. I'm really realistic with this racing thing. I've still got a lot of work to do but I'm happy that I'm seeing progress. The last couple years I've had some sevenths and some sixths. I've done pretty good, but this year I'm starting to be up there every weekend. My times are starting to be there every weekend. It's just the environment that I'm in. I have Gary Bailey helping me and he believes in me to win. When you have that it changes everything. To come back here as a privateer and be like, "I got fifth, sweet!" And then he looks at you and he's like, "Why didn't you win?" It's like, well, shit, I never thought of it that way. It's going to take me a year or two to change the mindset of I'm going to win, but I think one day I can win some races for sure.
This year you're more consistent. Last year everybody was like, Jimmy's going to crash out or do something like that. But this year you're always there, you seem like you're in control. You think you've got more stamina this year and strength?
I do, I have a lot more training this year. Still not what I really need. We all in this sport know it takes years and years to build up where Dungey's at. My stamina's 1,000 times better than last year. I'm away from that partying scene. I'm not playing those games anymore. I'm 23 years old and it's go time. It's either quit or perform, and I'm not quitting. I'm performing, I just got to get a little bit better and just keep working on the things that I work on and just stay out of trouble and just keep every day sticking to the goals that I have. I think I can be one of the best guys.
Now they've got a break, two weeks. You going back and just sticking to Supercross or are you going to ride some outdoors?
I'm going to work on some outdoors this week, but then I'm going right back to Supercross. I've got a point to prove in Jersey and even in Vegas. It's only a shootout and a lot of guys don't take it serious but for me to get up there with the big guys and run with them, on both coasts, east and west when everyone's combined, that's where I can really put a statement down. I'm just focusing on Supercross. I'm not sure how I'm going to do the first two outdoors or how I'm going to do them. Either way I know I'll be at five or six outdoors, whether it's just the east coast ones or whichever. Right now my main focus is just New Jersey and Vegas.
Hearing rumors, and this is what I heard last week, maybe going to Canada?
Maybe, I don't know. I've talked to the MX101 team a little bit about possibly doing it but I'm just still keeping my options open. I want to do what's best for me and my career. I've got to ask myself three questions right there: what makes me the most happiest, what's going to help me the best right now, and what's going to benefit me more in the future? I've got to weigh out my options. If doing the six rounds in the US as a privateer with limited funding is what I've got to do, that's what I have to do to get on one of these teams. It would be cool to go to Canada but I know a lot of them don't care what happens up there. My main goal even if I did Canada, I'm still doing four US rounds and I'm going to try and prove my point at those rounds that I do.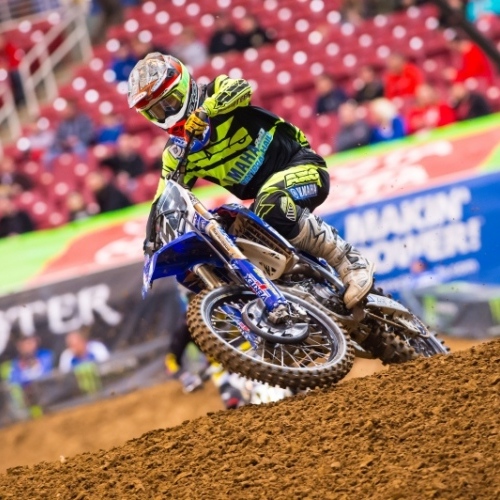 Rusk is fighting a bit of an injury but looked good in St. Louis. He made the main again.
Killy Rusk
Looks like a rough night but you made the main. Tell us a little about it.
It's not broke or anything, but I got my pinky. We x-rayed it and made sure it was all good. I came off the gate in the main pretty well. Almost outside gate and I just held it on strong. I came around the corner, came out around fourth or fifth. And then I think Andrew Short just cross-rutted and went flying across me and into the next lane basically. He didn't get me then, but went through that section, came around the corner and his bike was kind of laying in the jump. I was kind of sandwiched between two guys and really had nowhere to go but kind of over the top of his bike. I wasn't able to jump on top of the tabletop so as soon as I kind of rolled on to the table top I just got plowed into from behind. I think it was Nicoletti but I'm not positive. Just stung my pinky really good. It took me a couple laps to get everything back sorted and make sure everything was good. Then I just kind of charged through, just tried to put in a good ride and keep it together.
Is it just sprained? What is it?
We're thinking that I bent it backwards and dislocated it and then it just popped right back in. So it just got a real good strain. He said when that happens you can pull the joint or the ligament off the bone and you can chip the bone, but none of that happened so it's all good. Just going to ice it up. It should be fine in a couple days.
Got a two week break but we've been watching you over the past few weeks and you've been looking good. We were talking earlier and you said you pretty much have a stock YZ450. It's even a 2014 model. Tell us a little bit about your program this year. You look better this year.
It's stock motor all the way through. I was on 250s in '13 and we were blowing up motors. I was like, I'm over it, I'm done. Can't really run a stock motor in 250s. Kind of impossible. So we switched to 450s, kept it stock because I didn't want any mechanical DNF's. We started out last year a little rough in Supercross, made two mains. And then outdoors went really well, scored a lot of points, got a low number for this year. And then Supercross, I thought we had a deal lined up but it ended up falling through and we just kind of did our own thing. Got a bunch of help from National Hail and Dent and I have good help from AXO and Bell. Got Motor Medic helping me out a bunch with motors and keeping bikes running good enough. Running the same bikes as I did last year. They're fine. There's nothing wrong with them. They're a little beat and hacked but just keeping it stock and simple. I hate mechanical failures.