It's like you don't even need to watch the races…
It's like you don't even need to watch the races…
Photos by James Lissimore
Hammerhead Designs was launched with the intent to provide new and better parts and innovative accessories for motocross bikes. One of our goals has been to design entirely new and unique products with improved ergonomics and the shift lever was the first part that we felt could be dramatically improved by providing a feature that would allow for the shifter to be repositioned to perfectly suit the riders size, shape, and preference.
Coming into this weekend, the East Coast 250 riders are in full swing outdoors mode. The 250 West Coast riders are about to jump back into the last two rounds of their series, however. Unfortunately for the fans, both of these regional titles and the 450 title are all but decided. There is still racing to be done, though, before we wrap this 2015 Monster Energy Supercross Series up. Let's take a look at what I expect to happen over the next few weeks.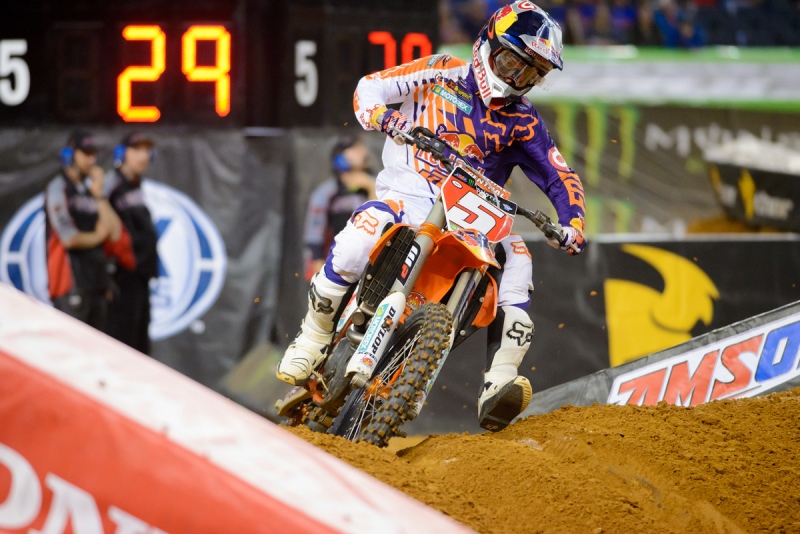 Ryan Dungey should clinch his second 450SX title here real soon.
Houston: The Houston dirt tends to be a bit dry when placed in April. It won't be tacky and soft like the previous round in St. Louis or a few weeks ago in Indianapolis.
The West Coast 250 riders will feel right at home since they have been on this sort of condition all season. I expect to see Cooper Webb come out where he left off, pushing the pace and riding aggressively. I also think Jessy Nelson will be strong and with a start, could win in Texas.
The 450 riders had their first weekend off in 4 months so they should be well rested and have a hop in their step. For Houston, I see the KTM's working well. The Honda's seem to excel in the softer conditions in recent years so even though their riders have been great as of late, I don't think Houston will be their best showing. Chad Reed needs a rebound ride and Houston is as good of a place as any. He has to get into good position on the first lap if he wants to turn this ship around.
Santa Clara: This race is a new one but we have been to San Francisco many years in the past and still have Oakland on the schedule, so it's not a huge leap to know what to expect. The dirt will be a bit loose on top with pebbles in the berms. It may get rutty but being in April, the weather should be much more agreeable than the January timetable we typically see.
The 250 class championship will be over (in my estimation) but everyone will still be chasing that elusive race win or podium. Cooper Webb was absolutely phenomenal in Oakland, coming from the back after being clobbered by Tyler Bowers. Malcolm Stewart's only SX win came in Oakland as well so look for the 34 to riding well again on similar conditions. It's still a bit of a crapshoot, though, as we have never been to the Bay Area this late in the season.
The 450 class could very well be decided as well as Dungey simply needs to beat Eli Tomac or finish directly behind him to secure his second 450 Supercross title. Oakland was the site of Ken Roczen's initial ankle injury so surely he will want to rectify that mistake. Chad Reed is always strong at both San Francisco and Oakland so look for him to show up in full force.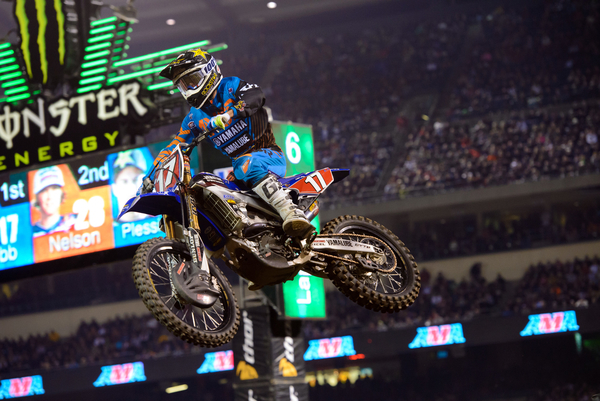 Barring disaster, Cooper Webb will win his first pro championship shortly.
East Rutherford: Let's not kid ourselves, this race is about New York, not New Jersey. Being close to the Big Apple is what adds excitement to this round and Feld pushes hard to get the mainstream media to pay attention. Having all of the NYC nightlife so close by is a cool aspect for both industry and fans alike. It is one of the more anticipated rounds on the schedule. This year, the race will be held during the daytime for the first time in over ten years (Daytona 2003). The racing program will start at 3pm and should wrap up at 6pm or so, leaving ample time for everyone to venture into the city after the event.
This will mark the last round of the 250 East series and unless catastrophe strikes, Marvin Musquin will win his first American championship. He has been outstanding in this East campaign and that makes me look smart as I predicted that he would run away with this title. He has only lost two rounds and finished second both times in those defeats. Solid series for Moose-can. I wouldn't expect him to win this race as I think he will ride conservatively but if he gets the holeshot, he won't cower. Justin Bogle won this race in 2014 and is my pick to win this round. He has had a great series himself, just not quite as good as the Frenchman.
The 450 class should be all about race wins by now. Dungey will most likely be 1-2 weeks in to clnching his championship. Realistically, most of the contenders will either be going through the motions or putting their focus on the Lucas Oils Pro Motocross Championship that looms off in the distance. That's the sad truth that my friends at Feld will defend vehemently, but truth nonetheless. That's the downside of a dominant rider in a series. The suspense is just missing in the final rounds.
Don't let that deter, you, however. Once that gate drops, these guys will be going for it. I know in my own experience that I could be dreading another supercross weekend all week but once I lined up and fired up my 450, it was time to do battle. Riders are programmed to perform and put everything on the table. Sure, risks can be lowered and fewer chances taken but everyone has pride and will want to do their best. That's human nature and surely how racers are wired. I expect a rider like Eli Tomac to shine at these last few rounds as he is progressing weekly and has nothing to lose in the points. He will want to build momentum as we head outside and put an inkling of doubt into Ryan Dungey's head.
Las Vegas: The Las Vegas Finale is such a welcome sight. The supercross season has been long and grueling for everyone involved. Las Vegas is a great city to celebrate and blow off some steam after a long few months on the road. The race itself is very welcoming for supercross. Not only will the race be happening, there is also the Mayweather/Pacqauio fight that weekend which should be a spectacle to say the least. The Kentucky Derby is that weekend which brings out all of the horse betting and a completely different crowd into town. Finally, it is the weekend before Cinco de Mayo as well and that just means more partying. So when you add all of these factors up, you see what kind of weekend Las Vegas will be. Chaos defined.
The 250 class is always interesting in Vegas with the Shootout. This year we will go back to a more traditional Vegas scenario with no points being paid in the 250 class, only the Shootout event for cash and bragging rights. I personally think that the West will dominate the Shootout in 2015. Musquin should be able to do well, along with Bogle, Martin and Savatgy but looking through the top 12-15, I expect to see a lot of West coast riders in that mix. The West has looked deeper in my opinion and we will see that on that May Saturday night.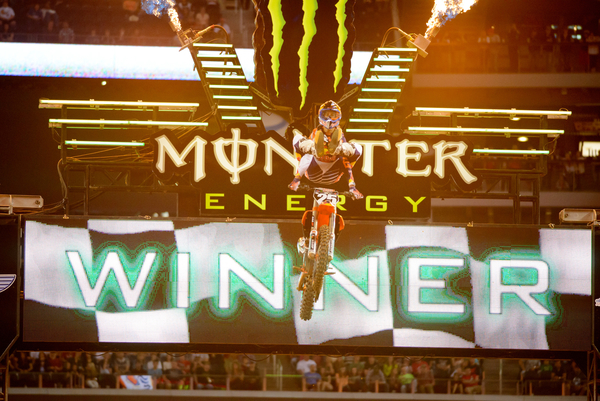 No east/west races in Vegas this year so look for guys like Musquin to try and prove a point in the shootout.
The 450 class is usually a snoozer in Vegas when the championship is over. Most of the riders are just looking to finish the series safely. The outdoors are coming up quickly now and all of their practice days are spent on that now. This last supercross is really just a nuisance in an otherwise great opportunity to visit Las Vegas before a hard, hot summer ahead. The atmosphere on the starting line at Las Vegas is unlike any other series race of the season. Riders are joking about the after party and actually having conversations. This normally never happens due to the pressures and nervousness felt by everyone. It is just a completely different vibe all day and night.
I expect to see Ryan Dungey at the front as he is always fast in Vegas. Chad Reed may have something up his sleeve here as well. His track record in the desert is as strong as anyone in the sport's history. In all reality, any of the contenders who come in 100% focused on this one race have a great shot because a vast majority of riders' thoughts will be elsewhere. Even Davi Millsaps, Weston Peick, or a rider like Jason Anderson could have a breakout ride in this situation. Watch for the unlikely scenario to unfold.