Here are three vital interviews you HAVE to read
Here are three vital interviews you HAVE to read
Photos by Lissimore
Shane McElrath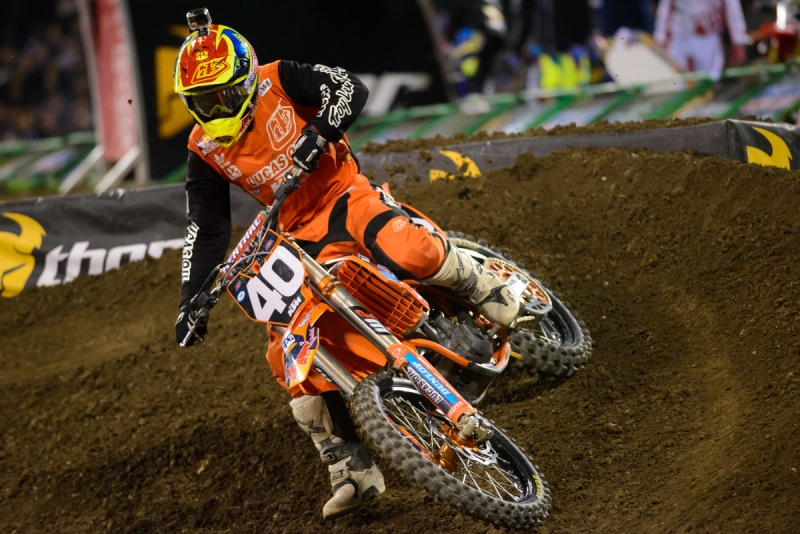 TLD's Mcelrath led early on and ended up on the podium for the second straight race.
You were on it in the heat, go down, LCQ. That gate pick for the main, that was boom or bust and you pulled it off. That was a great start.
Actually I told my team manager after the main event that I didn't do any starts over the break at all, no starts. I did a few on the 450 just kind of feeling with the power and stuff, but none whatsoever on the 250. My first one was a little rough in the heat race but I ended up coming out with the holeshot and just felt good on the gate for the LCQ and the main. Dunlop and Ryan got our motors working good, so it was a good combination.
That's one of those things where you didn't practice so you didn't think too much on the line right about starts?
Yeah, I was just making sure I stayed loose and took deep breaths. The rest just almost seemed like it was second nature. It was good.
One of those things, Webb got you. Where do you think he had you? Were you trying to hang with him for a little bit or did it get to a point where you were like, hey, I'll take a runner-up?
I felt really, really good up until he passed me. Right before that I made a couple big mistakes and came up way short. Just kind of started thinking too much. I got too excited. But we got next weekend and Vegas too. Just going to keep building. We put in a lot of work in the break. Just excited to go race again.
It's two in a row for you so now you're going to have people expecting these things.
I was just a little worried that I was going to go backwards. I was happy to pick up where we left off in San Diego.
What about the decision to ride 450s in New York? How'd that come about? Whose idea was it? What do you think about it?
Actually my team manager asked me if I wanted to race the 450 there, and I was like yeah. Then after that I found out that we had to go to that race because of KTM, all their guys are coming over from Austria and stuff. It's just like a win/win for me. I'm going to get to ride the 450 and be in the big class, so I'm excited.
***
Kyle Chisholm
Good news, bad news. Good news you didn't get 11th again; bad news you got 12th but you were again knocking on that top 10 until late in the race.
Yeah, not what I wanted. Obviously 12th isn't terrible but we're trying to get top 10. I know I can. I definitely did not ride as good in the main tonight as I should to my ability. A little frustrated. We tried a couple things with the bike for the main and it didn't work, but no excuses. Still regardless of the bike I just didn't ride that good. I felt good all day, I felt good in the heat race, pretty good in the semi. And then in the main I just rode with my head up my butt. Keep working. I haven't ridden Supercross since St. Louis because the boss, Chad, wanted to ride outdoors during the whole break.
So that's what happens?
No, it was good. We rode outdoors the whole break. I hadn't rode Supercross since St. Louis until today. It was good though to get… they're just long outdoor motos. The track's all different, its a big change. It was fun. It was a good break but I'm just disappointed. I rode good all day and then just didn't happen in the main. Keep working and try to get top 10 next week.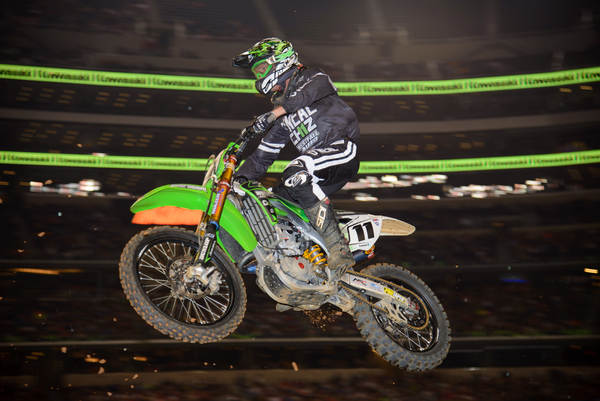 Chisholm scored a 12th in Houston.
Little weird track, a little different. I don't know if it worked though. What did you think?
I think the start deal was kind of cool. It was fine. The track was really pretty easy. I was kind of disappointed in that because the dirt's always really good here, and it was good tonight but the jumps were really kind of small and they kind of got mushed down to the ground.
It looked like they ran out of dirt.
The dirt was really good but they needed more. There wasn't much to the track. It was kind of fast. It reminded me of an amateur Supercross track. Not that it's that easy, but compared to how it's been. Detroit was a really technical track, then we come here and it's like nothing. It was good. No excuses. We all ride the same track. Just keep working and try to get where we need to be.
Three races left, got to get a top 10 out of you, right? That's got to be a goal at this point.
Yeah, for sure, that's the goal. And I'd love to get the semi win too. That's another goal that I'd like to do. It's tough. Obviously there's going to be good guys in the semi every week, but it's a short race, it's five laps. I would love to rip a holeshot and win a semi. That's kind of a goal that doesn't necessarily matter but it's just one of the little goals to check off the list. But yeah, a top ten for sure, we should be there. Just keep on working on it.
Masters thoughts after three rounds?
What are you saying?
The golf tournament. You're into golf.
Oh, I'm in race mode right now, I can't talk about golf. I watched a little bit over in the rig over at Chad's. We don't have TV in my sweet rig. It's good. Jordan Spieth was kind of running away with it but he kind of made some mistakes coming in towards the end.
Fowler was on fire for a bit.
In the second round he was outside the cut with like four holes to go. The cut was two over par and he was five over, so he was like three strokes out with only four holes to go. He had three or four birdies coming in to make the cut, which was tough to do there. There's some tough holes on the back 9. So it's good for him to get in. I think he's tied for 20th or 25th right now going into tomorrow. Good for him to get in. Spieth made a few mistakes coming in. I think Mickelson and those guys are guys right there. Should be fun to watch tomorrow. Hopefully Ricky can get a good day in and move up there.
I hate golf but I'll probably watch it because Phil's making a charge.
You know you love golf. You go with your mom all the time. I have yet to see Matthes play though. I don't believe it. I only see pictures of the course.
***
Cole Seely
There it is, man. Congratulations. A 450 Supercross win. Been close, got a lot of podiums. It's the pinnacle of the sport, really. Great job.
Thank you. It still feels fake. I'm still waiting for it to kind of set in. Honestly it came pretty easy. I got into the lead and I just tried to throw down as many fast laps as I could. Lap 10 I looked over at the pit board and it said "plus 12 lead" and I'm like, holy crap, I can back it down a little bit. It was an unbelievable night, winning the heat race then winning the main. It was such a good feeling. Just crazy. It's been such an awesome year for us. I feel like I'm doing a really good job and adapting really well to the class. It's just crazy. I don't really know how to explain it right now.
It's one of those things almost too, I hear from a lot of winners, "I don't feel like I was pushing that hard," and yet you were pulling away.
The first six laps I was like, I got to go now. I saw a little bit of a gap between me, Dungey and Tomac. I was like, take advantage of this now. First lap I went over the finish line I remember thinking, this is it. If I'm going to win a race it's going to be right now. It was just unbelievable. Crazy feeling. I tried to think about when I was leading a 250 race, what did I do. It felt really good though.
The start was so key with those 90s off the start. You were really concentrating on that. You're a good starter anyway so talk about that a little bit. Your gate selection, that kind of stuff.
Actually, this is exclusive Pulp MX information only – I haven't told anyone this yet, because I forgot up until now – but me and my mechanic Rich, we were sitting on the line. I looked down and the line went left to the center. It was like four inches to the left where the hole was. I was like, what do you think about kicking my front end to the right and what do you think about kicking my back end to the left? So I have a fresh pad outside the gate. He's like, well, it's up to you. I was like, ask Dan about it. He's like, I don't think Dan's going to know what we're talking about.
I was like, all right, when I'm on my parade lap kick it out and I'm going to feel it out. We sat there for ten seconds and he's like, what do you think? I'm like, let's do it, let's just gamble it. It's funny too because at the practice track this week, actually on Thursday I was practicing starts and the rut got super deep. Wardy's like, try kicking your back end over to the left and try to get out of that main rut. I felt like it was a calling. Hey, do this, because you practiced it this week. It was pretty crazy. So stoked right now. Can't really explain it.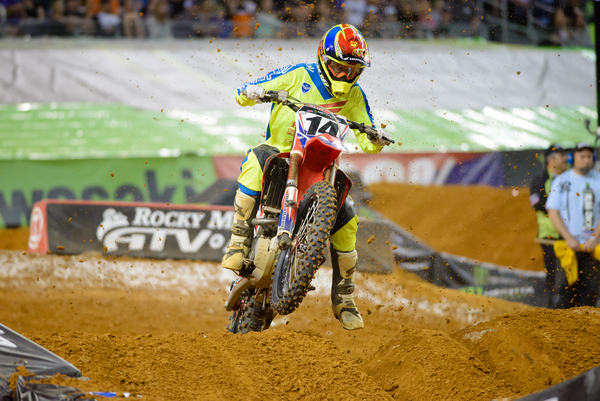 Seely did it. He won a 450SX main event and in his rookie season at that.
I wasn't really watching you too much because you checked out and there was some interesting stuff going on behind you. Did you have any close calls or anything like that?
I had two. One of them was in the sand after the over, pretty close. I held onto it but it almost got away from me. And then one time in the whoops. But other than that I felt like I rode a pretty solid race, no mistakes, and just hit all my marks. It felt really good.
Got to be a great feeling, like you said, hasn't really sunk in. The guy number 220 on the Fun Sitter, that guy won a Supercross race.
2009, that was my first year so six years later. It's crazy. I can't believe it.