Bendgen discusses the West Region.
Bendgen discusses the West Region.
Photos: James Lissimore
Disclaimer: What you are about to read may shock you and leave you in awe. Just kidding of course. What you are about to read is what I (Troy Bendgen) saw during the West Region this season. I have not been to any of these races, but it is my duty to talk about what I have seen. I may not have the scoops that my boss Matthes has, but I do have a keen eye. Here's what I thought of the West Region in 2015.
I have broken it down to the top fifteen in the standings: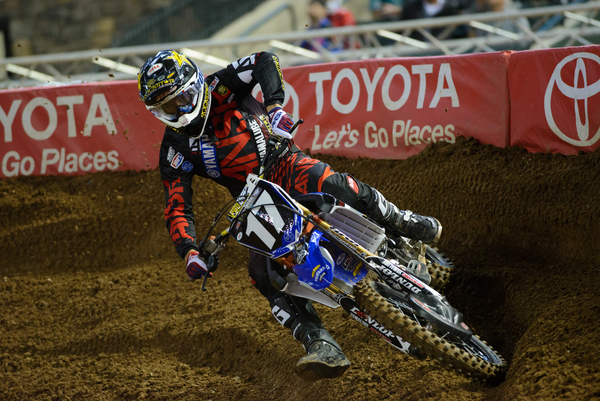 The champ.
1. Cooper Webb – 186 points
The champ is here. After Anaheim 1 things weren't looking to go Webb's way this year. He had finished seventh and it looked as though he would be fast, but also make mistakes. Well, throw all of that garbage out of the window. Webb showed speed this season that hasn't been seen in a long time in the 250 class. Dare we say that he was Stewart-esque? Webb could crash at any time during the race and still come back to show everyone that he was the fastest rider this season. It will be an interesting summer in the 250 class, because a lot of players are moving quick this season.
2. Shane Mcelrath – 124 points
This is what you want to see as a team manager: growth. Mcelrath has steadily improved this season from top ten guy, to top five guy, to runner-up guy. He climbed the ladder in the standings, used Nelson and Bowers misfortune to his advantage, and stayed as close as he could to his old amateur rival. Webb and Mcelrath made this West Region look like Loretta Lynn's 2012 all over again. Shane will be a championship contender next year in supercross. He just continued to build a solid foundation and now he's building steps.
3. Zach Osborne – 117 points
No one was unluckier than Zach-O this season. His troubles began at Anaheim 1 when he hurt his thumb. Between not riding during the week and then trying to put together a great series on the weekends, he was in a predicament. He soldiered on however, and after another top ten run in Houston he found himself second in the points. At Santa Clara he hoped to wrap up the runner-up position and had a good jump on the main event start. Unfortunately he was tagged from behind and was one of the first to fall. He would not continue and just edged out third in the standings. Still, this is a great result for the new Rockstar Husqvarna team. If Zach's healthy he can rip it up with the best of them outdoors.
4. Justin Hill – 116 points
Lil' Hill was a title favorite entering the West Region. His showing at the Monster Energy Cup was very impressive and it looked as though the new KTM was all he needed. However, after eight rounds of supercross it looks like Justin was riding a rollercoaster to end up fourth in the standings. He was always fast and sometimes a threat to win, but it probably wasn't what he expected of himself. Let's compare Hill to Joey Savatgy in the East Region. They both have lights out speed, are unhappy when the don't win, and are usually right there waiting to get to the next step of the podium. One thing that is for sure is that when Hill is healthy he has the speed to run with anyone. He ended the season with a second place ride and he will be yet another contender for the outdoor title.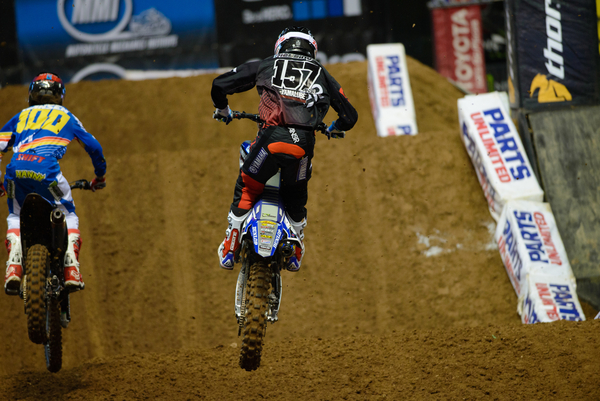 Plessinger has one more chance to get a win.
5. Aaron Plessinger – 113 points
Before the season I had picked Plessinger to win at least one main event before his rookie season came to a close. He was very close in Santa Clara to proving me right and he has one more chance in Las Vegas. If it's my first season and I came away fifth in the final standings I'm pumped on this. I would take a look at who finished in front of me and realize that if I had twelve more points I could have finished second. This is called solid upside. Plessinger will be a champion in this sport one day.
6. Alex Martin – 111 points
A-Mart is showing that he is the fine wine of motocross. The longer that he races the better he seems to get. He has always been a top ten guy and on the verge of the top five, but Alex finished on the podium twice this year. He was in contention for the win in Oakland and Santa Clara. Each time he came away with a third. What does this mean now? It looks as though Martin has found another level and should continue to improve. Two podiums in a stacked region aren't flukes.
7. Malcolm Stewart – 107 points
Mookie finally showed the world that he can put together a win this season. Let's be honest here, it was only a matter of time before he won a main event. Mook has skills on a bike that you can't teach in riding schools. He was also more consistent this season compared to years past. He walked away with three podiums and two top fives. This is coming from a guy who was a late edition to the GEICO Honda squad in the offseason. This deal ended up paying off for both parties in the end.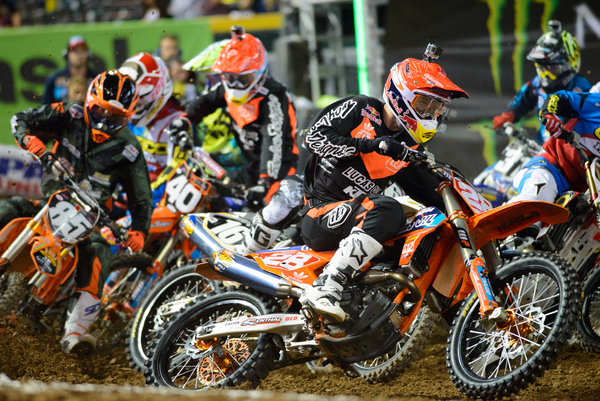 Nelson started the season on fire.
8. Jessy Nelson – 106 points
Oh, what could have been for the Lucas Oil KTM rider. After coming on strong late in the outdoor season it was looking to be a great year for Nelson. It was, don't get me wrong, but this could have been the champion. He came out and won his first supercross at Anaheim 1 amd backed it up with a third in Phoenix. Anaheim 2 and Oakland were rough, Anaheim 3 he finished second, and San Diego was rough. To make matters worse, he hurt himself while practicing for the upcoming Lucas Oil Pro Motocross Championship. He had to sit out the final two rounds and will miss Vegas. This was still a breakthrough season and we should see Nels-Dogg win a lot more in the future.s8. Jessy Nelson – 106 points
9. Tyler Bowers – 105 points
If it wasn't for the four-time Amsoil Arenacross champion the west would have been a snoozer this year. Bowers tried his best to play a "bad guy" and then proceeded to try and rough up his training/ex-training (I don't know what they are) partner at the races. Bowers is used to the tight confines of Arenacross and bumping is a must in that discipline. After three podiums and two top five finishes, Bowers announced that he would have to get back surgery. We will not see Bowers until next supercross season.
10. Josh Hansen – 91 points
This is cool. Hansen put his own deal together to race the West Region this year and put it in the top ten. Towards the end of the season it appeared that he had found more speed and his best finish was a fourth before the break in San Diego. Santa Clara could have been the best showing had he not pulled off with bike issues. He was leading deep into the race and slightly battled with Webb for position. A sure podium was lost in this situation. Hopefully Hansen puts something together for next season, because he will always have great speed.
11. Tommy Hahn – 79 points
This is cool as well. Hahn had some unfinished business in the 250 class and decided to make a full-time comeback this year. His best finish was ninth and he had three of those. He came away from the season with five top ten finishes. Hahn should light it up this outdoor season when he moves onto a 450. Remember this is a guy who five short years ago was winning nationals. I'm not saying that he is going to light it up and win again this summer, but he will surprise some people.
12. Matt Bisceglia – 66 points
Bisceglia should be on the same pace that Mcelrath is on. He very well could have been this season, but he struggled with crashes and did not make Anaheim 2 or Oakland. He did score a top five finish at Anaheim 3 and that was the peak of his season so far. We'll see how his outdoor season goes. If he can get through the season injury free, and score some top five overall finishes, it will set him up for a breakout season next year.
13. Jackson Richardson – 63 points
We have our first privateer sighting! Richardson had a strong run in the west this season. After missing Anaheim 1 he continued to build and finished the final round in sixth. Every year Richardson continues to get better. The sixth was a career best for the rider originally from Australia. He will be a rider to keep an eye on. He steadily improves, which is what Weston Peick did. As far as I can tell from my couch, he did really well this season.
14. Cole Martinez – 57 points
I talked to Cole after Anaheim 3 for a Privateer Profile. It was after he had scored the first top ten of his career and he was ecstatic. He said his goal at that point was to get a single digit finish. He was close two more times, but could not make it happen. Either way he showed that he has the speed to be a top ten guy every week. He rooms with Cooper Webb so you know he is getting a lot of great practice in. I also heard that he will be racing in Canada this summer. Don't overlook this kid's drive and skills, he will be very fast up North.
15. Zach Bell – 55 points
What can I add about Zach that hasn't already been said? If he could just stay off of the ground and not crash then he is a podium guy at every race. This kid's speed is unreal, but he needs to harness it. His best finish was a fifth at Oakland and had two more top tens. It's not a question of, "Why does Bell always get these rides," it's more, "When can he keep it going for fifteen laps and get a podium?" You can't teach good speed and style. These are two things that Bell has ample amounts of. Now when can he come back and show us?
Agree or disagree with what I wrote? Let me here you! Email me at Troy@pulpmx.com to chat about this feature or anything at all.