Tomac's Next Move
Tomac's Next Move
Photos: James Lissimore
Hammerhead Designs was launched with the intent to provide new and better parts and innovative accessories for motocross bikes. One of our goals has been to design entirely new and unique products with improved ergonomics and the shift lever was the first part that we felt could be dramatically improved by providing a feature that would allow for the shifter to be repositioned to perfectly suit the riders size, shape, and preference.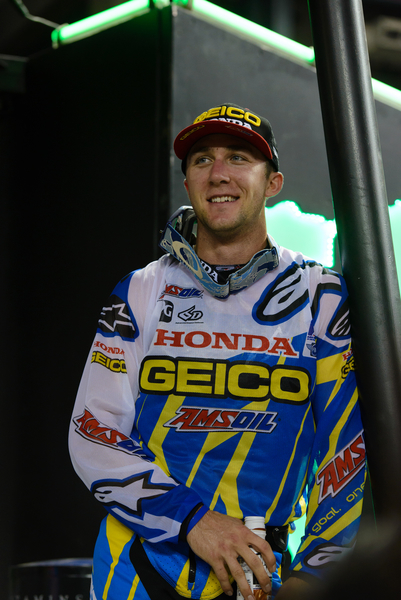 What's next for Eli?
Eli Tomac is in a contract year and is easily the most sought after available rider for 2016. It seems that we were just in this Tomac scenario and it seems that way because we were. Just a short year and half ago, RCH Suzuki, Monster Kawasaki, Two Two Motorsports and Geico Honda were all vying for his services. Of course, Geico won out and he has been there ever since. For 2016, though, I think that will change.
I see Eli going to Monster Kawasaki for 2016 and beyond. I don't really think that it is a bike issue, per se, more of the situation. Honda has Trey Canard locked up and I think he is in their long term plans. They also have Cole Seely and as Cole is emerging into a contender in his own right, it puts too many chickens in the hen house. Eli is certainly worthy of being a #1 on any team but has to share that spotlight and effort with Trey and soon, Cole. It spreads the time that personnel can spend on individual riders and muddies the waters on who gets the prioritized treatment. While not the end of the world, it is a tough situation to endure for many. There is always some level of competition amongst teammates and that creates tension. The most ideal situations are always involve a legitimate title threat and then a supporting role rider. Carmichael and Tedesco, Stewart and Ferry, Reed and Ramsey, Villopoto and Weimer, the list goes on. The riders know their role and they are able to train and ride together without internal team conflict. Things just run more smoothly in this scenario.
If and when Eli goes to Kawi, he will be THE guy. There will be no confusion about who is there to win championships and he will get all of the focus and priority. I believe that is very important to him and what he is looking for. He will not have that opportunity at Honda. He knows it and is making a decision accordingly. I really don't think there will be hard feelings, this is just how the world works. People make the best decisions based on the information they have on hand and the opportunities afforded. For Tomac, he has the chance to take over the spot recently vacated by Ryan Villopoto and his numerous titles won there. He can be assured that the bike is capable and the team is too, winning more than any other team in the last 5 years.
This poses another question: how does Honda respond? I have heard that the Geico 450 program will depart with Tomac. They will return to their main focus, the 250 class. Still, though, Honda will have budget to play with as Tomac came with a hefty price tag. I have heard rumors of an offer made to Marvin Musquin but I honestly don't see him leaving KTM. He has had so much success there and seems happy. Stranger things have happened and I know Honda's offer was tempting but it would be surprising for me to see him go.
Justin Bogle is another possibility but I haven't heard much momentum on that front. For a rider that would seem an easy transition, it doesn't seem to be happening. I am not quite sure why as this would make the most sense. Maybe if Bogle impresses this summer, that all changes.
I could also see Honda going after Weston Peick but based on things I hear, I believe JGR will have him buttoned up before that door opened up. One never knows, though, until the ink is dry. His results are too good for any team to dismiss at this point.
Of course, another possibility is that they just do nothing. They have two great riders in Canard and Seely so it would be easy to just make things simple with those two. More room on the truck, more time spent on their testing, etc. I could definitely see that happening as well. It really all depends on how the rejuvenated HRC group views their 2016 approach. Are they willing to go racing with only two viable 450 riders? Maybe, maybe not but I don't think that happens. HRC is back with a vengeance and wants to win.