The GPs didn't skip a beat with Villopoto out of the mix.
The GPs didn't skip a beat with Villopoto out of the mix.
Article: Jonathan McCready
Pictures: YS, Nigel McKinstry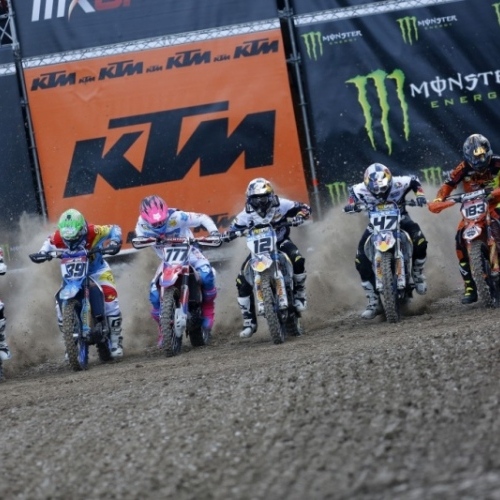 Nagl (12) has been the most consistent rider in MX1.
It took five rounds longer than everyone expected, but finally the real Gautier Paulin showed up! The stylish Frenchman found his 2014 form and stormed to a double victory in the sand of Holland in what was one of the most important wins of his career.
Aside from Cairoli and Villopoto, Paulin was the man under the most pressure going into the season. HRC Honda had signed the Frenchman for a lot of money (reportedly six figures) and his job was to win the world title this season. Honda even got Jean-Michel Bayle to coach the team.
Paulin was expected to be the guy who, if anyone could, was going to beat Villopoto and Nagl straight up but aside from a podium at Qatar, Paulin has suffered from bad starts and an inability to make things happen in the early laps. It left Paulin floundering back fifth in the championship 40 points behind leader Nagl going into Valkenswaard.
While everyone was talking about Villopoto, the reality was that out of everyone it was Paulin (and Van Horebeek) who had been off form the most in the first four rounds. Villopoto, aside from Qatar, was at least in the battle with the title contenders on the track, Paulin and Van Horebeek hadn't even seen the battle since Qatar!
But Paulin stepped up in the nick of time to put on a riding clinic all weekend in the sand and vault himself back into title contention after a devastating double win. The key was being more aggressive at the start and making early passes to get into the lead, no doubt the HRC team have been urging Paulin to make passes stick early and along with some extra testing and a better start, Paulin made it work.
Paulin eluded to his early season frustrations in the press conference saying: "We have put hours and hours of testing and training in and for me it has been a big change. Having maybe the best bike but not the best results is difficult sometimes. Sometimes I have been taking the wrong choices but I learn from it and right now I think we will go on to have some great races."
Paulin did mention he would have preferred to beat Cairoli straight up, but he did pass the Italian early in race one and it was his early pace that forced Cairoli to go chasing him down and ultimately have a big crash.
Cairoli's crash was as shocking, if not more so, than VIllopooto's the week before. The Italian just doesn't crash like that, especially in sand, where he is usually unbeatable. Up until the crash things were going to plan for the Italian, even if he had got second in the first moto, he would have taken the points lead from Desalle and from there it was hard to see him losing it. Cairoli said there was a rock in the rut that he didn't notice in time that caused the crash but that small rock has caused a big shock.
The crash changed everything, in moto two Cairoli struggled to seventh place after his left hand went numb, X-rays after the race showed a small fracture in his hand but Cairoli says with ten days rest he should be fine to compete at the next round in Spain in two weeks time.
But, make no mistake about it, this was a game changer, now Cairoli has to chase, he is 30 points down and he can't control the championship like the usually does. It has also let Paulin back into the championship hunt and the title is now a four-way fight. Cairoli will have to show us his real speed now.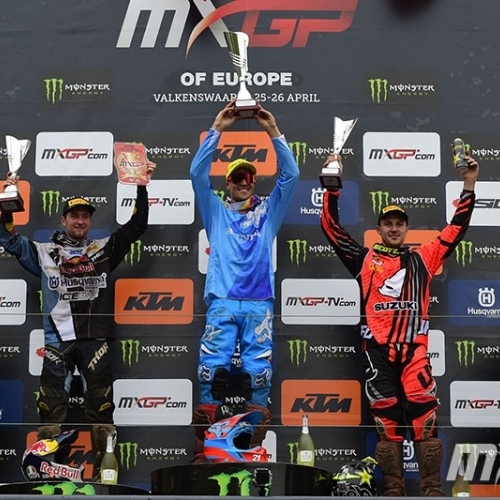 Paulin dominated the weekend in Valkenswaard.
Max Nagl continues to be the picture of consistency. After not feeling good on the bike on Saturday, Nagl made a few setting changes and said he just had a better feeling for the Sunday and scored to second place finishes to take the championship lead and the red plate. His team boss, F1 Ferrarai driver, Kimi Raikkonen was on hand to witness it too!
The German has a five point lead over Desalle but had some interesting quotes in the press conference that may give hope to his competitors: "I'm not thinking about the championship yet because that would mean too much pressure were you get messed up in the head, I haven't even looked the points yet!" I'm not sure you want Desalle, Cairoli, Paulin or VIllopoto reading that!
Clement Desalle was on the podium too and being that sand, surprisingly, isn't Desalle's best surface, this was an excellent result. The Belgian hasn't been off the podium all year and seems to have tunnel vision at this point of the season.
"It's been a long time since I got a podium in the sand so this gives me some confidence and that my condition is good," admitted Desalle. "I feel good. I am still on the podium and it's still the beginning of the season, it's really important and it will be like this for the season. It's important to podium every GP to keep you in the classification."
It was a good day for HRC with Evgeny Bobreyshev back on form too with fourth overall and showing some serious speed. Shaun Simpson on the privateer Hitachi construction KTM UK machine was fifth overall and amazingly the highest KTM finisher on the day in MXGP. Simpson continues to be there every year despite being regularly counted out.
Tyla Rattray had his best day of the year in sixth, but really you still expect more from Rattray on a surface that he used to rival Cairoli on before he went to America.
In MX2 it was the Jeffrey Herlings show. The Dutchman won by 40 seconds in race one and even a bad start and a crash in race two couldn't prevent the fastest sand rider in history winning by another 20 seconds. Make no mistake about it, Herlings was going quicker than everyone, including the MXGP class and the stuff he does on the track is something to behold and no-one can replicate it.
Herlings has never lost a moto at Valkenswaard in GP competition, he has won the GP there since he was 15 and this was his sixth GP win there in a row! From Roczen, Musquin, and Paulin, to Gajser, Tixier and Ferrandis, all have tried and no-one can get near the Dutchman at Valkenswaard.
Herlings however, said it isn't as easy as it looks: "Everyone expects me to win but it's not that easy you know, it's hard to stay out of trouble and win six times in a row, twelve motos. You cannot make one mistake and the competition is strong, the guys next to me definitely make it hard for me but luckily I was able to pull it off again. For sure, I am pretty good in sand but the guys next to me are also fast as well, I'm happy and thankful we could pull it off."
Second overall was the impressive Alex Tonkov. The Russian admits sand isn't his favourite surface but since switching to the 2016 Husky, Tonkov has went to another level and even surprised himself with his results in the sand!
Jordi Tixier was third overall again and looks great on the Kawasaki but the big story was his teammate Ferrandis.
The Frenchman is battling Herlings for the title and rode a brilliant second moto to finish third after a bad start but he bizarrely kicked Pauls Jonass as he passed him for third and subsequently got docked ten places! It cost the Frenchman a podium and 12 points in the championship chase. leaving him angry and 37 points behind Herlings in the championship. But it was a silly thing to do, especially when he already had the pass made.
It was a career best result for Brian Bogers, the teenaged Dutchman is in his first GP season and got fourth overall at his home GP. Fast on every type of track Bogers is showing some great potential this season, he is a bug guy too so will be one to watch a 450 in a few years as well. But for now Bogers is turning a lot of heads and impressing a lot of people in his first GP season in MX2.
Valentin Guillod has had a steady if unspectacular start to the 2015 campaign but he was happy to get fifth overall in the sand and hopes to improve from here on. The switch to Yamaha may have affected Guilod's comfort level after showing some great speed on the KTM last year but the Standing Construct team will continue to work to get Guillod back on the his 2014 level.
With Ryan VIllopoto and Antonio Cairoli both riding injured next weekend in Spain, the tables really have turned in the championship but both will have to go for the win as will Paulin who is still 36 points back of championship leader Nagl.
The big question is can Desalle and Nagl handle the pressure at the front of the championship as the rest go all out to chase them down? We're about to find out!
MXGP Overall Top Ten: 1. Gautier Paulin (FRA, HON), 50 points; 2. Maximilian Nagl (GER, HUS), 44 p.; 3. Clement Desalle (BEL, SUZ), 38 p.; 4. Evgeny Bobryshev (RUS, HON), 38 p.; 5. Shaun Simpson (GBR, KTM), 31 p.; 6. Tyla Rattray (RSA, KAW), 28 p.; 7. Romain Febvre (FRA, YAM), 27 p.; 8. Ken de Dycker (BEL, KTM), 25 p.; 9. Glenn Coldenhoff (NED, SUZ), 25 p.; 10. Tommy Searle (GBR, KTM), 19 p.
MXGP Championship Top Ten: 1. Maximilian Nagl (GER, HUS), 214 points; 2. Clement Desalle (BEL, SUZ), 209 p.; 3. Antonio Cairoli (ITA, KTM), 184 p.; 4. Gautier Paulin (FRA, HON), 178 p.; 5. Romain Febvre (FRA, YAM), 156 p.; 6. Evgeny Bobryshev (RUS, HON), 138 p.; 7. Ryan Villopoto (USA, KAW), 124 p.; 8. Shaun Simpson (GBR, KTM), 98 p.; 9. Todd Waters (AUS, HUS), 92 p.; 10. Glenn Coldenhoff (NED, SUZ), 86 p
MX2 Overall Top Ten: 1. Jeffrey Herlings (NED, KTM), 50 points; 2. Jordi Tixier (FRA, KAW), 40 p.; 3. Aleksandr Tonkov (RUS, HUS), 38 p.; 4. Brian Bogers (NED, KTM), 31 p.; 5. Valentin Guillod (SUI, YAM), 28 p.; 6. Jeremy Seewer (SUI, SUZ), 26 p.; 7. Dylan Ferrandis (FRA, KAW), 26 p.; 8. Brent Van doninck (BEL, YAM), 23 p.; 9. Jens Getteman (BEL, HON), 22 p.; 10. Max Anstie (GBR, KAW), 22 p.
MX2 Championship Top Ten: 1. Jeffrey Herlings (NED, KTM), 222 points; 2. Dylan Ferrandis (FRA, KAW), 185 p.; 3. Pauls Jonass (LAT, KTM), 148 p.; 4. Tim Gajser (SLO, HON), 137 p.; 5. Aleksandr Tonkov (RUS, HUS), 133 p.; 6. Valentin Guillod (SUI, YAM), 129 p.; 7. Jeremy Seewer (SUI, SUZ), 125 p.; 8. Julien Lieber (BEL, YAM), 121 p.; 9. Jordi Tixier (FRA, KAW), 115 p.; 10. Thomas Covington (USA, KAW), 102 p.;