Bendgen discusses the 450 class.
Bendgen discusses the 450 class.
Photos: Simon Cudby
Disclaimer: What you are about to read may shock you and leave you in awe. Just kidding of course. What you are about to read is what I (Troy Bendgen) saw in the premier class this season. I went to one race in Indianapolis. I may not have the scoops that my boss Matthes has, but I do have a keen eye. Here's what I thought of the 450 class in 2015. This is part three of three.
I have broken it down to the top fifteen in the standings: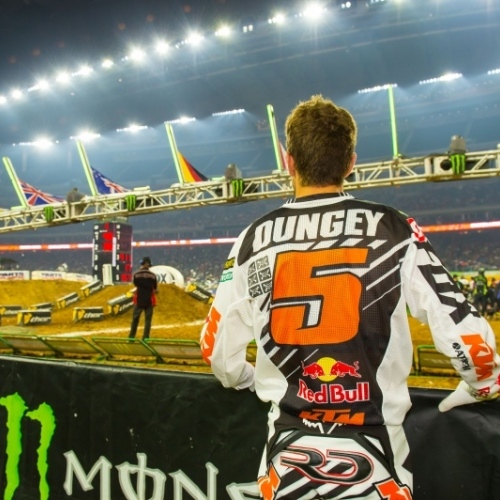 The champ.
1. Ryan Dungey – 390 points
His worst finish was a fourth and then after that he finished third only twice. He either won or finished second this season. This was the best season of Dungey's career and right now the sky is the limit for him. Would he have had the same finishes if Ken Roczen and Trey Canard finished the series healthy? We will never know, but I think he would have. Ryan may have had just a few less wins with these two in the mix, but the result would have been the same. Dungey finished with a career high eight wins for the season. He was the first man to ever go five years between two supercross titles. It's funny to think that before the season not a lot of attention was on Dungey to win the title. It's like why would he not win it? He started the "Ryan era" in 2010 and he is the most consistent rider in the sport right now.
2. Eli Tomac – 305 points
This was a great sophomore season for Eli. Despite have a few bad finishes he proved that he could last an entire 450 series. Tomac finished the year with eleven podiums and three wins. It would have been a good battle for second between ET and Canard, but there is always next season to go for the top spot. I will say that Tomac should get the award for most passes in a season. Canard would have probably received this award had he finished the season. Eli had to pass his way to the podium, usually from way back, in order to get on the box. He is going to be tough to beat outside this summer.
3. Cole Seely – 277 points
I'll admit that I didn't pick Seely to win any main events this season, nor did I pick him to finish third in the final standings. I figured he would get a couple podiums, but that's about it. What we all saw out of Cole was a new rider. It's crazy to think that in 2009 he was struggling at the races and now he is an elite rider in the sport. Cole finished with five podiums and a win. He also was the top 450 rookie. Seely's best days are ahead of him.
4. Chad Reed – 226 points
It's going to be fun to watch Chad bounce back from this season. In his eyes it was horrible and not up to par. In my eyes I say well done. Reed had to deal with Black Flag Gate, won a main event, and finished on the podium twice. He sat out East Rutherford and was battling some injuries towards the end of the series and still finished fourth overall. He's not finished yet and still has some goals he wants to achieve before calling it a career. This is great news for the sport. Reed knows he can still win a title and he won't stop until he feels he can't.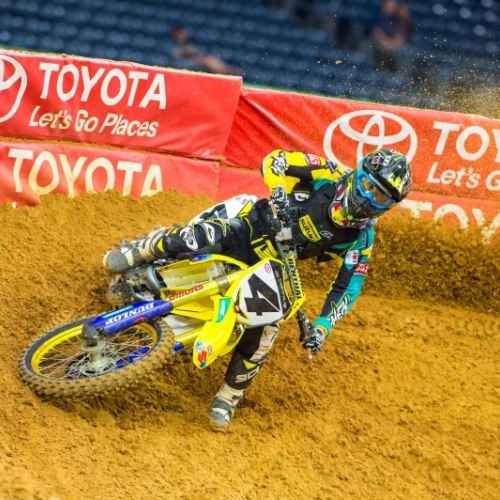 Baggett was consistent in his rookie 450 season.
5. Blake Baggett – 223 points
Before the season I chose Blake as the only rookie to win a main event this year. I thought he would win Daytona, but I was wrong. What I wasn't wrong about was the fact that he was fast all season. He had one podium finish, which was at Daytona, and he scored points at all seventeen rounds. I think this outdoor season is where Baggett is really going to show the world how good he can be on a 450. I predict he will contend for the title. He will get moto wins and a lot of podiums. The outdoors is his element and if he finds his flow early it's going to be tough to stop him.
6. Trey Canard – 204 points
Oh, what could have been for Canard. He was having a great season, keeping Dungey close, and winning main events again. Around two weeks before he was injured I wondered if he in fact could go the entire distance this season. It just wasn't to be. However, Trey had a strong season with seven podiums and two wins in only eleven rounds. He'll be back for outdoors a bit later in the summer. It'll take him a few rounds to get up to speed, but he will be on the podium again really soon.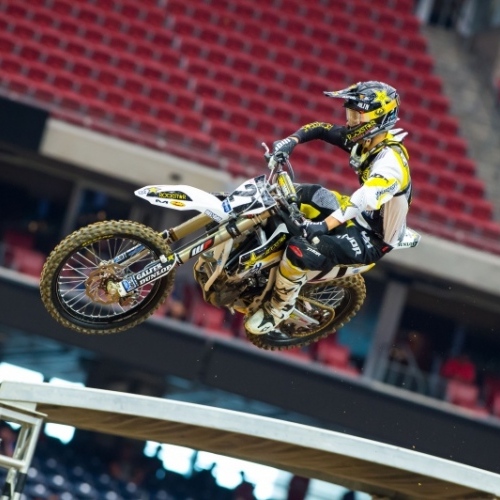 Anderson found the podium twice in his rookie season.
7. Jason Anderson – 200 points
I expected more out of Anderson this season. He had some good showings in the overseas races before the season and then was second at Anaheim 1. Jason has a lot of talent, a lot of it natural, and other that he's had to work for. He arguably has the best trainer in the game with Aldon Baker, which doesn't hurt either. He rides with Marvin Musquin and Dungey on a daily basis. Anderson has a ton of upside. He didn't finish outside of the top ten in the first ten rounds. He finished on the podium twice as well. Anderson has single handedly put Husqvarna on the map in supercross.
8. Broc Tickle – 194 points
Take a look at this guy. Tickle nailing down eighth place overall this supercross season is a solid comeback. Broc ended up badly injured last season and had a long recovery process. Now he is back and showed RCH Suzuki that they made the right choice in bringing him back. Tickle's top finish this season was a fourth at the second Atlanta. Beyond that he had thirteen top ten finishes, which is very consistent. This is by far the quietest top ten overall finish of the season. It was very under the radar and BT needs some more press for a strong SX season.
9. Andrew Short – 180 points
After so many years of being consistent and strong it's hard to find things to write about for Mr. Short. You just always know what you are going to get from him. You will get results inside the top ten guaranteed, but you'll also get those top five finishes as well. Short scored three fifth places this season, one of them with an injury. Anyway, another solid season for Andrew is in the books. Hopefully he will be able to come back sooner than later.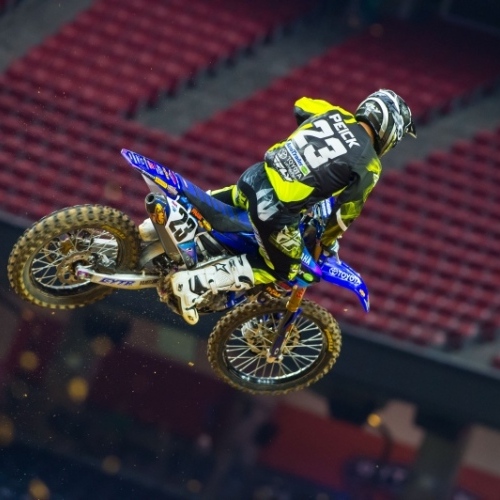 Peick continues to build steam.
10. Weston Peick – 160 points
"Started from the bottom…" Whenever I think of how well Peick is doing I can't seem to do it without song. "Now the whole teams here." Weston has made it to be an elite rider in this sport and he still continues to improve. The Auto Trader/Toyota/JGR team is looking like a genius for putting Peick on their team. He showed speed all season and he was rewarded with two podiums in the final three rounds. Now it will be cool to watch just how much further that he climbs. Does he get that first win soon? Will Peick win a moto this summer?
11. Josh Grant – 159 points
Grant finished his first full season in supercross for the first time since what, 2009? Some questioned why Reed would hire Grant as his second rider. I have two questions for those people. One, why would you ever question Chad Reed, and two, why would you ever count out JG? Grant mad every main event and his best result was a fourth in Houston. Grant is always really fast in the outdoors and it will be interesting to see just how good he is this season.
12. Ken Roczen – 156 points
Oh, what could have been for Roczen. He won the first two out of three races and had five podiums in the nine rounds he raced in. It's funny how this sport works. You are only as good as your last race and Kenny's last race didn't go so well. He went from guaranteed title, to injury in a matter of a week. I can't help but think that maybe he just should have doubled in Oakland. After he cased that jump he wasn't the same rider. He will be back next week, with a big number one on his number plates, ready to defend his outdoor crown.
13. Davi Millsaps – 147 points
I don't know what to say about Millsaps and his season. Davi Won the Monster Energy Cup so he was supposed to contend for the supercross title as well. Things don't always go the way they are planned. His best finish was a fifth three times and then exited the season early before Santa Clara. I have no idea what was in his locker, but I'm guessing it wasn't just Pull and Peel Twizzlers, which is delicious. Hopefully someone can step up to get this guy back to the races this summer. Davi is too good a talent to not have out there racing.
Kyle Chisholm – 115 points
I talked to Chisholm here and there this season and one variable never changed for him. He wanted to be in the top ten by the end of the season. Chiz accomplished just that in East Rutherford, which was live in the afternoon on FOX. He couldn't have picked a better race to do it at. His eighth place was his best finish and it put him inside the top fifteen in points. Chisholm set out to make this a rebuilding year on his own program and reached all of the goals that I heard him tell me at the beginning of the season. I heard that he would have to sit most of the outdoor series out, but now I am hearing that he will be at all of the rounds. I'm not so sure what to believe. Which is it Chiz?
15. Justin Barcia – 102 points

Barcia was riding the struggle bus all season long. He was consistent in the early rounds before he was injured the week of San Diego. Then Justin was forced to sit out eight rounds of the series in order to heal up properly. He returned with four rounds to go in Houston and struggled. It's hard to jump back into the season when everyone else has been in race mode for the entire season. Barcia was injured at a point in the season where you really show what you are made of and then came back with four rounds to go. The outdoor season will be better and the #51 will be back up in the mix once again. It was a strange SX season for Bam-Bam, but he still has 24 motos to turn this ship around.