Bendgen discusses the rise of young talent in the 250 class this summer.
Bendgen discusses the rise of young talent in the 250 class this summer.
PHOTOS: Simon Cudby
With all of the veterans of the 250 class moving up to the premier class in the last few years the 250 class has taken on a complete overhaul. What I mean is that the factories are continuing to do their jobs by finding never ending talent to invest back in the class. The current state of the 250 class is wide open. Currently rookies and second or third year professionals are running the show with only a few veteran riders mixed in. Missing in action are the 250 lifers, the ones that continue to race the class for their entire career.
This week I thought it would be fun to check on the top twenty in the 250 class to see just how young it really is. These young guns come in with so much talent that they really keep the class exciting each week. All of them want to win and don't settle for any position. The future is very bright for the sport of motocross with all of these young and exciting riders at the helm.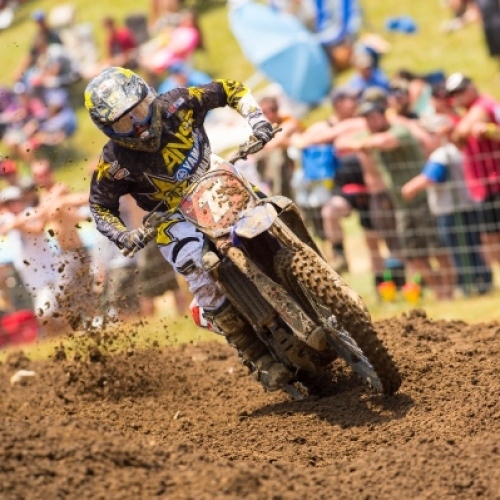 Martin and Musquin have a fight on their hands this summer.
We might as well start at the very tip top of the list. Currently, Marvin Musquin and Jeremy Martin are going back and forth each week, taking turns with the red plate. Curently Musquin holds a slim margin of eight points after sweeping High Point. Martin is just now midway through his third full professional season, while Musquin is a veteran. In this case a veteran will be any rider that has been professional before the 2010 season. Musquin is a 250 world champion twice over, so he definitely has experience in this case. This seems to be an advantage over Jeremy and it will be interesting to see how the defending champion J-Mart reacts to the pressure that Marvin will be applying.
That's the championship race this season, just a two horse race to this point. Next on the list of talent is a fourth year pro and TLD KTM rider Jessy Nelson. Ol' Nels-Dawg turned pro for the full outdoor series in 2012 and has had an injury or two thwart his growth. He put things together late last season and has been a podium threat ever since. He has to hold off third year pro Adam Cianciarulo, who turned pro exactly one year after Jessy. It's crazy to think that Cianciarulo is already that far along his pro career. He had to sit out the majority of the 2014 season and half of 2015 due to an injury. So technically he has been out of commission more than he's been racing. Rounding out the top five is Cianciarulo's teammate Joey Savatgy. Savatgy turned pro when Cianciarulo did and he has a lot of upside. He came on strong just when Nelson did last season and now is a podium threat each weekend as well.
Zach Osborne is technically the resident old guy in the 250 class. He has the speed to get on the podium and has this season. He also can rip consistent results on any given weekend. It's not bad to earn a living at this sport and if getting a 250 class ride is the way to do that by all means take the good ride. We are in no way putting any riders down in this analysis. We are simply viewing how young the class is.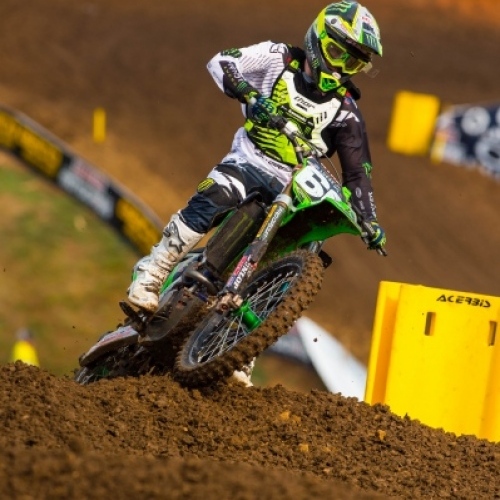 Alldredge made the podium at the opening round.
Alex Martin is another veteran of this class who has really progressed this season. Here is a consistent top ten guy who actually became a podium contender every weekend. It's not often that a rider turns their game up that hard in just a few seasons, especially since Martin has been at this since 2008. He's had some flashes of brilliance this year and looks to be getting better and better as time goes on. Just like fine wine.
We'll group these next two second year pros together, which are Shane McElrath and Matt Bisceglia. Both of these riders raced some nationals at the end of the 2013 season and put in consistent rides in their rookie season last year. You never know which weekend that these guys will put it on the podium. It could happen at any time.
Next we'll group three rookies together who have really come into their own this season. GEICO Honda's RJ Hampshire and Yamalube/Star Racing Yamaha's Aaron Plessinger, and Pro Circuit Kawasaki's Chris Alldredge have each had flashes of brilliance through their first seasons as pros. These guys are some of the future stars of the sport and it will be interesting to watch them grow as their careers wear on. These guys were always good on dirt bikes as well, but they weren't always heralded amateurs (Alldredge was for a bit before he was injured and came back with Team Green). These three came on strong in the final couple years in the amateurs and both ended up getting signed by two of the biggest teams in the pits today.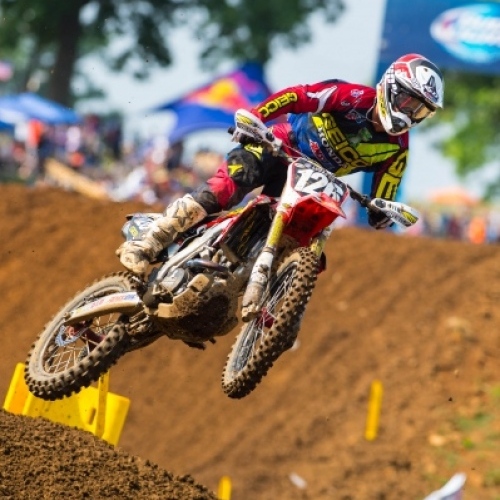 Smith is going to get better as the season wears on.
Jordon Smith is another rookie that will need an eye kept on him as the series progresses. Smith has the speed to run with anyone, it's just harnessing that speed and staying away from crashing. Thunder Valley was his best round yet and he ended up within the top five that weekend. He is in a habit right now where he has one good and one bad moto each weekend. With more time and experience Smith will figure this game out.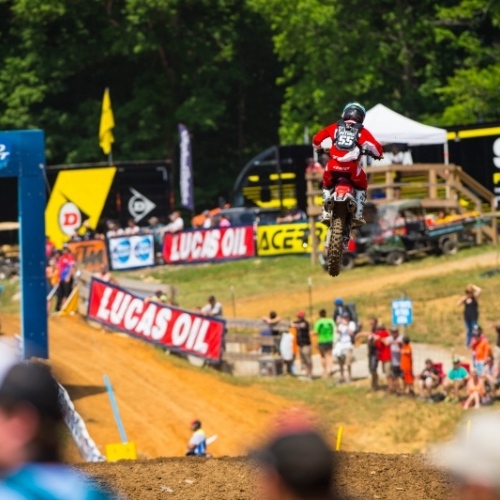 Peters is quietly having a consistent season.
Next up is Kyle Peters who is in his fourth season of professional racing. He is riding this summer for the MotoSport/GPI Honda squad and is putting in a very consistent season thus far. He is always on the cusp of the top ten and should get better as the series goes on. He has two third year pros behind him in Justin Hill and Mitchell Oldenburg. Hill was brilliant at Glen Helen taking a podium, but then disaster struck one week later at Thunder Valley. In practice over a blind jump Hill jumped onto a downed riders bike and had a nasty get off in practice. He's been out since then. Oldenburg signed on to race for the TLD KTM team this summer in the absence of Darryn Durham. He has been consistent so far and like a few other guys he should only get better as we go.
Luke Renzland is yet another rookie inside of the top twenty at this time. The Cycle Trader/Rock River Yamaha rider is putting together a somewhat decent year, but has not caught fire like his other rookie counterparts. We are still waiting on that breakthrough ride. It should come soon enough.
Then we have a different story with a rider that we didn't expect to be racing right now. However, we're glad to have him back out there. Christian Craig is another veteran rider who actually has never raced a 250 outdoors before. He has always opted for the bigger 450, but the GEICO Honda team needed a fill-in and boom here he is. He was a revelation at Thunder Valley, logging the fastest time in practice and almost making the overall podium. It should be a fun summer for Big Daddy Craig.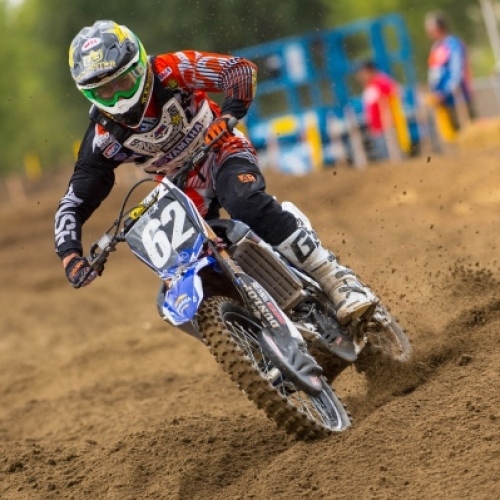 When Rodriguez is healthy he is a contender for the top five every weekend.
To round out the top twenty we have two foreign born riders, which is actually really cool. Venezuelan Anthony Rodriguez is in his second year as a pro, but it seems less than that because of his time out with injuries. When he is on the track he is very fast and a contender for the top five. Australian Jackson Richardson is in his fourth year here in the states and has been a privateer the entire time. The results that he has been logging lately have been his best ever and he looks poised to continue to progress.
To round this up, the future of motocross is very bright with all of these young guys going to bat for our sport. They keep the racing fun and exciting. This is the reason that there are so many battles on the track on race day. These guys never say die and never give up. They believe that they can win and be up front every weekend. You never know which rider is going to have a breakout round. Minus the veterans, in this case Musquin, Osborne, A. Martin, and Craig, the rest of the pack has 37 years of professional racing experience inside the top twenty. That isn't very much for just twenty riders. This is still way younger than Mike Brown and John Dowd before they stopped racing on the tour. Just saying.
Thanks for reading. I appreciate all feedback so if you want to chat with me about dirt bikes or life email me at Troy@pulpmx.com. I want to hear from you.
Instagram/Twitter: @troybendgen