Tickle, Osborne, J-Mart, and Albrecht talk RedBud.
Tickle, Osborne, J-Mart, and Albrecht talk RedBud.
Photos: Simon Cudby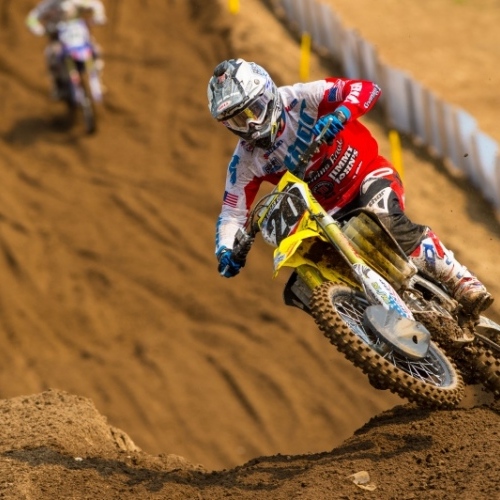 Tickle had one of his best showings of the year at RedBud.
Broc Tickle
Pulpmx: I thought you were going to have the fastest qualifying time today here at Red Bud. You went out and shredded the first practice session. People forget that you're actually from Michigan, kind of.
Yeah, kind of, my wife's family is from here so I have my all my stuff based out of here, my business and whatnot. But this morning was awesome. The track was awesome today. It got really gnarly towards the end of the second moto, but all in all a solid weekend ending up in 4th overall. I felt like it could have been a lot better second moto and first moto in certain parts of it. In the middle of the first moto I kind of slouched a little bit and then picked it back up. All in all it was a solid day. My bike was good. We made some minor changes for the second moto. It was better but I struggled a little bit with finding some good lines out there.
Yeah, you said the track changed quite a bit from your first moto to second moto?
Yeah, it obviously was a lot rougher, but I just kind of stuck with the lines that I was taking the first moto, which probably wasn't the best thing. On the sight lap I tried to look for some stuff, but all across the track it was pretty messed up. So it was kind of tough to chance it to go somewhere different than a place you already knew. I was stuck with the place I knew and it might have hurt me there at the end.
A big thanks goes to Weston Peick for that gift in the first moto, right? It actually enabled you to get this tie today and tiebreaker, which allowed you to finish 4th overall.
The lap before that I made an inside move on him before the leap and I kind of slid out going up the lip of the leap. I decided to back out and he jumped in to the left of me and passed me back. We were close and then I could tell he was laying the hammer down on the last lap so I couldn't pass him. Then a lapper caused him to tip over so I just went across the inside and rode my way to 4th. All in all it was a good weekend here. I feel like it was a little better and my starts were better.
Talk about that little bit. Your starts haven't been great, generally speaking, but this weekend it seemed like they were much better. Did you change anything?
No, I've just been working on little stuff like that. I'm just trying to be consistent practicing what I'm practicing and try to keep it the same no matter what I'm doing. That's kind of what I've been doing and it's kind of helping me out a little bit. I felt like last weekend I was better, but I just didn't hang it in there around the outside.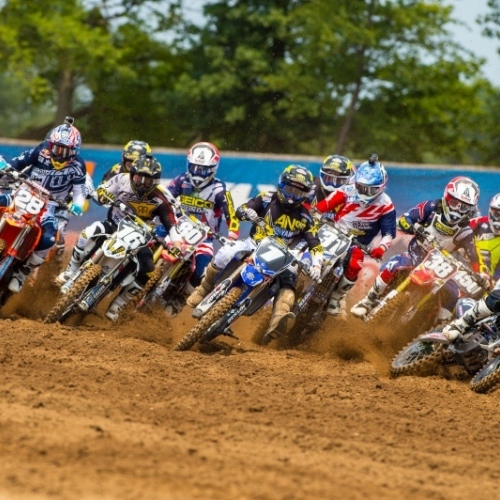 J-Mart heads into his backyard with the red plate.
Jeremy Martin
What a day. I don't think I've ever seen dudes go first to fourth and then all of a sudden something happens and you end up back to first. Nice first moto. Let's talk about that first. What happened there about midway through?
I had a really good start. I was right behind Joey (Savatgy) and then he made a mistake and stuffed it too much in a berm and I was able to go around the outside on him. I got a little gift there. I just was trying to ride and I was just kind of blowing up a little bit. I had really bad arm pump for probably the first 15 to 20 minutes. I was like, dude, just take it easy and breathe. Next thing you know Cooper got me and then Marvin got me. I'm like, okay, just breathe. Then I was able just to regroup and kind of find some better lines and just put another charge in again and was able to get around those guys. Cooper and I brought her down to the last lap. Honestly, I made a mistake right before the last lap and he was out a little ways in front of me. I'm like, I don't know if I'm going to be able to get him. And then I really charged hard and was able to get up on him. He tried to take my line and it was right before the rollers section where he actually went down in moto 2. He blew it, blew outside and I got the inside line and made the move.
Second moto late in the moto you were like, okay, I'm going to tie for the overall, which is fine, and then he gives you a bit of a gift again.
Yeah, I for sure got a bit of a gift there. In moto 2 I got off to a good start again and then Marvin just dive-bombed down the inside of one of the hills. He went so fast. I was like, dang it, dude! And then he stuffed it in the corner and then I had to check up. Cooper got a two-for-one special. So I battled with Marvin for a little while. It took me a little bit to figure out where I was going to get him and then I was able to set him up. The bike was handling a lot better for moto 2 and I just put my head down. I think honestly it probably would have come down to the last lap again.
Track looked, from the guys I talked to, a lot rougher for the second moto.
Yeah, it was rougher for sure, I think. I rode smart today. I did what I needed to do and it feels good. We've got some things we need to work on. We made some improvements last week with the shock and it was handling a lot better. So I'm happy about that. Now we'll go to work. We've got Johnny's (O'Mara) upcoming mountain bike race here the weekend of Millville. He's working hard. I'm going to work hard and we're looking forward to good weekends.
Going back to that first moto, you said your arms pumped up. Do you literally just tell yourself to breathe and it kind of backs itself down? Do you relax a little bit? How does that go away? For most of us that ride, once arm pump sets in you're done.
Yeah, I burn a lot of laps and I'm so consistent. I burn more laps than I think anyone else does out there. I've had that issue before and I know how to ride through it. Just slow down a little bit, breathe for a couple laps and then I was able to get back in the groove and make things work.
How was jumping the leap today?
Jumping the leap was fun. I came up short a few times. I didn't want to blow the wheel. Moto 2 I was kind of glad that no one was jumping it, to be honest. It was pretty rough and it was getting pretty choppy going up to it. It would just kill our momentum. With the 250 bikes we needed everything we could get to get it.
Great job today. You got the red plate again and going into your home race in Minnesota you got to be feeling even better. Enjoy the week off.
Thank you.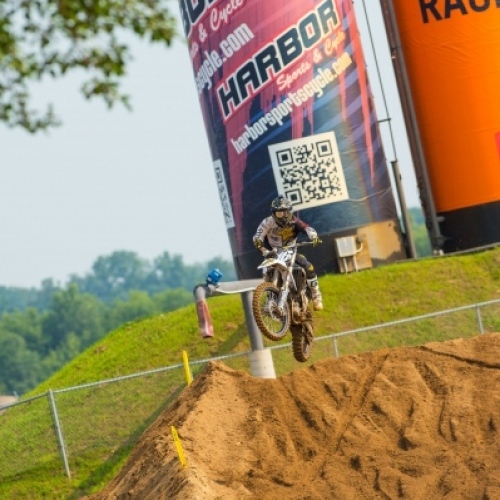 Zach struggled with Larocco's Leap all weekend.
Zach Osborne
We were talking about you a lot lately, and your consistency. Training up in Colorado with the Tomacs, it's coming together for you. It's getting there to where you're going to be winning one of these things really soon.
Yeah, I feel like today was a big step in the right direction. I had a really good start to the second moto today, but I wheelied halfway down the start straight and got sucked up. I feel like with a top five start I could have probably won the moto because I came from 15th and lost by four seconds. So I feel like we're on the verge of big things.
At times you were fastest guy on the track. I got to look at the times. I would think you were though. You were moving up pretty quick.
Yeah, I didn't really have one spot. Normally if you're going faster than guys you can pass them in one spot every lap but it seemed to just be like I would get to someone and pass them, get to someone and pass them. Once Cooper fell I kind of freaked out because Christian was still six or seven seconds ahead of me. I was doing the math in my head like, I have to get him or then I'm not going to be on the podium. So I just sent it those last two laps and caught him pretty quick.
Yeah, that was really fast.
It was awesome.
He must have made a mistake. There's no way you caught him like that.
He must have. I know, I'm not that fast.
Did I hear right in the press conference you never jumped the leap?
I cased it huge on Thursday and about pooped my pants, dude. I saw a troll jump it and it was like, yeah, I probably can make it because my bike's pretty fast. Bobby says I squirreled out the corner a little bit but I wasn't even close. I was a good 15 feet short.
That probably hurt.
Oh yeah, it hurt. It broke my wheel. It was a bad deal and it scared me. I sat at the hotel yesterday and sweated the leap all day. I never jumped it one time all weekend.
I couldn't remember you jumping it at all but I figured you must have here and there.
No. In 2013 when I was here I jumped it every lap. I thought the other day, the track's smooth, and press day it's not deep, I'll be fine. Yeah, wasn't even close.
When I was a four-time Manitoba champion and there were jumps that I didn't jump it affected me almost the whole lap because I would think about it. And I don't know if that was… obviously it didn't bother you but that's got to be a little mentally weird.
Yeah, it was a little mentally weird but John and I spoke about it before we went out. In the segment after practice I was like half a second from the fastest time in the segment. So we weren't like, oh my God.
It was about four-tenths quicker.
Maybe, and if you went outside and you couldn't jump it, which happened pretty often, you lost time. So it was pretty much a 50/50. I knew it was tight. If I case it one time, grenade the bike and whatever, then that's 25 points gone or 20 points or whatever. So I just decided that it was better for me to go double-singe and it worked out.
One year when I was wrenching for Ferry he never jumped it all day in practice until the first lap of the moto.
The year in 2013 I never jumped it until the second moto. I was behind AC and he sent it and I was like, all right, cool.
That's got to be so gnarly.
And that's like the biggest jump in the series. Aside from that 150 thing they had at Hangtown. That's definitely the most intimidating jump because it's so high.
I doubled it once.
You doubled it? That's sick.
Which is what you did today. I wish I would have saw this casing. It sounds pretty gnarly.
I know. No one even got a picture or a video or anything. My front wheel didn't even make it over the top.
You're a little lucky that you didn't…
I'm super lucky, big time.
Great job again. Another consistent day for you, moving forward. It's just what we all want to see. Keep it up, man. We'll see you at Millville.
Thanks.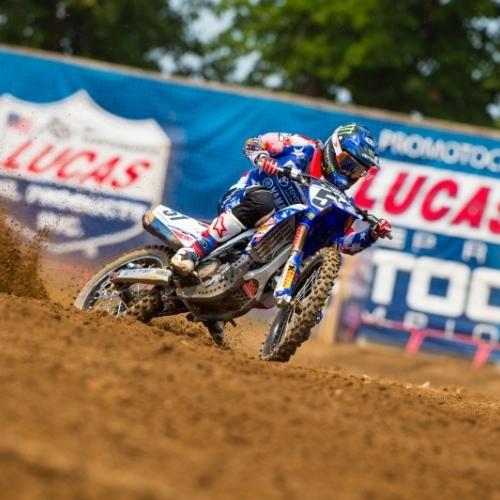 Barcia has a two race win streak heading into the off weekend.
Jeremy Albrecht
Two wins in a row for you guys.
It was obviously what we come here to do. It's not easy. I wish it happened more often. Six years ago today was our first outdoor win, and then last week was our second, and this was our third. So we've only won three Supercrosses on this team also so I wouldn't say we're winning all the time but definitely we've had the right people, place, and times and it just hasn't always come together but we're really, really happy that Justin's coming around and doing what we think we could have done to begin with. It's really cool. It's been a lot of work for everybody here. Justin, for the mechanics, the suspension guys, engine guys. It's everybody learning each other. We had a whole new team with Peick and Justin. The only one that was here from last year was Phil. It's just been a lot of work. Learning the guys and them learning us.
Here's the thing that's frustrating and you as a former mechanic can vouch for this, last week, Justin's been off the pace most of the year. He's been all right, he's been okay, but been off the pace. He wins in the mud, but big deal it's mud; anything can happen. But even that confidence, now he comes out on a gnarly track, dry, nice weather, and he wins again. It goes to show you that all that testing you do and all that cool parts you have, it doesn't matter. It's all in these weirdos heads.
Definitely a lot of it is, yeah. You still have to get the start. You still have to have the bike that handles good enough.
Yeah but he's gotten the starts in the previous rounds. Like last week the first moto was the first time that he actually went forward from a start. It's all part of it but for sure, it's confidence. It's believing in your bike, believing in your team, believing in the decisions you've made. Even though he says he never was second-guessing it's easy to do when you have every fan, "oh, you idiot, you switched to this brand, they haven't won in this long." It all starts… even though you don't believe it. And the hard part is it was going better than what people thought it was. But then again the Stewart thing, I didn't know it was as bad as it was, so you never really know. But I feel like Justin's been really honest with us and we worked well together. When we were struggling he came up and he stayed. He's been in North Carolina. He pretty much went to Florida only like two days lately. He's been up with the team and trying to just work with us and get more comfortable on the bike. It hasn't been a lot of changes, little changes. But just learning the bike, learning the team really is what it's all about. And you're right confidence is a big thing. But to me in the mud, he rode so good in the mud that second moto that I think even if it was dry that moto he still would have won how he rode.
He was great.
That's the best I've seen him flow, and it was slick, and he was getting really good traction. But that was definitely the thing that turned the corner with the confidence builder for sure.
Phil told me to tell you guys that you need to fire him.
Yeah, he's definitely down on himself. I was just trying to tell him. There were some highlights. He doesn't like to look at the highlights. But he had the speed. He was hanging in there riding good and then one guy passed him and then it just wrecked him. He did like a 2:11 and then 2:13. I got on the radio, I'm like, the only other guy out there who's doing a 2:13 is Heath Harrison in 18th. Get him back going to where he needs to be. Then he came around to 2:08 and back to 2:05. So just lap times. Consistency really is his problem. He's just not really doing it every lap but he's capable. He's got the speed. He just needs to get the confidence also. He got his first podium this year. It's not all bad. He's really bummed on a 12th, which I guess last year it would have been that. But it wasn't a bad day. He'll get better.