Filthy, Germa and Fast Freddie speak
Filthy, Germa and Fast Freddie speak
Photos by Simon Cudby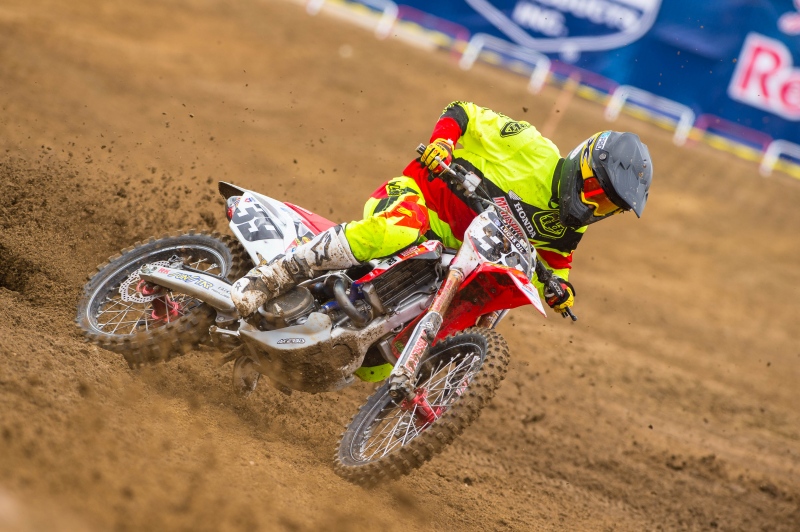 Fast Freddie had his career best moto in the second one at Millville.
Fred Noren
Your best moto of the year. We keep saying that every week, but again Millville, your best moto. That second moto was strong. I'm sure you ran out of time to catch Kenny but you could probably see that you were making up time.
Yeah, I saw him when it was two laps left to go. I was pretty beat too and I was like, I cannot make that without making a big mistake or something so I'm like I'm just going to keep a little steady pace instead and finish this thing. But it was a good weekend for sure. Started out first practice, obviously it was really muddy and I kind of like when it gets muddy. I had the second fastest time in the first practice and then struggled a little bit in the second practice. I think I qualified 13th, which is okay I guess. Then first moto did a lot better start than I usually do. I think I was around 7th or 6th up there. Just tried to ride my own pace and not do too many mistakes. I kind of struggled a little bit finding the flow and then we did some minor adjustments to the suspension for the second moto and I did a pretty good start again. I think it was like 5th or something like that.
***
J Martin
You didn't get the overall but I guess in the grand scheme of things you got points on Marvin Musquin and you did win the second moto pretty good, so all in all a good day.
Yeah, it was a good day. I'm just happy my parents had a decent day with decent weather to pull off the event. They had tornado warnings on Friday, Friday night. Press day was canceled, rained all day Thursday for amateur practice. Super muddy Friday morning for amateurs. Muddy for us this morning. So I was just happy that they were able to pull the event off today.
Clutch issue in the first moto kind of held you back. It did look like it was flopping around a little bit. Was it pretty irritating?
Oh yeah, it was irritating. It kept smacking my knuckles. I was pretty pissed off.
That second moto you were probably a little more fired up than usual?
No, I was made for sure but I just want to win. I got a good start, was able to ride my race and the rest was history.
What was it like without clutch? What kind of stuff did you have to use? You had to really concentrate on shifting I guess?
Yeah, I had to concentrate on that. I used first gear a lot today. I must say I never really use first gear. It was used today. So it was good I just had to give those guys a bit of a gap coming into the turns so I could see the rut and carry speed.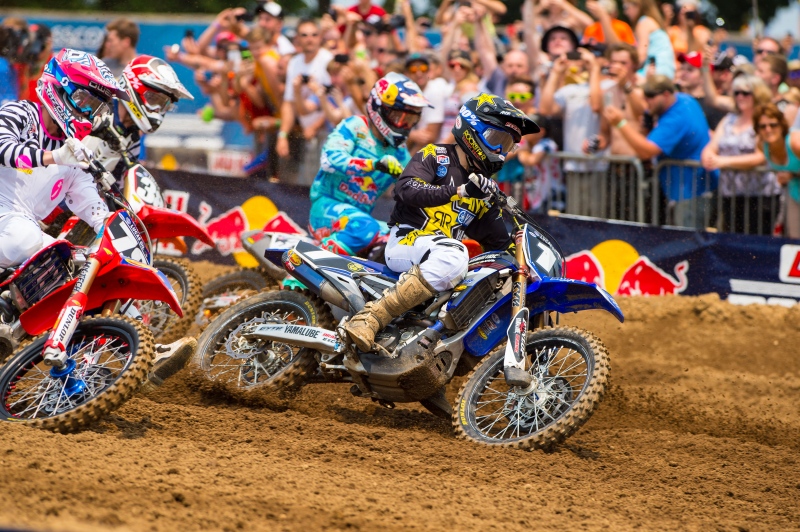 Martin didn't win Millville but he put more points on Musquin in the championship
You made a run at Savatgy a little bit from what I could see. Did you come any closer at all on the last few laps?
I tried the last few laps. I knew he was going to hold strong, he was going to be tough. He's a little bit more of an aggressive rider and he's one of the harder guys to pass. I tried the last lap but with the clutch it was tough.
22 points I think the gap is?
I don't even know. I just want to get moto wins. I think last year I got 10. I'd like to get more than that this year.
What was the track prep for you ilk here? Obviously a place you know well. Were you happy with the way it turned out? I thought obviously it was pretty muddy first practice but it looked pretty epic after that.
I thought the track was good, considering what happened. If people are frustrated about it or upset about it, it's like you guys jumped through those hurdles that the track crew and my parents had to jump through. I think it was good. It was soft today and the track felt slower than years past. Mount Martin was a little more safe this year. We didn't have those drop-offs. It's still fast but I think it was a good day.
What was the uphill triple like on a 250F?
I tried it.
I saw. Maybe it was gnarlier than it looked like but it looked all right.
I was going to go for it moto 2. I had a bitching run a few times and I was like, we'll just shut her down. We're winning. We don't need to ruin it.
Give me your best Filthy Phil story from his time up here.
If you ask Filthy Phil he's done more pushups in the last week and a half than I think he's done in a while. We're whipping him into shape. We're making him suffer. Almost had him crying.
****
Phil Nicoletti
Nice first moto, good start. So-so first moto. Second moto, I think I got to give you credit for stopping the fade. It got bad. There was about three or four really bad laps and then you sort of composed yourself.
Yeah. The first moto was good. Actually maybe five laps I was right there, Dungey, Barcia, Roczen. I felt good. Just the intensity of that pace is hard. I blow myself up to be honest with you just trying to run it. I just got to figure that out. As soon as I'm able to maintain my mind and body I'll be able to run up there. I don't think that moto should have been any worse than a 5th. But I ended up getting 7th. I did get a little tired. Then second moto it was just kind of a shit show.
About three laps were anyway.
Three laps, I was in 2:18s. I'd come around and my lap time was like a 2:23, 2:24 and I'm just like holy hell. But I got tired. I came up here the Tuesday after Red Bud, trained with the Martin bros, went hard pretty much every day.
Did pushups I heard?
Yeah, did pushups because I crashed some motos and had to take a piss during a moto and this and that. But it was good to be back with them. I love those two guys. I need to get my head kicked in a little bit. Change the pace up. I might have done a little too much but at least I know where I need to get to. Obviously it shows with Jeremy and Troll, they got unreal fitness. I'll get there. Obviously I got to go down before I got to go up. But 7-10 on the day is not bad. I don't know what I ended up overall. I could honestly care less. I probably got screwed and ended up 13th, knowing me. But it was still okay.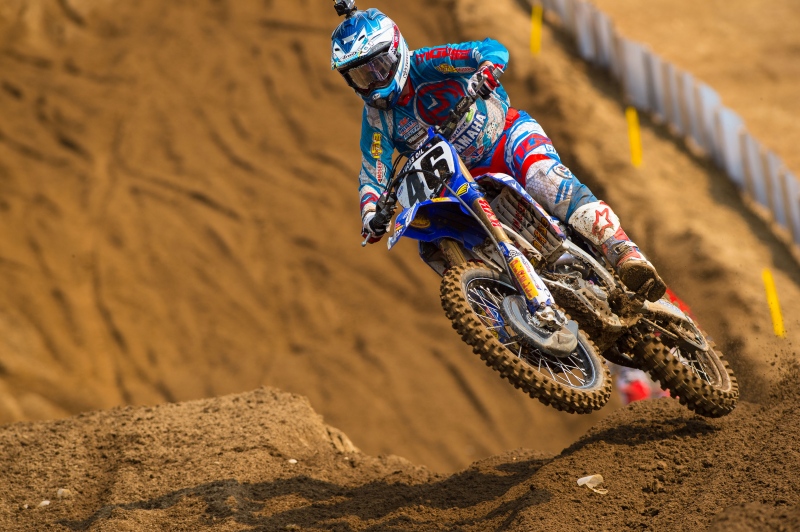 Filthy had a much better Millville than Redbud
The thing about running the pace though, like you said, it kind of wears you out a bit. Better to find out than to never even see those dudes. That's how you learn.
Yeah. I really want to and I'm not satisfied with a 7th or a 10th anymore, now that I've gotten a 3rd, a 4th, a 5th, a couple 5th's. I want to be there every moto and I know I can. It just sucks to get a 7th and know that you didn't give it 110%, even though I felt like I did, but know that there's more in the tank. I just got to find a way to fricking harness it. And then I'll be okay but until then I'll just keep getting my head kicked in until I figure it out.
Washougal next weekend. Do you like it or are you one of those Washougal haters?
No, I like Washougal. I like Red Bud, I like this one, I like Washougal. 'Dilla is good. I hate Utah. That place can get blown up. But yeah, I think it should be good the next couple races but at least I got back kind of in form from my shitty performance at Red Bud.
That's a good point. You were ready to retire there, so this was much better.
I don't know about retire but get fired, yeah. I was prepared to get fired. I think maybe they'll keep me around for Washougal, but I'm still on thin ice. We'll see.