How a New Yorker became a full-time Canadian motocross racer.
How a New Yorker became a full-time Canadian motocross racer.
Cover Photo: James Lissimore
Insert Photos: Randall Overby
Usually when starting these rider profiles we start from the very beginning of a riders career. This week we are going to do things a bit differently. Seth Rarick has a different story to tell and it proves that you don't need an illustrious amateur career to make a name for yourself in the sport. His story proves that you can make a living and good name for yourself by heading north to Canada and racing away from home. This is the story about a rider who has never strayed from his goals and ended up making a name for himself in the professional motocross world.
Nine years ago, in 2006, Rarick qualified for Loretta Lynn's in both 125 C classes. Five years after that he would be making his professional debut in the Lucas Oil Pro Motocross series. Now he is a threat to the MX2 class in the Rockstar Motocross Nationals each and every week. How did a rider from Clarksville, NY end up racing in Canada full-time?
"In 2011 I was staying down at South of the Border and they had a team. I was supposed to still be doing amateur stuff that year because I was only 18. I ended up getting hurt before the Texas nationals that season so they asked me to turn pro early that year. Long story short I turned pro and I wasn't ready at all."
Rarick ended up qualifying for only a few races in that first season and he was also fighting through an injury as well. He had injured his shoulder and it's an injury that still bothers him to this day. Rarick took that first outdoor season in stride and used it as a learning year and headed into 2012. South of the Border was still on board to help him get to the races for supercross and motocross.
"Two weeks before Houston I ended up getting hurt and then outdoors went the same way pretty much. I qualified for all of the rounds that I went to, but I wasn't healthy."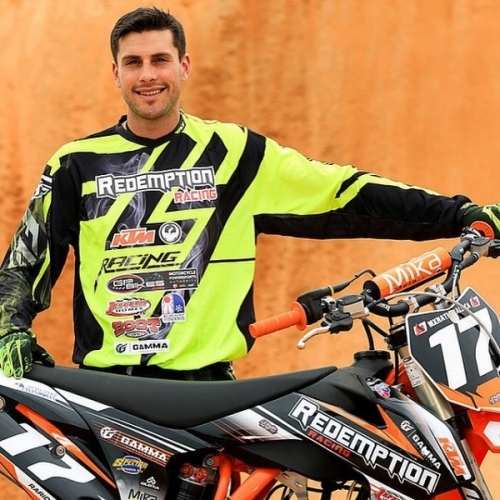 Rarick has found a home in Canada with Redemption Racing.
The 2013 season went more of the same for Rarick. He had some support from South of the Border still, but for the most part he was doing it on his own. He raced all of the East Coast nationals that season and would run mostly around the 20s at each round. Without support and struggling to get anything going in the States, Seth decided to change things up and headed to Canada for the first time.
"My buddy Mike Sottile and I decided to give it a try. I loved it! I think I had a bike problem in the first moto and in the second moto I got eighth. I decided to do the rest of the East rounds that year. I'm from Albany in New York, so Eastern Canada isn't that far. I think I finished in the top ten in every moto and I did the 450 class that year. Finishing inside of the top ten was a whole lot better than having Ryan Villopoto lap you halfway through the moto. It's been a nice little deal for me."
At the end of the 2013 season Rarick decided to get surgery on his shoulder. Seth spent the winter of 2013-2014 recovering and working a real job. He was still unsure of what would happen for 2014. That's when Gavin Gracyk helped get Rarick get onboard with the guys at Redemption Racing. The opportunity came about for Rarick to race a 250 two stroke in the MX2 class (a legal move in Canada). He jumped at the opportunity and ended the season eighth overall in the standings. Now Seth knew where he stood in the series and he also knew that he could make a living off of riding dirt bikes. He took the opportunity to train hard during the winter and he came back this season with Redemption backing him once again.
"This season has been a rollercoaster. I came into this year way more prepared than I ever been. For once I was not coming off of an injury and I had a whole winter to prepare. The team even stepped up a lot more. I moved to California to stay with Cooper Webb. Obviously training and riding with him didn't hurt, but I moved out there to see what the hard pack dirt was like. If I was going to do well I had to learn how to ride hard pack tracks better. In every race that I have done I think that I finished only two or three without a problem. It's been frustrating. In every race that I have managed to finish it's been inside of the top ten, which is way lower than what I expect out of myself. I should be on the podium, or top five, at worst. "
Despite the issues, Rarick still sits tenth overall in the MX2 standings. His best finish has been seventh in two of the motos this season and he wants to make the final eight motos count. He wants to make the podium to show that is where he belongs. Regardless of how it all works out, Seth is finding a nice home in Canada for the time being. He feels comfortable racing the series and is enjoying the atmosphere the Rockstar Nationals bring.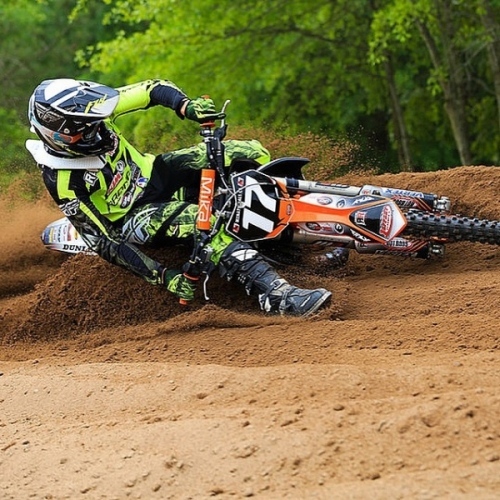 Seth wants to finish the last part of the season strong, which means podiums.
"I think it is a great alternative. I think people are starting to realize that the series is no joke. I mean look at Jimmy (Decotis), Cole (Martinez), and myself. We are all in the same scenario here. We are all struggling to make ends meet and make it to each round in the States. To go up there and do well is great. We can go up there, make some money, and we don't have to worry about how we are getting to the races that weekend. I really enjoy it and I'd like to race up there for years to come."
During the summer months Rarick also works in excavating and masonry work. It was actually during his lunch break when we called him up to chat and he still had quite a bit to do that day.
"After I get done here today I'm going to go do two thirty minute motos at my buddy's track."
A typical day in the world of Seth is to work all day, and then when that is finished, go ride and train until it's time for bed. Training is something that he really enjoys and if he wasn't a professional racer he feels that he would still be in the gym, or on a road bike all of the time. The hard work is something that Raric credits to the way he was raised. He knows that he is lucky to race pro motocross for a living and he takes it one step at a time.
"Outside of racing I'm pretty laid back. I go to the beach and hangout. I have a small group of friends that I like to hang out with. I'm not a rock star and I like to keep it local. I love the people I surround myself with and I keep it humble. We just ride dirt bikes, it's really pretty simple."
Rarick's future goal is to eventually race in America once a gain, but he is enjoying his results and time in Canada at the moment.
Seth gives all of the credit to South of the Border for most of his success. He wouldn't be in the position that he is in today without them. The training facility taught him how to train, eat right, and how to get faster on a dirt bike. Before the help from the facility, Rarick said that he didn't know what he was doing and the only amateur national he really did every year was Loretta Lynn's. He's come a long way in a very short period of time.
"I'm just thankful for the opportunity and how this has all worked out. At the end of the 2013 season I wasn't even sure if I was going to race anymore. Redemption Racing stepped up for me huge. I'm a racer, it's what I do and it's what I know. I feel like my best days are ahead of me."
Keep an eye on Rarick the rest of the Canadian series and back stateside at the finale of the Lucas Oil Pro Motocross Series at the Indiana National on August 22.
Seth wants to thank the following people for all of the support over the years:
Josh Snider and Scott Jeffery at Redemption Racing for the opportunity, KTM Canada, Fly, Dragon, Jeffery Homes, Boot Trucking, Spectro Oils, FMF, Mika Metals, Atlas Brace, Novik Gloves, and all of the team sponsors. My dad, for everything he has done for me over the years. We've never had much but I've always been able to go racing. South of the Border Training Facility, without them I would not still be racing. Mario Darpino for working on my bikes at home. Cooper Webb for giving me opportunities that I'd never had before. Also to my friends at home and Tyler Bright for all of the help this season. I couldn't do this without any of these people.
Thanks for reading. You can reach me at Troy@pulpmx.com if you want to talk about anything.