The PC Post-race Pulpcasts transcribed just for you
The PC Post-race Pulpcasts transcribed just for you
Photos by Simon Cudby
Dean Wilson
Welcome back, man. It's just good to see you back on the track. It's been a while. 8th overall on the day.
8th? There's no way I got 8th. 11-10 for 8th, there's no way.
It was a really weird day. I think you did.
If I got 8th I'm going to cheer up a little bit.
(We try to get internet service to look but fail to do so) We can't figure out what you got overall. I think you did pretty well although Tickle got you last lap. First moto, it was going well, you looked pretty winded and tired. Considering all that I thought your performance in the second moto was pretty good. You looked a lot stronger.
Yeah, the parachute came out pretty heavy in the first moto. Just both motos I was running like a 7th each time. The first one I hit a wall pretty hard, I wouldn't lie.
It was your first race back and first ever 450 national.
We'll throw some excuses out there, first race back, fitness wasn't great. But definitely for the second moto I felt better for sure. Mid-race I hit a little bit of a wall again but I slowed down, got passed by Peick and Baggett. And I said, I'm not going to try and battle with these guys. I'm just going to try and regroup and then come back. So I came back and I was starting to catch INAUDIBLE towards the end and then Tickle was all over me and he got me. I was pissed. But he rode well.
Overall what'd you think of being back at the nationals? You did some last year but this is your first one on a 450.
It was good but, man, it was gnarly out there. What you forget is just the intensity out there, the speed, right off the start. The roost here, it's gnarly. All things considered, I'm healthy. It's been seven months I've been off. So the team's happy with me. I just got to build my goals and do better next week. But all things considered I think it was a good weekend. I really want to get a little bit better starts but they weren't too far off. Just going to keep pushing and end the season off on a better high note.
It's good for you. You had a pretty good knee injury again and to even get some races at the end of the year has got to be confident knowing the full off-season if you hadn't raced now you'd sit around and be like, how am I? What can I do? It's good you're here.
Yeah, for sure. I said earlier I kind of felt like I got thrown in with the wolves. This has got to be one of the gnarliest nationals. You have Bogle who hopped on a 450 who's riding well and gets good starts. And then you have Sean came over then Trey came back. So it's a pretty stacked field right now and there's a lot of fast guys. It was pretty gnarly but to salvage a top ten first race back, I'll take it.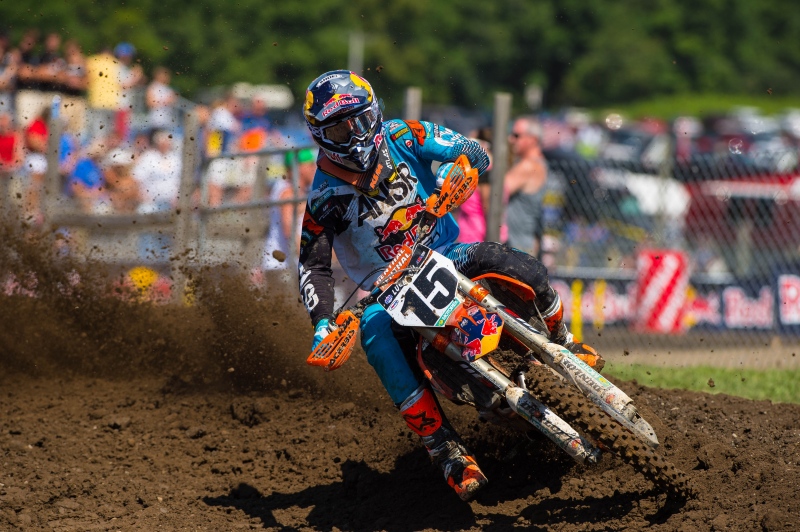 Wilson came back and did pretty well for his first race back in a long time.
Testing-wise, did you get much testing or did they kind of give you a Dungey set up and say, hey, this is what's working?
No, my team's been awesome with me but the problem with me, I'm not very picky. I get a setting, I like it, and then I don't change it which is one of my downfalls. So I think if I was a little bit better at testing my bike I could have had a better setup today. I did feel like I was fighting my bike a little bit, swapping, and just not being able to be loose. But my bike was awesome. I was really happy with it.
Can we talk about Dan Truman's performance at Loretta Lynn's?
Dan Truman's performance, he threw in some flashes of brilliance.
I heard he had a good practice time.
He probably had a good practice time, doesn't doubt me. Got a holeshot, good starts. I think next year if he starts training… I'm going to give him a month off. If he starts training he could be good for next year. But I was a little bit disappointed. His lap times were probably about mine in the first moto. He would throw down a heater and then the next lap it would be five seconds, the next lap would be another five seconds. It looked like it was all good fun for him.
How pissed are you you're only the second best Scot here today?
I'm actually kind of pissed. I even told my dad I was kind of pissed that Sean beat me. But just being honest.
He impressed me. He rode well.
I'll give him myself another excuse. He went 1-1 last weekend in the GPs so he's riding well. He's doing everyone proud in the UK. I think that's awesome. It was pretty cool when we were behind each other at the end of the moto, I was like that's pretty cool. Two Scots, that's something that's probably never been done in a long… if it's even been done. So it's pretty cool. But he was saying he just wants to stay. He doesn't want to leave. He's like, I'm pissed that I'm leaving.
***
Cooper Webb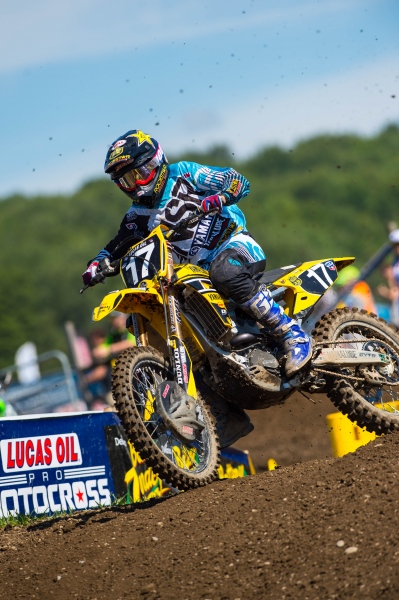 Webb was battling for the win in the second moto and then went down.
Not the day you wanted to have. You were putting on a good show in that one moto. It would have been exciting but man, it looked nasty. You all right?
Yeah, just beat up. It was a good and bad day. Kind of a dream come true day to be picked for des Nations on the MX3 class. That was a killer thing for me. It's unreal.
When'd you get the call?
On Wednesday but when you're standing there and all the fans are going crazy for you it's pretty cool. It was a rough day. First moto I think I was running 6th making a move and crashed, stuck under my bike for a little bit.
Bad start too, huh?
Yeah, bad start. And then that one kind of sucked. Got just inside the top 20. Second moto I got a good start for I think where I was but me and Marvin basically battled from 30 plus a half. It was a fun race.
Tried to stick it in on him a few times. That was exciting.
Yeah, he was still doing some stuff. But tried to make a couple things happen and those last couple laps, the lapper didn't help but it was fun. I should have probably waited a lap if I was going to go for that double but I had done it earlier in the moto.
I was going to say, I'd never seen anybody do it and I thought that was the first time you tried it.
No, I did it earlier in the moto and barely made it. But I knew if I could make it I could pass him. Just hit a little kicker and ate shit.
You were probably stressing because of that lapper. He cost you probably half a second.
Exactly. I had to roll that jump. I went to panic mode but I had another lap.
You guys were pushing. I think your best lap times, both of you were on the 30 minute mark. Both of you were really pushing.
It was funny, once we got around Savatgy I knew how he does things and I knew he was going to go for two lap as hard as he can to try to get me to give all my energy up. Stuck with him and then those last two I think they didn't necessarily slow down but I think he started thinking about it a little bit because we were pushing that edge. It was a fun race. It sucks the way it ended but for me, yeah, I blew a potential win and a for sure podium but the first moto put me out of anything overall. So it's one of those things I guess.
It was exciting. You made it exciting as usual. Congrats on the Team USA thing. That's awesome. I can't wait to see you on a 450.
****
Roger DeCoster
Motocross des Nations, you're going to try to break the USA winless streak here. Webb on a 450, Jeremy Martin and Justin Barcia. Talk about that a little bit.
Well, Justin for sure he is in a place that he deserves to go. He's been riding good this last month and a half, two months. Martin, it's pretty clear also. It was a little bit more difficult with the third rider. Jason Anderson, Canard coming back, but I think first of all Jason has been a little bit up and down. Canard doesn't have that many races under his belt. He's probably going to be a little bit conservative. This time he comes back really, really strong and I think with all the amount of injuries he has had I would think that he would really play it conservative. Cooper has been riding really good. He had earlier injury from Las Vegas Supercross that kept him away from the nationals for a while. So he had no more chance to win a championship this year. I think that's an extra reason for him that we picked him.
And put him on a 450 which he's raced before, so that's all right.
He can ride a 450 from what the Yamaha guys are telling me. And he is already spending some time on it. I think maybe in the back of his mind he was hoping that we would be thinking about him. He started riding before we mentioned anything to him on a 450.
Ryan Dungey not going. It's been six years in a row. Just one of those deals. I guess you understand where he was coming from?
Yeah, I wish he would have gone. I asked him several times and all that. But he has worked really hard this year and the pressure every week from Anaheim and still next weekend and two more weeks. He wanted to take a break. His trainer Aldon is advising him to take a break. I feel that he deserves it. I'm sure he will be wanting to be back on the team in the future.
Some fans will be pissed but it is what it is.
But then at the same time the same guys were really upset at him that we did not win last year and the year before. I think he deserves to have a break and I feel that we have a good team. It's a really young team. I hope they will surprise people and I think they will.
Thoughts on Dean Wilson's return today?
I think he was pretty good, first race back in a long time. Surgeries on both his knees, both his wrists. He missed most of the year. He was fighting for 8th place overall so not so bad I think for a comeback race.
Good luck in France. You don't want to go four years in a row without a win right?
No, this is enough.
****
Shaun Simpson
You came off a 1-1 at Lommel but this isn't Lommel. I think you surpassed everybody, us bench racers, what we thought you would do. Qualified well and then a 4th overall on the day. You've got to be stoked.
Yeah, I'm really happy. The main goal was to come over here and just have some fun, go home with a big smile on my face. I think I've definitely done that and a little bit more. I was probably even a little bit anxious to even qualify, make sure I didn't mess up. But that went really well. Didn't really feel like I got a great lap in but to go 5th in qualifying this morning then to go 4-8 in the motos for 4th overall has almost blown me away a little bit. It's kind of over before you know it. It's a bit like the British Championship back home so you qualify, motos are really tight, the gap between them's not really that big. So overall it's just been a massive experience, from flying out here from Lommel, riding the wave of all that, media, everything that went down with that, and then after that just going home again with a massive smile on my face just looking forward to really finishing the GP season strong.
I talked to Rattray, Roczen, Marvin, all these guys, they come over the one day format, you mentioned it. You don't get to learn to track. GP you guys have a lot more time on the track. So I'm even more impressed. You did press day here but that's not a ton of riding. You adapted to this track pretty quickly.
The track was great. The way the track's prepared over here it's really deep, it's really nice and watered. It's prepared really good. I like that. I like the line choices. You can see sometimes the distance between guys, even five or six meters in the corners, really railing the outside, nice and tight on the inside. Quite a lot of the time back home when we ride in Europe it's quite slick, hard, hard pack, stoney, dusty. That's never really to my liking. I think the GP tracks could be prepared better, create better racing and overall more passing opportunities for the riders. But overall today the track here today has been great. The jumps weren't as big as I thought they were, or as they looked on YouTube or TV when I watched. But just overall it's such an experience to come over here.
The bike was a little different too than what you normally ride?
Yeah, I ride a 2015 KTM back home, privateer-based team. So we haven't made the switch onto the 2016 bike yet. I'm not even sure if we're going to do that for the rest of the season.
It's a little lighter, maybe a little different motor?
Yeah, just big hats off to the Factory KTM Red Bull team for just making me feel so welcome here. I just come over to ride one race, they prepped me a really sick bike. It felt so light, the motor was so smooth. Just everything fitted me almost as good as I could expect. I think if I had a little more time with this bike I could really dial it in and feel great on it. Just a big thanks to them, big thanks to everyone for just making me feel so welcome over here. It's been refreshing, it's been nice, and overall the experience has just blown me away.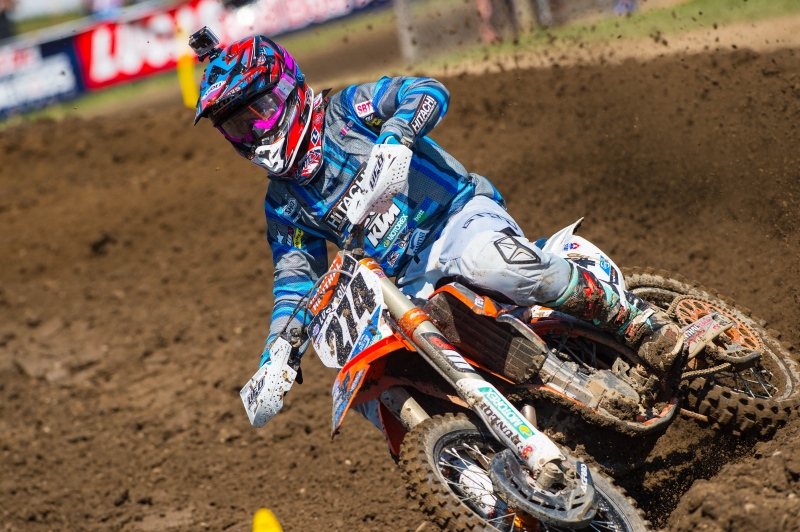 Simpson impressed with his fourth overall in 450MX
One battle out there today that stands out for you at all or one moment in either moto that kind of stands out where you thought it was pretty cool?
Probably banging bars with Trey in the first race. He even come up to me before the second, he's like, dude I thought we were going to go down. But it was nice. Even before the second race a few of the guys came up to me and said, well done, how are you enjoying it? And that's refreshing too. It's serious but there's a sort of fun side to it over here too. It's really been great. I'm a little bit bummed that I have to actually fly home now, really.
Strijbos told me the same thing when he went and did those two, he was like I don't want to go home. You won Lierop a couple years ago, you won Lommel. Is there one of those that stands out for you as far as a career highlight?
I think the very first win at Lierop, that's going to stay in my mind forever. But to go 1-1 at Lommel was equally special. Just all the hard work that you put in year after year, week after week, day after day, just to feel that euphoria standing on the top of the podium. I don't get to feel that that often and that just makes everything worth while. To come over here off the back of that, it's just been an amazing two weeks. My social media's went through the roof. Everyone's bene getting behind me. Everyone from Europe. I think I've created a whole new fanbase over here in America. There's guys throwing towels and everything over the fence.
I guarantee you Adam Wheeler's in tears right now.
Probably. He's a good guy. He's helped me out with a lot of this stuff and a big thanks to Dice Carriers from Dice and Aberdeen too. They've made it possible for me to come over here and just realize my dream and go home as I say with a massive smile.
Anaheim supercross?
I think even Anaheim just to watch next year. Everyone said when the fireworks were going off today at the start as the opening ceremonies, I thought, wow, that's cool. They said, that's nothing, dude. You should come and check out Supercross. So you might see me over there just checking it out.
Last year at des Nations you had heartbreak. You guys were posed to be 3rd until your chain broke late in your moto. Are you going back to the team next year? What do we know about Team GB for this year's fans at Motocross des Nations?
At the moment team GB looks like myself in MX1, Max Anstie who's been winning GPs, riding really well too in MX2, and then the third rider is undecided at the moment. I think Tommy's had a bit of a tough time. He had a few broken bones this year and he's struggling with his ribs at the moment. It'd be cool to see him back at full fitness come the end of the year but Dean's riding strong, just coming back too. So we're in a good position that we've got a few guys to choose from. But come the time I think the right guy will be chosen. We're looking for a strong team and strong result in France.
What was better, getting paid for your moto scores or beating Dean Wilson and being the top Scotsman?
Definitely getting paid.