We transcribed a portion of the champs interview from Monday night on the PulpMX show.
We transcribed a portion of the champs interview from Monday night on the PulpMX show.
Photos: Simon Cudby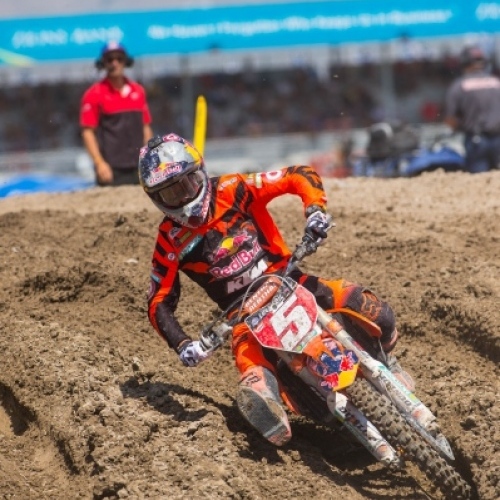 Dungey was pleased with his Utah performance but he knows that he can always do better.
Steve Matthes: With being politically correct, the best I could get out of riders was that Utah was "okay." Where are you at on Utah? Where do you stand on that place?
Dungey: It's definitely a unique track. The dirt's a little bit different. As far as practice, it was super kind of soft and wet, and then by the end of the day it was really dry and hard. It's definitely unique in its own way. It's kind of got that silt dirt, but the track was really rough. By the end of the day it was pretty nasty and there was a lot of square-edged stuff. I know Roger and all the guys had a talk at the beginning of the year with MX Sports and just the whole community about how we need to let our tracks get rougher and they've been rough this year, that's for sure. This one was probably compared close to Hangtown just how choppy. It was pretty nasty. I guess I was happy with the performance. I think considering everything the bike worked good in the condition. I was happy with the way I rode. I can always be better.
The season as a whole: you got your number 1 plate back that you lost last year. You got it back. You're going to wear the number 1 again. What was the best race of the year for you, what do you think? We got one to go so maybe that's the one, but best race of the year for you?
This week was pretty good. We had a pretty good battle. I would say two races, probably Unadilla. The second moto at Unadilla was good, obviously with Kenny and I pushing each other pretty good there. Another one that really kind of stuck out was the second moto at Millville, or just the whole day in general. I was really pumped on the day. Not just because it was the hometown track or the win, I was really pumped on the track and just the whole day and how it went.
And you hadn't won there for a couple years, which was super weird.
Yeah, well a couple mistakes kept me off the podium and actually one year my chain derailed and I was able to get it back on, which I don't know. That was a crazy deal, but a couple mistakes kept me off of the podium. I knew that coming into it so I was like, look, just be smart, no mistakes, get good starts and go. But that was good. It worked out to get another win there because I think I spent too many laps on that track not to win.
Looking forward to here, what about Indiana? Obviously the mud kind of ruined it last year but the place looks epic if it stays good, if the rain stays away.
Oh absolutely. Obviously I've seen pictures and I've heard great things about it. It was looking really good last year until Friday night the rain came, but it is what it is. We actually had a KTM dealer show there this year with the new bike lines and everything and I was all excited to ride the track and here the rain came in and it flooded. We actually did ride in the mud, but I have yet to ride the track while it's dry. The place looks amazing. Just the track in general, the elevation, everything a professional track would want for good racing, and for a rider too.
Jim Holly: Great win. I got a chance to talk to you a little bit and watch you. I got tired of sitting on the couch and watching MAVTV and I wanted to come. You don't get everything on the TV behind the scenes but that one section when you passed the mechanics area and kind of dropped down into that gully and a lot of guys were jumping out of it, I noticed that you weren't doing that but it seemed like you weren't losing that much time there.
It's funny you say that because even in practice a couple times I kind of came up to the thing – it was starting to get really rough and obviously the bikes are dancing a little bit. Then you try to drop in and try to scrub speed. Well, one time I went into the thing pretty hard and I bottomed out off the jump and then I launched it and cased it. I'm like, geez, that wasn't nice. A lot of guys were doing that, they were launching off the thing. And I saw Jeremy Martin in practice and he came away with the fastest time, and I was watching it. I think it's deceiving because it looks like guys are going faster in the beginning but they're landing and then they bounce and have to get back to the ground to gain all that speed back, whereas it looked like to me, not playing it safe but yes, kind of playing it safe. To me I felt more comfortable just kind of getting on the backside and driving down it. That way I could hit that next double with speed, and I kind of felt like I had gained right back to what I lost. So it seemed like it averaged out. Jeremy had the fastest lap in practice not doing that, and so did I. So it didn't seem like it was much faster. It looked cool.
We started the speculation right after the race, Ryan Dungey, 250F, helping out his buddy Marvin. What do you think?
Oh yeah, you didn't hear?
No, I missed the press release. You're doing it! That would be cool, but it's pretty tough to do. Any thoughts? Did Roger joke with you or anything?
Yeah, I came back from the press conference this weekend and they're like, got the 250, you're riding with him. And I'm like, what the heck? And everybody's saying it's all over Twitter. It would be fun but I just… I think Marvin can get the… It's not going to be a deciding factor. I haven't ridden a 250F in a while and it's a lot less torque. It would be fun though. I thought about it because Ricky did it back in the day. I was like, that'd be kind of cool to drop down. But it's a little different these days too.
It's a little different getting a bike ready and everything else, but Ricky was also doing it for the all-time record too. He was doing it to help his buddy Brownie but also he was the all-time 125 national winner, so it was a little more incentive for him to do it.
I think I've got seven 250 wins.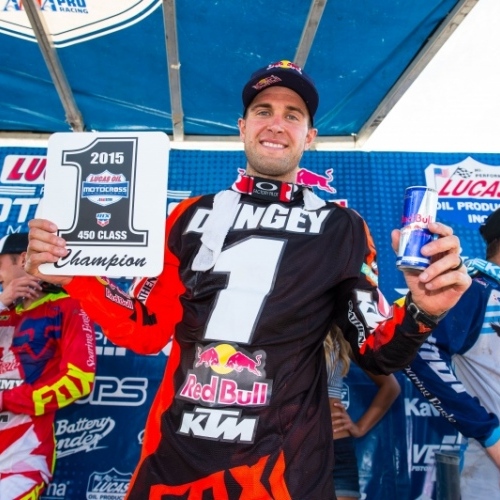 Career title number seven for the Minnesotan.
That series is going to be exciting though, two points apart for Marvin and Martin. I guess you're torn, obviously Jeremy Martin, Minnesota dude, and Marvin, nicest guy ever plus he's your teammate. You're just like, good luck, guys!
Absolutely. It's definitely interesting. Any time it comes down to basically the tide. Anybody who wins and takes it this weekend, and obviously only two points separate the guys. But I think both respectable guys. Obviously Jeremy's a hard-working guy, so is Marvin. I do spend more time with Marvin now. In the past I spent more time with Jeremy, so I kind of got to see what kind of people they both are. Whichever guy wins it's going to be deserved. Two guys going at it, couldn't ask for two better guys to race each other, who are going to race each other clean and respectfully. You know that if it comes down to those two it's going to be everything they have and clean, good racing. I think it's definitely exciting. I guess to be in that position would be maybe a little stressful. But definitely Marvin, he's been pretty solid lately at the practice tracks and on weekends.
He said it was basically a victory for him. He lost the overall but he doesn't like the track. It's not his favorite place. To come away tied with Jeremy he was pumped. Marvin's like, yeah, I'm good.
I sit here and think about it too and may the better man win. I look at both guys and they're both probably going to be really good at this track, if the conditions are dry. Whatever it's going to be. It's interesting.
Talk about your teammate Marvin, you're going to have to deal with him next year on the 450 not only in the Supercross but the outdoor nationals. What are your thoughts?
Absolutely. He's a solid teammate. I think we'll definitely be competing against each other next year and we ride together during the weeks. Obviously he's on Aldon's program as well as I am here at the Baker's factory, so definitely going to be spending a lot of time together. We'll be pushing each other week in and week out. I don't doubt he's definitely going to be a top title contender. It's his first year as a pro. There's a little bit to learn but it's racing. He's a solid racer and I think he's been proving that this year. He's a good teammate to have as well because he's a respectable guy. He's not out there, he's not flashy, and he's not looking to start drama. I think when it comes time, yeah, there's going to be respect between us in the pits, in the semi, and everything like that. On the track you know you can race the guy clean and obviously we're going to go after our positions and stuff like that.
Matthes: Poor Marvin. Cooper's been yelling at him I guess on the starting line. Marvin's the nicest guy ever and he can't really understand why Cooper's yelling and he's just like, why is this guy yelling at me?
Holly: That brings up a point that I wanted to ask you. I heard about all that and that's something you had to deal with Jason Lawrence, you guys were battling for the championship back in the day.
One, it's like what's the guy doing wasting his time messing with him. There are a couple things. Marvin's in the championship hunt. No disrespect between any of the guys. Cooper's got some speed and I'm sure if he came in healthy he'd be the third guy in the title contender, but he's got to be careful too. You let these guys go at it for this championship and he's helping Jeremy out which is teammate strategy. That's what any team would do. But at the same time, I did, I dealt with that. I was like, whatever. This guy's just wasting his time. That didn't mess with me, but back in those days I was in my own head.
In the Racer X interview you said you'd like to be the ambassador of the sport. Can you elaborate a little bit on that?
Absolutely. I definitely feel like being in this position now like I was in 2010 I definitely didn't capitalize on it like I should. The mentality definitely wasn't there. I was young, definitely had to learn a lot. I think now moving forward I realize how important it is to fulfill all the obligations and whether it's the media side of things, the fans, doing the interviews, taking the time to do the things that maybe aren't so convenient at the time and doing that. I think these days with social media getting bigger, trying to do bigger things for the sport, but also for the kids coming up too. You have a lot of kids growing up, young kids that look up to us. You set a good example and encourage those kids as well and being a positive role model for them. Try to do great things outside the sport too and capitalize on those opportunities and try to make things better too. Being young I didn't really realize the leadership role that I could play, and now being able to be in this position again I think there's a lot of influence you can have on people and things you can take and be good or bad and people can take that. I'm just trying to be a good ambassador for the sport.
How'd it feel for you to win an award like the Espy award? That's totally outside the box of the sport of motocross and supercross to have the national media and national public be aware of who you are. How surreal is that for a dude like you? I've known you a long time. I was there the first time you went to your pro race. Just seeing you as a kid now growing into this man and just seeing all your achievements and then winning an Espy is like, oh my god, dude won an Espy award. That's pretty heavy.
I was super amazed. Obviously it's a tough feat because going into it, in 2010 I had a chance but we didn't win obviously, and no motocross racer has won it. So I was like, this is going to be tough. But when I got the call like you've been nominated I was like, all right, here's our chance again. It was kind of cool because my sponsors got behind me. They really spread the word. I had a lot of people supporting. We tried to really push it in areas and obviously it was based on the fans. There's a couple things too, when I first found out obviously we couldn't go, we had other obligations, but when we found out, I walked through the door, I got the text. I was actually with my family in Minnesota. It was right before Millville. We were jumping up and down and screaming. If you could have had us on video you would have been like, wow. It was such an amazing moment. I think one, it was kind of a long shot too, but also as well I think it really goes to show to be in that mainstream media and getting that recognition for the sport, not just for me but for the sport of motocross too, I really think it shows a lot. I think it shows a lot for our sport and how it's growing. I think it's pretty cool because when I came on in 2007 the sport has definitely took it to new levels with our TV packages, our races being live. I think from all the sacrifices and commitments everybody's made on everybody's part, I don't like to look at I won that award because ultimately it was the work of everybody in the motocross community that got us to there. So I think it shows a lot for our sport and I think there's a lot of good things to come too.