Off of surgery and out four weeks, but will still make Anaheim 1.
Off of surgery and out four weeks, but will still make Anaheim 1.
Photos: Simon Cudby and Courtesy of Ray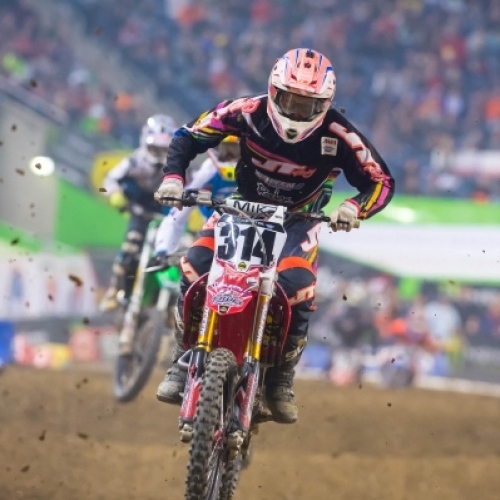 Ray qualified for his first supercross at Detroit.
If you follow privateer Alex Ray on social media you have seen his scary crash while he was practicing for the upcoming Monster Energy Supercross season. Through a rhythm section he took off of a jump and the bike nose-dives, which sent Ray over the handlebars.
"I broke three gears in my transmission and when that locked up it stretched my chain and that broke in three places," Ray said. "It was a freak deal."
After having twelve surgeries in his four-year professional career, Alex Ray just added number thirteen to that list by getting two pins in his hand. However, the great news is that Ray will be on the gate for Anaheim 1 in January.
Ray is going to focus on cardio work in the four weeks that he will have to sit out, which is not an easy task since he's had surgeries on both of his knees in the past. He'll do whatever it takes to get back on his preparation schedule.
"I've overcome a lot of things and I'm very confident I can get over this," Ray said.
A week after his recent hand injury, Ray was scheduled to fly over to Germany and race the ADAC German Supercross series for Honda.
"It was a good opportunity," Ray admits. "I had never been over to Europe to race, but hopefully next year I'll have the same opportunity to do that."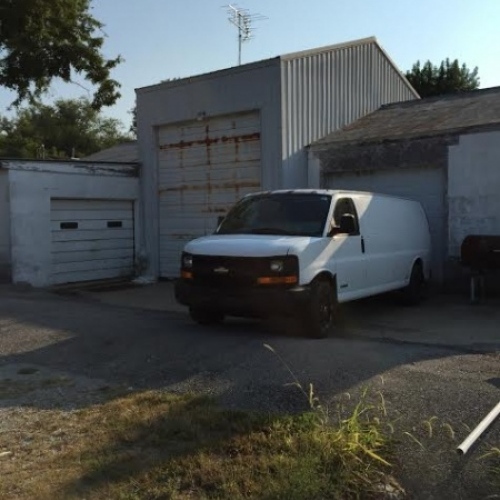 The race rig for 2016. Almost 300,000 miles strong.
Coming off of his best season in which he made three main events in 450SX, Alex has high hopes that he can eventually qualify in the top fifteen as well as do some damage in the main events.
"I'm going to let it come to me," Ray said. "I'm not going to force anything and I'm just going to have fun on my dirt bike."
Ray knows that he is very lucky to wake up everyday and ride dirt bikes. It's still fun for him even through all of the injuries and setbacks that he's had recently. The time off of the bike has helped him appreciate his lifestyle and made him want it more.
"It's a blessing," Ray said. I get up everyday wanting to ride my dirt bike and train."
Ray's career has been a learning process in which he's had to adjust his riding style and he feels that now it's starting to come together for him.
"My first couple years of supercross I was wild," Ray said. "I'm talking about bouncing off of tough blocks and everything."
Around the beginning of March of this year, Ray was picked up to race the rest of supercross and outdoors with the K1 Speed/BWR Engines team. Ray said that he loved the bike and the team was great.
However for the 2016 season Ray has decided to do his own program once again. He's going to load up his trusty van and drive across the country. He has help from many long-term sponsors.
"I hope it makes it, that (van) has almost 300,000 miles on it," Ray said. "I'm surprised it still has wheels on it."
Also new for 2016 is Ray's focus on the branding of himself. He wants to show sponsors that while he does have fun he can still take his job very seriously. Ray would like to take a page out of fellow privateer Adam Enticknap's book.
"I look up to him because he's the coolest and the loudest dude," Ray admits. "He just wants to be heard and that's what it takes."
At this point Ray is unsure how he is going to afford each round this season, but he is planning on being at each one regardless. The 2015 supercross series was his best yet and moving forward he hopes to be a staple in the main events each weekend. He's doing it on his own program on his own terms, where he is most comfortable.
Alex would like to thank: AXO, Arai Helmets, Sidi, Noleen J6, No Toil, Tom Miller Motorsports, Yoshimura, Mika Metals, Asterisk Knee Braces, Evans Coolant, Jon and Patti Fishing and Racing, Spider Energy, Oakley, Rekluse, Dubya, Works Connection, Pirelli, Motoseat, Milan Pawn Shop, Privateer Racing League, Vertex, Hotcams, SSI Decals, and Bob's House of Honda.
Ray's Instagram/Twitter: @aray314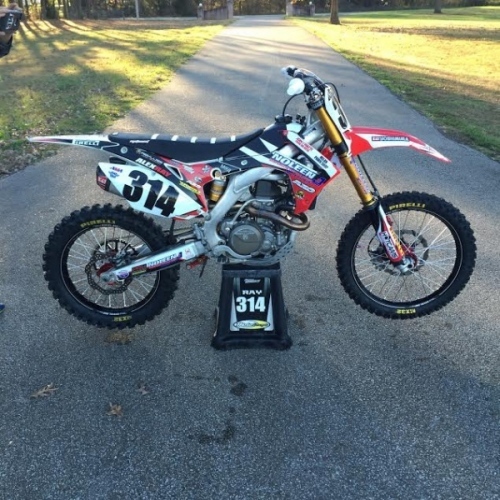 Ray's 2016 steed.
Thanks for checking out my column this week. If you have any thoughts, story ideas, or simply need a friend email me at Troy@pulpmx.com
Instagram/Twitter: @troybendgen