Can Weston Peick win a race in 2016?

Can Weston Peick win a race in 2016?
Photos By: James Lissimore
That is a question I never thought I would ask with a straight face. In fact, had you asked me that four or five years ago, I would have laughed you right out of the building. That concept was so far removed from reality most would not even entertain the thought. Today, though, as we sit less than two months from Anaheim, it doesn't seem so far-fetched.
Back in 2010, Weston was a rookie in supercross. Always a heavier guy, he went straight to the 450 class which means he was going to face the best of the best in his first year. This had to be a tough proposition as most rookies would enter the 250 class and lesser competition therein. He would stand a better chance of building momentum and confidence with the less experienced 250 riders. It's how the system is setup; let the younger riders work their way up and prepare for the highly skilled professionals in the 450 ranks. Skipping that step made for a tough learning curve. His 2010 season was one of mostly spectating by the time the main events rolled around. As the seasons passed, though, he steadily progressed. He became more proficient in his weak areas and began to get better equipment. He transitioned from the rare qualifier to a main event mainstay.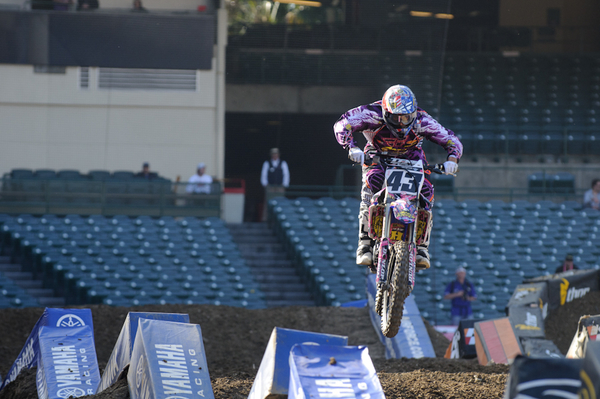 "2010" Weston is a far cry from the Weston of late.
His 2014 season saw a big jump in the results as he pushed further and further inside the top ten. His results were improving and people were taking notice. That summer would see him join the Soaring Eagle RCH Suzuki team for the Lucas Oil Pro Motocross Championship, securing him a good salary and allowing him to focus entirely on racing. His good finishes that summer led to a full season offer with JGR Yamaha for the 2015 season and his first chance at an off-season with a full team effort behind him. Hopes were high for everyone involved and in typical Weston fashion, he delivered.
In only Weston's second race with the new team, he battled with Ryan Dungey for seventeen laps. He was thisclose to landing his first supercross podium and if it wasn't for a mistake, may have done it right there in Phoenix. Not only did he lose the position to Dungey, he also hurt his foot in the process, costing him the next few rounds of racing. He would return in Atlanta and although out of shape from the time off, jumped out to the early lead. He passed Chad Reed on lap one and fought off Dungey and co. for 6 laps before finally succumbing to the high pace. He would work backwards before tangling with Jason Anderson and ending his night early but the point was made… he had the speed to run up front.
As the weekends continued, Weston regained his fitness and became more comfortable with the lead pace. Just as an NFL quarterback would tell you, the game slows down as time passes and things become more manageable. Weston earned a sense of belonging and tore down the previous perceptions that other riders held. Any of the elite riders would have gone into a ballistic level of aggression had Weston held them up a few years ago. Now, though, he was accepted as one of the elite and it was business as usual for Weston to be in the mix. That is half the battle when it comes to this level of racing. Acceptance by the highest level of peer is always earned and never given. He continued his upward march by scoring a podium at both Santa Clara and Las Vegas, marking two out of the last three rounds of the series. If there was any doubt about Weston's validation before, he certainly erased that on the home stretch.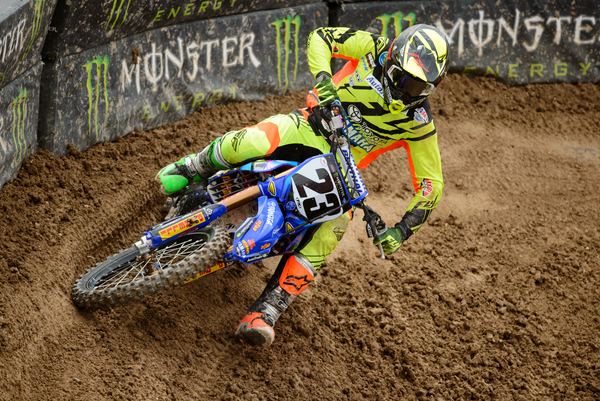 Weston now looks more like a svelte racer than linebacker… barely.
Summer came and went and Weston did what Weston does. He battled hard for top five finishes and showed brilliant speed on more than one occasion. Now, we sit in November, closing in on the 2016 season. Weston is coming off of multiple wins this off-season, including the most prestigious European supercross, Bercy-Lille. He has proven time and time again that he is ready and willing to fend off any challenge from all comers. He simply doesn't fear anyone or anything when it comes to his chosen profession. His lack of intimidation is rare and a vital tool that he wields en masse. Harnessing that will be crucial to his success as he becomes more and more relevant in championship conversations.
In my opinion, the biggest key to his chances of winning will be improving his fitness. As he breaks down barriers with the pace he is able to attain, he must also reach a fitness level to match that. That was one of the factors holding him back last year when he was leading on occasion. The new pace is such a high intensity that he isn't able to maintain it for 20 laps… yet. As he becomes more comfortable at the front, he will be able to lower his heart rate a touch and is a Godsend when pushing the 190 mark per minute. His ability to adapt to the new pace and also achieve the matching cardiovascular demands will dictate when and if he can win.
Weston's rise has been a surprising one to me. I can vividly remember passing him so easily in the supercross races of 2010. He just didn't possess the skill set to go fast on a supercross track. Boy, have things changed. He never stopped believing and never doubted himself. His work ethic is evident by his steady improvement. Riders don't magically get faster. It takes years of work to rise up through the supercross peloton and for Weston it was no different. He moved up through the ranks and is now swimming in the deep end with the fiercest of sharks. Not too long ago, I would have thought you a fool if you told me Weston Peick would soon win an American supercross race. I assume I was not in the minority on that thought. That narrative is changing, though, and no one knows that better than Weston.