A view from the rider's perspective.
A view from the rider's perspective.
Photos: Simon Cudby
In order to bring you the most insight we can and to get to know riders more, we've come up with a new segment called "Setting the Record Straight". In this column we'll ask a certain rider to give us their perspective on topics. We want them to feel comfortable and say what they have to say. This is an attempt to show a rider's personality in a better light and will get rid of the robotic commonplace we have been witnessing in our sport. Up first we have 250SX East Region contender and ADAC German Supercross star Jace Owen.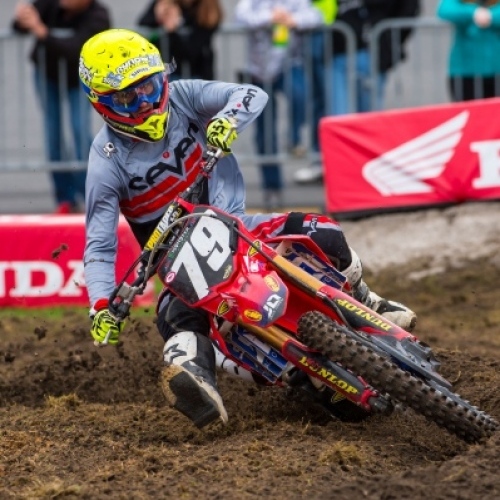 Owen will contend the 250SX East Coast on his own deal once again.
What is your take on…
Pulp MX: 2016
Owen: I plan on doing the 250SX East Region again. Right now I don't have anything and I'm just doing my own thing. It's tough, the sport is brutal, and right now I'm trying to get some sponsors lined up. It's crunch time to get things figured out. It's starting to fall into place I guess. It's a little bit each day. I'm shooting for the top ten every weekend.
Racing in Germany
I think racing in Germany opens the doors up for me a little bit. It may be for a ride overseas, or maybe even some outdoor racing in Germany. It may even open something up for me to race a GP or something. It's still early on whether or not I'll do that.
I think for me that it's good just to get the racing experience. To be able to go over there and be on the gate is huge for me. I need as many gate drops as I can get to learn as much as I can.
Social Media
When I turned 21 I put it on social media. It was me doing a burnout with a little beer action. The sport is really political. All of the riders have fun and they might not post it on social media. Maybe they don't need to do that. Right now, I don't have a ride. I don't have a big sponsor telling me what I can and can't do. I want to show people that I can still do well and have some fun too. I train as hard as the top guys. I put in the work, but I started racing just like everyone else, because it's fun. I put everything I have into this sport and I have fun along the way.
At the end of the day we are pro athletes. What does it hurt to show that you have a little fun? I don't think it hurts anything. I'm really not some wild kid that parties. I just wanted to post something different for my birthday. I got a lot of followers for that. It was my 21st birthday you know? It's not like I'm posting that stuff every single day.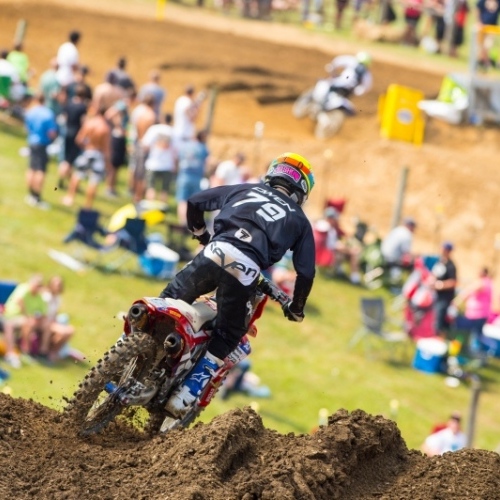 "I'm really not some wild kid that parties."
Privateer Life
You can be a top ten guy in the 250 class in supercross and you're still paying your way. You're buying your bikes and paying your own way to the races. You're risking your life to go make 500 dollars. I don't know what the payout is for last place in a main event, but I know it's not that good.
Every year it's getting harder to get a ride. More guys are coming up and there are less and less rides. A few teams pop up here and there and then fade away. There are five solid factory teams. I feel like if you can get on one of those it takes you to that next level. I'm only 21 and I'm still young. There are guys in this sport who have lost rides and earned rides. If you can get on one of those teams it immediately takes you to that next level. It's pretty cool to see Jimmy Decotis get the opportunity again. I can't wait to see what he can do with it. I'm still pushing and striving to accomplish my goals and I want to be better than I was last year. You have to start breaking into the top five and beat the guys that have rides to take one away from them.
2015 and Earning #59
Yeah, 2015 was good for me. Supercross started off rough and maybe that hurt me a little bit. The first round I didn't even make the main and I finished 19th a couple of times. There were definitely some races where I questioned what I was doing out there. I went straight to the top ten after that. In the last four races I was in the top ten.
I only did four outdoor races. Trying to drive to the outdoors is so expensive and isn't really reasonable because of how far away they are. If you want to do them all you have to drive East Coast to West Coast, so I just did the races by me. The last race at Crawfordsville went the best for me. I finished 13th in the second moto. That felt great. I feel like in the results that I improved a lot. Some of my results on paper weren't too good, but I had some bike troubles that caused me not to finish. It's the ups and downs of racing that comes with being a privateer.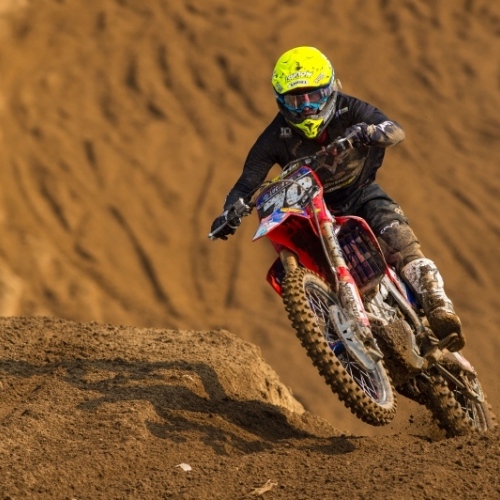 Owen ran up front at RedBud before losing his rear brake.
RedBud
In the first moto at RedBud I pulled a second place start. I actually ran up there for a couple of laps. My rear brake went out on the second lap and I ended up falling. I finally had an awesome start and I saw what it took to run up front. I got to see the speed of the top guys. It's hard to charge without a rear brake. You can really only do so much without it.
Being Overlooked
There are a few guys who have gotten rides this year and I don't know why they would get it over me. Some of them have a higher number than I do and even had better support last year than I did. I'm still getting better results than them and then they land something else again. I don't know. I'm just going to keep pushing. I'm going to land myself a ride.
I feel like you get your ride based on supercross more than outdoors. The focus is on supercross and spectator-wise they blow it up a bit more. Hopefully I'll get some awesome results this year and I'll see where it takes me.
I don't know what it's going to take to not get overlooked. I had everything going for me. I won championships as an amateur and beat a lot of guys. I just don't get it. If you get on one of those elite teams your results automatically go through the roof. It's a confidence thing and your bikes are so much better. You have all the time to test and a solid foundation behind you. You can just see it. I remember as an amateur when I first got my Suzuki ride it was automatic. It's just something that comes with it.
Racing the 450/ Germany
The 450 class is so stacked. I don't want to jump up to the 450 yet because I'm still pretty young. I still feel like I have a few years in the 250 class to try and prove a point. I know that just making the main event in the 450 class pays a lot more money, but I don't think I'm ready for that yet. I'm small and light, so the 250 fits me pretty well. It's easier to have a 250 in supercross that can be competitive than in the outdoors. The tracks get deep and loamy and it's hard as a privateer to run with the factory bikes. With more bottom end and torque I feel that in supercross it's easier to have a comparable bike.
I ride for a Suzuki team over in Germany in the 450 class. The money is definitely a lot better in that class. This was my second full year going over there to race. I like riding the 450. I like the power and it suits my riding style. I won a race right before I came back. I was the King of Chemnitz in two nights of racing. That was pretty cool. I got the feeling of winning back and that revamped me a little bit. I still have what it takes and I can get after it.
The competition was pretty good. We had some riders from the United States come over like Austin Politelli, Ben Lamay, Kyle Chisholm, and Nick Wey. It's good to race with the top French guys as well. Over there we can't speak German, so we just have our own little group. We all kind of just click and hang out on the weekends. Every year the series gets bigger and it's a good warm-up for supercross.
Amateur Racing
The competition coming up is not what it used to be. I remember coming up racing in the Supermini class and there were ten kids that ripped. They had all of the support and free bikes and now you don't see much of that. Even in the big bike classes there are a couple. When I was in the B and A classes there was five or six of us that could win. Now it's the same two guys who win. They are pretty far ahead of everyone too. Maybe it will get better here in a year or two, but who knows. Sometimes kids get way better in a year.
Back in the day there were so many more rides available. You had the smaller teams that were supported by big sponsors and they were still pretty decent rides. Those teams still do exist, but there just aren't as many. I don't want to commit to something like that. I can do my deal and still have a pretty good bike. It can happen.
I really put a lot of pressure on myself when I first turned professional. I thought I really needed to make something to happen. When you put that type of pressure on yourself it doesn't help. It doesn't help your results either.
Owen Motorsports
My dad owns a dealership, but I still pay for my bike. I'm older now so I have to fork out some money! I do get help from some great sponsors. Everything is still so expensive. Eventually when my racing days are over I plan on helping out my dad at the dealership. I did work there after the outdoor season ended and I learned the business. I was working the 8-5 job for a little while. I have a lot more fun racing my dirt bike than punching in the clock. However, working with my dad and taking over the business wouldn't be such a bad gig.
Racing is what I love. It's my favorite thing to do. Hopefully I can land something to where I can turn this into a career where I'm making money. I want to get back up to be a top guy. I'll do whatever it takes for sure.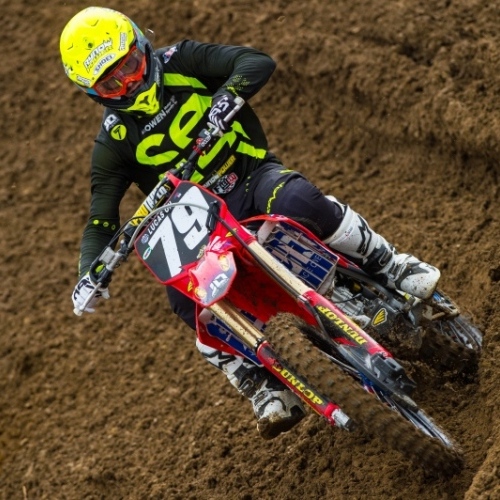 "Racing is what I love. It's my favorite thing to do."
Thank you for checking out my columns each week. I apprecriate hearing your thoughts and I'm open for discussion on all types of topics. You can reach me at troy@pulpmx.com. I respond to every email.