Thanks for the memories NYK.
Thanks for the memories NYK.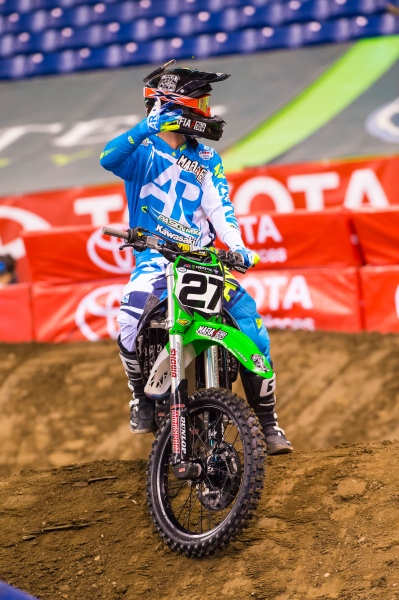 Setup always on point.
Photos: Simon Cudby
I know this storyline is becoming cliché by now, but I have to talk about Nick Wey this week, just like everyone else. You see, when I was eight years of age Nick was turning professional. I was into basketball instead of dirt bikes and I really didn't pay much attention to the sport at that time. When I did get involved in the sport I was around 12 and this was when Nick had started to really brand himself in the motocross community. He was the hard charging privateer from the little Moto XXX outlet that could.
I didn't really pay that much attention to Nick until the end of the Pro Motocross Nationals in 2004. The news of Ricky Carmichael going to the Suzuki team was huge at the time. I remember the silly season talk of who was going to stick around Suzuki with RC for the 2005 season and Wey's name wasn't being mentioned. I was upset that the team would let a hard charger like Nick slip through the cracks.
On the eve of the 2005 supercross season I was getting ready for my first full real assault of local motocross racing. I had gotten faster and I was smitten with all of the new gear options for the new season. It was something I hadn't cared about before. My buddy at the time (and future best man) Andy Miller and I had a conversation about what gear we were going to get. We settled on MSR. Wey was blowing up all of the magazines with two-page print advertisements and he had a huge impact in our area. That season Wey singlehandedly had the majority of District 11 motocross in MSR gear. He was killing it indoors and out on his MDK supported Honda, with white plastic. It looked so good. We wanted to look cool like Nick.
From there I really enjoyed reading Nick's interviews. His personality made everything he said come off as funny. I would tune into DMXS Radio every night if he were going to be on the show. Sometimes the shows had me in tears because his stories had me laughing so hard.
Wey had that underdog story about him. Here he was on this privateer bike and he would make the podium and be in the top five. As time went on I became more of a fan. He finished third behind RC and James Stewart on a couple of occasions with less support.
In 2008 I went to the RedBud national and at some point made it over to Nick's pit. I went up and I asked him if he would sign my hat "Trick Nicky 27" and his reply was, "No doubt." Like a nerd I waited around and waited to talk to him more. I asked him how the track was and he treated me like I was his team manager. He was talking about certain lines, Larocco's Leap, and how good it was to be home. I was 17 years of age, a super fan, and he made my day.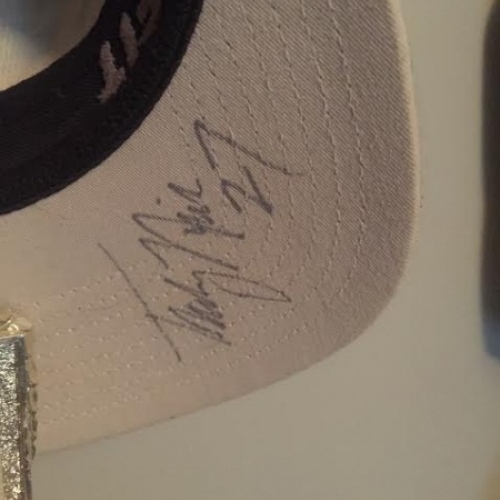 The hat still resides in my trophy room.
A few weeks later my parents and I drove eleven hours to Unadilla. While walking through the pits I spotted Nick checking out an old school two-stroke. He was just scoping the bad boy out. I approached him and nervously thanked him for signing my hat a few weeks back. His reply, "How's the Brawndo?" The team Solitaire folks had been passing out energy drinks and I had grabbed one on the way out, but wasn't drinking it. It was just off the wall stuff that made Nick hilarious to me. He was someone our family always watched for.
This past season at Indianapolis I met up with Matthes, who had just hired me on to write for this site. I tried to keep up with Matthes as he handed out tearoffs and goggles. At some point we stopped by Nick's Mafia rig and Matthes introduces us. Nick shook my hand and asked me what it felt like to be the rookie. We talked a little bit in between him taking pictures and signing autographs. His line impressed me the most. Here we are in 2015 and you can really see the impact that Nick Wey has had in the sport. His line was just about as long as Ryan Dungey's or Chad Reed's. He let me hang out under his awning for a half hour while Matthes ventured over to talk to the Monster Kawasaki team. It was very cool to me. I was just allowed to be in the tent and Nick treated me like I was a member of the crew. That doesn't happen in this sport today.
From what I've seen Nick's a genuine human being that marketed himself to the fullest. He had a successful career and I've enjoyed watching it growing up. He's had factory rides and been the privateer. Through it all he's been himself and never let the fame go to his head.
In closing I just want to say thank you to Nick for being kind to me through the years. We've only had a few conversations, he doesn't even know me, and yet he's always made it feel like we were old friends. It's a testament to the human being he is. We'll miss you on the track Nick and good luck in your next ventures. You're a true hero to the motocross community.
Thanks for giving the fans someone to cheer for through the years Nick.
Thanks for reading. If you have a favorite Nick Wey story you can share it in the comments or email me at Troy@pulpmx.com. If I have enough of them I'll post them in a column.