After tough weekend at A2, YP.com Nuclear Blast KTM enjoys best results of 2016 in Oakland
After tough weekend at A2, YP.com Nuclear Blast KTM enjoys best results of 2016 in Oakland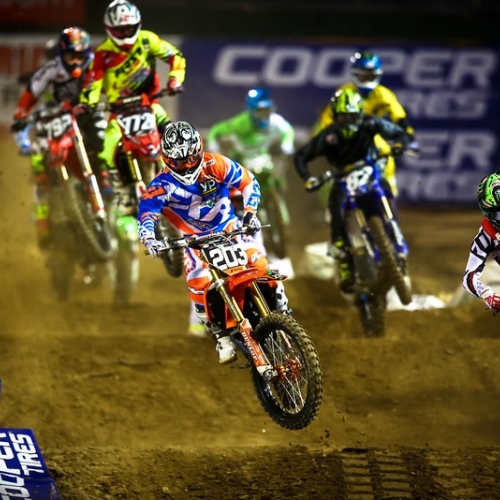 Commans won the LCQ and finished 15th in the main event.
(Photos: Browndog Wilson)
The 2016 Monster Energy Supercross series made its first of two trips up to Northern California this past weekend. The YP.com Nuclear Blast KTM team looked to bounce back from a rough round the previous weekend in Anaheim.
With a revised schedule that saw no free practice and only two sessions, both riders had to go to work the second the green flag waved and they did exactly that. After missing the main event for the first time in his young career, the YP.com Nuclear Blast KTM rider came out flying in the B session fighting for top spot on the board all day and would eventually settle for the 20th fastest overall time. Cole Thompson who was shaking out a shoulder injury finished up the day program with the 17th spot in qualifying.
As the sun went down and 46,949 fans packed into O.co Coliseum, Cole Thompson and Zac Commans geared up, jumped on their YP.com Nuclear Blast KTMs and went racing LIVE on Fox Sports 1.
Commans was first up in heat one. A bad start would leave the rookie on the outside of a transfer spot early and after making a run on 9th; a handful of mistakes on the last lap would leave him to ride the LCQ.
After crashing in qualifying and struggling to even make it a lap last week in Anaheim, Cole Thompson lined up for his heat race still pretty banged up. But you wouldn't have known it because Thompson shot out of the gate and just missed out on the official holeshot by half a wheel. Running up towards the front, Thompson would go to battle with Cooper Webb right away, Webb eventually made the pass and Thompson finished 4th in the heat to pumch his ticket straight to the main.
With Cole qualified for the main event, it was up to Zac Commans to rip a start in the LCQ to get his chance at joining his teammate in the main and did he ever! Rocketing out of the gate and going directly into the lead, Commans lead start to finish and took his first career LCQ win and qualified for his second career main event start.
It was a crazy main event with more crashes and bike malfunctions than one could count but the YP.com Nuclear Blast KTM rode to solid finishes and more important improved season bests for both riders. Zac Commans gutted out a solid effort to grabs his first ever career top 15 and Cole Thompson worked his way up to 10th place by the time the checkers flew.
Cole Thompson moved to 14th in the season standings and Zac Commans sits just outside the top 20 in 23rd.
The series will now leave the state of California for the first time in 2016 when the YP.com Nuclear Blast KTM team rolls into Phoenix this Saturday to go racing live on FOX Sports 2. The pre-race show on FS1 will begin at 6:30pm PT / 9:30pm ET, followed by live coverage of the race at 7pm PT / 10pm ET.
Make sure you stop by the Slaton Racing pits to meet Zac Commans (Instagram/Twitter: @zaccommans), Cole Thompson (Instagram/Twitter: colethompson16), and rest of the YP.com Nuclear Blast KTM team all season long!
For more information on Slaton Racing and its sponsors, follow us on Instagram, Twitter (@slatonracing), and Slaton Racing on Facebook.
2016 Sponsors:
YP.com, Nuclear Blast Records, ESP Guitars, Slaton Racing, KTM, FXR Racing, FMF, Factory Connection, Justified Cultures, Dunlop Tires, Mastel Linens, DC Shoes, Rekluse, Motographix, Xtring, SKF, InnTeck, DID, Dubya, Acerbis, Renthal, Motorex, Works Connection, Matrix Concepts, TM Designworks, VP Racing Fuels, Motool, D!rty Motosports, Guts Racing