Looking in the crystal ball with Forkner's potential.
Looking in the crystal ball with Forkner's potential.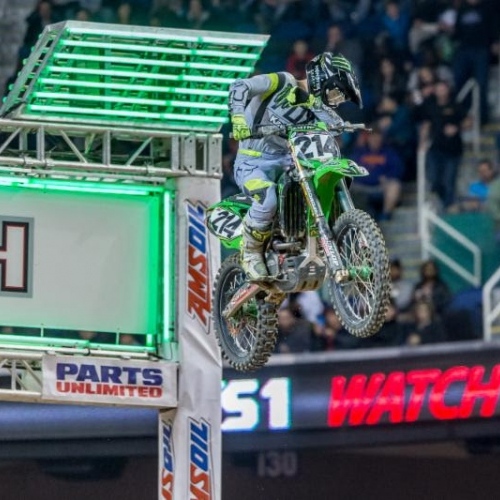 Life is good for Forkner right now.
I've been following Amsoil Arenacross very closely this season. I've kind of "had" to as I was covering it for Racer X and I've also given it some love in my column here. However, I've got something I need to get off of my chest. I'm more into arenacross racing right now than I am supercross. "Cue shocking music"
I want to take some time this week to talk about this new Austin Forkner sensation. We don't give a lot of love to amateurs on this site, but I'm going to be the exception this week. I want to figure out how good this cat actually is.
In my work with the vurb crew over the years I've been trained to watch a lot of amateur racing. I don't exactly stay glued to it anymore, but I know who is doing well, and I have a good sense of who I think is going to make to the pro side of things. I have an eye for who has the talent regardless if they win a million Loretta's titles or not. I should be a factory scout I tell ya.
Forkner first came onto my radar in 2010 after he dominated the 85cc 9-11 classes at Loretta Lynn's. I guess I'm a bandwagon jumper because I didn't know who he was before this. However, I was thoroughly impressed with this kid at the time. In 2010 he was on a Suzuki that wasn't exactly the cleanest ride in the pits. He took the bike to six podium finishes on the week. He had arrived on the amateur scene, although he had been going to the ranch since 2006 in the 50cc classes. It's weird how these stories play out sometimes.
The next thing I know he's dominating the Monster Energy Cup in the Supermini and All-Star classes. I think this is where his career really took off. He became the face of the future by absolutely destroying the competition at this event.
I brought up the arenacross series earlier because Forkner has just done something that no one has been able to do. He swept the AX class two weekends ago at the Greensboro round. He became the first amateur on the Road to Supercross to do it. With the way arenacross racing is set up these days, do you understand how ridiculously hard it is to win both motos? All it takes is one mistake and you're finishing last in the main event. He even won his heat race.
The talent in arenacross is very deep. Forkner held off hard challenges from veteran Chris Blose and then beat EVERYBODY else in the field. The kid is now ready for the next challenge in his life, which will be the Lucas Oil Pro Motocross Nationals this summer. He is scheduled to make his debut in May at Hangtown.
What is this kid's ceiling? I'm going to call it right now that Forkner is the real deal. He's the sport's next superstar and he will be a threat right off of the bat for podiums and wins. I personally don't think he's a long shot for the title. The only thing I'm questioning is his consistency in the pro ranks. I'm not sure how he will stack up in that regard, but everything else I'm on board with. He will be the savior for Mitch Payton and Pro Circuit over the next several years. I'm just putting this out there now so I can look this up years from now and tell everyone I told them so.
However, with the injury to Adam Cianciarulo does Forkner get the call to race supercross on the East Coast? It could happen. He has all of his points and he's ready to go. If he does end up going to supercross he could be on that rare level to win his first main event. Seriously. Unfortunately we will all have to wait until the summer to see his talent. Forkner dispensed the rumors of him racing SX on his Instagram a few days ago. He hasn't been riding supercross and doesn't feel comfortable jumping into the pool just yet. He's sticking to the original plan. It looks like Forkner is smart too.
On a side note: Is the Road to Supercross really working? I bring this question up because I've heard from a lot of riders, who shall remained unnamed, that they aren't exactly sold on the idea. Had Forkner not raced arenacross would he not be ready to race supercross in 2017 or possibly this season? Of course not, a rider of his caliber is going to win and do well no matter where they line up on the gate. I'm not going to bag on the process because it may be working for some riders. However, you can't tell me that arenacross obstacles are the same as a supercross event. Each discipline brings an entirely different flavor to a rider. I personally like seeing the up and comers at the arenacross events. It adds a lot of talent and the more talent the better in my eyes.
Keep an eye on Austin this whenever he lines up. I really do think he could pull the title off in his first season. It's a rarity that amateur motocross produces this type of rider anymore. All of the riders from the "Golden Era" have now upped the sport to the next level and it takes a heavy learning curve to make a name for yourself in the field. I have a good feeling that Forkner can help take the sport to the next level in the future.
Thanks for reading! If you'd like to chat about amateur racing, arenacross, supercross, or anything else you can reach me at Troy@pulpmx.com.