Roczen, Musquin, and Craig transcribed for your convenience.
Roczen, Musquin, and Craig transcribed for your convenience.
Photos: Simon Cudby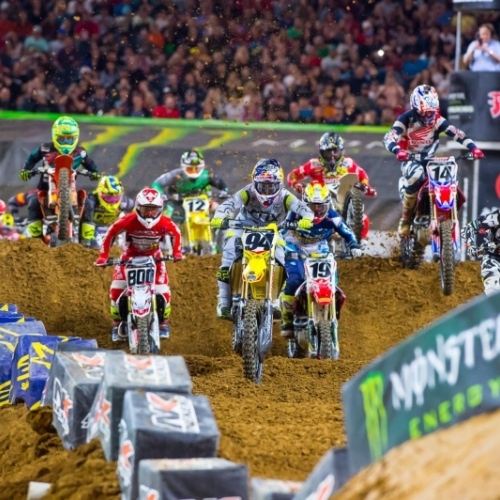 Roczen got going early and that helped him in the long run.
Ken Roczen
Pulpmx: Fantastic race. Dungey caught you a bit and you pulled away. You might have made more mistakes. He caught you again, and you still pulled away. That's got to be really confidence inspiring.
Roczen: It is, especially getting the holeshot. I don't remember the last time I even had a holeshot. It's been a long time. I said already on the interview there that I think I have more wins than actual holeshots. It's good, but it definitely felt good to get the holeshot. We said all day that we're going to change things tonight, and we started here. We started with the heat race and we won that. Going into the main, grabbed the holeshot. Obviously Ryan passed me and I got him back right away, just because I didn't want to give up. I really wanted it. We got to make up some points and I gave it my everything. He was on my tail the entire time. There was nowhere for me to let loose. You had to push the entire time. There were definitely some spots on the track that are really tough. After the triple, that left-hander, that little double that was right there, you got to really land in the pocket to be able to get the next triple. I saw him… I already watched the race because I wanted to study. I saw him making a couple mistakes there and didn't jump it even with the quad. Not that the quad back there was really a whole lot faster but it was just kind of nice to do. We were battling the entire time so beating him straight up was great. It's been a while since somebody's done that. I want it so bad. I know the team wants it, too. Oscar and I, we're working great together, especially down before the gate. We want it and we're going to keep going. We're going to have great momentum going into this week. We made some bike changes actually after San Diego because that's where I struggled really badly. Right away I could go in first practice and felt comfortable. I think that's important. I feel like I finally found something that I can kind of keep and just get faster and build on that.
I noticed when he got you; you kind have picked it up a little bit. You got a little raggedy but you were like, I'm not going to wait, I got to get him right back.
No, I just didn't want to let him cruise to a victory and then him having another three points. I'm over seeing him winning. I want to win. I want to beat him, and that's what I've done. I feel like I want it more than ever. I'm going to keep doing my thing and keep being aggressive every single weekend and put myself in a good position.
Tonight was a big, I think, stepping point of the series maybe. Great race, congratulations. Thanks for doing this.
Thank you very much.
—
Pulpmx: Why'd you fall? Dead last to sixth. Great ride.Marvin Musquin
Musquin: Thank you. It was a great day. First qualifying I was first, so that was a big step for me. I felt great on the bike. The track was really technical, really nice dirt so it was great. But like you said, main event… It started from the heat race. I didn't get a great start and then I was trying to make up some passes and Canard took me down under the tunnel. He went inside and he hit me and then I went down. Then you got to go to the semi. I got second in the semi…
But again came from the back in the semi a bit.
A little bit, yeah. So I was riding better, trying to ride like practice, not trying too hard. And then you ended up gate pick 12. I went inside. It was really tight inside. Didn't get a great start. I was like mid-pack probably. Really tight inside and then Tomac, at the end exiting the turn he just hit my handlebar and it threw me down. I was so bummed. I got up and tried my best. I was like, it's going to be a tough one. It was hard to pass, but I felt great and I had good lines. To end up 6th with a start like this, it was good.
Everybody's telling me the track was so hard to pass on. Where did you get a lot of guys? Was there a spot or two that you really passed a lot of dudes in?
Yeah, I was happy the way I was hitting those whoops, and then the wall. I think I was good right there. Just doing different things than the other guys. There were many 90-degree turns where riders were opening the turns. One turn was like going over the tabletop and I was just cutting inside and I was not going over the table. I was making passes there and then through the whoops too. I'm happy to do stuff like that, but with my riding right now I don't want to do that. I want to be with Jason for example, like Seely in third, fourth, or with Ryan or Roczen. I want to be up there, but it's racing and it's tough.
You still got a good result for your good ride. Great job. See you next week.
Yeah, see you in Atlanta. Thank you.
—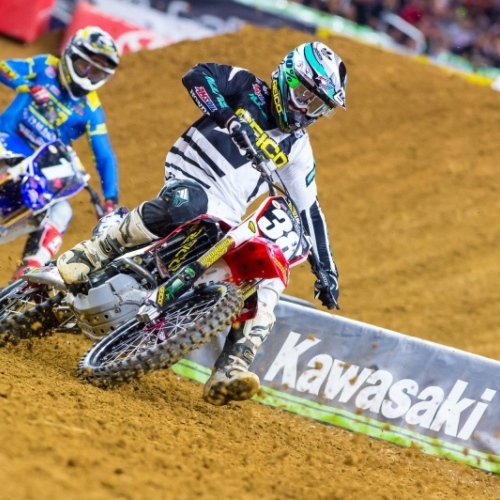 Craig is having the best season of his career in 2016.
Christian Craig
Pulpmx: You'll take it, going into the break.
Craig: Are you going to call me a dirty rider on Monday?
For the whoop thing? I've got to watch it closer.
I've been getting called a dirty rider.
Are you? I need to really see it closer. Maybe you are.
You can watch the replay and I'm blocking my line. I'm moving over. I did move over and take his front end out, but he was in the air and I did not want him to take me high the next corner. That's what he was going to do. I had a bike, I'd say I had two wheels on him, and I moved over.
There was that thing about the guy in front controlling the track.
I made the pass and I wanted it to stick. I heard that some people aren't happy, and I see it, I see why. He's a point's leader and I put him on the ground. It's a racing incident. But I should have won that.
You mentioned on the podium you had a really bad lap. What happened?
I had two big mistakes. I went through the whoops crappy and then that turn after the whoops my front end pushed. And then after the bridge, under the bridge that right, I slipped that lip and then really screwed up. That's how Cooper got me. He got me in the next turn. I was pissed because I kept a lead on him for once. He actually didn't catch me this time. So without those mistakes I think I would have had it, but stuff happens.
It's funny how we're at where you're pissed at a second or whatever because you led some laps. But overall going into the break, have you ever put together a seven-week run kind of like this? I don't think so.
Never. This is a first, especially a five-race podium streak. It feels good. I was a little off all day with timing and just a couple things, but I put it together. I wanted that win. I want that win because I want to chase those points, but stuff happens, and there's two more rounds left.
Track got a lot slippery from practice, huh?
Yeah. I was in-between rear tires, a 120 and a 110. I tried both of them and ended up going with a 110 and some other riders didn't. I feel like my bike was good. It got slick and there were a lot of rocks that popped up towards the end. I think that's what caused a couple mistakes. I hit a couple of those rocks. The track actually ended up good. It wasn't one-lined. It ended up getting some ruts. I was happy with it.
Cool. Enjoy your break and move on to Santa Clara.
Thanks.